8 Best Coolmax Socks
In a Hurry? Editors choice: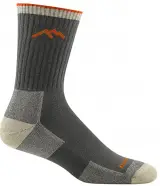 Test Winner: Darn Tough

If you've ever had a run-in with an uncomfortable and clammy pair of socks, you know the value of a great pair. Coolmax is a great fabric that is breathable, lightweight, and moisture-wicking.

It may seem simple enough to select a pair of good Coolmax socks. There are literally hundreds of them to choose from on any given internet search. They come in all sorts of colors, lengths, and styles, and it can be very tempting to simply add the cheapest pair to your basket.

But we assure you, by no means, is every Coolmax sock created equally. With all of the options of sports socks out there, we have taken the time to research some quality options for you.

Read through this list, and you will have no trouble finding something that will work well for you and your sport.
Best 3 Alternatives to Coolmax Socks
Standout Picks
Criteria Used for Evaluation
Overall Fit
Perhaps one of the most important aspects of finding the right socks to wear is the fit.
If they are too small, they'll cut off circulation, increase the amount of rubbing that your feet endure, and can cause blisters or sometimes even lacerations. If the Coolmax socks are too large, however, you'll have to contend with slouching socks that are uncomfortable and that simply don't protect your feet well.
Thankfully, with the exception of the Bridgedale Liner sock, most everything we reviewed on this list was shown to be true to size. In addition, a fairly good assortment of sizes was shown, from small to extra-large.
Breathability
Let's face it – for most people, the feet sweat a lot, and it can be difficult to keep them cool and relatively comfortable while hiking or enjoying sports.
That's why the ability of a sock to allow your feet to breathe is so important. Factors that can contribute to the breathability of a pair of socks include the fabric used, the overall thickness, as well as any linings or areas of reinforcement.
Thankfully, the manufacturers who designed these socks made the most of the Coolmax fabric, combining it with other natural and synthetic materials to allow for the maximum amount of airflow and therefore breathability that is possible.
The weave, texture and overall thickness of the socks also play an important part in determining how much airflow surrounds your feet. As you can expect, the thinner, more lightweight material often allows for more ventilation compared to the thicker brands.
Durability
The usefulness of a pair of socks, even ones made with Coolmax fabric, is often dictated by how long they'll last.
After all, if a sock doesn't last beyond a few washings, it really won't do any real service to a hiker who is constantly getting dirty.
In the cases of the Coolmax socks on this list, most of them feature aspects that make them a lot more durable than the average sock or piece of clothing. Things such as reinforced toes, padded heels, or sealed seams allow them to increase their overall durability and longevity.
While some of the lighter weight socks on this list, including the liner socks, may not be as tough as some of the others, they still are quite competitive with the average socks, if not better.
Comfort
If you were to ask the average hiker what he or she looks for in a pair of good socks to use outside, chances are they'll tell you one thing. They look for comfort.
If a pair of Coolmax socks are comfortable to wear, everything else simply falls into place. Truly comfortable socks are ones that not only fit well but maintain their fit, allow the foot a wide range of motion, allow for extra cushioning when needed, and help to pull moisture and perspiration away. In other words, if a pair of socks are comfortable, chances are they are a quality pair.
Not surprisingly, the socks on this list have been shown to be quite comfortable in a wide range of situations. While there are a few that we would have liked to see a bit more size selection, or a bit more cushioning, overall, there have been very few complaints.
Most people decide quite early to wear these Coolmax socks around the house in addition to their outdoor escapades.
Top 8 Picks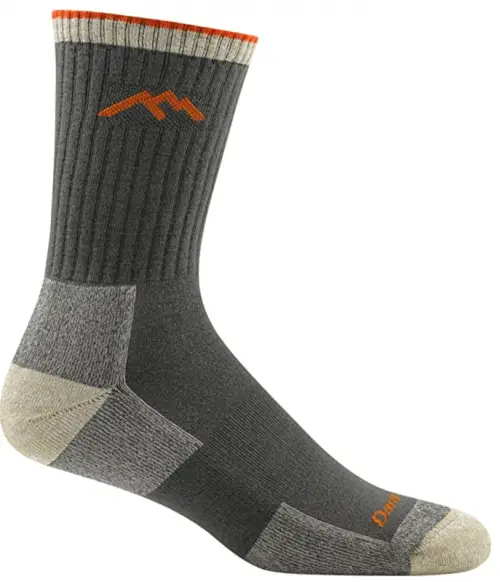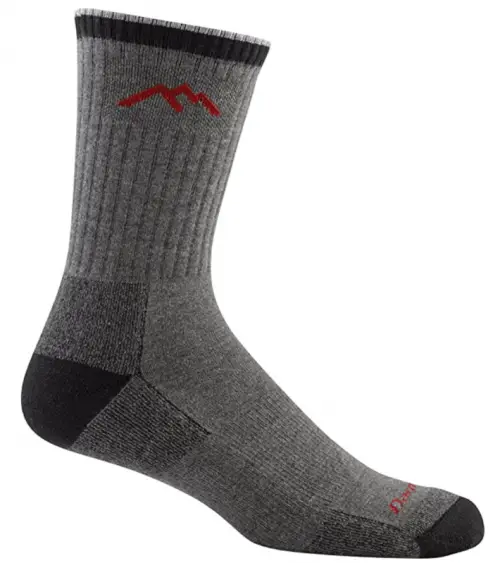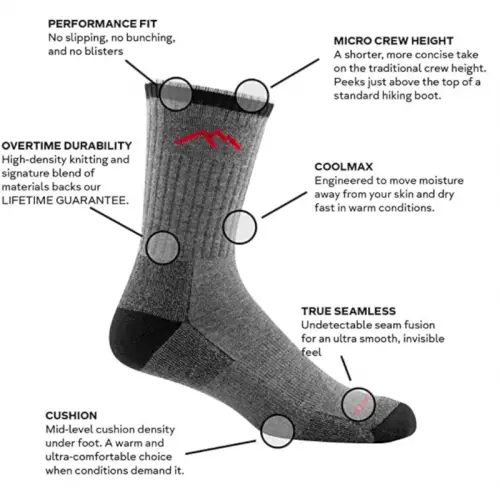 If you're looking for a sock that will go the distance with you over rough terrain or help you conquer the toughest trail, this one from Darn Tough may just be what you need. Designed with the serious hiker and backpacker in mind, this particular Coolmax sock is truly tough to beat.
Read more
Overall Fit
The Darn Tough Coolmax hiker boot sock is available in medium, large, and extra-large sizes. It's been found to be true to size in the majority of cases, and there has been little indication of abnormal stretching. And although we would like to have seen smaller sizes included, overall, the fit was superb.
Breathability
Since they are made with Coolmax material, these socks have good breathability. They easily help to keep your feet relatively cool and comfortable, no matter the terrain.
As expected, perspiration doesn't really stay next to your skin very long at all. The combination of good materials and quality workmanship makes these socks one of the best for keeping your feet cool and comfortable.
Durability
Darn Tough, as their brand name implies, is known not only for their wide array of selection but also for their overall toughness. These socks feature tightly woven material that is mid-weight and quality seams. It's little wonder why they are more than willing to offer a lifetime warranty.
Comfort
In the arena of comfort, these Coolmax socks from Darn Tough really show their merit. Not only is sweat wicked away from your skin quickly, but the thicker cushioning also makes each step feel lighter and more comfortable than the last. Also, the sock is designed to stay put- so there shouldn't be any worries about slouching socks getting in your way.
Summary
If you're looking for a new pair of hiking socks for your hiking boots that are designed to go the distance, this pair from Darn Tough should be at the top of your list. Designed with the avid hiker in mind, they have proven themselves to be tough, yet extremely comfortable.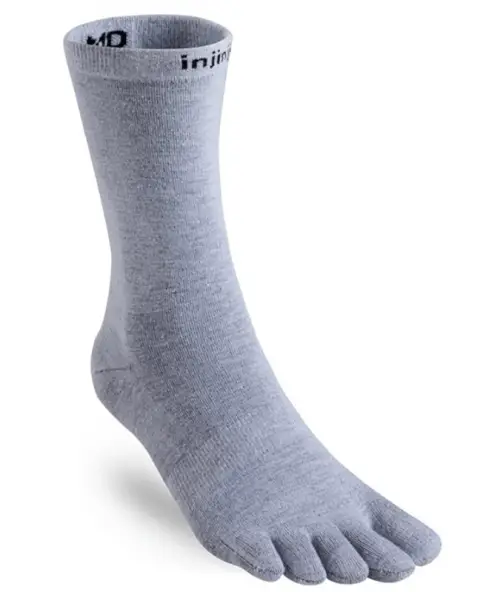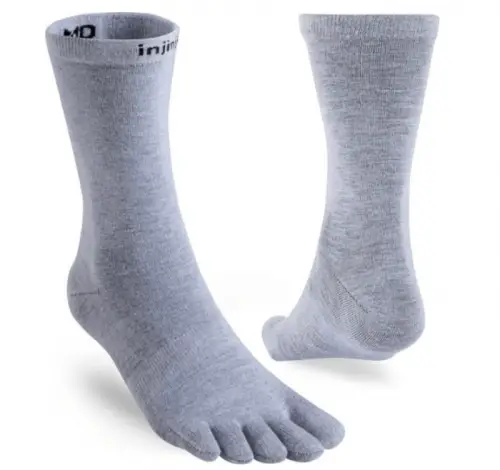 Sometimes your body needs layers, and your feet are certainly no exception. If cold weather hiking is in your future, and you want to double up for warmth without sacrificing comfort and control, these Coolmax socks from Injinji may just be the way to go.
Read more
Overall Fit
These liner socks from Injinji come in a good range of sizes, from small to extra-large. They also easily conform to your feet and remain true to size throughout most of their lifespan. Their anatomical fit and five-toe design make them easily one of the most exacting socks when it comes to fit on the market right now.
Breathability
Constructed from a lightweight Xtra-life Coolmax fabric, these socks excel at keeping your feet cool and dry. In addition, they easily allow air to circulate around your feet and toes without too much hindrance.
Keeping perspiration off your feet and you comfortable is one of the areas where these socks really excel. The lightweight material and overall design make it easy for you to keep the temperature of your feet comfortable and the sweat from making a nuisance of it.
Durability
While the lightweight material is a great thing to help keep feet relatively dry and comfortable, the liner socks are not designed to be worn alone, and their overall durability is somewhat lacking. While they are certainly well constructed, we would not suggest wearing them without another pair of socks to protect them from rips and tears.
Comfort
Some hikers and outdoor enthusiasts may be put off a little bit by the five-toe design of these Coolmax socks, but we strongly suggest you give them a try. Once you find the right fit for your feet, you'll be comfortable enough to wear them everywhere you go.
Summary
If you're looking for a liner sock that has the comfort of Coolmax material and superior design, the Injinji socks are a top choice. Anatomically designed for comfort, control, and to prevent many food-related issues, these socks should definitely be in your hiking apparel.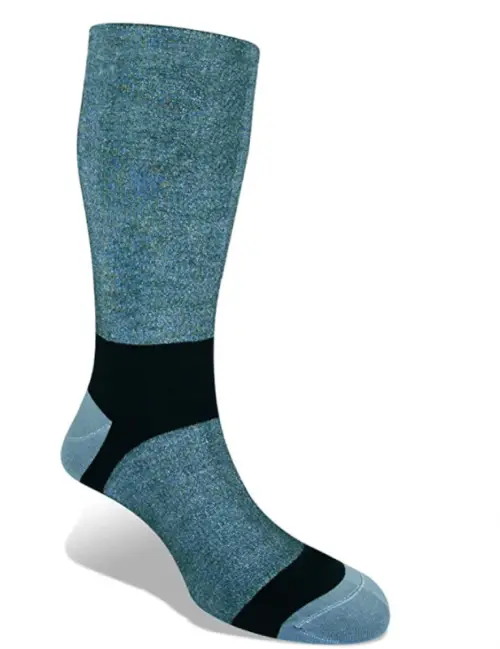 While not quite as comfortable as the Injinji liner socks listed above, these Coolmax liner socks from Bridgedale are still a great choice if you're looking for a little extra protection for your feet during a long hike.
Read more
Overall Fit
This option is designed to fit a wide range of people with a single, stretchable size that tends to run a bit large. And while it works quite well for most people, those who have smaller than average feet may want to consider other options.
Breathability
They are made from a unique blend of Coolmax material and other fabrics to create a liner sock that is not only easy to wear but also fantastic at allowing air to circulate around your feet. They work very well in hot weather, helping to keep your feet cool and dry, and are certainly an asset while hiking during the colder months of the year as well.
Whether you're out and about in cooler temperatures, or sweltering heat, your feet are going to sweat. That sweat can contribute to painful blisters, so most hikers chose to wear some type of sock to pull the moisture away. This particular pair from Bridgedale helps to do that splendidly.
Durability
While not as durable as some of the more robust Coolmax socks on this list, these liner socks from Bridgedale can certainly go the distance. While we wouldn't suggest using them as your only socks for prolong periods of time, these will last for a good while with proper use.
Comfort
These socks won't win any awards for looks. They just might, however, win one for comfort. Despite the lack of serious cushioning, the overall design and fabric used to make these Coolmax socks some of the most comfortable we've found.
Summary
They may not be the most fashionable choice on this list, but the Coolmax Liner socks from Bridgedale may just be the most functional. Designed to keep your feet dry, comfortable and ready to face the next hike, this is a one-liner sock you'll probably want to keep around.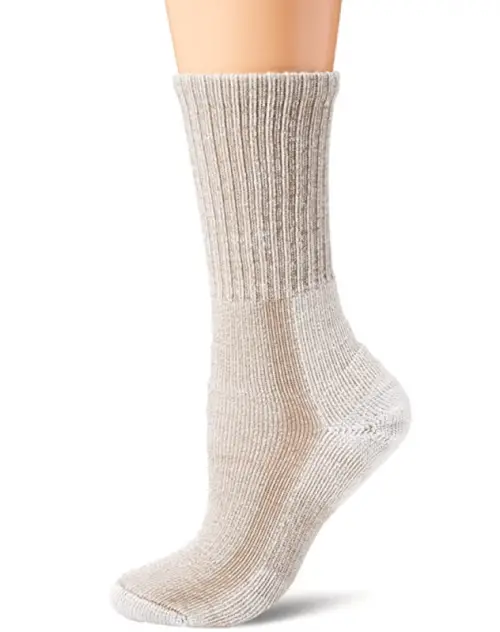 Autumn and winter are fantastic seasons to hike, provided that you have the right equipment and clothing. One article of clothing that we would suggest during these escapades into the wilderness during the colder months is a pair of Thorlos mid-weight hiking crew socks.
Read more
Overall Fit
These socks range in size from small to extra-large and are usually true to size. In addition, the crew length of the sock makes it a good choice for those who like to wear higher hiking boots or shoes.
Breathability
While this pair will certainly keep your feet comfortable overall, they don't offer as much breathability as some of the other choices on this list.
Like the other examples of Coolmax socks on this list, these are designed to pull perspiration and moisture away from your feet to help keep you dry and comfortable. These socks also dry relatively quickly, so keeping your sweat from affecting your enjoyment of the great outdoors is easy.
Durability
This option is made from partially recycled materials, and is surprisingly durable, proving that not all recycled materials are of a lower quality or standard. In addition, the seamless toe closure and padded heel and toe allow for added toughness in tear-prone areas.
Comfort
The combination of Coolmax material and stretch nylon and spandex allows for a great overall fit, as well as a great deal of individualized comfort. The mid-weight fabric is also a great choice for hiking in cooler weather, and the cushioning in strategic places only adds to the overall comfort levels.
Summary
The Thorlos mid-weight hiking crew socks are a great choice for those times when hiking in comfort during the cooler winter months is the name of the game. The padded heel and toe, durable seams, strategic cushioning, and overall fit combine to make this one of the more comfortable crew socks on the market.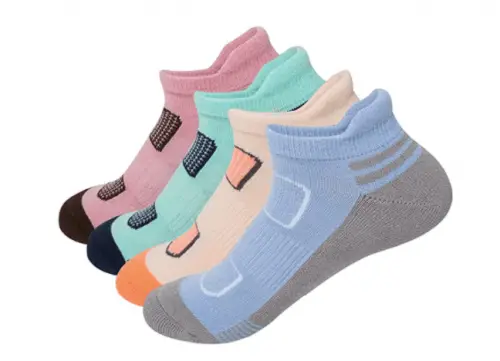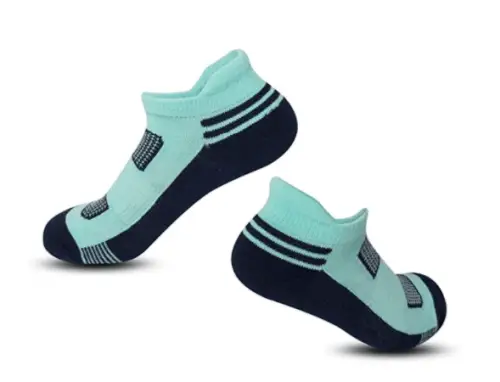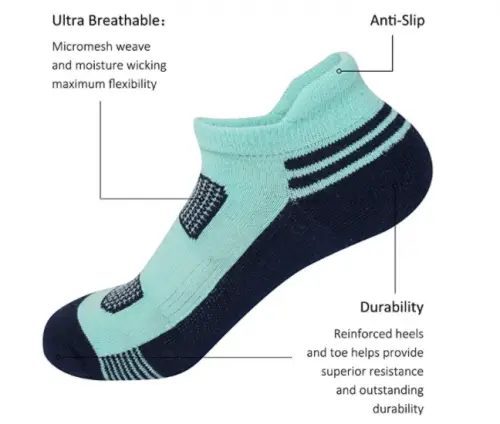 If you're in the mood to go for a run, but you don't want to wear ankle or crew length socks, there are other options available to you. One of the best is the Airstroll athletic sock.
Read more
Overall Fit
These socks fit easily into most low athletic shoes. They offer additional arch support, so there is some compression. Additionally, they have a cushioned sole, giving these athletic socks an overall comfortable fit.
Breathability
These socks are relatively lightweight. The breathability of the material is top-notch, as it is made of moisture-wicking 40.6% Coolmax, 57% polyester, as well as 2.4% of Spandex. This cocktail of cooling fabrics offers great breathability in any sport where you'd expect to feel some heat.
Overall they are very good at pulling sweat and perspiration away from the feet. It should be noted, however, that unless your shoes allow for the moisture to escape, there is little chance of the moisture doing so.
Durability
While these socks get high marks for comfort and breathability, these socks leave a bit to be desired when it comes to durability. Some users have claimed the socks "ball up" after only a couple of washes.
Comfort
They easily conform to nearly anyone's feet and sit so comfortably in your shoe that you'll barely even know that they're on your feet. The added cushioning, arch support, and heel tab keep your socks comfortably in place. That way, less time finicking with your socks and more time playing the supports you love.
Summary
If you're looking for a pair of great Coolmax socks that are perfect for running around in hot weather or while wearing low profile shoes, these socks are hard to beat. They're comfortable, adjust to your feet well, and most importantly, allow your feet to breathe during intense exertion.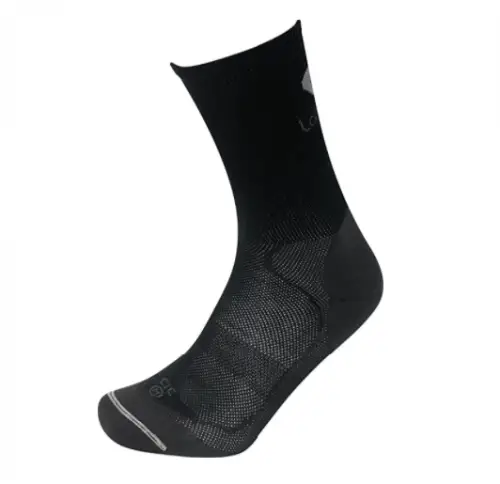 Lorpen offers Coolmax socks with a blend of other fabrics to create a breathable athletic sock that won't budge. They have a flat-knit toe seam that allows for maximum comfort around the toes. However, they are noncushioned, which some users may prefer.
Read more
Overall Fit
The majority of customers found these socks to be well-fitting, if slightly loose around the lower calf area. The inclusion of Lycra within the sock makes it relatively easy for them to stretch into the shape needed but within limits.
Breathability
These socks do allow your feet to breathe adequately, but they are not as well ventilated as some of the others on this list. This is likely because they are on the thinner side, with less material to wick away moisture. For most purposes, however, including regular outdoor activity, they serve quite well.
Durability
These socks are created with a combination of nylon material, Coolmax material, and Lycra, which makes the socks fairly durable and keeps the socks in place. One complaint that we observed was that the socks were found to be remarkably thin.
Comfort
Although these Lorpen socks offer comfort in the toes, they do not have cushioning, as they are meant to be used as both a sock and liner. It is not surprising there were a few complaints about the thinness of the socks being an overall comfort problem, but they were few and far between.
Summary
We certainly would have liked to see a thicker layer from the Lorpen. However, their other features make up for any issues with thinness. Overall, they are a good general-purpose choice for socks that feature the Coolmax material.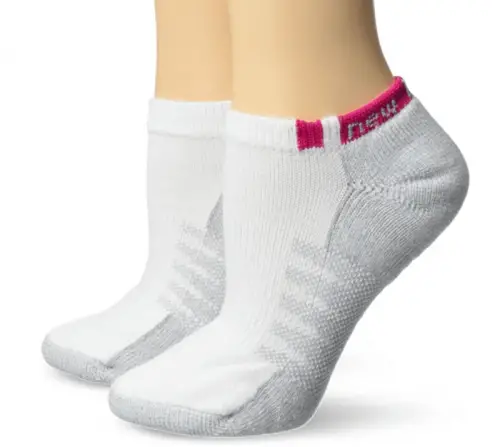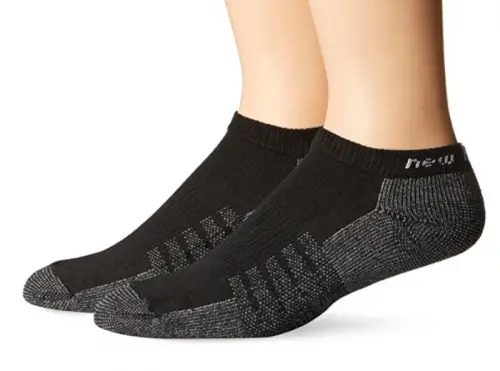 If you enjoy running, especially during the warmer months, having a sock that is easy to wear and breathable in a low cut running shoe is essential. That's where the eighth entry on our list comes into play. These running socks from New Balance certainly fit the bill in both adequate foot ventilation and comfort.
Read more
Overall Fit
The majority of people found these socks to be a snug fit overall, and easy to keep on their feet, no matter how intense the activity they enjoyed was. There were a few instances of the socks being a little too small for comfort, so it may be worthwhile to consider ordering a size up if desired. The socks themselves come in sizes ranging between small and extra-large.
Breathability
When it comes to breathability, these socks are certainly a contender for one of the best. The combination of polyester, nylon, Coolmax material and spandex allows for a significant amount of air passage in and around the foot, especially around the bottom. While some found the socks to be a little too thick to allow for the amount of circulation they wanted, most found the balance between thickness and breathability to be just about perfect.
The majority of the material that makes up these socks is Coolmax fabric, so perspiration control isn't too much of a problem.
Durability
These socks feature both a reinforced heel and toe area, which help to prevent holes and frays in these two common problem spots. In addition, the use of a small amount of nylon material and spandex within the sock allows for additional strength and flexibility overall. These factors lend themselves to increased life for the socks in a wide range of uses.
Comfort
One of the nice features of this particular pair of socks from New Balance is the use of a stability fit design for added arch support. Often, low-rise athletic shoes will need a bit of help in the stability and support departments, so having a sock that helps can make a huge difference in the comfort level overall.
In addition, the socks are designed specifically for either the left or right foot and provide an anatomically correct fit for added comfort.
Summary
If you're a runner or an athlete that likes to truly move in comfort, having a good pair of socks can make all the difference. While the size of these socks may run a bit small, overall they are a great choice for those who need a great balance between comfort and perspiration control.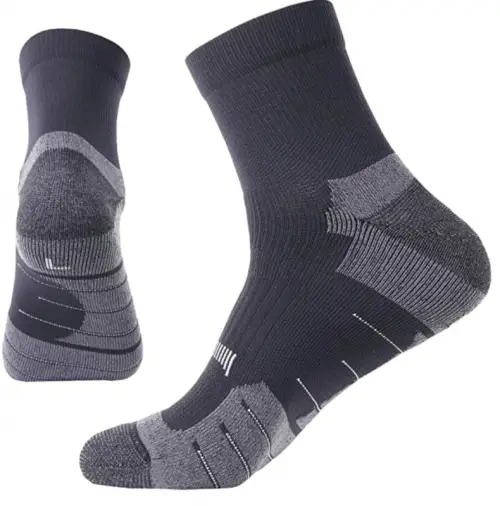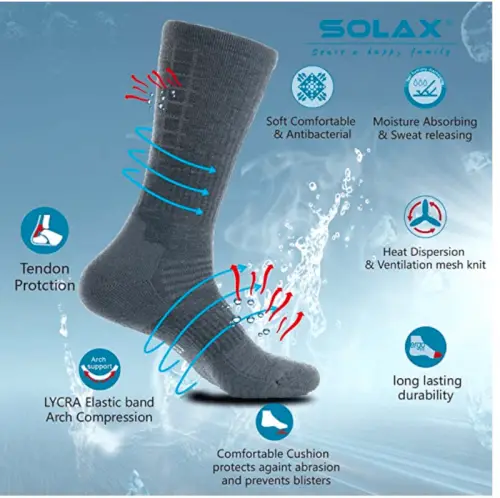 If you're looking to spend more time outdoors with optimal comfort, these socks from Solax are here to aid you. These Coolmax socks are available in a few different styles, lengths, and colors. They have spandex in all the right places and great fabrics that work together to keep you cool and comfortable all summer.
Read more
Overall Fit
Oddly enough, these socks are currently only offered in a size Large. A large will fit shoe sizes 9 - 12.5 (men's). They have a nice foot feel thanks to the midfoot spandex and seamless toes.
Breathability
Thanks to the Coolmax fabric in these socks, there is a great amount of breathability. They are specifically designed to provide airflow around the foot, proving a comfortable environment for your feet. The weave of the fabrics is specially designed for faster heat dissipation.
These socks absorb moisture and sweat quickly. Users have commented that they take longer than usual to dry when washing, but there haven't been any complaints about them feeling wet in the shoes. An added bonus to Coolmax technology is that it also gives the socks a decent amount of odor resistance.
Durability
Solax has added reinforcements into the areas of these socks that are typically the weakest. They are reinforced with durable fibers in the heel and toe. There are three pairs included in each pack and you can expect them to last for quite a while.
Comfort
These socks are very comfortable and feature a cushioned sole that aids in shock absorption when running or exercising. Additionally, there is also extra padding in the Achilles area. The spandex arch support also provides a nice tight feel throughout the foot. The toe area is seamless which prevents against chafing and blisters.
Summary
These are a great versatile pair of socks that are comfortable and will help to keep your feet from overheating. They are available in multiple styles and a few colors. We would have liked to see more sizing options, but hopefully, that's coming in the future.

Subscribe to our Newsletter