8 Best Coolmax Socks
In a
Hurry? Editors choice: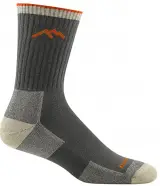 Test Winner: Darn Tough

If you've ever had a run-in with an uncomfortable and clammy pair of socks, you know the value of a great pair. Coolmax is a great fabric that is breathable, lightweight, and moisture-wicking.

It may seem simple enough to select a pair of good Coolmax socks. There are literally hundreds of them to choose from on any given internet search. They come in all sorts of colors, lengths, and styles, and it can be very tempting to simply add the cheapest pair to your basket.

But we assure you, by no means, is every Coolmax sock created equally. With all of the options of sports socks out there, we have taken the time to research some quality options for you.

Read through this list, and you will have no trouble finding something that will work well for you and your sport.
Best 3 Alternatives to Coolmax Socks
Standout Picks
Criteria Used for Evaluation
Overall Fit
Perhaps one of the most important aspects of finding the right socks to wear is the fit.
If they are too small, they'll cut off circulation, increase the amount of rubbing that your feet endure, and can cause blisters or sometimes even lacerations. If the Coolmax socks are too large, however, you'll have to contend with slouching socks that are uncomfortable and that simply don't protect your feet well.
Thankfully, with the exception of the Bridgedale Liner sock, most everything we reviewed on this list was shown to be true to size. In addition, a fairly good assortment of sizes was shown, from small to extra-large.
Breathability
Let's face it – for most people, the feet sweat a lot, and it can be difficult to keep them cool and relatively comfortable while hiking or enjoying sports.
That's why the ability of a sock to allow your feet to breathe is so important. Factors that can contribute to the breathability of a pair of socks include the fabric used, the overall thickness, as well as any linings or areas of reinforcement.
Thankfully, the manufacturers who designed these socks made the most of the Coolmax fabric, combining it with other natural and synthetic materials to allow for the maximum amount of airflow and therefore breathability that is possible.
The weave, texture and overall thickness of the socks also play an important part in determining how much airflow surrounds your feet. As you can expect, the thinner, more lightweight material often allows for more ventilation compared to the thicker brands.
Durability
The usefulness of a pair of socks, even ones made with Coolmax fabric, is often dictated by how long they'll last.
After all, if a sock doesn't last beyond a few washings, it really won't do any real service to a hiker who is constantly getting dirty.
In the cases of the Coolmax socks on this list, most of them feature aspects that make them a lot more durable than the average sock or piece of clothing. Things such as reinforced toes, padded heels, or sealed seams allow them to increase their overall durability and longevity.
While some of the lighter weight socks on this list, including the liner socks, may not be as tough as some of the others, they still are quite competitive with the average socks, if not better.
Comfort
If you were to ask the average hiker what he or she looks for in a pair of good socks to use outside, chances are they'll tell you one thing. They look for comfort.
If a pair of Coolmax socks are comfortable to wear, everything else simply falls into place. Truly comfortable socks are ones that not only fit well but maintain their fit, allow the foot a wide range of motion, allow for extra cushioning when needed, and help to pull moisture and perspiration away. In other words, if a pair of socks are comfortable, chances are they are a quality pair.
Not surprisingly, the socks on this list have been shown to be quite comfortable in a wide range of situations. While there are a few that we would have liked to see a bit more size selection, or a bit more cushioning, overall, there have been very few complaints.
Most people decide quite early to wear these Coolmax socks around the house in addition to their outdoor escapades.
Subscribe to our Newsletter