The Best Hiking & Backpacking Boots of 2021
In a
Hurry? Editors choice: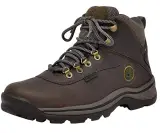 Test Winner: Timberland WHITE LEDGE

If you were to talk to any avid backpackers or hikers, they would all tell you the most important accessory in accomplishing a climb and enjoying the hike is your boots.

Hiking boots offer the support and grip it takes to accomplish any climb safely and comfortably. If you have been on a hike or backpacking trip and have not brought the proper boots, then you know how important these accessories are to ensure you have an enjoyable time and can focus on the task at hand, which is having fun and completing your climb.

Below we have listed the best hiking boots of 2021, and why these are truly better over the rest.
Standout Picks
Criteria Used for Evaluation
Protection
In a very real sense, the best hiking boots, no matter the price should be designed to do one thing: protect your feet and ankles from undue stress.
These stresses can include everything from rain and snow to colder temperatures and slippery rocks. Common things encountered on a hike such as animals, roots and fallen leaves can also provide sources of stress to your feet.
The other factor you have to consider is your ankles; you want a pair of hiking boots that will protect your ankles in case you slip. So make sure you get proper ankle protection and support.
The ideal choice should offer at least a very similar level of protection for your feet as some of the most expensive brands on the market today. Thankfully, the hiking boots presented here do just that in a number of ways. The outer shells of these boots often provide protection from the weather or at least allow you to resist its effects quite well. 
The soles of the boots protect you from sharp objects on the ground such as rocks and sticks, and the heavy-duty upper portions can often protect you from mosquitos and insects in general.
Weather Resistance
As we've shown elsewhere, finding great waterproof performance no longer means you're stuck with stiff heavy leather boots.
Whereas earlier waterproof fabrics had a tendency to lock moisture inside as well - increasing the tendency for your feet being uncomfortable and for your socks to rot - waterproof materials are getting much more breathable and mold-resistant. Well-respected brands and materials (such as Gore-Tex) have earned their popularity because they really are worth twice as much as their imitators.
High-tech materials aren't necessarily synthetic though; some brands are experimenting with new ways to weave cotton and bamboo to provide impressive results, and in this case, it's the weave and the production that are high tech, while the fabric retains all its wonderful natural qualities.
We wanted to ensure that the best hiking boots on our list were capable of keeping your feet comfortable and dry while sloshing through icy puddles or trekking through the rain for days at a time.
Fit
With any luck, your feet will be what's in contact with the ground the most during your hike. Keeping your balance and stride can mean the difference between injury and having a great time in the great outdoors.
In order to make sure that everything runs smoothly, a hiker needs to have well-fitting hiking boots. If a pair of hiking boots don't fit well and they are not the right size, it can lead to painful blisters, unstable footing, and significant wear and tear on the feet and body as a whole.
In order for a pair of hiking boots to fit well, there are a few criteria that need to be met. First, there shouldn't be too much wiggle room around the heel or instep area. If the heels can move back and forth within the boot then that means that it isn't providing the support that you need, especially in the ankle area.
Second, the boots shouldn't feel heavy when you're taking a step. Footwear that has too much weight can lead to a significant amount of fatigue, which can also lead to mistakes that can cause injury.
And last, but certainly not least, you should be able to adjust your boot easily to accommodate minor changes in the size of the foot while still maintaining a snug fit and comfort.
The hiking boots presented on this list are perhaps some of the best options available on the market today in part because so much attention is given to the overall fit and feel of the boots.
Materials
Another aspect of hiking footwear that got serious consideration from us, was what materials went into the making of the boots.
Often the materials used will dictate a number of characteristics that every hiker should consider when buying a pair of hiking boots. The materials used can dictate how much protection your feet will have. They can also indicate how heavy the hiking boot will be. And, of course, the materials used are essential to proper fit, comfort, and overall durability.
The boots presented here have a fairly wide range of materials used, both synthetic and natural in composition. Some materials, such as leather provide breathable protection from the elements, while others, like a nylon mesh, allow for great ventilation in and around the feet area.
Top 9 Hiking & Backpacking Boots
Subscribe to our Newsletter