Best Socks for Sweaty Feet
In a
Hurry? Editors choice: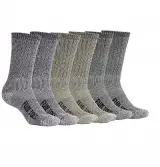 Test Winner: Fun Toes

For some, lacing up your sneakers for a long day of exploring or jogging means one thing- your feet are going to try and sweat their way right out of your shoes. Most often this particular affliction isn't caused by your shoes or anything that you did, but rather something that you inherited. There aren't any magical pills or lotion that you can put on your paws to keep them from becoming too soggy- but there are some things you can do it mitigate the moisture.
Investing in the right gear won't stop your flippers from sweating- but it can help wick away moisture and keep you comfortable all day. This
type of socks
is great for doing sports activities. The first line of defense lies in your first layer of gear: your socks.
Standout Picks
Criteria Used for Evaluation
Materials
This was the most important thing that we looked at during our research. If a product claimed that it could wick away moisture- but it was also made from cotton materials- we knew that it wasn't a product that was actually going to perform on what it claimed. There are three different types of unconventional fabrics that companies use to wick away moisture: bamboo, wool, and polyester. If you find a pair that uses any one of these materials- you are going to get a product that performs. We really couldn't decide which material was better, because each one of that had their specific advantages and disadvantages. Materials such as wool and bamboo might be considered higher performing than polyester, but we discovered that they are a lot more difficult to care for, and often aren't as durable and wear out faster than the standard polyester. Polyester, on the other hand, might not perform as well as the others, but it is a lot easier to care for and typically holds up for longer periods of time.
Comfort
Sure, you want socks to keep you dry- but probably not at the cost of feeling scratchy and uncomfortable. We were careful to read the reviews of what some of the past users had to say about these different materials– especially ones that were made with wool. Unsurprisingly, there were some wool options out there on the market that had a reputation of being too itchy and stiff, and we avoided those brands like the plague. It's important to keep dry, but not at the cost of being itchy and raw. Bamboo, on the other hand, has earned the reputation of actually being a little bit softer than tradition cotton. If you decide upon a bamboo option, you can rest easy that it will feel nice against your skin. Polyester designs are pretty safe as well- with only one exception. Many past users that have reviewed products that are made out of polyester find that they sometimes can fit a little too tight, and shrink up when thrown into the washing machine.
Value
We made sure to keep an eye on the price because no one wants to spend more money than they need to. You have to be careful when shopping for specialty items because a lot of companies will try and charge you more unnecessarily so. The fact of the matter is that the materials used to make these products- wool, polyester, and bamboo- do not cost significantly more than cotton, so higher price points just don't make any sense. We tried to select products that had competitive price points that did not eclipse what you would spend on your casual everyday designs.
Subscribe to our Newsletter