Best Hoodies for Women
In a Hurry? Editors choice: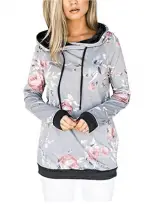 Test Winner: ANGASHION FLORAL

If there is one article of clothing that everyone should own it is a high-quality hoodie for spring and fall time weather. Of course, we say "everyone" but, today, this guide is going to focus specifically on the best hoodies for women and women only. Right from the get-go, though, if you have come here today looking for the best options during blizzard-type conditions, you will be disappointed. Instead, this guide is going to look at the sweatshirts that can be worn year-round (
with additional layering being required for cold winter days
). While, on the surface, it may seem really simple to pick out the model you want, there are several different variables and factors that you will need to take into consideration. So, without further ado, let's get this show on the road.
Standout Picks
Criteria Used for Evaluation
OUR TOP PICKS FOR THE BEST HOODIES FOR WOMEN
1

. CALVIN KLEIN DRAWSTRING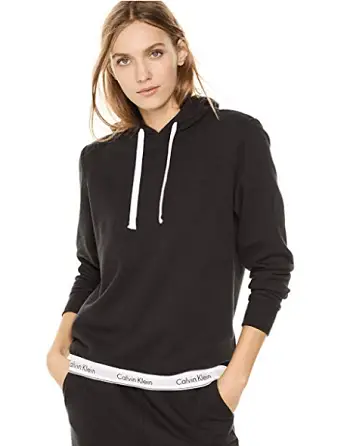 Surely, you have heard of Calvin Klein as they are a top-name brand. It should surprise no one that their drawstring sweatshirt is amongst the elite in the world of hoodies.
Read more
Sizing and Fit
While there have been users here and there that have felt this has run a bit large for them, the majority of them agree that this is true-to-size.
Materials
This is actually a 100 percent cotton garment and what that means is you should account for shrinking. But, 100 percent cotton clothing does have its advantages too.
Comfort
Yep, this is one of the sections that 100 percent cotton comes into play. Due to this, this model is soft to the touch and extremely comfortable for longer sessions.
Features
To allow you to adjust the attached hood, this does come equipped with a drawstring. Also, there is a logo trim at the hemline (which you actually may not be a fan of).
Appeal
In spite of the fact that there are not several color options to choose from (only black and gray heather are available), both color choices look nice.
Overall
If the premium is your middle name then you are sure to be okay with this hoodie. It is made by Calvin Klein, after all, so that is not too much of a surprise now is it?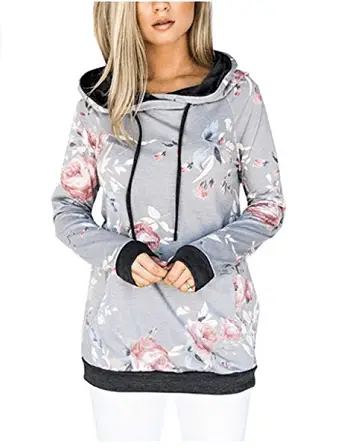 Sweatshirts are not all about keeping you warm or performing well in mild weather. Some of them are straight-up fashion statements and above everything else, that is why this choice is right here.
Read more
Sizing and Fit
For the most part, previous users have had mixed feelings about the size of this model. Some claim it is sized as it should be, while others have reported it is too loose around the waist and too tight in the shoulder area.
Materials
This is mostly comprised of polyester (85 percent of the total fabric blend) but there is also a hint of cotton added (the additional 15 percent).
Comfort
Due to the fact that the material feels very silky, it is incredibly soft and comfortable. Overall, it is ideal for spring, autumn, and even winter use under the best lightweight winter jacket (though additional layering may be needed during the winter).
Features
In addition to the drawstring that allows for hood adjustments, this is outfitted with double pockets for your convenience.
Appeal
Really, it is hard not to be impressed with the visual design of this sweatshirt. There are several different flower-type designs that you can choose between (and all of them look great).
Overall
Sure, finding the right size can be a bit tricky but the visual design and comfort alone are quite impressive.

3

. ALTERNATIVE ECO JERSEY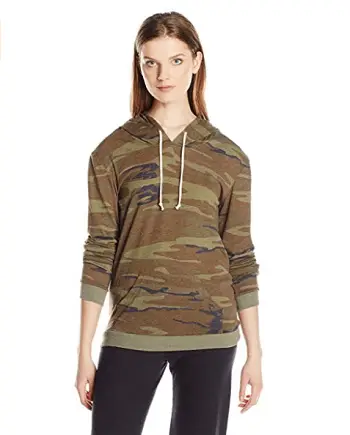 Being made from the company's signature eco-jersey material, this is an exceptional design that is incredibly soft. The material is quite thin, also, making it perfect for casual weather.
Read more
Sizing and Fit
In spite of a few naysayers, most previous buyers of this model have agreed that it runs true-to-size. You should be okay with getting your normal size here.
Materials
The unique material composition here features polyester, cotton, and rayon. 88 percent is made up of polyester and cotton, for the record, and only 12 percent is rayon.
Comfort
Yep, this is indeed made from eco-jersey and it is incredibly soft and comfortable because of it.
Features
The typical features, such as a kangaroo pocket and a drawstring, are implemented here.
Appeal
Even though you can probably find other color options available, this specific one is camo. Clearly, not all of you out there will be appealed to this sort of thing.
Overall
You probably should not be careless with this garment but when it comes to its performance in mild weather, it is tough to top it.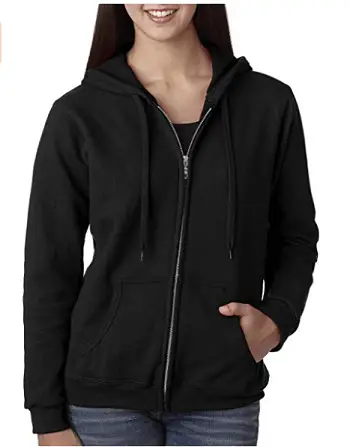 With the full zippered design and a 50/50 cotton blend, this model is going to be compelling to quite a few of you. The soft feel of the fabric may just be the factor that puts it over the top, though.
Read more
Sizing and Fit
The safe bet is to order your normal size as thousands of previous buyers have had success with it. However, there have been exceptions and users who have felt otherwise.
Materials
In addition to the fact that this sports a 50/50 cotton blend (with the other 50 percent being polyester), the cotton used was grown in the United States.
Comfort
As soon as you feel this, you will tell how soft and comfortable it is. This is one of the many reasons why so many people enjoy garments with 50/50 cotton blends.
Features
The zipper is nice to have but some previous reviewers have criticized its quality and performance. Of course, no one will question the drawstring hood and pouch pocket.
Appeal
The color selection is good enough that each and every one of you should find one that is appealing to you, which is saying a lot.
Overall
If you replaced the zipper with a higher quality one, this could have landed even higher on this list. Still, the overall quality is really, really good.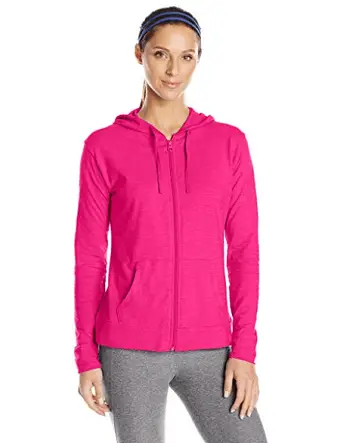 Everyone seems to have different feelings when it comes to 100 percent cotton garments. If you are a personal fan of them then, perhaps, you may have found your newest sweatshirt.
Read more
Sizing and Fit
There are differing opinions everywhere you look when it comes to the size of this garment. But, the majority of previous buyers have noted this does run true-to-size.
Materials
This is made of 100 percent cotton. So, again, this means you will need to account for some sort of shrinkage.
Comfort
Most people will agree that 100 percent cotton garments are incredibly comfortable and this is no different. Additionally, this sports a tag-free collar for even more comfort.
Features
In addition to the pouch pockets and the adjustable drawcord hood, this is also equipped with a full-length zipper.
Appeal
Due to the thin nature of this, your base layering can be seen a little with some of the colors. Speaking of the colors, an emphasis was placed on lighter ones.
Overall
Hanes is known for its high-quality articles of clothing so their high placement on this list should be a surprise to absolutely no one.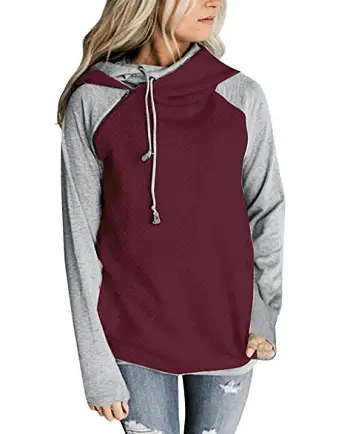 Cute, affordable and comfortable; could you really ask for a better combination? While the sleeves could have been designed a little better, everything else is utterly fantastic.
Read more
Sizing and Fit
Based on previous feedback, you may want to order a size larger than you typically would. If not, you may be disappointed with the tightness in the arms and body.
Materials
The fabric blend is very light in weight and, for the record, consists of cotton and polyester. But, as opposed to a 50/50 blend, 65 percent is polyester and the other 35 percent is cotton.
Comfort
With the fabric blend at hand, you will be left with an incredibly comfortable hoodie. It is also virtually perfect for casual weather during the spring and autumn seasons.
Features
This is devoid of a zipper and is a pullover sweatshirt. Looking past this, there are two pockets that can be used to store smaller items and accessories.
Appeal
Each and every one of the color options is fantastic (though there are not too many of them). They are also all designed with light gray sleeves.
Overall
Now, this is not the top option but you could argue that it is as compelling a choice as there is on the market for this price range and style.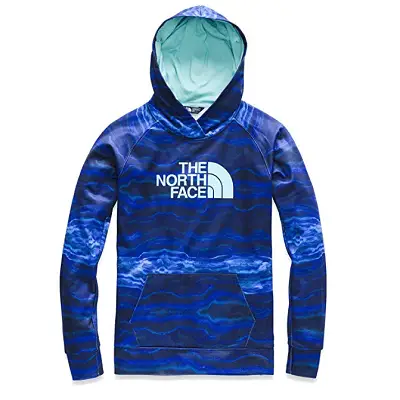 Okay, so maybe you are dead set against any sweatshirt that is comprised of cotton. If that is the case (or even if you do not require the fabric) then you may enjoy this 100 percent polyester option.
Read more
Sizing and Fit
To err on the side of caution, you may want to order a size up. However, the users who have noted this can run small have pointed out that it is not outrageously small.
Materials
Yep, as mentioned, this is comprised of polyester and polyester alone. With that being said, the material is pretty darn thin so be aware of that.
Comfort
The lightweight nature adds to the overall comfort, and this sweatshirt is not going to irritate your skin or be a nuisance to wear (that is for sure).
Features
Be aware that there actually is not a drawstring equipped (some colors do have one equipped, though). So, you will not be able to adjust the hood to your liking. But, kangaroo pockets and rib-knit cuffs have been implemented.
Appeal
Simply put, if you can't find a style that suits you here, then your standards are set way too high. Yes, the selection is literally that diverse and extensive.
Overall
The North Face is another high-quality brand that appears on this list and that is always important to take into the fold. Just make sure you find the right size and you will be good to go.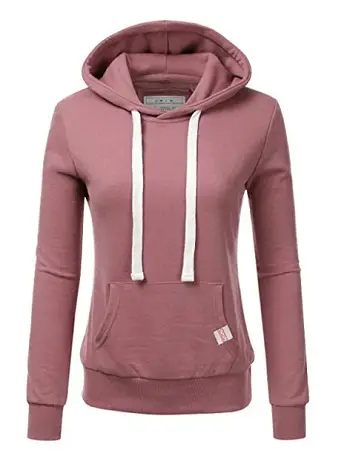 As you can sort of gauge just by looking at the photos, this tends to run small. If you get the right size, however, you can enjoy a soft and high-quality pullover sweatshirt from Doublju.
Read more
Sizing and Fit
Do yourself a favor and just expect this to be small on you. Literally, dozens of previous buyers have experienced this so do not be surprised if this is the case. To avoid this, just order a size up.
Materials
In the past, there have been longevity issues documented with this pullover sweatshirt. However, the 60/40 cotton blend is an ideal composition of materials.
Comfort
Due to the soft and comfortable feel of this option, it is amazing to wear. Again, though, that is assuming you find a size that is comfortable for your body type, to begin with.
Features
The drawstring is a lot thicker than normal ones so be aware of that. In addition, there is a front kangaroo pocket for your convenience.
Appeal
Let's just say that the color selection is about as good as it gets. This is another instance where you actually should end up being stuck between multiple colors.
Overall
At the end of the day, it is never a bad idea to put your trust in a brand that has been praised by other buyers. Everyone is different but if enough people say something, it becomes convincing after a while.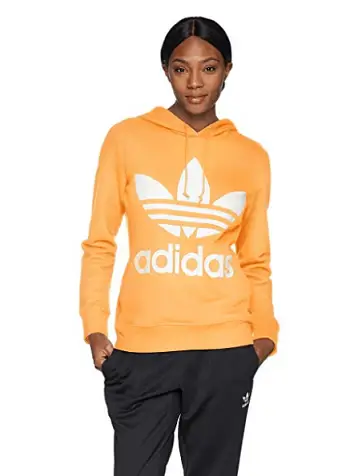 At the end of the day, it really is tough to bet against Adidas. Of course, you may or may not like the fact that their model is designed with their ginormous logo plastered directly on the front.
Read more
Sizing and Fit
It seems that the sleeves are somewhat short and that the fit is large. Admittedly, it makes it a little difficult to find the right size for you.
Materials
As with so many other hoodies out there, this is made of a combination of cotton and polyester. For the record, 70 percent of this is cotton and the remaining 30 percent is polyester.
Comfort
Not only is this not going to overheat you (depending on the ambient temperature and humidity of course) but the interior is also soft to the touch.
Features
Pretty standard features are in play here such as a drawcord hood and kangaroo pockets. Oh, and this is also equipped with ribbed cuffs.
Appeal
Some of you may think the Adidas logo on the front is a bit obnoxiously large and that is fair. However, there are a plethora of colors available which is nice.
Overall
Yes, the finicky and odd fit does hurt the overall value of this option. But, if you can find the right fit, you will never look back as everything else is great.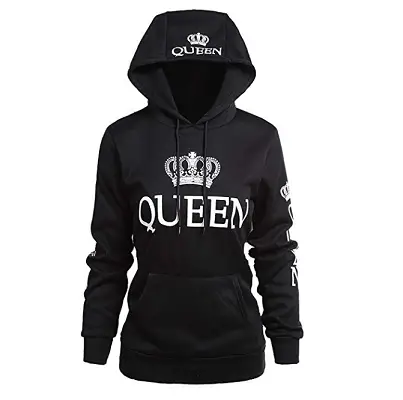 Right from the word go, you will either love or hate the decal that is present on this model. From a quality perspective, though, most will agree that it is above-average.
Read more
Sizing and Fit
Back to that last statement, this is above-average if the fit is not too tight for you. Unfortunately, this has been a common issue so it may be in your best interest to order a size or two up.
Materials
The blend of polyester and spandex is somewhat unique when you consider most options out there feature cotton in some regard. Overall, the material is cheap but good.
Comfort
With a lightweight feel and a soft interior, not too many of you out there will be complaining about the provided comfort of this sweatshirt.
Features
Past the fact that this is a pullover hoodie, it is also designed with staple features such as a drawstring cord and kangaroo pockets.
Appeal
Again, this is loaded with a decal on the front, sleeves, and hood. For the record, this decal consists of the word "queen" with a crown above it.
Overall
To feel like you are not suffocating, it is advised to order larger than your normal size. Even though this is becoming a broken record, it could change the entire experience for you.

Subscribe to our Newsletter