Best Running Shoes For Women
last updated:
Feb 07, 2020
It is quite obvious that men and women have different body shapes, right? Because of this, our weight sits differently and we tend to have different gaits. While technically, men and women could wear the same running shoes, there are a few anatomical differences that make each sex feel more comfortable in a gender-specific shoe. A woman's running pattern is usually lighter in weight, wider in the forefoot, and narrower in the heel. Women typically weigh less than men and can feel just as comfortable with less cushioning. Aside from the technicalities, women's running shoes are usually offered in brighter or more feminine colors. Whether you have been running for years or just getting into a routine, you will find the perfect shoe for you on this list.
This is the best product on our list that is currently in stock: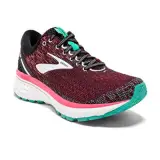 Brooks Ghost 11
Why is it better?
Thirteen color choices
Comfortable fit
Versatile
Great cushioning
In a
Hurry? Editors choice: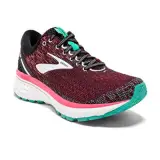 Test Winner: Brooks Ghost 11

18
Researched Sources
1.7k
Reviews Considered
15
Hours Researching
17
Products Evaluated
Comfort
Style
Brand
Value
By Default
Top Ten Running Shoes for Women
Criteria Used for Evaluation


Comfort
Comfort may be the most important thing when searching for the perfect shoes. You want to know that your arches, toes, and ankles are supported and protected for those difficult journeys. Are there sneakers out there capable of making you run faster and jump higher? Absolutely not.
However, bad shoes that cause blisters, shin and knee pain, numb toes, and are just generally uncomfortable can most certainly make you run slower. Smashing through fatigue and training walls is hard enough- you want to make sure your shoes offer great support to help you reach your goals.
For overall comfort, you'll want to pay close attention to the midsole of the shoe. Many sneakers feature EVA foam or some other type of cushioned midsole. Additionally, the materials of a shoe can make or break a shoe. A shoe with a mesh upper will provide great breathability and keep your feet from sitting in a sauna as you run.


Style
This criterion might not seem incredibly important, however, it's an unfortunate reality that women's running shoes have been known to sacrifice design for functionality. Many unnecessary straps or nonfunctional shoelaces can actually serve to dig into feet and hinder performance. And make sure that you don't fall for any fleeting gimmicks.
Some of the more seasoned athletes out there still remember of the sting of when the Reebok Pump did not make them jump higher. Keep in mind that just like there is no pill out there to make you smarter, there is also no magic shoes out there to make you run faster. However, if the shoe you are interested in comes in your favorite color, you will feel happier and more confident every time you lace them up.


Brand
Brand Recognition was also an important aspect to take into consideration when selecting the best women's running shoes. Many of the top companies have been perfecting their shoe game for over 100 years and have perfected it down to a science. It's also comforting to know that some brands are worn by professional athletes and Olympians, so you know that you are getting the best quality.
While keeping an eye on more recognized brands, it was also important not to discount some of the newer companies. The newer companies that are making an impact often do what the veterans are afraid to do, and that is to take risks. The unique design of the HOKA is making a huge impact on runners, and some of the bigger names are even beginning to mimic their innovative design.


Value
Value, the one thing that everyone thinks about but doesn't want to talk about. We don't need to look at this section with such negativity. You are investing in your health and your future, this is a good thing. When we determined the value of each product, we didn't just look at the price. We looked at the comfort, features, durability, customer reviews, and the brand itself. If a shoe that costs more money is poor in features and durability, it has less value.
Sometimes we can be tricked by marketing schemes or brand names into thinking that a product with a certain label is worth more than another. However, that couldn't be more false. We looked into the value of each shoe to help you see which features are worth investing in. The outcome will be different for each runner.
Expert Interviews & Opinions
Most Important Criteria
(According to our experts opinion)
Experts Opinion
Editors Opinion
Users Opinion
By Default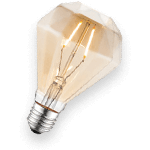 Overall Strength
If you are looking to cut down your mile time or successfully run with fewer injuries, you need to focus on more exercises than just running. Running uses many muscles and to improve your speed, stamina, and form, you should indulge in other forms of exercise as well. Incorporating exercises such as lunges, squats, and dead-lifts are a great way to increase the strength in your legs and become a better runner overall.
Safety First
Many runners like to listen to music as they run. However, as a woman (or a man), running alone with headphones can be quite dangerous, unfortunately. If running to music or podcasts is something you enjoy, just remember to not have the volume up loud enough that you can't hear what is going on around you. Letting another person know your route or your expected time home is also a great way to stay safe while running.
Other Factors to Consider


Versatility
Versatility is important, but it is also pretty subjective. Many runners prefer to stick to paved pathways and sidewalks, and wooded trails around their town. Others like the ability to switch gears from urban running to mountain running without changing their shoes. While selecting shoes for this list, we tried to ensure that the running shoes were well suited for both terrains, without sacrificing performance.
Frequently Asked Questions
q:

What makes a shoe the best for running?

a:

Honestly, whatever shoe you feel the most comfortable and confident in is the best option for you. Advertising seems to have a placebo effect at times. If Nike convinces you that you can run faster in their TR 6s, you are going to think about that when you put them on and subconsciously push yourself just a little bit more to run faster.

There is no distinct formula that makes a superior shoe because everyone's feet are different. Are you not sure if you have high arches, or if you have a wider foot? If you have access to a local shoe store, it may be in your best interest to have them take a detailed measurement of your feet to determine exactly what type are good for you.
q:

I have flat feet. What type of shoes should I buy?

a:

Flat feet can have major effects on your body when running. Without proper arch support, a runner with flat feet can be more susceptible to shin splints, back problems, or tendonitis. Runners with flat feet benefit from supported and well-fitted shoes that have good arch support. The shoes on our list here are all amazing but aren't specifically chosen for flat feet. However, a more helpful article for you to find your perfect fit is available here.
q:

What are neutral running shoes?

a:

Some runners have a natural inclination to roll their weight to the inside of their foot, and neutral shoes offer a design to neutralize that inclination. These shoes have slightly more padding under the foot, making the shoe more comfortable while staying lightweight enough to enhance speed.
q:

Can I wear my these shoes for things other than running?

a:

Technically, yes. Should you? Probably not. There is a psychological effect that comes from the act of lacing up your running shoes. When you put those shoes on, your mind shifts into running gear and you are less likely to skip out on your training session. Furthermore, you shift your weight on your feet differently when you are running rather than when you are just standing or casually walking. The midsole foam conforms to your foot over time, and you would be robbing yourself of additional benefits if the foam wasn't conformed to a running foot.
q:

How long should a good pair of these shoes last?

a:

Much like an automobile- the value of these shoes isn't determined by how many years you have had them, but rather how many miles you have put on them. A good pair of running-specific shoes can last for a range of about 300-500 miles. Assuming you run about one mile a day, a good pair could last you about one year. If you aren't getting at least 300 miles out of your shoes before they begin to give you blisters or the soles don't offer the same around of support- then it's time to invest in a different brand.
q:

What is Plantar Fasciitis and how do I avoid it?

a:

Plantar Fasciitis is a common injury for runners. The Plantar tendon runs along the entire bottom of your foot, from your toes to your heel. The way the tendon is shaped is also the reason that we have arches and our feet aren't completely flat on the ground (in most cases).

When this tendon becomes inflamed, it can be very painful. Heel striking or overstretching can cause inflammation of the plantar tendon. If you have a long stride, each time you land on your heel, at a running speed, you are inflicting a strike up to six times your body weight on your heel.

After so many blows, you will have tears in the muscle and the muscle will begin to pull away from the bone. When this happens, calcium can build up in this area and cause inflammation. If not treated, bone mass can begin to grow in this area and you will end up with a heel spur, which can be even more painful.

There are exercises that you can practice to help prevent Plantar Fasciitis. Many people don't think about strengthening their feet. A common exercise to strengthen your foot is called a Towel Lift. You lay a towel on the ground and use your toes to pick it up over and over again. Another preventative measure you can take is to wear supportive shoes. Having your arches supported while running can make all the difference.
Subscribe to our Newsletter