Best Running Shoes For Women
In a
Hurry? Editors choice: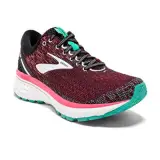 Test Winner: Brooks Ghost 11

It is quite obvious that men and women have different body shapes, right? Because of this, our weight sits differently and we tend to have different gaits. While technically,
men and women
could wear the same
running shoes
, there are a few anatomical differences that make each sex feel more comfortable in a gender-specific shoe. A woman's running pattern is usually lighter in weight, wider in the forefoot, and narrower in the heel. Women typically weigh less than men and can feel just as comfortable with less cushioning. Aside from the technicalities, women's running shoes are usually offered in brighter or
more feminine colors
. Whether you have been running for years or just getting into a routine, you will find the perfect shoe for you on this list.
Standout Picks
Criteria Used for Evaluation
Comfort
Comfort may be the most important thing when searching for the perfect shoes. You want to know that your arches, toes, and ankles are supported and protected for those difficult journeys. Are there sneakers out there capable of making you run faster and jump higher? Absolutely not.
However, bad shoes that cause blisters, shin and knee pain, numb toes, and are just generally uncomfortable can most certainly make you run slower. Smashing through fatigue and training walls is hard enough- you want to make sure your shoes offer great support to help you reach your goals.
For overall comfort, you'll want to pay close attention to the midsole of the shoe. Many sneakers feature EVA foam or some other type of cushioned midsole. Additionally, the materials of a shoe can make or break a shoe. A shoe with a mesh upper will provide great breathability and keep your feet from sitting in a sauna as you run.
Style
This criterion might not seem incredibly important, however, it's an unfortunate reality that women's running shoes have been known to sacrifice design for functionality. Many unnecessary straps or nonfunctional shoelaces can actually serve to dig into feet and hinder performance. And make sure that you don't fall for any fleeting gimmicks.
Some of the more seasoned athletes out there still remember of the sting of when the Reebok Pump did not make them jump higher. Keep in mind that just like there is no pill out there to make you smarter, there is also no magic shoes out there to make you run faster. However, if the shoe you are interested in comes in your favorite color, you will feel happier and more confident every time you lace them up.
Brand
Brand Recognition was also an important aspect to take into consideration when selecting the best women's running shoes. Many of the top companies have been perfecting their shoe game for over 100 years and have perfected it down to a science. It's also comforting to know that some brands are worn by professional athletes and Olympians, so you know that you are getting the best quality.
While keeping an eye on more recognized brands, it was also important not to discount some of the newer companies. The newer companies that are making an impact often do what the veterans are afraid to do, and that is to take risks. The unique design of the HOKA is making a huge impact on runners, and some of the bigger names are even beginning to mimic their innovative design.
Value
Value, the one thing that everyone thinks about but doesn't want to talk about. We don't need to look at this section with such negativity. You are investing in your health and your future, this is a good thing. When we determined the value of each product, we didn't just look at the price. We looked at the comfort, features, durability, customer reviews, and the brand itself. If a shoe that costs more money is poor in features and durability, it has less value.
Sometimes we can be tricked by marketing schemes or brand names into thinking that a product with a certain label is worth more than another. However, that couldn't be more false. We looked into the value of each shoe to help you see which features are worth investing in. The outcome will be different for each runner.
Top Ten Running Shoes for Women
Subscribe to our Newsletter