Best Wrist Sweatbands
In a Hurry? Editors choice: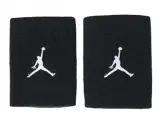 Test Winner: Nike Jordan Jumpman Wristbands

When you stop and think about it, there are so many reasons why you would want to buy yourself some wrist sweatbands. If you enjoy any physical activity or even have to work outside all day in the beating hot sun, they can be of great use to you.
They are pretty simple in concept too. Basically,
high-quality sweatbands
are just pieces of fabric that are designed to absorb your sweat and wick it away from your body. And, with wrist sweatbands, they can be used to keep your palms less moist and to wipe the sweat off of your forehead.
So, due to their simplicity, it must mean that all models will work the same right? Well, you probably already know the answer to that question. After all, why would you be here otherwise? Nope, instead, it will be a process of elimination.
Standout Picks
Criteria Used for Evaluation
Materials
Do not take this section lightly because if you do, you will probably end up regretting it.
When it comes down to it, wrist sweatbands are very simple in their design. They are just engineered fabrics that are designed to fit around your wrists to help absorb and wick away sweat. Due to this, the number one area of assessment for you is what they are made with.
And, you will find that sweatbands will be made out of one of three specific materials (or a blend of them). Firstly, you have nylon, and this is an extremely versatile, synthetic fabric. It is known mostly for its strength, but it also has excellent elasticity. Also, nylon is not going to be weakened by sweat which is vital and makes it the best material for sweatbands.
Another common material you will see is polyester. This is another synthetic fabric, and while it is not as strong as nylon, it is abrasion-resistant and tends to dry very quickly. For sure, to harp back to that last point, polyester is best known for its quick-drying properties and that is why it is also included in shoes for water.
Lastly, you have what is known as terry cloth. This is primarily made with cotton but can also sport other materials. The primary reason why cotton (or terry cloth) is preferred for wrist sweatbands is due to the absorbent nature of it. Cotton, additionally, is also a highly breathable fabric.
Effectiveness
Sweatbands are designed to absorb your sweat and wick it away. So, you need to look for models that do that well.
The previous section does play an important role in this section. But, let's talk about something for a second. The main purpose of a wrist sweatband is to absorb the sweat from your body. However, it should also be designed to wick away moisture, as well. After all, wrist sweatbands will eventually become oversaturated with moisture.
Anyway, while the materials in play will affect this section, so will specific technologies that certain engineers implement. Take, for example, Adidas and their ClimaLite moisture-wicking technology. This technology is implemented into garments, and it allows them to wick away sweat from your body and then evaporate it. Basically, this leaves you drier and cooler, as a result.
But, as was noted, the fabric blend will also play a role in this section. After all, while polyester is quick-drying and can be designed to wick away sweat, it still is not absorbent. Meanwhile, cotton is the exact opposite.
As noted before, cotton is super absorbent and also highly breathable. At the same time, however, cotton also takes much longer to dry than polyester. This is why you will see several wrist sweatbands with either fabric blends or exclusive fabrics to enhance their performance.
Stability
The last thing you want is sweatbands that fall down your wrists, right?
When talking about headbands, one of the most annoying aspects of them is when they slip down your forehead. And, while this problem is not quite as bad when you wear sweatbands on your wrists, it is still something that you want to take into consideration.
And, first and foremost, you need to analyze how they are going to fit you. Well, how do you do that when you can't physically try them on for yourself? This is where utilizing your resources comes in handy. In specific, this is where it is advised to take some time to see what others have had to say.
Now, it is worth mentioning that most brands will be designed with only one size. And, this size will typically apply to both men's and women's wrists. As for how you want wristbands to fit you, they need to be tight enough to be secure without putting pressure on your wrists.
Oh, and also for this section, pay attention to how well the sweatbands stay in place. Ideally, they will not move around or bundle up while you are moving or exercising. Constantly needing to readjust them is probably going to be more of a pain than it is worth.
Value
As a consumer, it is your duty to look for products that offer good value and it is no different here.
This is something you need to keep in mind no matter what you are going to buy. Value is everything, and when it comes to wrist sweatbands, it is no different. So many people will want to substitute the word value for the price, and that is not fair in the slightest.
After all, there are three essential characteristics to consider when assessing the value of wristbands. Firstly, keep in mind how many you will be getting for your purchase. Most manufacturers will sell their models in pairs (one wristband for each wrist) but not all of them will. Of course, others will offer theirs in larger quantities.
Now, the remaining two factors play directly off of each other. While one of them does happen to be price, the other is quality. Think about it this way; you may pay more money for a specific pair of wristbands, but if they last you longer then you will be saving money in the long run.
In reality, all you want to do is assess the value based on your perspective. Taking into consideration the frequency at which you will use the sweatbands, for example, will also be something to think about.
Color
While not the most important section, this can still come into play.
Even though this last section may not mean a darn thing to some of you, others will think otherwise. And, while there are certainly more essential criteria to base your purchase on, there is nothing wrong with caring about the color of the sweatbands that you buy.
Chances are, after all, that you will also be wearing a headband during your workouts or your long days in the beating sun. So, you may want your wristbands to match the color of your headband. Sometimes it is the little things that make the most difference.
Anyway, most sellers will be consistent in the colors they provide. Staple colors, such as black, white, blue, and red, will be seen a lot across the market. This makes it a bit easier to choose matching colors (regarding your other athletic clothing and accessories).
Of course, something to also make mention of here is the embroidered logos that some companies will implement on their designs. While these are more for branding purposes, large and obnoxious logos can become nuisances. This is especially true when you go to wipe the sweat off of your forehead.
Our Top Picks for the Best Wrist Sweatbands
1

. Nike Jordan Jumpman Wristbands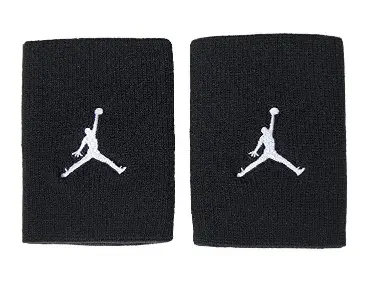 The Jordan Brand from Nike is one of the most popular brands in the world, bar none. So, it is not too much of a surprise to see this option top this type of a list.
Read more
Materials
The best material for sweatbands is often fabric that is both comfortable and absorbent. It is safe to say that with the central nylon core (with just a hint of rubber added), these bands are good at both.
Absorbency
What makes these wristbands tick is not the nylon shell. Instead, it is the Dri-FIT fabric that wicks away the sweat from your body. And, at the same time, this is also going to help you stay cool.
Stability
In addition to the fact that these are unlikely to slip and fall down your wrists, they are also designed with more extensive profiles. These profiles allow them to cover more surface area on your wrists.
Value
Though these are a bit expensive, there are sold in pairs. So, you at least get a wristband for each arm. You are paying for the Jordan Brand.
Colors
The selection of colors is not exactly diverse. Then again, it is also far from bad. Your staple wristband colors (such as black, white, red and gray) can be selected from.
Overall
Though these really are terrific and perform exceptionally well, some of you may not be interested in paying extra for a brand that you could care less about. Jordan fanatics, though, will be dying to get these.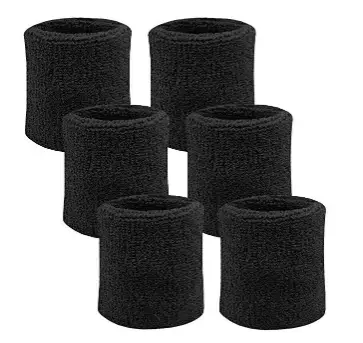 From top to bottom, these wrist sweatbands are about as good as it gets. Not only are they designed with sweat-wicking cotton fabric but they are also not going to slip down your wrists.
Read more
Materials
As with most options on this list, the primary fabric utilized here is cotton. But, there is also a touch of spandex and nylon thrown in to create a fabric blend that works.
Absorbency
The cotton that is utilized for these sweat wristbands is designed to wick away sweat from your body. In turn, the sweatbands are also designed to dry quickly.
Stability
These are a bit longer than other options on this list, to note. Another critical design implementation, though, is that they are designed to be non-slip in nature.
Value
The value here is just through the roof. Not only is the price more than fair but the quality is superb, and you get multiple pairs (depending on the option you go with).
Colors
While you can't directly choose which individual colors you are provided with, there are a few different sets available.
Overall
Quite honestly, this will be the go-to option for many of you. In addition to the incredible value, the performance speaks for itself.

3

. Adidas Interval Wristbands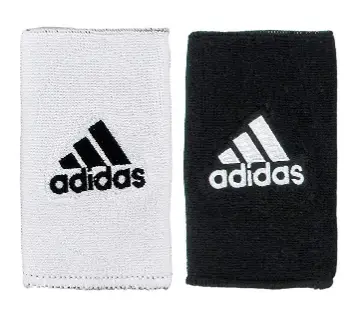 In addition to the fact that these wristbands are made with cotton terry fabric, they also sport ClimaLite moisture-wicking technology that allows them to deliver superb athletic performance.
Read more
Materials
As noted, these are designed with a cotton terry fabric. In addition to being reversible, this fabric is also going to absorb your sweat with excellent efficiency.
Absorbency
Yes, the cotton terry fabric does wonders here. However, Adidas has also integrated its ClimaLite moisture-wicking technology into these wrist sweatbands for maximum effectiveness.
Stability
It seems as if these run on the small side. This can be a problem for some of you as these are one-size-fits-all wristbands.
Value
The price is pretty fair considering you do get a pair of these with your purchase (one for each wrist). Then, when you take the performance benefits into play, it becomes clear that the value is excellent.
Colors
While the few color options are beautiful to choose from, the embroidered Adidas logo is obnoxiously large. When you go to wipe the sweat off of your forehead, in fact, it can be quite the nuisance.
Overall
You can't go wrong with Adidas wear. Not only do these sweatbands efficiently absorb your sweat, but they also provide superior moisture-wicking properties.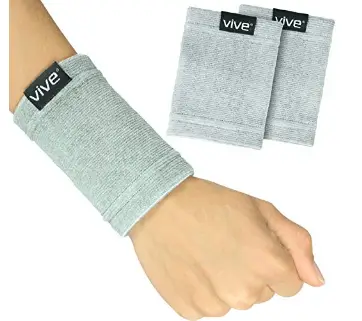 Now, these wristbands are a little different than the other options on this list. In addition to regulating your temperature, these sweatbands are also going to provide support to your wrists.
Read more
Materials
The fabric blend of these sweatbands is much different than what you will be used to. These have actually been designed with a unique bamboo blend (it contains latex) for enhanced durability.
Absorbency
When you are hot, these are going to release the excess heat from your body. They will also do the reverse when you need them for warmth. Additionally, they are designed to provide both wrist support and compression therapy.
Stability
As these have been designed to be non-slip in nature, they are not going to slip down your wrists when you begin to sweat.
Value
In the grand scheme of things, you could make the argument that these are a bit expensive. But, when you really think about it, the quality and durability make up for the somewhat higher price tag.
Colors
Granted you do not have an issue with gray or black, you will be fine with the color choices provided for you here.
Overall
These are terrific if you require a bit more support from a pair of wrist sweatbands. On the other hand, however, they may be too "advanced" if you are simply looking for a casual pair of wrist sweatbands.

5

. Nike Swoosh Wristbands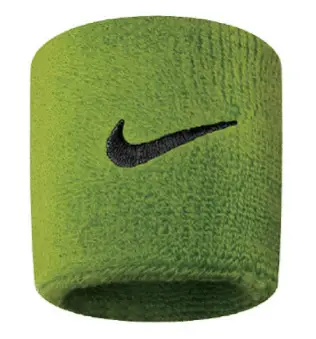 In addition to the fact that Nike is a top-name brand, their Swoosh Wristbands are quite popular in the world of athletic wear. While they are not perfect, they absorb sweat very well which is the main point.
Read more
Materials
While the Nike Swoosh Wristbands are far from the thickest option out there, their fabric blend is excellent. They sport a blend of cotton (74 percent), nylon, rubber, and spandex.
Absorbency
Here is the good news; these sweatbands are going to absorb a lot of your sweat. However, the bad news is that they can take a few days to dry out completely.
Stability
Based on consumer feedback, it appears as if you can expect somewhat of a tight fit with these. While this means they are less likely to slip, if you have larger wrists, you may find them too close.
Value
Given the brand name, the fact that you receive these in pairs, and the quality overall, it is safe to say that the cost is above-average.
Colors
Nike provides you with an excellent selection of colors to choose from. Several Nike staples are available such black, red, and white.
Overall
Unless you have something against Nike (or have huge wrists), you should enjoy these sweatbands. Though they can take a while to dry, they do perform well.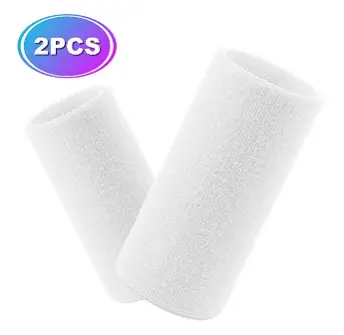 While these are not going to provide much wrist support for you, they do absorb sweat efficiently. Plus, the color selection is about as good as it gets.
Read more
Materials
These sweatbands have been engineered with two-ply thickness extra-plush material. In addition to being incredibly soft, these are also going to hold their shape well over time.
Absorbency
One of the reasons this is one of the best wrist sweatbands for CrossFit, and other types of activities are due to the organic cotton that is designed to wick away sweat from your skin.
Stability
Even though these are not designed to provide you with wrist support, they are also not going to slip down your wrists when you begin to sweat.
Value
It is worth pointing out that some options come in pairs and others just come with one wristband. If you want to wear one on each hand, then you should opt for the options that are sold in pairs.
Colors
Let's say that there should not be an issue when it comes to choosing a color option that you are fond of. Indeed, the selection is diverse and is that good.
Overall
Overall, these great sweatbands are a great choice. They may not provide much support, but they do an outstanding job of wicking away moisture from your skin (which is the main point).

7

. Under Armour Performance Wristbands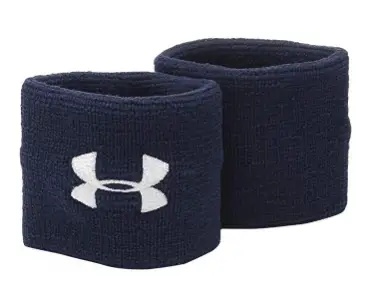 While some wrist sweatbands are made of cotton, these performance wristbands are actually made out of polyester (mainly). This alone makes them unique in nature.
Read more
Materials
Indeed, these are mostly made out of polyester (96 percent of the blend) but also sports a hint of elastodiene. However, previous users have noted that these can begin to fray and are magnets to lint.
Absorbency
Because these bands are designed with multi-channel performance fibers, they are going to wick away moisture exceptionally well.
Stability
As with so many of the other wrist sweatbands on this list, these are not going to easily slip and move around while you are sweating and walking with them on.
Value
These come in packs (a pair of two), and when you also take into consideration the price and quality, many would admit that the value here is above-average.
Colors
Some of your first color options (such as royal, white, black, and red) are available here. And, for the most part, the color selection should be diverse enough to please just about anyone.
Overall
Past the durability concerns that some users have had, these are pretty good. Of course, the Under Armour logo is a bit obnoxious, so there is that, as well.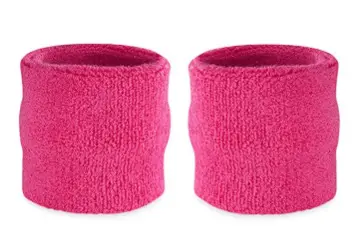 For whatever reason, these were designed with sewn-in tags that are quite uncomfortable. In spite of this, though, they perform very well thanks to their unique fabric blend.
Read more
Materials
Alright, so there is not much to complain about with the fabric blend of cotton, nylon, and spandex. However, for whatever reason, there are sewn-in tags present that make things more uncomfortable than they need to be.
Absorbency
Thought these are quite bulky when they are on your wrists, they are thick and do an adequate job when it comes to wicking away sweat.
Stability
What helps these bands stay in place is their elastic nature. In addition to this, the bands are one-size-fits-all and are suitable for children, men, and women.
Value
With your purchase, you get a pair of sweatbands. For the price of admission, not too many of you will feel as if this is a rip-off or anything like that.
Colors
Whenever you can claim that the selection of colors presented to you is so good that it would take a miracle for you not to find one you like, you know the choice must be good.
Overall
Do away with the sewn-in labels, and you have yourself some of the best wrist sweatbands out there. This design feature will leave many of you scratching your head, and that is fair.

9

. Mallofusa Athletic Sweatbands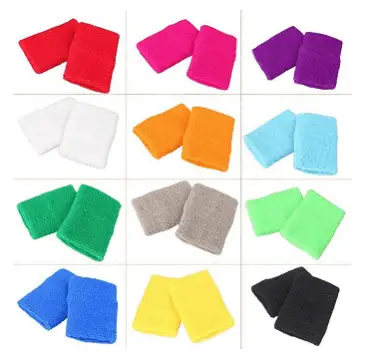 Talk about a good value? It may not get better than this. Plus, each of the wristbands that you are provided with feature a high-performance blend of cotton and Lycra.
Read more
Materials
The combination of the terry cotton cloth and the Lycra make for a robust fabric blend. Previous buyers have reported, however, that the quality could be a little better with these.
Absorbency
In addition to the fact that these will absorb your sweat, they are also going to wick it away from your skin and dry somewhat quickly.
Stability
Even users with small wrists have commented on how tight these suckers can be. While this makes them less prone to slipping, it also means they can be a bit more uncomfortable.
Value
As noted, the value here is outstanding, and it is all thanks to the fact that you receive 12 pairs of sweatbands. For the low price, you just can't beat that.
Colors
The 12-pack you receive is loaded with different colors. Each pair is different, and this provides you with a good variety overall.
Overall
Though the individual quality of each wristband could be a little better, it is hard to argue with the value here. In this sense, many of you will be quite compelled to go with this option.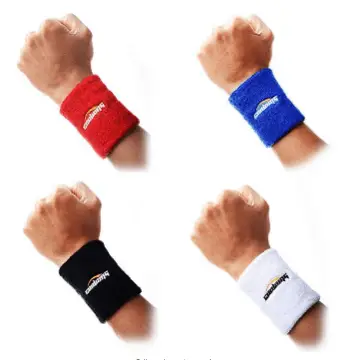 For certain, this is an excellent value option to go with. Sure, there are better sweat wristbands out there but it is really nice that you are provided with so many of them.
Read more
Materials
These have been made with high-quality terry cotton cloth. And, if you have been paying attention, this is not the only option that has been designed with this material.
Absorbency
For the most part, these do an adequate job when it comes to absorbing sweat. There have been a few users, though, who have noted that they could do a slightly better job at it.
Stability
One size is designed to fit most here. Due to the nature of the wristbands, they will adapt to both smaller and larger wrists quite well.
Value
What you receive with your purchase are four individual wristbands. Considering the price is so low, most would have to say that the value is pretty good overall.
Colors
There are different individual colors available, for the record. But, there is also a variety pack available which provides you with black, blue, white, and red sweatbands.
Overall
Admittedly, this is not the most premium option on this list. It is, however, a great option if you are looking for a variety of wrist sweatbands to utilize during physical activities and such.

Subscribe to our Newsletter