Best Water Shoes
In a Hurry? Editors choice: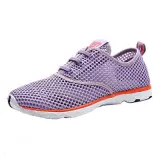 Test Winner: Aleader Quick Drying

When it comes to playing in the water, you need to stay protected. From the clothing you wear to your
sunblock
and
bug spray
, it's important to be prepared, but what about your feet? Think about the beach in the middle of August, probably the hottest month of the summer. The sand can get extremely hot and it's possible to severely burn the bottoms of your feet. What about those sharp shells and jellyfish? Those things can cause some serious problems when you come into contact with them. How about that
camping trip
you have planned? You know there will be hiking involved, but your boots or sneakers won't suffice because you will encounter lakes and streams along the way. For all these reasons and more, someone, somewhere, decided to invent water shoes. These water shoes are a cut above the average flip-flops and made to be durable enough to stay on your feet no matter what situation you are in.
Standout Picks
Criteria Used for Evaluation
Features
When you're looking for the perfect water shoes to match your activities, features play an important role. You need to decide what you want the shoes for, so you can find shoes that offer the features to meet those needs. Keep in mind that some shoes might only be designed for the water, so if you want something that will work on land and in the water, you need to be sure the shoes are made to handle both. Some shoes provide strings, some bungee ties, and others offer elastic openings, this is a feature that is based on personal preference, but it's still important to consider. The soles are important for the grip and open sandals vs. closed shoes are important depending on how much protection you will need on your complete foot. Most features are based on personal preference, but there are some important ones you must consider for your safety.
Durability
When you're inspecting the level of durability in your water shoes, make sure they are made with quality materials and thick rubber so that the shoes will move with you. Think about walking through muddy water and when you pick up your foot the shoe sticks in the ground with your bare foot-dragging ahead. You want to be sure the shoes are constructed with high-quality materials and that they firmly secure to your feet, so you don't find yourself in that situation. Also, make sure the shoes will tolerate rough terrain without tearing, snagging, or poking through.
Comfort
Comfort is an obvious concern with the shoes you choose. The whole idea is to keep your feet protected, cool, and comfortable no matter what situation you get into. The more ventilation that's offered in the shoe, the cooler your feet will be. Ventilation is also important for water drainage; if you don't have any then your feet will get soggy and become uncomfortable. Arches are more important when it comes to land/water shoes because you will encounter different types of terrain. You will also want a higher arch for walking long distances on the dry ground. Be sure the shoes you choose fit to size and that they don't rub on your feet causing blisters.
Value
The more you get with the shoes, the higher the value. If you get shoes with versatility, then, in reality, you are getting more than one pair of shoes for the price. The features, durability, and comfort all play important rules when it comes to value. Shoes that fall apart the first time you put them on will be a waste of money, and if they don't offer what you need or they're not comfortable, then you will probably not get any use out of them.
Top Ten Water Shoes
1

. Speedo Seaside Lace 4.0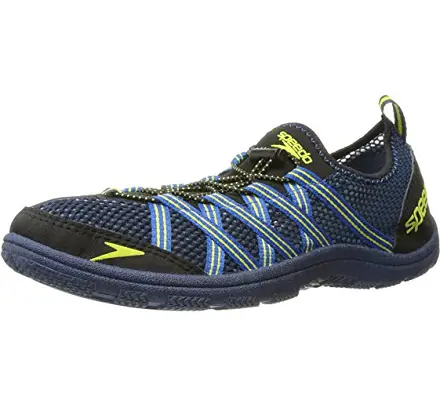 If water sports are your thing, Speedo's Seaside Lace water shoes are definitely a product to consider. The thick sole allows for superb comfort and protection, while the flexible design allows for freedom of movement no matter what you're doing.
Read more
Features
With the thick soles these water shoes provide, you will be walking across that shell covered beach like nobody else around you. The elastic tops and adjustable bungee laces will wrap your feet tight and secure, so you won't have to worry that they will stick in the sand while your foot gets ahead of you. They offer favorable traction that allows you to stay on your feet while you dock the boat. Designed with a drain system that will have the shoes completely dry within a couple of hours, you will also have the ability to remove the insole for extreme drying and odor control. They offer three color choices and are stylish enough to pass off as sneakers.
Durability
The soles are made of high-quality thick materials and the upper part of the shoe is constructed with the same equal quality. The elastic laces are strong and secure along with the finger loop at the back of the foot.
Ease of Comfort
Although they don't offer much arch support, these shoes will still provide you with all the comfort you will need to enjoy all your water sports. With the thick soles, you will never feel the sharp shells in the sand and because they drain well, you won't have the worry of water-logged feet. They are accurate to size, so you should have no problem finding a comfortable fit.
Value
Speedo delivers a high-quality product in everything they offer, and these shoes are no exception to that rule.
Summary
If you're an adventurer, these water shoes would be perfect for you. They offer a combination of style, quality, and comfort all for a generous price, what more could you ask for in a good pair of water shoes?

2

. Adidas Outdoor Climacool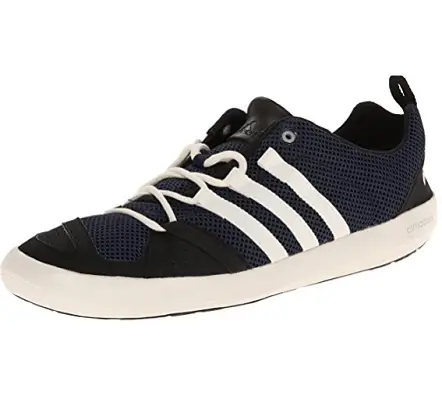 Everyone knows that Adidas is famous for their huge line of athletic wear and sneakers, but did you know that they also carry their own collection of water shoes? You can only imagine the style these shoes would provide.
Read more
Features
With the appearance of a classic Adidas sneaker, this water shoes features a rubber sole lined with holes that will allow the water to escape quickly without the worry of soggy feet. The sole is designed to keep your feet on the ground and the mesh upper will keep your feet cool, so you can wear them all day. They're functional enough to use indoors or out; on land or in the water. They are available in five color choices with a size to fit almost everyone. Although they say they are for men, women can easily sport these shoes too.
Durability
The sole is rubber and durable, so no matter where you wear them, they will provide the grip you expect to keep you safe. The holes are strategically placed to avoid mold and mildew build-up, and the laces are well-made and designed to stay in secure.
Ease of Comfort
These shoes offer the comfort and support you would expect from Adidas. The mesh allows your feet to breathe and they won't hold water, so your feet will not feel heavy and tired. They don't require time to break them in and you will be comfortable without socks, but if you choose to wear them for everyday comfort, they will wear with socks just as well. They come with two different insoles for you to match the perfect fit for your comfort. The very bottom is a bit thinner than some causing you to feel the surface beneath your feet, but that doesn't lessen the comfort level of these shoes.
Value
Although they might seem pricey for water shoes, you need to keep in mind the quality of these shoes and how long they will last compared to some of the others.
Summary
Adidas knocks it out of the water with these excellent water shoes. They have put the sneaker design into a quality water shoe, making it functional for any event. It's hard to pass these up when it comes to your choices.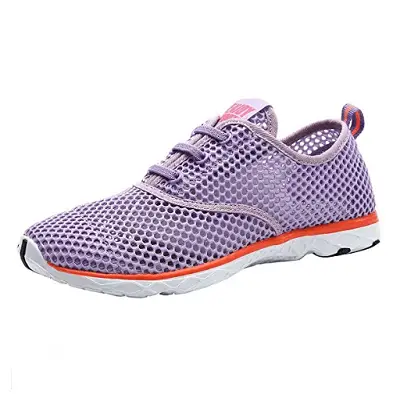 We added these to the list because they seem to offer the best arch support and cushion of any water shoe we researched.
Read more
Features
These lightweight shoes are designed much like a sneaker and are offered in so many stylish colors and size choices that you will be sure to find something you can't live without in this selection. They offer a rubber sole with a reasonable grip and they are covered in mesh fabric that will throw out the water as fast as it comes in. They slip on, and although they have laces, they actually serve no purpose. When you get them dirty, just rinse them off, and in no time, they will be clean and dry again. These shoes are perfect for almost every land and water activity that you can think of, but if you need protection from river rocks, these are the shoes for you.
Durability
With the durable sole on these shoes, you can traipse through any muck without having to worry that they will come off or fall apart. The laces are secure, and the mesh is strong.
Ease of Comfort
These are above the rest when it comes to cushion and arch support. They are lightweight and offer your feet the breathing room they deserve. The sole is thick enough that you won't feel the rocks under your feet like you would with some of the others. They fit true to your size, so you can enjoy them right from the box.
Value
These offer more than some and the price is better than most, so it's easy to see where all the value is in these shoes.
Summary
If you're looking for excellent comfort and perfect arch support, these are the ones you should consider. They're available in a lot of stylish colors and provide smooth drainage and quick drying. You won't go wrong if you choose these to keep your feet happy.

4

. Adidas Outdoor Climacool Jawpaw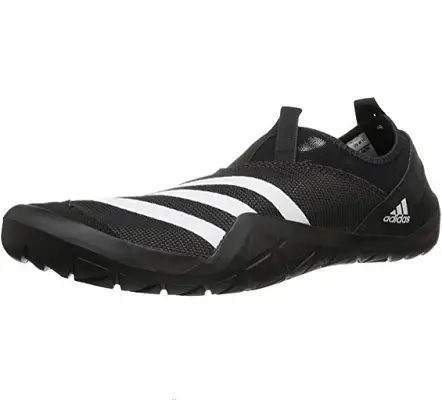 These awesome looking shoes are not only stylish, but they're comfortable enough to walk through water or on dry land without feeling the uneven or rocky ground beneath your feet.
Read more
Features
Another great water shoe from Adidas, this one is designed to tread through water and glide over rocks without losing your grip. They're made of mesh around the ankle and slide on easily with the use of the finger loops. They empty the water through the ventilation holes on the bottom, so your feet can breathe, and they will never feel heavy.
Durability
These shoes are extremely durable with a thick rubber sole and the upper part of the shoe is made of high-quality materials. The mesh elastic around the ankle is strong and will hold your foot secure without losing its stretch. The pull tabs are well- constructed, so they won't tear when they are pulled.
Ease of Comfort
With the thick sole and fine quality materials this shoe offers, you can assure you will feel the comfort you expect and deserve. There are no ties to worry about and the elastic feels good around the ankle.
Value
Knowing these shoes are stamped with the Adidas name is quality enough, but if that doesn't prove it to you, notice the price that comes with these high-quality shoes.
Summary
These shoes deliver all the quality and comfort that you would expect from a water shoe and then some. They might only be offered in one color, but it is desirable and can be worn with any pair of swim trunks or dry suit you own. You could even get away with wearing these with your jeans during a night out on the town.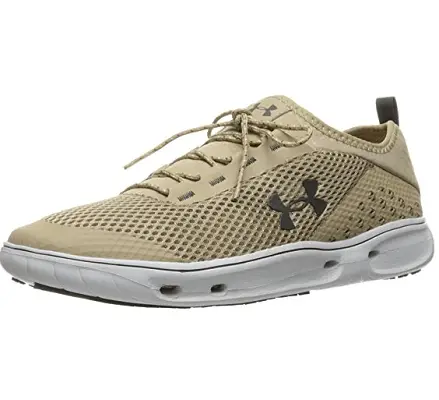 Made to drain and dry quickly, Under Armour's Kilchis shoes have everything you could ask for in a water shoe, with a super stylish design that can be worn out of the water as well.
Read more
Features
These shoes provide a casual look with many colors and sizes to choose from. While they work great on land and water, they are also some of the best water shoes for boating. The bottom of the shoe provides a powerful grip to keep you safe from the dock to the boat and back again, and the water drains freely so they won't feel heavy and make your feet feel tired. They have a shoestring as opposed to a bungee tie that will secure the shoes, so you can slide them on and off with ease. You will love these shoes so much that you will want to wear them in place of your other shoes and you will probably own more than one pair.
Durability
Top quality and durability is something you can expect from these water shoes. The sole is thick and well-constructed, and the water drains easily for quick dry, so you don't have the worry of mold and mildew growth, making them last through the years. At the end of the day you can rinse them off and allow them to air dry, so they will be as good as new the next time you want to wear them. The drain holes mean they'll dry quickly.
Ease of Comfort
These shoes couldn't get any more comfortable, although you might consider an insert for higher arch support if desired, and since there are holes for water drainage, that also leaves a window open for sand to get in. They are breathable, so you can wear them all day without your feet getting hot.
Value
These cost about the same as a quality pair of sneakers, with the added function of being able to be used in the water.
Summary
While the style is definitely what makes this shoe stand out, the protection and comfort they offer are nothing short of what you'd expect from a brand like Under Armour.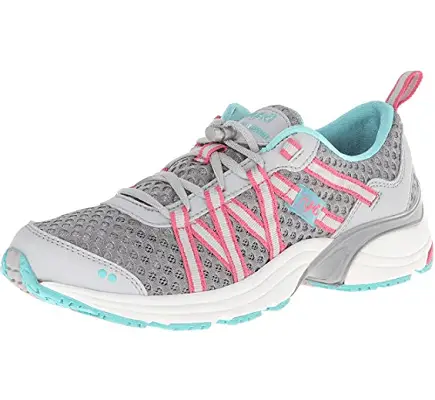 Made with a good amount of support throughout the shoe, the Ryka Hydro Sport shoes are great for those who don't want their arthritis or foot problems to get in the way of what they want to do. The design makes them ideal for water aerobics and other low-impact activities.
Read more
Features
Like several of the others, these water shoes are also designed to look like a sneaker. They come in stylish colors and a large selection of sizes. The rubber sole offers plenty of traction to keep you on top of the surface rather than on the ground. Plenty of holes have been placed throughout the shoe for drainage and ventilation and the bungee laces feature an adjustable clip for added security and comfort. These shoes can be worn on land or in the water, but they are highly recommended for wear during water aerobics.
Durability
These have a solid runner sole on the bottom and will stand strong on wet surfaces without complaint. The insole should be removed after each use for drying and they will feel like new each time you put them on. The laces are strong, and the clasp is made to keep them in place.
Ease of Comfort
These shoes offer excellent ankle support and the arches are better than most. There is plenty of cushion in the heels and the soles are thick enough that you won't feel the debris on the ground beneath you. The clasps will adjust the laces for a better fit and they run true to size, so you shouldn't have a problem with the way they fit.
Value
Comfort, style, and a reasonable price come with these excellent water shoes.
Summary
If you need a good shoe to wear during water aerobics, let this shoe do the job for you. You will get plenty of arch and ankle support, and the heels of your feet will no longer cry at the end of the day.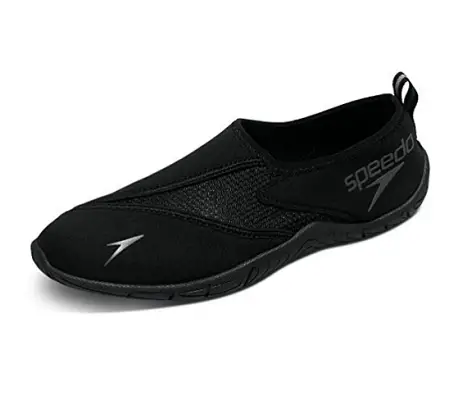 Durable and lighter than sandals, these multi-purpose shoes can be worn both in the water and on dry land. The material is made to be breathable and dries quickly, and the stretch top provides a secure fit without having to worry about fumbling with laces.
Read more
Features
The slip-on style of these shoes offers a stretch band around the top and the ankle that will keep your foot securely inside the shoe. There is a finger loop on the heel to assist you with pulling them on and off. They provide enough ventilation to keep your foot breathing and they dry quickly when they are wet. These water shoes are multi-purpose and make perfect shoes for kayaking and the beach. Although they have no arch, they are still ideal for camping and excellent for walking through the rain. They are stylish and with the many color choices, you will find a color to match any of your swimming trunks.
Durability
These shoes are made of quality materials with a durable sole that provides an acceptable grip. There are no ties to worry about and the stretch top is extremely dependable.
Ease of Comfort
You might find these are a bit less comfortable than the others considering there is no arch support, but for the water and short-term walking it isn't really bothersome. The foot opening is comfortable and easy to pull on and off.
Value
For a water shoe with this much versatility, you can 't beat the price point this one falls into.
Summary
If you need a pair of water shoes to wear in the ocean, at the pool, or in the shower, these are a great choice. Not only are they an easy pair of slip-on shoes, but they offer all the protection you need to keep your feet safe from hot sand and sharp seashells. Another plus is the fact that women can enjoy these shoes just as much as the men.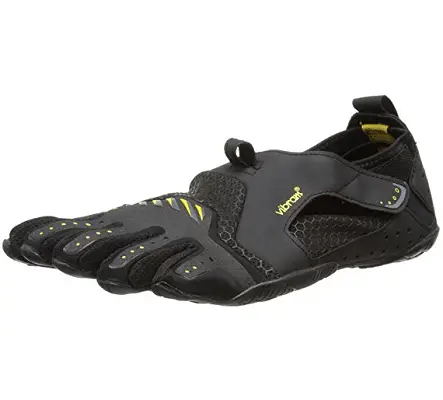 These shoes are unique compared to all the others on our list. These are a favorite because they allow your toes to spread for better comfort. If you're looking for a shoe that you can only wear in the water, this is the one you should consider.
Read more
Features
This shoe is simply a glove for your feet. The top provides a Velcro closure to slide your foot into just like your hand goes into a glove. There is room for your toes to breathe while your foot molds into the shoe. Drain holes have been placed throughout the shoe for better drainage and they will dry extremely well. Although they can be a bit more slippery than some, they do provide a fair grip. They are easy to slide on using the finger loop, and they secure to your satisfactory fit. At the end of your adventure, just rinse them off and they will be ready for the next use.
Durability
Designed with a quality rubber sole, these shoes are durable enough to hold up through the muddiest of water. The mesh material is strong enough to keep from tearing and won't get snagged on sharp objects. It won't hold in water, so you won't have to worry about mold and mildew.
Ease of Comfort
When you wear these shoes, you will feel like you're barefoot without the worry of cuts and scrapes. Although the rubber sole is durable, the very bottom tends to be a bit thin causing you to feel the ground under your feet. They are comfortable like a glove and the mesh arch is satisfying. They won't weigh down your feet leaving them to feel tired heavy at the end of the day.
Value
The comfort of these shoes, along with quality and durability says a lot in the way of value, and with all that, you won't regret one dime you spend on these unique water shoes.
Summary
Just imagine how good your feet will feel when you come out of the water wearing these comfortable shoes. They make great companions for the waterparks, kayaking, the pool, and they are excellent beach shoes. No matter what event you choose to pair these with, you won't be disappointed.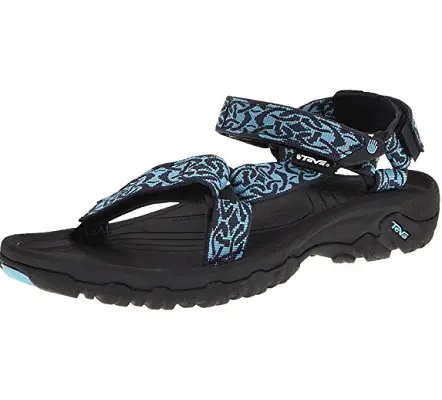 A fan favorite for a reason, Teva's Hurricane sandal have the lightweight and airy design of sandals while protecting your feet from anything unpleasant in the water. Unlike sandals, these are fully submersible and can be worn both in and out of the water.
Read more
Features
With these sandals, you can wade through the water without your feet being exposed to danger, and at the same time, with their airy design, your feet will stay cool. Just like a typical sandal, these shoes provide a strap around the ankle and top of the foot. The difference between these and the ordinary sandal is that these sandals can be completely submerged in water without complications while offering all-day comfort. They offer great support, a phenomenal grip, and plenty of flexibility. Use them on dry land or in the water, either way, you won't feel pain from the uncomfortable objects under your feet, and when they get dirty, you can put them in the wash. It doesn't get any better than this.
Durability
These shoes are rugged and durable to last for years. The strong Velcro on the buckles stay secure even when you're in the water, so you never need to worry you will lose your footing due to a loose buckle.
Ease of Comfort
They are so comfortable that they will make a great companion for arthritis pain. They offer an excellent arch support and the material doesn't make your feet hot. The straps can be adjusted for the perfect fit, and they won't rub blisters on your feet and toes because there is extra padding behind the straps. The soles are thick enough that you won't feel the rocks, and at the end of the day, your feet won't show signs of fatigue.
Value
These cost about as much as the average pair of sandals, with the added benefits of being able to be used in the water. This along with the reputable Teva name make them a very good investment. When your feet are happy, you're happy.
Summary
With all that these sandals offer, it's no wonder these rank so highly. These sandals offer all of the comfort you need out of the water, and all of the protection you need in it.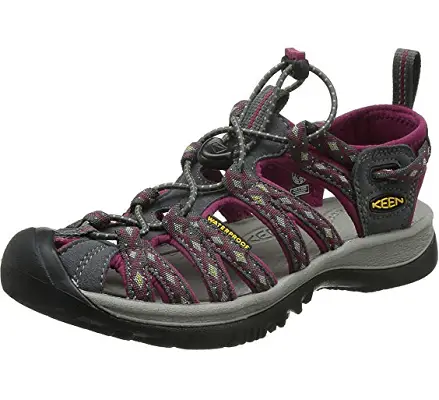 These shoes made it to the top three because of the excellent support and relief they give to knee and back problems.
Read more
Features
Some may say these are not the most stylish of choices, but they do come in a variety of colors and sizes, so there is bound to be something for everyone in this selection. Designed for support, you will find yourself walking with ease when normally your knee would not allow you the freedom. The sole is rugged and much like you would find on a hiking boot, so you can see how good the grip would be in wet conditions. They slide on and provide an adjustable bungee for the perfect fit. These shoes would be a great match for someone with wide feet, and because of the bungee, you can loosen them up in the latter part of the day when your feet might tend to become swollen. They can be worn for almost any activity on dry land and in the water, and the best part is that they can be machine washed when they get dirty.
Durability
Since the bottom design is that of a hiking boot, you can see the durability these shoes provide. The material and straps are well-made and won't come apart or tear and they maintain a firm hold on the sole of the shoe. The bungee seems to be snug in place for reassurance it won't come loose during your activities.
Ease of Comfort
These water shoes are comfortable right out of the box with no break-in time necessary. They offer a good arch support that will keep your feet relaxed, your back won't hurt, and your knee will allow you the mobility you deserve.
Value
The rugged design of these shoes, along with the comfort and support offer plenty of value and they are worth every dime spent.
Summary
When it comes to great support, these shoes are probably your best choice. They can be used in any situation on land or in the water, and they can be machine washed. There are a lot of great reasons to consider these shoes for one of your choices.

Subscribe to our Newsletter