Best Nike Tops
In a Hurry? Editors choice: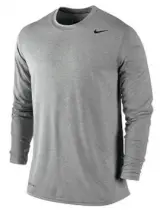 Test Winner: Legend Long Sleeve

Since 1964, Nike has been infiltrating the sports scene with
shoes
, apparel, accessories, and equipment. It is a US-born brand with an incredibly popular swoosh logo and simple slogan- Just Do It. With celebrities such as Michael Jordan, Cristiano Ronaldo, and Landon Donovan sporting their apparel, you already know it's not only stylish but of great quality as well. Luckily, there is no right of passage to this brand and they make great attainable pieces for the everyday man (or woman) also.
Whether you are shopping for your first Nike top or searching for a great addition, our list has something for you. Nike makes comfortable, casual, durable apparel for all seasons.
Standout Picks
Criteria Used for Evaluation
Best Nike Tops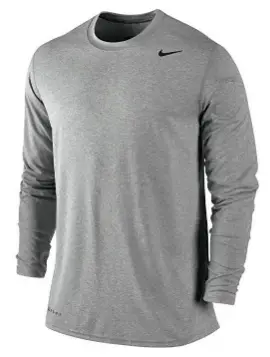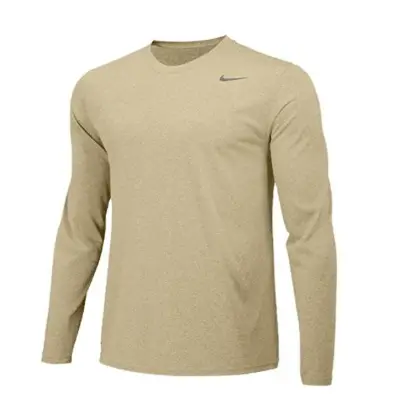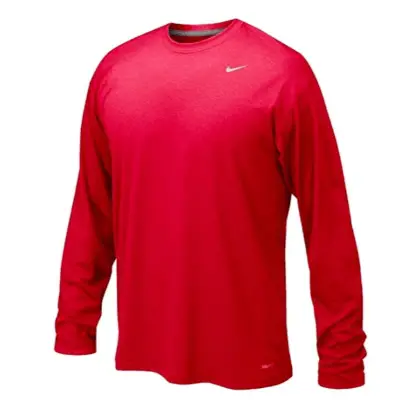 If you are a Nike fan, then you have to own at least one Legend Long Sleeve Tee. Globally, the top is a longtime favorite for guys looking to go to the gym to work out or just go out for a refreshing run. You should be confident in the fact that it's ranked as one of the best-selling. It also has impressive performance features. One thing that's for sure is that you won't regret making this purchase.
Read more
Color
Most popularly sold in gray, if you are not a fan of the color, you can get it in over ten other color variations. The colors include; Black, Sky Blue, Bright Green, College Navy, Dark Green, Carbon Heather, Navy, Desert Orange, Purple, Gold, Royal, University Red, White, Maroon, Bright Ceramic, Grey Heather, Vegas Gold, Cardinal, University Orange, And Red.
Style
This garment comes in long sleeve design. It's a great fit for men who want to work out even in chilly temperatures. Most guys prefer wearing it when working out during winter. It also comes in handy during the late fall period.
Comfort
It is so light that it won't be a hindrance whenever you take on rigorous activities. If you are an athletic kind of person, you will appreciate having one of these tees in your wardrobe. You can get it in several sizes; large, X large, XX-large, XXX-large sizes. The only way you can make the most out of it is by buying one that fits you comfortably.
Features
What adds to the tee's comfort is the Dri-FIT fabric that the company uses. Users are able to stay dry; as they work out or engage in sports. The fabric will get rid of any sweat as you go about your activities. This tee has exceptional moisture-wicking capabilities. If you hate feeling sweaty, you will certainly love wearing it.
Nike makes the seams flat for better movement. You won't suffer any irritation, unlike some shirts from other bands. Most users love the natural motion range the tee offers. It consists of Reglan sleeves, which make that possible.
Overall
You will love this garment if you don't want to experience chaffing. It will definitely be an upgrade thanks to its high quality. The coverage it offers is also a plus when it comes to shielding yourself against cold conditions.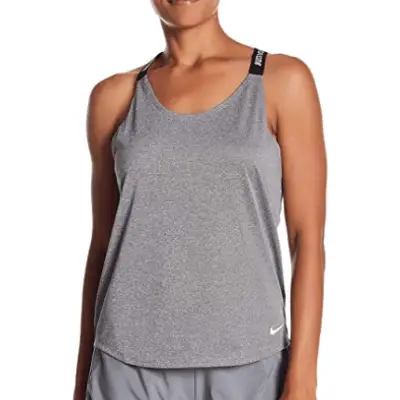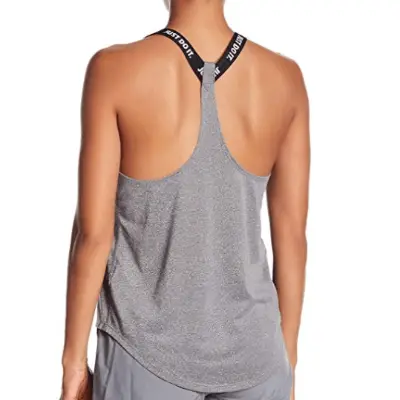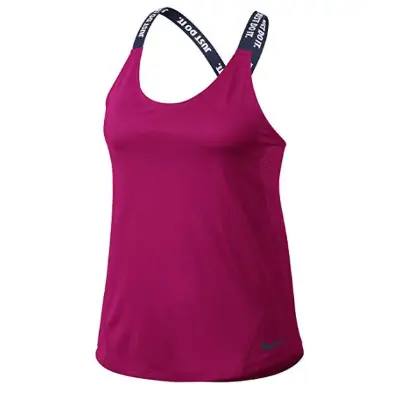 If you are looking for a stylish and breathable option to wear to the gym, the pool, around the house, or on a run, this is a great choice. The Elastika has a low-cut X back that provides excellent breathability and ultimate comfort. Women are pleased with the flattering style and unique color options.
Read more
Color
Whether you are looking to stand out or blend in, there is a color option for you. You can choose from neutral colors, such as white, gray, black, and different variations of these. Or, if you are looking for something brighter, you have the options of igloo, coral, or cherry.
Style
What a lot of women appreciate about this top is that is not low-cut in the front. This is great for running, weight lifting, and many other exercises. The back is very open with a low-cut X cross. Along the X, you will find the famous slogan, "Just Do It." Your upper back and sports bra will be on display, but we don't necessarily see that as a bad thing when you're sweating.
Comfort
This shirt is lightweight, breathable, and roomy. It provides women with an excellent range of motion. It is made from polyester and also features Dri-Fit technology. Just about every reviewer agrees that this shirt fits well and true to size. You have the option to choose between a wide range of sizing, from Extra Small to XXL.
Features
Many women have commented about how confident they feel in this shirt. As we all know, feeling good in what you are wearing can drastically improve your training. The Dri-Fit technology absorbs moisture as you sweat, keeping you feeling fresh and dry.
Overall
There is no doubt about it- this is a great option. It is slightly more expensive than some would like to invest in one shirt, but it is of great quality, comfortable, breathable, and stylish.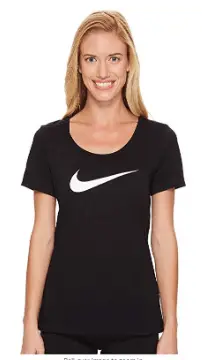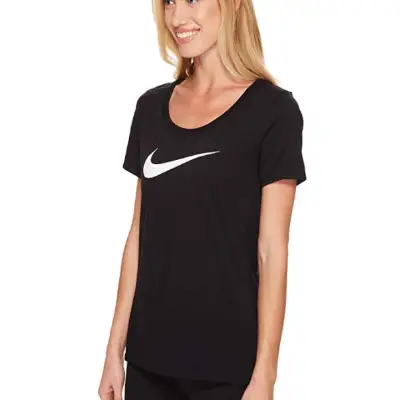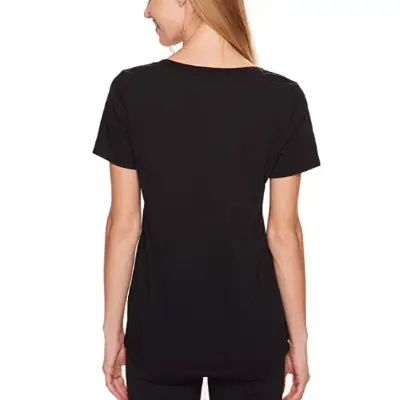 The next one we are going to look into is a Dri-FIT alternative for women. If you are looking for new activewear, then you have come to the right place. The top is durable, so it will serve you well and outlast some of your other clothing. Most users have nothing but stunning feedback when it comes to this top. You are certainly going to find it impressive as well.
Read more
Color
The tee is available in; black, green, white, binary blue, stealth green, heather grey, and carbon heather.
Style
You will love the garment if you want something that has a feminine appeal. It has a flattering neckline that comes in a scoop-like design. You can wear it under your jacket and shirt as well. It is also a great all-round alternative, which you can wear at different times of the year.
Comfort
Nike boasts that this shirt offers users a performance-ready feeling, which they can only get from top-notch fabric. Users find the tee comfortable, seeing as it consists of 42% Polyester and 58% cotton. Make sure you have proper measurements before you make a purchase. Even though most users have confidently claimed that the shirt fits as expected, one can never be too careful. The tee also has a neckband that is ribbed to offer a better fit.
Features
As mentioned earlier, Dri-FIT technology for this line of tees. That is part of what makes it a perfect choice to wear while training. You will enjoy yourself, as you keep fit, without constantly looking for a towel to dry yourself. Purchasing this tee will open you up to a whole new world of convenience.
Overall
It has a reasonable price, considering the value it offers. Its a great purchase for women who want something practical. Depending on your body type, you may find the tee long enough to pair with some leggings.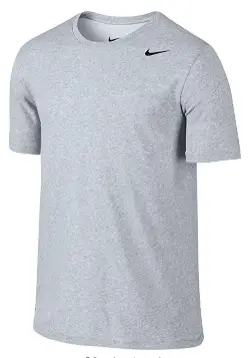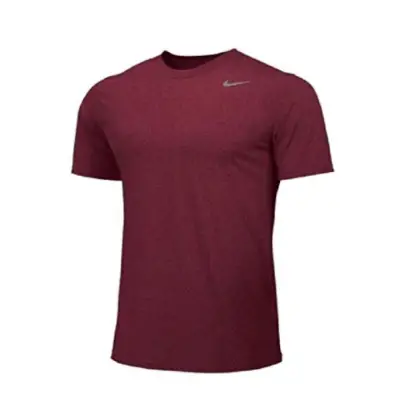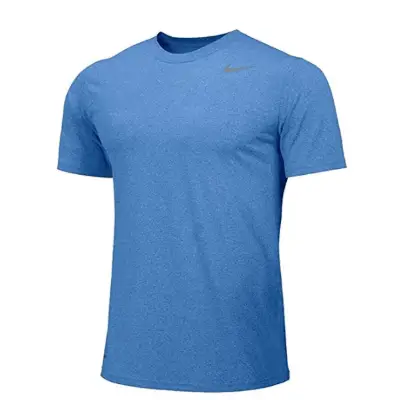 If you are in search of a simple cotton tee, then you shouldn't look any further. Everyone needs one of these in their closets, and you are in luck since this tee is one of the best in the market. According to the feedback given by most buyers, a majority of them claimed that the tee fit them as expected. On average, the consumers who backed this claim totaled to about 80%. You can agree that that's a good sign considering the frustrations people often go through when ordering for clothes.
Read more
Color
Buyers can get the tee in the following alternatives; Bich Heather, Black Heather, Obsidian Heather, Black, Pine Green, Obsidian, Team Red, Carbon Heather, Team Maroon, White, Dark Grey, Anthracite, Game Royal, Blue Force, And Red Heather.
Style
You will love this garment if you have been looking for something to help increase your motion range. It has short sleeves just for that purpose. It's great for regular workouts and can be used in moderate weather conditions.
Comfort
One of the things that make this a comfortable top is a fact that it offers a non-restrictive fit. It is perfect for anyone who doesn't like feeling as if their movements are being limited when working out. The top's design is crew-neck, to bring out the ideal fit.
When it comes to sizes, buyers can choose from; small, large, X-large, XX-large, and XXX-large. However, you need to note that the size options may not be available for all the top colors. Make sure you don't get the wrong fit just because you wanted it in a specific color.
Features
The tee is comprised of more cotton than polyester. As a result, it can absorb moisture flawlessly. You will love how soft it feels; not to mention the dryness it will provide you as you train. The fabric blend is well balanced and is highly breathable. It stretches just enough, unlike other market alternatives which offer an extremely tight fit.
Overall
Users claim that the garment easy to care for. You will find that it washes well and it will serve you for some time. It also won't take too long to dry, compared to other cotton garments.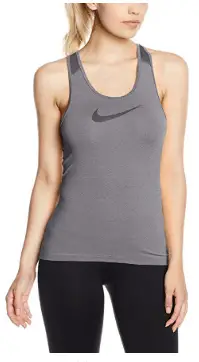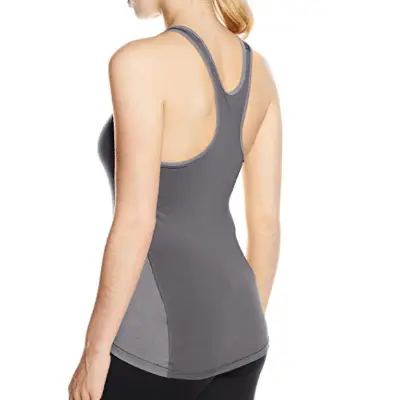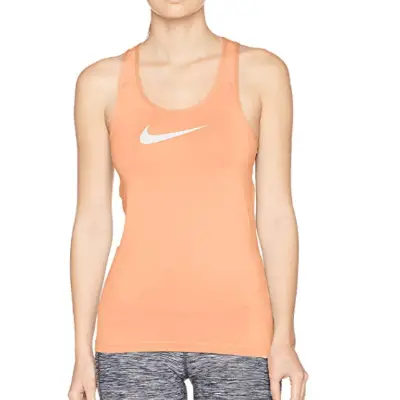 This next option we are going to look at is for women who love tank tops. You won't regret including it in your activewear collection. This garment won't wear out quickly. As such, it will save you time and money, since you won't need a replacement any time soon.
Read more
Color
This garment is available in different colors. They range from; white, dark grey, light photo blue, black, vivid sky, sunset glow, purple, volt, vivid pink, white and black, hydrangea, lava glow, yellow, navy, light crimson, to mention a few.
Style
As mentioned earlier, this alternative comes in a tank top design. It's an excellent summer option, as it will not leave you feeling suffocated. Your body will get proper ventilation, enabling you to focus on the task at hand.
Comfort
There is no mistaking that you will feel cool when wearing this tee. Nike also offers a mesh back to ensure that users are ever comfortable. The company also sees to it that the tank top feels smooth as you move about. All of the seams are flat in order to achieve this.
Features
This tee consists of 98% polyester, and its straps come in a V-back design. You will experience increased mobility because of this. You also won't have to worry about it shrinking in size once you wash it. If you've dealt with such kinds of garments before, then you know just how frustrating that can be. Making this purchase will also guarantee that you won't be stressed out about as much when it comes to wrinkles.
Overall
You can wear this garment under other pieces of clothing. It has a fitted kind of silhouette, which makes this possible. It's also easy to put on, seeing as it's a pull-on closure that is also stretchy.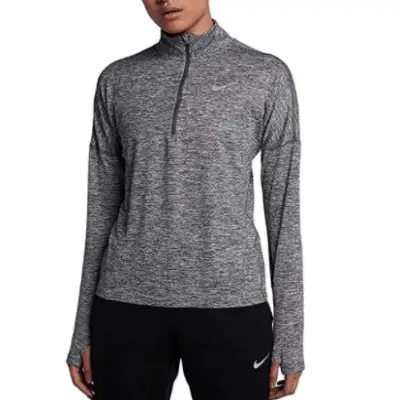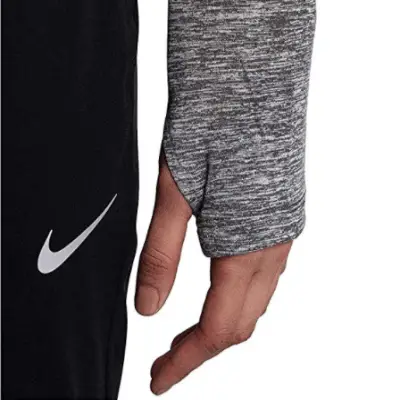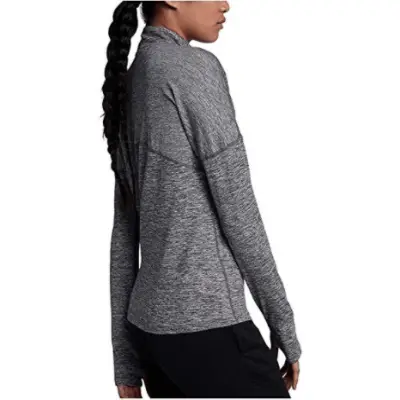 Considering the popularity and fashion-statements Nike has become synonymous with, we wouldn't be surprised to see this garment utilized in everyday life. It's incredibly comfortable and versatile. One of the most loved features is the thumb holes that keep the sleeves in place.
Read more
Color
Most of the colors, besides black, seem to be heathered. Your color options here vary, but you can typically find this top in basic heathered colors such as brown, gray, purple, blue, and red. Reviewers have been impressed with the colors and claim they match the online photos.
Style
This long sleeve shirt has a slightly baggy fit. Some reviewers claim that it is too baggy and the cold air can creep in on windy runs. However, it was intended to fit this way to allow the wearer to use a tank or long sleeve shirt underneath. One of the best features of this garment is the ribbed cuffs and thumbholes. This combination ensures that the sleeves will not ride up while you are exercising.
Comfort
This loose-fitting polyester/spandex blend is very comfortable. It was originally designed for chilly runs but is incredibly versatile. It allows for a full range of motion and the thumb holes ensure that your sleeves will stay down.
Features
Like most of these garments, this one also features Dri-Fit technology to keep you dry throughout your workout. If you find yourself overheating, you can utilize the zipper to create chest ventilation.
Overall
If you are looking for a garment to use in-between seasons, when it's not hot out but not yet cold, this is a great option. The zippered chest offers great ventilation and the overall style provides a full range of motion.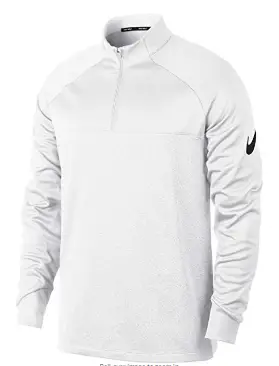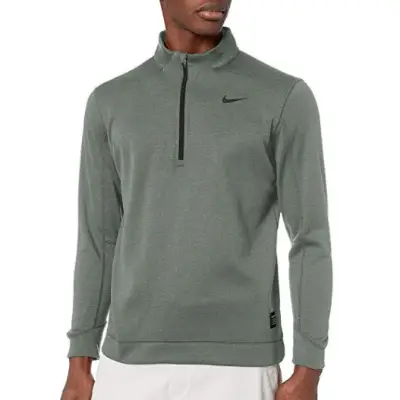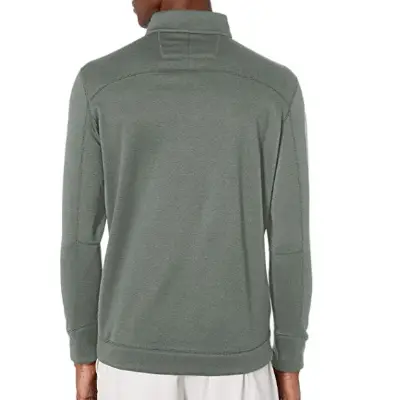 Here is another versatile alternative that caters to golf lovers as well. So, if you love the sport, don't hesitate to grab one for yourself. Alternatively, you could get it as a gift for a golf lover close to you. This is a weather-friendly alternative that will fit in perfectly with their golfing gear. It's a quality purchase, which will get you thinking about purchasing more of its kind.
Read more
Color
If you love white, the top will be a perfect match for you. Worry not if you prefer other colors. You will be able to get the same top in; siren red, navy and grey, purple and grey, crimson and grey, game royal and grey, desert orange, orange and grey, green and grey, gym red and heather, wolf grey, blue nebula, black heather, light carbon, and clay green.
Style
This garment has long sleeves and gives users a muscular appeal. It has insulation around the chest area that makes this possible. You should also note that it has a half-zip opening at the top. You can open or close it based on your preferences and weather conditions.
Comfort
For this garment, Nike used Therma fabric. The fabric provides users with more than enough warmth whenever the temperatures drop. There's no doubt that you are going to be cozy when you wear this top.
Features
You will no longer panic whenever light rains get you outdoors. The shirt repels water, to ensure that you stay dry. Therefore, you can consider it as part of your reliable sportswear. You will also get additional neck coverage thanks to the shirt's high collar design.
When it comes to motion, your movements will feel natural. Nike offers a two-way stretch fabric that plays a significant role in that regard.
Overall
The number of features that make this Nike top comfortable to wear is worth noting. Even the hem vents contribute to making the shirt a comfy fit.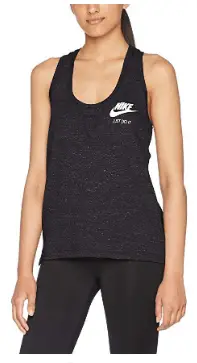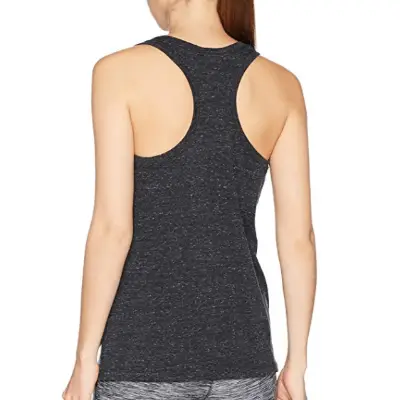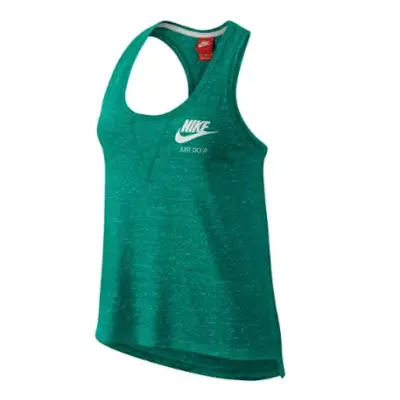 If you want that vintage look, you should get one of these. As the name suggests, this garment will take you back and have you feeling nostalgic. It's an original that has the swoosh graphic. The company screen-prints the graphic to the top left area of the top. Over 75% of the customers who have bought this top claim that it offers an excellent fit as per the sizes they ordered. You won't need to worry when making this purchase since most of the buyers have given outstanding feedback about it.
Read more
Color
It's your lucky day if you have been looking for a black vintage top. If you prefer other colors, you can still get the Nike tank top in; Omega Blue, Grey, Bright Melon, Deep Royal Blue, Green Abyss, and Carbon Heather.
Style
As previously mentioned, it comes in a tank top design. It's a must-have for people who love racer-back tops. This garment is one of those pieces that you can wear and use for a variety of applications. You will like how everything about it screams quality.
Comfort
The cotton blend fabric is exceptionally soft. To top it off, it offers a loose kind of fit. You will feel free as you move around; a bonus for those who don't like tight-fitting garments. It has excellent flow, and the fabric doesn't get uncomfortably hot. You can get the tank top in different sizes, from extra small to extra-large.
Features
To provide users with the ultimate fit, Nike uses a scoop neck kind of design. Additionally, the shirt's hem is slightly dropped, contributing to its flattering fit. You will love the fact that it also has vents on the side. The vents will help keep you aerated as you work out.
Your back will have enough coverage, even though the top is a racerback. Another upside is that your motion range will not be an issue at all when it comes to mobility.
Overall
As far as durability is concerned, this garment will last you for quite some time. Its fabric is reasonably thick, but it still retains a light feel on the body.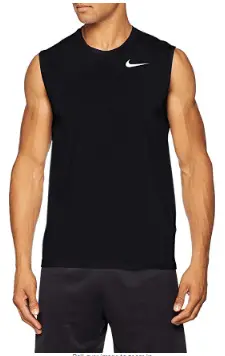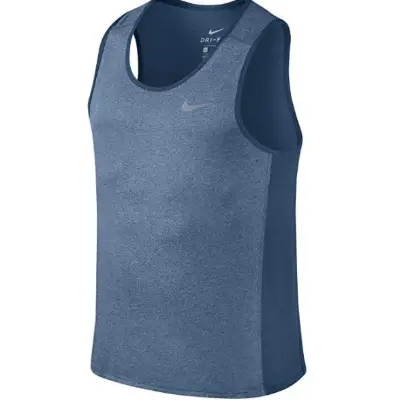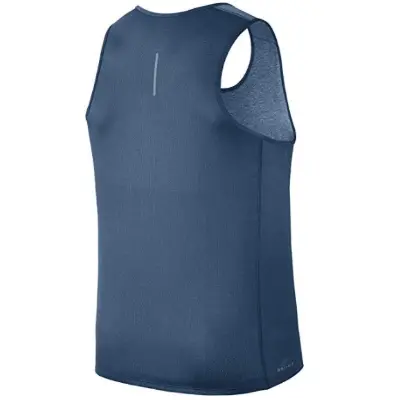 For guys looking to switch things up, this sleeveless option is right up your alley. If you want something that will give you plenty of shoulder room and maximum ventilation, then it perfectly fits the description. You can wear it for most of the year, especially during hot days. It's also an excellent purchase for those who engage in high-intensity workouts.
Read more
Color
Nike offers the top in both bright and dull color selections. You can purchase one in; Black and Silver, White, Vast Grey, Blue Force, and Black colors.
Style
From its name, you can tell that the garment is sleeveless. You will get as much ventilation as you need, allowing you to stay cool all through. It's also a bonus for guys who have great arms since they'll get to show them off as well.
Comfort
Although the sleeveless design will help you keep cool, it also has mesh at the back. The mesh provides additional breathability; so the temperature will always be ideal for you during training. You can only give your best if you are comfortable.
Features
Its design promotes heat transfer. It has a "Reflective Swoosh" for this purpose. The fabric is polyester, making the top more porous compared to cotton alternatives. As such, you will love jogging in it. The sleeveless garment has a crew neck, to offer runners a loose kind of fit. Nike also uses flat-lock seams when making it.
Overall
You can get this garment in several sizes. It's available in small, medium and up to XX-large. Just be keen and confirm whether the color you want is available in your size.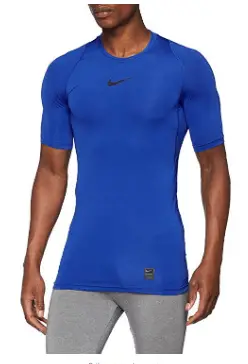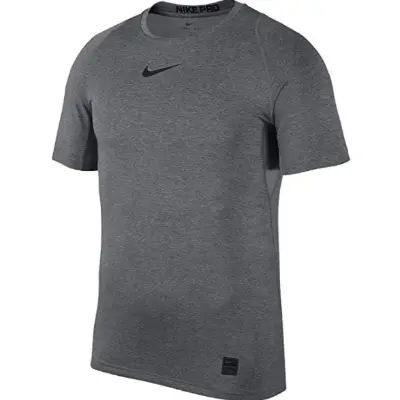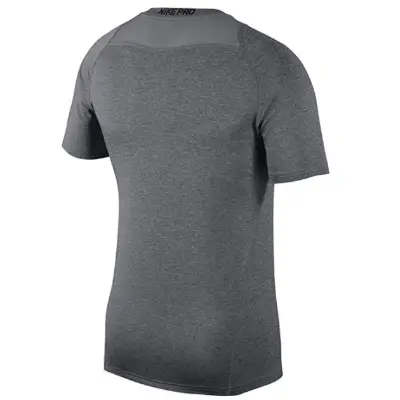 Last but not least, is the Pro men's alternative from Nike. It will help enhance your performance by ensuring that you have the optimal conditions you need as you train. The garment's design sees to it that you won't experience discomfort and comes as described.
Read more
Color
You will have seven different colors to choose from. It is available in; obsidian, black and white, game royal, black, university red, carbon heather, and white and black.
Style
It has a short sleeve design. You will love it if you have been looking for a tight-fitting alternative. It goes well with sweats and also Pro tights for men.
Comfort
To ensure that buyers get an appropriate fit, Nike includes a size chart. Thanks to such measures, about 70% of the users have managed to get a well-fitting top. It is available in small, medium, large, x-large, and xx-large. The top also has a comfortable crew neck and under-arm ventilation.
Features
Whenever you wear this shirt, you will feel as if it locks you in. The reason being, it consists of the Nike Pro fabric. The fabric brings about a compressive fit while keeping you fresh. It's seam construction also helps reduce any chaffing-related irritation.
Overall
This garment comes at an affordable price. If you compare the quality and the value it offers, you will find it worth buying.

Subscribe to our Newsletter