Best Motion Sensor Lights
In a Hurry? Editors choice: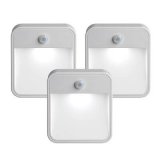 Test Winner: Mr. Beams Stick-Anywhere

The brilliant mind that conceived the idea of a
light
that senses motion and then turns itself on should be given an award for excellence. It seems more like a luxury than a necessity but you know, there are actually quite a few practical uses for one. For example, if you live in a rough and tough neighborhood, it can scare off possible intruders. Also, if you work third shift or need to see at
night
on a regular basis then one can come in handy. Of course, some are
designed
for indoor use ich can also be helpful. Either way, most people will have logical reasoning behind wanting a motion sensor light. It never hurts to have some extra help in making a buying decision, which is exactly why we created the guide below.
Standout Picks
Criteria Used for Evaluation
Effectiveness
With any type of light, you need to look at the specs to see if it will perform to your liking.
Light is needed in this world for illumination and when you want it from a specific source, that source needs to be able to perform to your standards. In this case, there are a number of factors and features that you need to assess. Of course, when it comes to lighting, it all begins with the type of bulbs that are used. Without question, the king of efficiency in this area is LEDs. Though other types will typically be brighter (such as incandescent bulbs), LEDs are way more efficient and will last much, much longer.
Next up, you need to assess two specifications and the first is the lumen rating. Lumens are the main measurement of light and can help determine the brightness. Clearly, the higher the lumen rating the brighter the light will be. If you are looking to illuminate larger areas you may want to shoot for 1000 to 3000 lumens. The other specification to look for is the covered distance. For example, the bulbs may illuminate 200 square feet and along with the lumen rating, this will provide you with the information you need to fit your needs.
Features
As with most technology devices on the market, there are going to be some key design features to look out for here.
Always remember that these types of devices do integrate technology and, because of that, they will sometimes integrate different types of features. At their core, motion sensor lights will be able to detect motion from a certain distance. Now, as for this certain distance, some models will integrate superior sensors that will be able to detect motion from farther distances and from wider angles. Along the same line, other models will come equipped with heads that can be adjusted and this can be a nice feature.
But, there is one key addition to some designs that will make or break the entire device for some of you. This is alluding to the adjustability of the settings. Some of you will settle for nothing less than the ability to change the light duration, among other things. If you are stuck with the default light duration (which could be an issue if it is only 30 seconds, for example) then it can really hamper the device. For the record, this is referencing how long the lights will stay emitted after they detect motion.
Durability
Not only do outdoor models need to be built well but they also need to withstand the mood swings of Mother Nature.
It was alluded to a few times during this guide that you can invest in either indoor or outdoor motion sensor lights. Some of them will even be tailored to both uses but you can make it a bit easier on yourself if you determine what you need beforehand. If all you want is a model for indoor use (to illuminate staircases at night, for example) then you really will not need to worry too much about the build quality (though you still ideally do not want a cheaply built design). Yet, for outdoor installation, the build quality becomes vital. Clearly, this is due to the vigorous nature of the outdoors and the inclement weather.
So, you need to keep a few things in mind. Firstly, what materials are utilized? Common materials can be ABS plastic (or other types of heavy-duty plastics) and even metal (such as die-cast aluminum). Granted the materials themselves have been engineered to resist corrosion and are weather-resistant, you should be good to go. Speaking of weather-resistance, you should also pay close attention to the accompanying IP water rating. The second number of this IP rating refers to the product's protection against water. The higher the number the better and once IPX7 is achieved, a product can officially be dubbed waterproof.
Power Source
Not all models will be powered in the same fashion and deciding upon the power source you prefer is ideal.
To be honest, you can really tailor your selection on the type of power source that you prefer. Because motion sensor lights can be powered in a variety of different ways, it is important to determine which power source/sources you prefer. For starters, some units may require hardwiring. While the installation process is a bit more strenuous for this power source, it may not be as bad as you think. The benefit to this is you never need to worry about changing batteries. Speaking of batteries, this is another common power source.
This is probably the most user-friendly source as the installation will be a breeze. Of course, you will need to change the batteries if they become depleted (which they will). But, some models will come equipped with solar panels which will then utilize the power from sunlight. Granted you install the light in an area that receives optimal sun exposure, this can be a very efficient and convenient manner of power.
Value
What is better than one light? How about a pack of two or four?
Here is the deal; there is a strong chance that you will want or need more than one light. It does depend on the specifications of a specific model but the option of being able to place the motion sensors in different locations is nice. So, you can do one of two things if you are interested in buying more than one. Firstly, you can simply buy the individual model in a certain quantity. Or, you can specifically look for sellers who will offer their model in packs. This happens on occasion and if you can get a deal for four or six lights, for example, why not take advantage of it?
Top Ten Best Motion Sensor Lights
1

. Mr. Beams Stick-Anywhere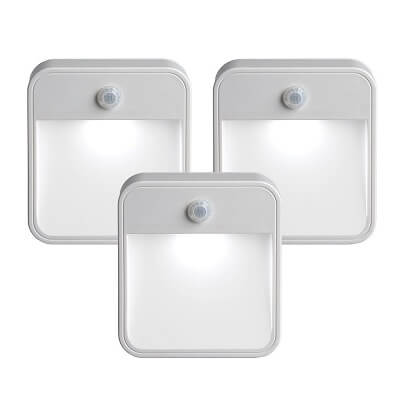 Mr. Beams is right back and this time, they present the first indoor model on this list. Motion sensor lights are not only ideal for outdoor use as with these, it is proven that they can be quite useful indoors.
Read more
Performance
With each individual model emitting 20 lumens of light and covering 10 square feet of coverage, you can see why these are mostly suitable for indoor use.
Design Features
After 30 seconds of no motion, these are going to shut off until they detect motion again. Also, the motion sensors have a detection range of nine feet.
Build Quality
Though these are made of plastic, they are actually weather-resistant. So, if you wanted to, you could place them outdoors.
Power Source
With just a single set of four AA batteries, you can expect each light to provide more than 80 hours of battery life. All things considered, that is pretty good.
Value
Indeed, this comes with more than one motion sensor (you can get packs of three, four or six). The price for each set is almost unbeatable, as well.
Overall
Are these going to light up New York City? No, but, at 20 lumens each, they will be able to handle small rooms and possibly even narrow hallways at night.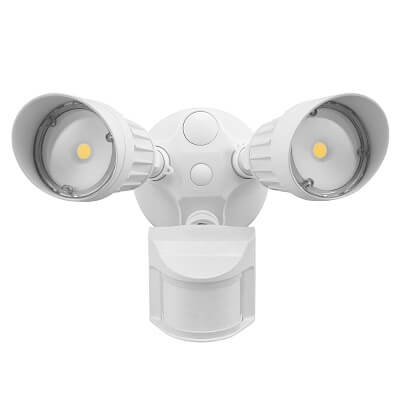 This is yet another model that is suitable for outdoor use but this time, it is not powered via solar energy. Instead, it requires AC power but it is worth it thanks to the dual heads that offer 1800 lumens of light.
Read more
Performance
As mentioned, this can deliver up to 1800 lumens of light which is very good. On top of this, this comes with a claimed sensor range of 70 feet (although some users feel this is not accurate and is a bit lower).
Design Features
Looking past the 360-degree adjustable head, this is equipped with three operation modes. You have on-time mode (for manual control), auto mode (which is what it sounds) and dusk-to-dawn mode (which emits light from dusk until dawn).
Build Quality
Not only is this made of die-cast aluminum but it is also waterproof per IP65 standards. This is an ideal combination when it comes to outdoor use.
Power Source
While other options on this list will be battery-powered, this bad boy actually requires AC power. Be aware, also, as some users have documented issues with the installation.
Value
There are no other seller options available for you to choose from and you just get the one light with your purchase.
Overall
Without question, this is one of the better and more complete designs on the market. It is equipped with fantastic functionality, performance and also build quality.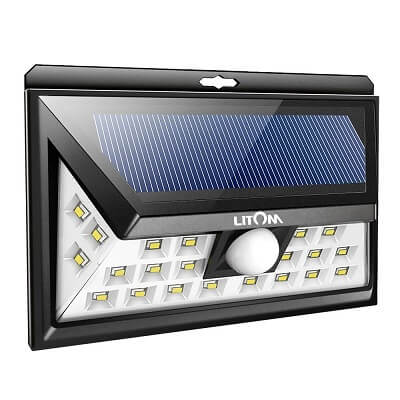 In the world of solar lights, there are many that resemble this design from Litom. There is a reason they are so popular, this model in specific, as they provide excellent lighting with efficient solar powering.
Read more
Performance
Each individual model is equipped with 24 upgraded high power LED bulbs and can reach 200 square feet. This means that if they are used in the same area, they could illuminate 800 square feet.
Design Features
Though you are not granted the ability to adjust the time the light is actually emitted, you can switch between three different working modes which is nice.
Build Quality
First off, this set is made of high-strength ABS material and this provides it structural strength. Also, though, each model is IP65 waterproof to handle inclement weather.
Power Source
Indeed, these are powered via solar energy. Due to this, each model will need to have direct contact with the sunlight to ensure optimal performance (the energy will be stored).
Value
If you wanted to, you could buy this individually. Of course, the options are also available for a pack of two or a pack of four.
Overall
It is not difficult to see why this motion sensor light has received such acclaim from the users who have actually used it. The fact that it is solar-powered is merely the icing on the cake.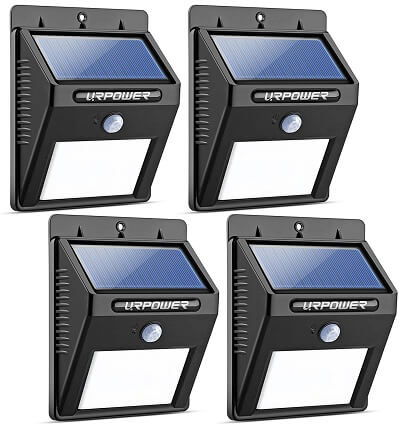 If this were a popularity contest, this right here would be your undisputed victor. But, this is not a popularity contest and is a quality and practicality contest. Well, this still ranks well in that class.
Read more
Performance
Do note that these motion sensors will emit their lighting at an angle and not straight down. But, thanks to the eight integrated LED bulbs, it is able to deliver optimal performance.
Design Features
With the automated switch, this is going to turn the LEDs on at night when the sensor detects motion. The range at which this happens is 10 feet (with a 120-degree sensing angle).
Build Quality
Do not worry about this becoming damaged during inclement weather as it is IP64 waterproof to combat most inclement weather.
Power Source
With the integrated solar panel built-in, this draws energy from the sunlight and can charge in six to eight hours (with optimal sunlight exposure).
Value
This is actually a pack of four and for the price of admission, the value here is tremendous.
Overall
While this set of four from Urpower is far from perfect, the equipped LEDs offer enough illumination to perform what they were set out to achieve.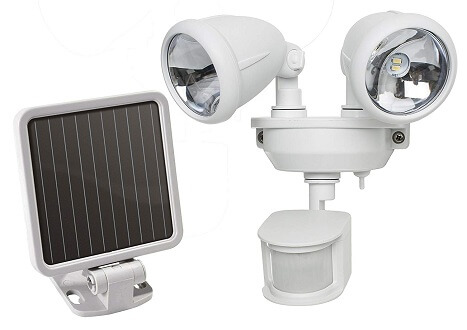 Not only does the top model on this list sport a dual head but it is also powered via solar energy. Plus, with its 40-feet activation sensor, it really is one of the best.
Read more
Performance
The two heads allow more distance and area to be covered and, all in all, they both produce over 160 lumens of light to illuminate the path or area. Plus, this uses LEDs.
Design Features
Many users will really appreciate the adjustable settings of this design. The sensor range can be adjusted from 10 to 40 feet and the duration from 10 seconds to four minutes.
Build Quality
In addition to the fact that this is rated per IP44 standards of protection, this also is built with high-density polyethylene (which is a heavy-duty plastic that can withstand abuse).
Power Source
When fully charged, the three rechargeable batteries can deliver up to 90, one-minute activations. Again, the batteries achieve their power via solar energy and the solar panel is detached from the main unit.
Value
You only get the one model with your purchase here but the value still remains sufficient no matter.
Overall
Probably the only reason you would not want this model is if you need to illuminate a larger surface. It is a bit limited with its lumen rating but if you can accept that, the rest will be history.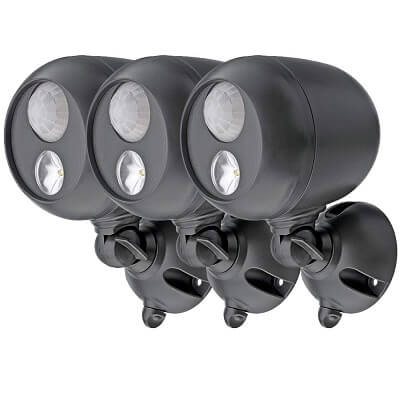 Mr. Beams is one of the more recognizable names when it comes to this technology. This model right here is one of their very best, even if it does have some areas of concern.
Read more
Performance
Each individual model you receive (as there are packs available) can cover 400 square feet and can output 140 lumens. If you combine two or three of them, the performance becomes pretty solid.
Design Features
After the motion has stopped, this is going to stop emitting after 30 seconds has passed. That is pretty much the extent of the design features.
Build Quality
Now, Mr. Beams designed their model to be weatherproof. The problem is, several users have commented on the lack of protection outdoors. As such, moisture can get inside and corrode the interior components.
Power Source
Because each of the lights you receive is run via batteries, they can be installed wirelessly. With an average use of around 10 activations a day, the batteries can last up to a year.
Value
Provided you can either buy these in a pack of two, three, or four, the value is quite good. If you want, though, you can simply opt for the single pack.
Overall
The rather lackluster weatherproofing of this model certainly hurts. But, the overall performance when you pair a couple of these together does make up for it.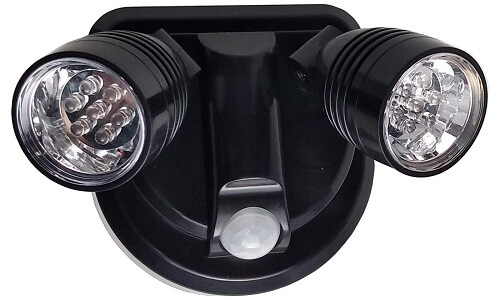 At its core, the finishing entry on this list is very simple and effective. Though the weather-resistance could have been improved, it is a solid design for the right folks.
Read more
Performance
Though this is advertised as a spotlight, it is not so much that as it is a lamp (not literally). This just gives you perspective on its capabilities.
Design Features
Overall, there is a lack of features and settings here. But, the heads can be rotated which is a nice feature.
Build Quality
Okay, this is supposed to be sealed for protection but it appears that it is not (based on consumer feedback). As for the main construction, this is made of acrylic.
Power Source
It is noted that this is solar-powered and as such, you will need to install it in an area that receives optimal exposure to sunlight.
Value
This is not the worst value out there because of the price but you only receive the one fixture.
Overall
Milex is not going to blow you away with their design. Still, it is quite the popular model they have designed and most users have been satisfied with it.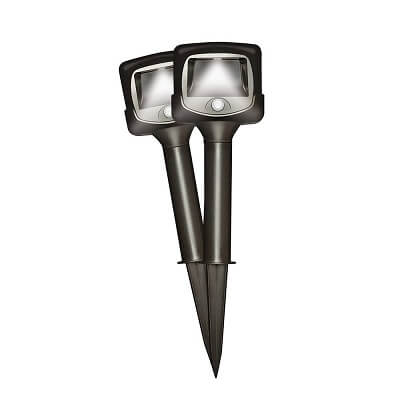 Whether you are looking to accent your garden at night or simply want your pathway illuminated during nighttime so people can see, these lights can be the answer.
Read more
Performance
To fully illuminate a walkway, you will need to buy the pack of six here. That is because each unit can only emit 35 lumens of light.
Design Features
Up to 15 feet away, these will be able to detect motion. As for how long they stay illuminated, you can select from one of two options (either 20 seconds or 60 seconds).
Build Quality
Due to the fact that each one of these has been designed with tight seals and UV-resistant materials, they will handle the vigorous nature of the outdoors.
Power Source
No wires are needed for installation because each separate model is run via batteries. If they were to run for around 50 hours, then you could expect them to last for around a year before new batteries would be needed.
Value
Though the price is not that much better, if you want, you can get these in a pack of six (or simple a two-pack if that is all you need).
Overall
Yes, these are limited when it comes to illumination strength. But, if you get a bunch of them, they can be a great solution for lighting up your pathway at night.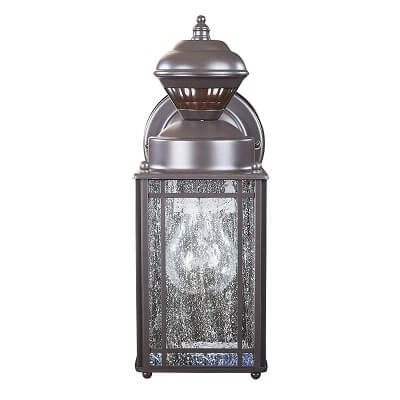 For certain, this is unique when compared to the other models on this list. While you need to supply the light bulb, the elegant and weather-resistant rubber bronze metal construction is a sight for sour eyes.
Read more
Performance
It is important to note that this Shaker Cover does not accept LED bulbs. Instead, it uses a 60-watt incandescent bulb (which you have to account for yourself).
Design Features
This actually is equipped with handy design features. Firstly, you can choose the amount of time that the light illuminates (either one, five or 10 minutes). Secondly, you can switch this to deliver constant light if you desire.
Build Quality
The construction here is fantastic. In addition to the oil rubbed bronze metal, this comes with clear seeded glass and also a weather-resistant finish.
Power Source
Again, an incandescent bulb is required for operation. So, technically, that is the power source here and once it runs out you will merely need to replace the bulb.
Value
Just the one fixture comes with your purchase here (although you can select between either oil rubbed bronze or silver).
Overall
Come to think of it, this is one of the few options on this list that does not use LED bulbs. This is definitely a disadvantage but the construction and appeal may be too great to pass up.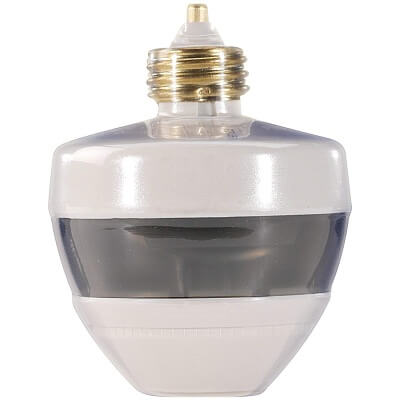 Now, this is interesting here. First Alert designed their model to install into your existing light socket. Then, all you need to do is install a fluorescent or incandescent bulb into this and you will have motion detection equipped.
Read more
Performance
This is another model that does not utilize LED bulbs. Instead, this works with either 50-watt fluorescent bulbs or 100-watt incandescent bulbs.
Design Features
The 360-degree motion detection and 12-foot detection range are nice features. Yet, one huge issue with this light socket is it will come on during the daytime (which can be problematic in heavier traffic areas).
Build Quality
Truth be told, the build quality is not really a concern here. This will never be outdoors and it simply needs to be inserted into an existing light socket.
Power Source
The power source is going to be the bulbs that you purchase alongside this as this technically does not work on its own.
Value
With your purchase, you simply get the one socket. Overall, it is not the best value out there considering you have to keep purchasing light bulbs.
Overall
For some of you, this will be a nice option. However, it is worth noting that not everyone will find a use for this type of design. It really just depends on your needs and wants.

Subscribe to our Newsletter