Best Night Vision Goggles
In a Hurry? Editors choice: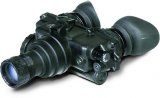 Test Winner: Armasight PVS-7

If you are a hunter or maybe do some outdoor hiking and
stay overnight
most weekends at your favorite camping site off the grid than you probably know when the sun sets how hard it can be to see. To be honest, you pretty much can not see anything and that can be dangerous if you're out in the woods by yourself. That is why if you are planning an overnight stay in the wilderness, you should pack a pair of night vision goggles to help you see and navigate safely throughout the woods. Now you may be thinking you have no idea what to look for when looking for a pair of night vision goggles, and if your one of those individuals then you have come to the right place as below we have listed the top pairs of goggles and what makes them the best.
Standout Picks
Criteria Used for Evaluation
Top Ten Night Vision Goggles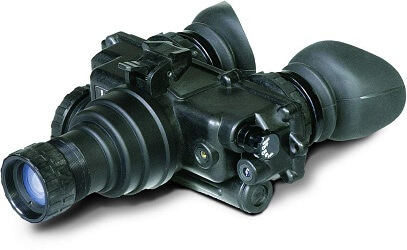 If money is literally not an issue in the slightest, then you need to do this pair of 3rd generation goggles. The specifications read like a who's who of technical specs and will leave your jaw dropped to the floor.
Read more
Technical Specifications
Again, given the fact that the PVS-7 Goggles are generation three, they are designed with an extra clear, crisp, and sharp image. Plus, the field of view is a whopping 40 degrees.
Durability and Protection
These are combat proven and given their price point, you should never really need to concern yourself with the durability. In addition, they come with a limited two-year warranty and are waterproof.
Weight and Comfort
When you get these properly fitted and adjusted on your face, you will be amazed at the sheer amount of comfort they provide. Eye fatigue should not be an issue in the long run.
Battery Life
Even though this will only run for 10 to 20 hours, only one AA battery is required. As such, you can pack four to six batteries and make this last a very long time.
Extra Features
The last real big feature of this model is the integration of continuous or momentary IR (which can be switched at any time).
Overall
How do you really explain the greatness of this model in words? Probably the best way is to remind you that it will cost a couple of thousand dollars, enough said.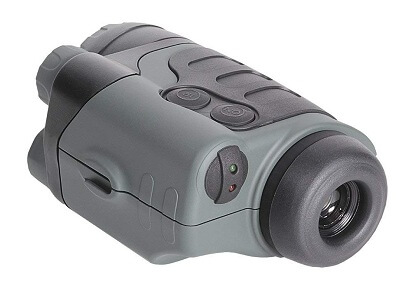 One design feature is going to determine the Spartan for most buyers. As this is a monocular design, it does not use a magnification system. Overall, this does reduce the field of view quite a bit.
Read more
Technical Specifications
While the newly developed lenses of the Spartan improve contrast and frequency, without the integration of a magnification system, the field of view is not the greatest.
Durability and Protection
To protect this device from dust, moisture, and dirt, it has been crafted with rubber armor that has been ergonomically designed to enhance the overall comfort and durability.
Weight and Comfort
This is another model that can either be used as a handheld or as a monocular attached to your head. The former is nice as if discomfort is arising, you can dismount it from your head.
Battery Life
Be careful with the batter situation as even though it is clearly claimed that a CR123A battery comes included, a few consumers have stated the contrary.
Extra Features
The IR illuminator uses a pulsating infrared beam and this allows your night vision viewing to be enhanced a step further. But, this can be separately activated.
Overall
If you can live with the fact that this is a monocular, you can enjoy a pretty impressive design. However, if this is too big of an obstacle to overcome for you, that is fair.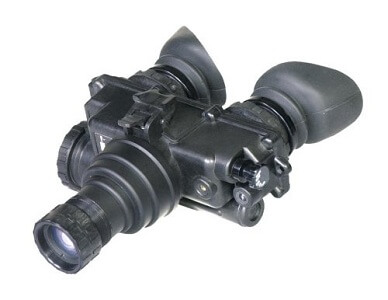 Once again, the price is hefty for this one. But, with its standard military design, 40-degree field of view, 60-hour battery life, and infrared illuminator, the price is worth it for the right people.
Read more
Technical Specifications
The PVS7-3 Goggles sport a 40-degree field of view (as mentioned), a range focus of 0.2 meters to infinity, a Proshield lens coating, 1x magnification, and an aperture of F1.2.
Durability and Protection
As this is a standard military issue pair of goggles, you can rest assured it is combat proven. Plus, they are rated to be waterproof making them suitable for all types of weather conditions.
Weight and Comfort
One buyer did make mention of the heavy nature of these goggles, so keep that in mind. But, the adjustable military head strap does provide comfort for long-term uses.
Battery Life
The rated battery life for this model is 60 hours. When this time is drawing near, there will be a low-battery indicator that will inform you of such.
Extra Features
Not only does this come equipped with an IR illuminator, but it can also be switched at will from either momentary or continuous.
Overall
With amazing battery life and a waterproof design that is combat proven, it is no wonder why this is so hefty in price. Then again, the spectacular image quality may have something to do with it.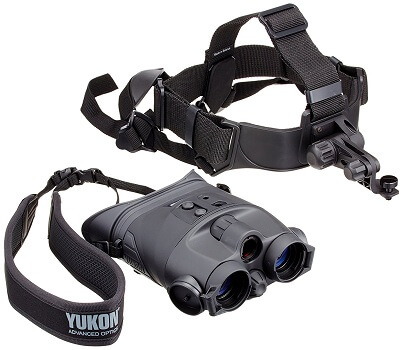 Quite honestly, the NV Goggles from Yukon seem to be a hit or miss for consumers. Some believe the headwear is uncomfortable while others do not see it that way.
Read more
Technical Specifications
With a lens diameter of 24 millimeters and only 1x magnification, you can see why the NV's are only generation one. Then again, the image quality is surprisingly good for the specifications.
Durability and Protection
Being designed with a rubberized body and water and fog resistance, it is clear that Yukon prioritized both the overall durability and longevity of their product.
Weight and Comfort
Again, there have been some reports of users claiming that the headgear is comfortable. But, if you adjust it properly, it should not be as awful as some have exaggerated.
Battery Life
According to Yukon, their NV Goggles should last up to 40 hours on one battery. This battery needs to be a single CR123A type.
Extra Features
With the built-in powerful pulse IR illuminator, you are able to see in total darkness when you don this pair of goggles.
Overall
No one is going to lie and call these goggles flawless. But, in this case, the quality definitely is able to mask any shortcomings that Yukon did not address to keep the price down.

5

. Sightmark SM14070 Ghost Hunter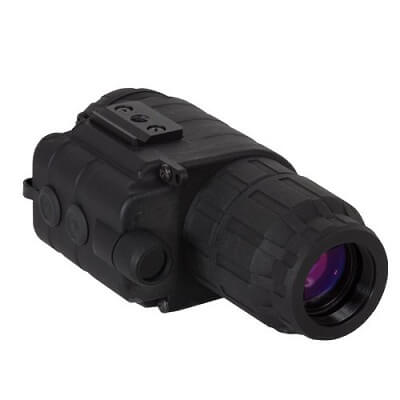 What is interesting about the Ghost Hunter is it is not designed with dual eyepieces. Granted this will be problematic for some users, for others it will not be a big deal as it can still be mounted to your head.
Read more
Technical Specifications
With a field of view of only 30 degrees and 1x magnification (and a maximum viewing range of 184 yards), the specs are certainly not bad given the price.
Durability and Protection
The glass filled nylon composite housing is backed by a lifetime warranty and the tube is backed by a three-year warranty. Also, the entire unit is weatherproof to IPX3 standards.
Weight and Comfort
Versatility is the name of the game here as this can either be used for handheld operation or mounted to your head. For the latter, the mount is lightweight and comfortable.
Battery Life
Without infrared activated, this can run for 72 hours. But, with it enabled, this drops down to around 20 hours. In addition, the system will shut down when exposed to bright light to save battery.
Extra Features
As with most of the other models on this list, Sightmark went ahead and added an IR illuminator to provide you with enhanced clarity in pitch black environments.
Overall
For better or worse, Sightmark was able to engineer their Ghost Hunter to be obtainable to a wider audience. While hardcore devotes of the technology will probably look elsewhere.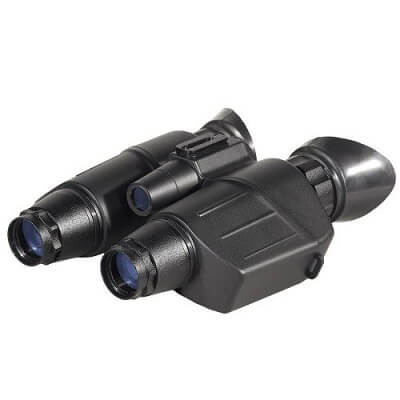 The Cougar XT is an excellent example of why these devices can jump so much in price. With limitations here and there, this is designed to be an affordable, yet high-quality option.
Read more
Technical Specifications
Although this is only a generation one device, this is not the area it is limited. In fact, the fast precision optics and revolutionary lens ensure the image quality is quite superb.
Durability and Protection
While this is backed by a limited two-year warranty, the reinforced fiberglass construction and water resistance of the Cougar XT ensure it will hold up to some abuse.
Weight and Comfort
Due to its lightweight nature and overall comfortability, the Cougar XT Goggles should be suitable to wear for longer uses.
Battery Life
It is advertised that this device has an average run time of 10 to 20 hours on one fully-charged battery. While not great, it is not awful either.
Extra Features
While it is nice to have the IR illuminator built-in, it can only provide around 15 to 20 feet of viewing distance. It will be all but impossible to sneak up on something.
Overall
Sometimes, you can forget that this is a pair of 1st generation goggles due to the image quality that is produced. But, its rather lackluster IR illuminator is a bit of a disappointment.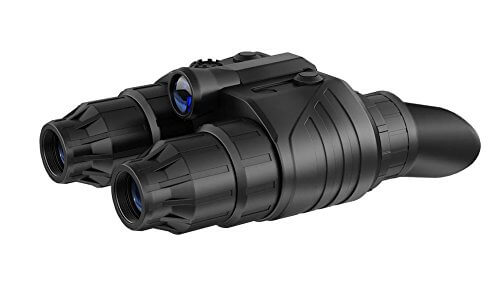 In a world filled with spectacular 1st generation night vision goggles, the Edge GS Super stands above the rest. Its superb combination of durability and clarity is one of the reasons why.
Read more
Technical Specifications
With an enhanced field of view and clearer edges around the image, the Edge GS Super is arguably the most impressive pair of generation one night vision goggles out there.
Durability and Protection
Thanks to the stiff combination of reinforced fiberglass and metal, this bad boy can take a punch. Oh yeah, and it is fully sealed making it both dustproof and waterproof.
Weight and Comfort
Would it surprise you to know that this clocks in at less than one pound? That is right, it is only 15.8 ounces in total weight which is astonishing, to be perfectly honest.
Battery Life
What is nice is you can adjust the power settings to prolong the battery life. But, even with the IR illuminator enabled, it will not consume too much of the battery.
Extra Features
With the inclusion of both a built-in automatic bright light exospore system and an IR illuminator, this really is the total package.
Overall
The Edge GS Super might as well be classified as the best 1st generation device on this entire list (and the world). Plus, it is super lightweight which will only be beneficial in the long run.

8

. Night Optics USA Adventurer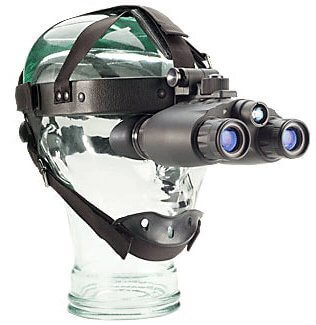 When it comes down to it, there is a lot that is done right with the Adventurer. For starters, it sports a patented wide exit pupil design. However, it also integrates a built-in sensor for bright light protection.
Read more
Technical Specifications
Thanks to the power of the multi-coated 3.6x lens kit and the aforementioned patented wide exit pupil design, the Adventurer sports quite the impressive picture.
Durability and Protection
The Adventurer is designed with a weatherproof housing which is essential if you ever desire to use these in the pouring rain or thunderous storm.
Weight and Comfort
Even though the included head mount is fully adjustable, some buyers have alluded to the fact that it is not user-friendly.
Battery Life
Included with your investment is the CR123A battery that is required for operation. Clearly, though, it will need to be replaced when it runs out of juice.
Extra Features
In addition to the built-in IR illuminator, this also sports a built-in sensor that will guard this unit against bright light exposure.
Overall
Thanks to its high versatility and weatherproof design, the Adventurer is going to be a massive hit for the right people. But, it still may not be exquisite enough for some.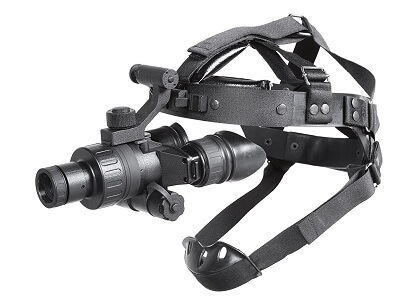 Taking a bit of a step-down, the NYX7 Goggles are a second generation model. While not quite as advanced as our top model, they still pack all-glass and multi-coated optics and a rugged design.
Read more
Technical Specifications
Even though the default lenses on these are 1x magnification, other magnification lenses are compatible. And, as mentioned earlier, the optics are all-glass and multi-coated for clarity.
Durability and Protection
Despite the lightweight nature, the NYX7 Goggles are very rugged and can handle extreme climates. After all, they are both fog and water-resistant.
Weight and Comfort
Not only is the head mount very easy to put on but the dual-eye viewing system is much less strenuous on your face for longer periods of time.
Battery Life
The choice is yours from either an AA battery or a CR123A battery. Either way, the rated battery life of this model is 60 hours which is very, very impressive.
Extra Features
With a built-in auto-off system, the intensifier tubes will be protected if they are exposed to bright light. Also, the integrated LED lights inside will provide indications.
Overall
If you want to invest in something more extravagant than a generation one pair of night vision goggles but can't afford a generation three, then this is your happy medium.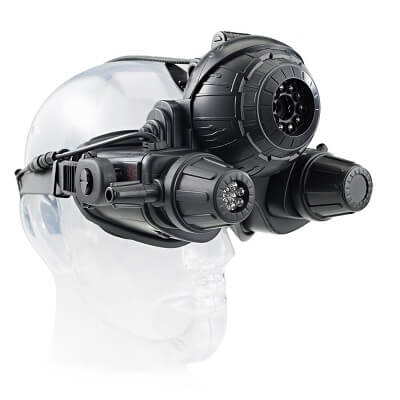 Perhaps your children are interested in getting in on all the fun that is offered from these types of goggles. If so, consider investing in the EyeClops as they are user-friendly for the entire family.
Read more
Technical Specifications
The EyeClops are not going to provide you with the best image possible. However, what they will do is allow you to see up to 50 feet in complete darkness (which is a bit limited).
Durability and Protection
These really do look like something that was pulled directly from a sci-fi movie. But, the futuristic design is not all for show as the durable plastic adds strength.
Weight and Comfort
To enhance the overall comfort of the EyeClops, they were designed with a soft rubber molding around the edges and adjustable straps.
Battery Life
Okay, so let's just say that the battery life of this unit is less than desired. In fact, they could be considered a battery hog as they may only last up to five hours.
Extra Features
Thanks to the small switch on the side, you can switch from a black and white display to a green display. This is the stealth mode of the system.
Overall
Though the EyeClops is designed for the entire family, they still could be considered an expensive device. As such, you may want to wait for a special occasion to buy these.

Subscribe to our Newsletter