Best Ski Goggles
In a Hurry? Editors choice: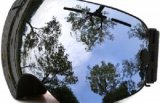 Test Winner: Juli Ski Goggles

You've found the perfect pair of
skis
, now it's time to discover an equally important piece of equipment, the goggles. Goggles are
crucial
to enjoying your time
cruising down the slopes
. They will determine your ability to see clearly and also protect your eyes from powder and debris. Some people don't realize how different each pair is. A great pair of goggles will fit correctly and comfortably, have good ventilation, and protect your eyes from debris and
UV rays
. There are many different tints, fits, and straps available. We have created our well-rounded list with plenty of styles and options. Find your next pair and check out the FAQ if you have any further questions.
Standout Picks
Criteria Used for Evaluation
Protection
It is incredibly important that you protect your eyes against UV rays. These rays can cause photokeratitis, which is a sunburn on the eyes. That can happen after only s small amount of exposure to the sun. Longer exposures can damage your eyes permanently. These rays can bounce off the snow even when the days are cloudy, so it is very important that you find goggles that will provide you with 100% UV protection.
When choosing the right lens tint, you have many factors to consider. First, think about your favorite place to ski. The lens tint depends on the conditions at your favorite skiing place. It depends on whether it's sunny all day, or just in the morning or afternoon. It also depends on what kind of terrain you prefer. You need to get a lens tint that will provide you with the best possible combination of depth perception, contrast, color definition, and protection while keeping the proper Visible Light Transmission (VLT) for the given light conditions.
A lower VLT, such as 15%, will protect you from eyes fatigue when days are sunny because they do not allow as much light to transmit through the goggles into your eyes. And a higher VLT will provide you with better depth perception and color definition when there are low-light conditions. Amber, yellow, and gold lenses are excellent for the foggy and low-light conditions because they filter the blue light. This means that the shadows will be emphasized, and you will be able to see the bumps much better. These will also work just fine when the light conditions vary or change. Rose, copper, and light rose lenses will also do an excellent job during low-light days.
When the days are sunny and bright, the best comfort your eyes can get is with dark tints. Dark, gray, dark brown, dark green and copper tints are the best for brighter weather conditions. Darker tints will protect your eyes from the high-level brightness and increase the contrast for better visibility of your surroundings. Also, the gray tint lenses will enable you to see the true colors. A mirror coating can enhance the effect of tinted lenses. The mirror coating reflects the sunlight and prevents it from penetrating the lens, meaning that the VLT is lowered. So a mirrored tint is fantastic on really bright days.
For night rides it's best to use only clear lenses. The high VLT that these lenses have allows most of the light to reach your eyes so that you see much better during the night. Photochromic lenses are also a huge convenience for many. Depending on the light's conditions, these lenses will become darker or lighter automatically. In essence, they adjust to your needs, so that you are prepared for bright or not-so-bright lighting. These can usually be found in brown or gray color.
Lately, the most popular goggles are the ones with interchangeable lenses. With these, you can switch between the lenses quickly if the light conditions change. It might seem a bit complicated, but it's not a bad idea to check out the charts of lens colors provided by the manufacturers on their websites. Usually, they provide all the necessary information about the VLT of the lenses and for which light conditions they are. When choosing the ski goggles, always look at the lenses first. They are the most important part of the ski goggles.
Features
Glare protection
When it's sunny and bright, the sunlight can create a glare by reflecting off the snow. The polarized lenses can reduce this glare, making them ideal for sunny days. But the polarized lenses are not so great when the end of the day is near because they are made with a much darker tint.
Peripheral vision
Low-profile goggles look much cooler and fit better with your helmet than the goggles with big lenses, but it's not all about the look. If you decide to go with the low-profile ones, make sure that they can give you enough side vision. Perfect ones should enable you to see from side to side – 180 degrees. This way you can easily avoid the other skiers.
Comfort
Keep in mind that you will be wearing these goggles for hours on end. If there isn't a great cushioning system, they may become uncomfortable. The cushioning system can also aid in moisture absorption, ensuring that your goggles won't be too foggy. Most of the sports goggles and glasses are made with polycarbonate lenses. The polycarbonate is a very impact-resistant material and if you have a prescription insert you will want those made of it too.
Lens and frame should be flexible so they won't break easily if you fall. The foam cushioning is also very important. Most of the companies nowadays make those out of polar fleece. The material is nice and it keeps you warm and it also does a great job absorbing your sweat.
Top 10 Picks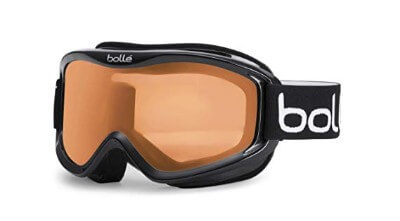 These are the most popular choice lately. They are pretty classic looking and elegant goggles. They are made for medium to large fit. These goggles offer a throwback style and an advanced technology in lens making that will provide you with perfect clarity and no-fog performance.
Read more
Protection
Bolle's goggles block UVA and UVB rays up to 400 nanometers. This means you can pass the entire day outside in the snow without worrying about the sun negatively affecting your eyes. The Bolle Mojo Snow goggles are quite versatile and ideal for all weather conditions. They feature a type of venting that improves the airflow inside the goggles, reducing the fogging significantly.
Features
The venting ports are doing a great job in controlling the flow of the air and prevention of clogging caused by snow or ice. The double lens is also doing its part in fogging prevention by creating the thermal barrier and it gives you a very clear vision and great seal.
Additionally, the anti-scratch/anti-fogging coating is there to prevent most of the scratching and unwanted fogging. In addition, these goggles are very affordable and you will get great value for the price plus you get a limited one-year warranty.
Comfort
These glasses are offered in a classic, medium to large fit. They will most likely fit well with your helmet or with your (small framed) everyday glasses. Reviewers are very impressed with their comfortable fit and happy to wear them for extended periods of time!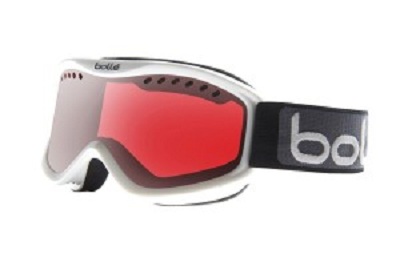 This is yet another great model from Bolle. These are one of the latest models and they offer a very modern and stylish design, as well as advanced features.
Read more
Protection
As with all of Bolle's goggles, these also block UVA and UVB rays up to 400 nanometers. With these goggles, you will have a lot of viewing space. Nothing restricts your view and you have a perfect 180-degree peripheral vision. Additionally, the rosy hue is excellent for low-light days, but these will do just fine even on brighter days.
Features
They are built for medium fit and over-the-helmet fit with the latest helmet designs in mind. The double layer lens creates a thermal barrier that is very helpful for anti-fogging and the lens is crisp; you will actually see better with these on than with nothing on your eyes. Of course, the ventilation system provides an excellent airflow in order to prevent the fogging and it prevents the clogging from ice and snow.
Comfort
The padding is so comfortable that you can wear these directly on your face, without any mask. They also provide excellent insulation and keeps your face warm.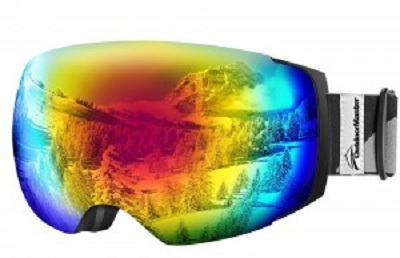 These are the excellent ski goggles for both men and women. They feature the frameless design and the spherical lens is pretty large so it provides you with a clear and unobstructed view with perfect peripheral vision.
Read more
Protection
The lenses are interchangeable allowing you to switch quickly between lenses for different weather or between lenses for day or night or your personal preferences. All of the lenses feature an anti-fogging coating and they offer 100% protection against the UV rays.
Features
The package includes one pair of goggles with a protective case and the carrying pouch. The spare lenses are not included but you can order as many as you want, for all kind of weather and light conditions.
Comfort
The goggles are extremely comfortable and you can wear them over your prescription glasses as long as they are not larger than 1.65×5.75 inches. The strap is wide for extra comfort and long enough to fit over almost any helmet.

4

. Gonex Oversized Professional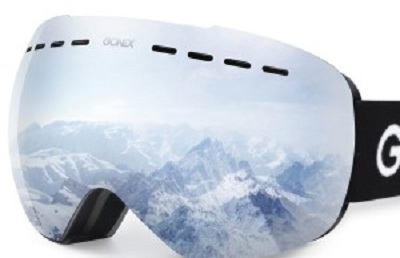 High up on our best ski goggles list, these are the professional snow goggles with a frameless design and polycarbonate outer lens. The inner lens is imported from Italy and it's suitable for bright conditions. The oversized spherical design gives you a perfect peripheral vision and makes it easier for you to see bumps and ditches and to avoid accidents.
Read more
Protection
These goggles feature UV400 protection and will not fog. The spherical lenses will provide you with an amazing range of vision, almost as though you aren't wearing goggles at all.
Features
The goggles feature a very well ventilated dual lens with anti-fogging coating for ultimate protection against fogging. The lenses have excellent optical clarity. It is very important that you don't touch the surface of the lens with your fingers or any sharp objects directly.
The flexible construction allows you to put these over your helmet and there is enough room for your prescription glasses inside.
Comfort
The padding is made of three-layer memory foam providing you with ultimate comfort and keeping you warm while allowing proper air circulation. Additionally, the padding is pretty impact resistant so you can feel quite safe with these.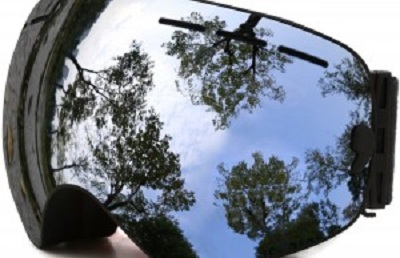 The detachable lens system offers you a variety of spare lenses in different colors and VLTs for any weather and light condition, making these goggles ideal for anyone and any place. The frameless design alongside with the soft padding and wide straps offers excellent comfort.
Read more
Protection
Like many of the goggles on this list, these also feature UV400 protection. The goggles are designed to reduce the fogging by allowing a good airflow through the ventilation system. The spherical design and large lens give you excellent peripheral vision without any obstruction.
Features
These goggles are available with detachable lenses in 16 different colors. You will be able to find the perfect lense for the weather or light condition that you are in. The inner space is large enough so you can wear these over your prescription glasses. The long and elastic strap allows you to wear the goggles over your helmet and it can be adjusted for any head size, making them suitable for anyone.
Comfort
Reviewers agree that the cushioning provided with these goggles are comfortable and soft, and most are happy with the fit.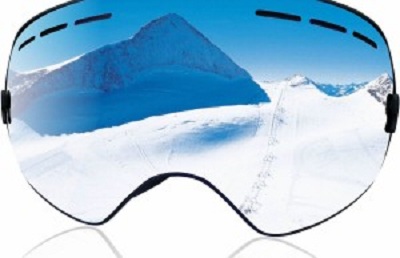 These are really cool looking oversized spherical goggles. The lens is optimally curved for perfect peripheral vision. This model gives you a super-wide view with minimal distortion and different VLTs and tints will help you see every bump or ditch and reduce the eye fatigue significantly.
Read more
Protection
Multiple layers of foam provide excellent padding and excellent protection against the impact in case you fall while keeping you warm and comfortable. Also, the full REVO mirror lens finish on the outer lens gives this goggles extremely cool look and it comes with anti-fogging coating and a UV protection layer on the inside lens.
Features
The venting system is very good and it provides excellent airflow that sucks out the moisture effectively and quickly and lets the fresh air in, in order to prevent any fogging.
The company offers a great selection of spare lenses for any weather conditions and in any color, you can think of.
Comfort
The cushioned interior and rounded design make these goggles very comfortable. Many reviewers say that they actually forget they are even wearing them.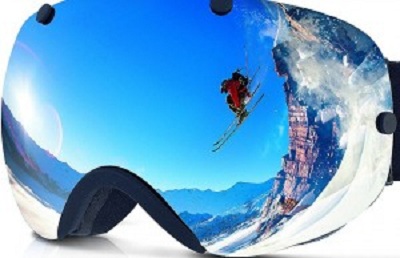 Here we have another great model of goggles with a detachable lens, made by Zionor. These are very high-quality goggles for skiing and winter sports. They are designed for both women and men. The inner lens is Italian; the frame is made of thermoplastic polyurethane and top quality foam.
Read more
Protection
The cool reflective double-layer lens features an anti-fogging coating alongside with 100% protection against the UV rays and anti-glare coating.
Features
The lens is spherical which gives you the perfect peripheral vision and it has amazing clarity, enabling you to see all the different terrains perfectly. The lenses are also available in many different colors and for any weather and light condition so you can match the goggles with your style and a favorite location for skiing.
Comfort
The foam padding is soft and tightly attached to the frame in order to keep you safe and warm. The vents on the bottom and top side of padding are allowing the smooth airflow for prevention of the fogging.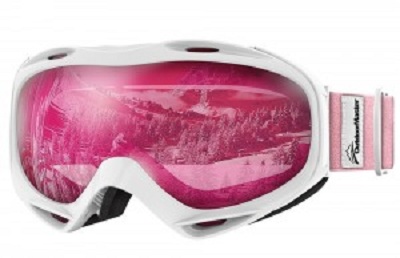 OutdoorMaster OTG goggles are unisex goggles designed for versatility and performance. You can wear these over the most prescription glasses and they provide excellent clarity.
Read more
Protection
The double-layer lenses create a perfect thermal barrier for the prevention of fogging. The lenses are also coated in the anti-fogging coating and they provide 100% protection against the UV rays. These goggles are available in a variety of colors and VLT levels, making them perfect for anyone's needs and all the weather and light conditions. The OTG goggles are great, not only for skiing but for any winter activity.
Features
The package includes the goggles and carrying pouch for safekeeping and the company gives a 6-month warranty. Overall, these goggles are very high-quality and they have pretty good value for the price.
Comfort
The comfortable adjustable strap is long enough to fit over almost any helmet so it's perfect for both adults and youth, both women and men. The only seen downside to these goggles is a few complaints about the padding. Reviewers wish it were slightly softer and more bountiful.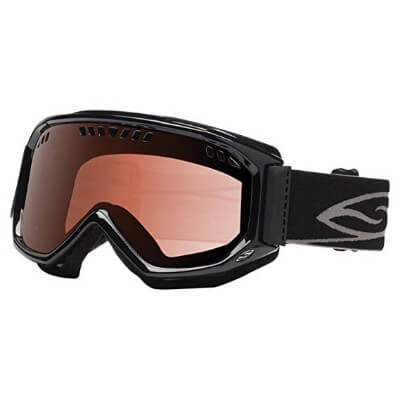 Smith is one of the leaders in the eyewear world. They actually started out way back in 1965 manufacturing ski goggles. They have now branched out to helmets and sunglasses, but still stay true to their roots and first love, goggles. The Scope offers you a great fit and a cylindrical design to provide a great field of vision.
Read more
Protection
These Smith googles bring you great protection, including 100% UVA/UVB protection. You'll never have to worry about them falling off because the strap has rubber accents that grip to your helmet. These goggles can be used for other sports as well, in or out of the snow.
Features
To quickly get you out on the slopes, the rubber straps of the goggles feature QuickFit adjustment straps. The goggles are compatible with any Smith helmet and almost all other brands. The dual carbonic X lenses feature TLT optics, providing you with a clear view. The lens is cylindrically shaped to mirror your eye shape.
Unfortunately, the lenses are not interchangeable or replaceable. However, on the bright side, there are plenty of lens and strap options. Before you decide on which combination will be best for you, think about which conditions you are usually skiing. A carrying pouch is also included with your purchase.
Comfort
The compression molded foam of the mask is hypoallergenic and provides a comfortable fit. They are specially designed to evenly distribute the pressure on your face, discouraging any hot spots or chafing. The dual lenses feature air flow ventilation at the brows. For the most part, reviewers haven't had issues with the goggles fogging up.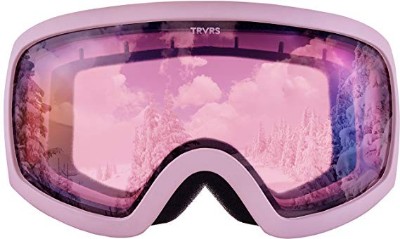 The ergonomic design and flexible TPU material on these goggles provide excellent comfort and strength that you need from the snow goggles. The lens is crystal clear and it allows a great amount of light to reach your eyes which make them perfect for night rides.
Read more
Protection
The lens offers a 100% protection against the UV rays and the spherical design gives you a great peripheral vision. The double-layer lens creates a thermal barrier for the prevention of the fogging.
Features
Other than a thermal barrier, there are also vents that keep the good airflow inside in order to help with the prevention of fogging. Additionally, the lens is coated with an anti-scratch coating so you don't have to worry about the damage that might obstruct your view.
Comfort
The padding is made of three layers of soft foam that provides you with excellent comfort and keeps you warm while still providing excellent airflow. The goggles are compatible with any snow helmet.

Subscribe to our Newsletter