Best Sigma Lenses
In a
Hurry? Editors choice: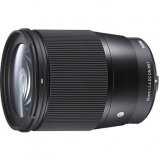 Test Winner: 16mm f/1.4 DC DN

If you are
serious about your photography
and looking for an addition that offers different levels of magnification, a mounted lens will help you get there. While you may feel the need to buy something that is the same brand as your camera, that may not necessarily be your best option.
The Sigma brand was founded in 1961, and they offer users superior quality in the science of photography, and many of their designs are offered at a much lower price point while still being compatible with some of the big camera brands such as Sony, Canon, Nikon, Pentax, and Olympus. Selecting one of these options is going to give you all of the control and quality as some of the heavy-hitting brands, and it comes in at a very affordable price point. In this guide, you will find some of our favorite picks for Sigma lenses.
Standout Picks
Criteria Used for Evaluation
Features
Features on these devices are going to dictate where you are going to be able to go.
For products that have a more narrow aperture, they are going to be designed for outdoor spaces because they won't be able to absorb all that much light. Designs that have a wider aperture, on the other hand, are going to be ideal for indoor spaces, or astrophotography. Not all photographers are taking pictures of the same things, so we made sure that we selected a wide array of styles that not only catered to photography style but also to proficiently level. If you are a newbie, you are probably going to want something that has features that run in the middle of the road. That's why we selected designs that were listed as 16-35mm (which is perfect for beginners), and that also offered sharp autofocus. For those that are more experienced, we also included 50mm+ designs. And, if you are aiming towards the stars, we wanted to make sure that we also included some telescopic designs that would excel in astrophotography.
Compatibility
This is a big deal because you really want to ensure that you select a design that is going to fit and communicate with your base camera.
The good news here is that this brand goes above and beyond to make sure that each of their products is going to be able to work with the widest variety of cameras. We found that most of these options are going to be compatible with most styles from Sony, Canon, Pentax, and Nikon. Plus, if you are hesitant to make a purchase because you are afraid your camera might not be compatible, they offer a service where you can plug in your model number to double-check. It is important to also make a note that while some devices may work with all cameras, certain brands may lose a few key functions such as image stability.
Adjustability
This is another key feature that we considered because it is really going to help you capture that perfect picture whether you are a newbie or a seasoned pro.
One big thing that we made sure every model that we selected had was an HSM, which translates to a Hyper Sonic Motor. This piece of technology is one of the company's newest and most modern additions to their products. It provides users with a lightning-fast response time to open and close the shutter in various conditions to capture that perfect photograph. We found that many users loved their feature in their devices because not only is it incredibly fast- but it is also very quiet as well. One thing that newbies want to make sure they include in their design is to opt for AF, or autofocus. This feature will find the target that you are looking at, and it will manually focus on it. Of course, this feature is able to be turned off if you wish to pick the target that you want to focus upon.
Size
You might not think size is all that important, but it can actually make a big difference in how you use your device.
You want to select something that is going to feel natural in your hands because you are likely going to be holding onto it for a good deal of time. Weight is another aspect that might not seem important at the moment, but it can be very draining when you need to hold your camera up for a long time. Three pounds might not seem all that heavy initially, but after 10 minutes it can feel like 300 pounds. That's why we wanted to stick to designs that had slimmer barrels and tried to keep the weight under 2 pounds. However, with some of the larger options, such as telescopic designs, that just wasn't going to be possible. We took a look at what past users had to say about the feel of the device in their hands, and if it felt comfortable and natural to hold, even for long periods of time.
Value
Of course, the aim of the game here with these products to save you a little bit of money.
The good news here is that even some of the higher-end designs that are made on a professional level often cost lightyears less than some of the name brand options from Sony or Canon. We still wanted to make sure that we selected styles and price options that were going to be favorable to those that are looking to save some money when they can, and those that are willing to purchase a higher-end option at a higher price point. From what we could gather, many of the more affordable designs are actually going to cost you less than what you more than likely spent on your name brand camera. When you compare these options to those from Sony, it's really amazing how much money you are going to end up saving for a product that users find to be just as effective and easy to use.
Subscribe to our Newsletter