Best Nikon Macro Lens
In a
Hurry? Editors choice: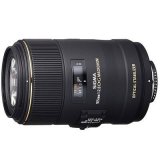 Test Winner: Sigma, 258306 F2.8 105mm EX DG OS HSM

One of the most popular and favorite forms of photography is Macro photography. It gives the photographer the power to capture and preserve the beauty of minute subjects. This style could be very rewarding that most often results in amazing and unique photos. But, the best results are achieved with the right equipment.

Macro lenses are normally used when taking photos of things in nature, like insects and flowers. Most often, macro lenses are used to photograph details of architectural designs. But with the influx of this kind of lens in the market today, how do you choose the best Nikon macro lens?

In this buying guide, we will share with you some of the best Nikon macro lenses. We will also discuss what sets them on the higher echelon compared to others. We trim down the ten best Nikon macro lens to help you narrow down your choice.
Standout Picks
Criteria Used for Evaluation
Style
Categories
Before jumping into other factors, it is important first to know and understand the different categories which the macro lens is grouped. This will greatly help you in picking the best Nikon macro lens that will suit your preferences and needs. The three categories are the short range, mid-range, and long range.
Short-range
This lens ranges between 35 mm and 60 mm. It usually costs less and is always lightweight compared to other categories. It has a shorter working distance that makes it not so ideal for moving subjects. A short-range lens could be a good choice if you are looking to buy a Nikon macro lens to just test it out and check if you want to buy a robust lens to be included in your kit.
Mid-range
This lens ranges between 90 mm and 105 mm. compared to the short range type, it has a much larger working distance but very affordable. This is usually the type of lens most photographers use when they want to take pictures of flowers. A mid-range lens enables you to be close enough to the subject you nearly touch it, so other objects in the foreground or background are not in focus. It is a popular choice if you want to have the best technology and a fairly affordable price.
Long-range
It has a range between 150 mm and 200 mm. this type of macro lens is the most impressive in terms of image quality and working distance. But, it is seldom a popular choice among photographers because it is much heavier and a little more expensive. The long-range lens is the best choice if you want to take pictures of moving subjects like insects and other miniscule living things. This lens can handle motion and keep in focus.
Features
Focal Length
Another important consideration when choosing the best Nikon macro lens is the focal length.
It is the distance between the optical center of the lens and the image plane. To some, the longer focal length would mean a telephoto macro lens. But, it is not always like that. Macro lenses are available in different focal lengths but could still have 1:1 life-sized enlargement ratio.
The important thing is you identify what you plan to capture. You will also need to determine the level of your seriousness when it comes to using a macro lens. These are very crucial before you make a decision in selecting a particular focal length.
Advanced Features
Magnification
In addition to the focal length, another factor that you should carefully consider when choosing the best Nikon macro lens is the magnification.
Unlike other types of photography, in macro, magnification is the most vital and defining point. Most photographers always look for a lens that offers a genuine 1:1 magnification.
In other words, the subject is captured in its actual size in real-life. This is important if you want to maintain or achieve a high-resolution photograph. It is equally important to define or translate this in the application of a macro lens.
A 1.0x magnification in a macro lens means that a subject will be reproduced on the image sensor of the camera at its full actual size. For instance, if you want to capture the size of a postage stamp, it will fill up the entire image frame. This means that it will have a massive magnification when you look at the resulting image on the screen of your camera or when printed out. You can see the levels of details when you zoom into the image in the pixel level.
There are some macro lenses that are made exclusively for APS-C format of DSLR types of camera. Similar to the full-frame friendly lenses, this type offers 1.0x magnification. But, because of the 1.5x factor of Nikon DX format, like models D5600, this allows this type of DSLRs to produce much greater magnification effect.
It is important to note that if you have a longer minimum focus distance, you will achieve maximum magnification. It allows you to achieve a working distance that is more comfortable. This way, the front end of your lens would not come very close to the object.
It makes it much easier to take pictures of bugs and other miniscule wildlife without scaring them off before you even get your shot. It decreases the risk of your lens overshadowing your subject if you are utilizing the ambient light instead of using a flash.
Ease of Use
Minimum Focusing Distance
Another crucial factor to look for when choosing the best Nikon macro lens is the minimum focusing distance.
This refers to the distance you can get near your subject while still keeping an accurate and sharp focus. This is vital for photographers who would like to achieve photos with much finer details.
Visibility
Image Quality
One frustration in macro photography is the tendency of the depth of field to be very small.
In the minimum focus distance of a macro lens, to achieve the greatest magnification, the depth of filed is shrunk to just two millimeters. The crucial factor in determining the performance is on knowing how well the lens keeps the good image quality at a very slim aperture of approximately f/16 or f/22 where you get extra mms in terms of depth of field.
Image Stabilization
This is another crucial factor that you should take into consideration when choosing the best Nikon macro lens. Many brands today offer some kind of image stabilizing features. This is a very handy feature because the photographer can take a shot on the subject even without using a tripod.
But, many serious photographers will still utilize a tripod as well as a strobe lighting to achieve the best effects possible. In cameras like Canon and Nikon, this is very essential when you buy a macro lens. These two companies are known not to have image stabilizer or vibration reducer in the bodies of their cameras. Instead, they incorporate it on the lens.
Subscribe to our Newsletter