Best Selfie Sticks
In a Hurry? Editors choice: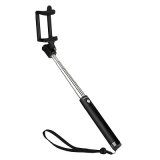 Test Winner: Mpow iSnap Extendable

Selfies are more than pictures: they are statements. They have become a popular tool for documenting one's presence at a certain moment in time and to capture pictures with friends and family. However, sometimes the scenery behind you is much bigger than your arm can reach. Without a dedicated device, you will be forced to merely extend your arm to its apex to
take photos
of yourself and others. For all those moments when your arms aren't long enough it would be wise to consider buying a selfie stick. They are pretty simple in nature and design. You can
mount
your smartphones on them and then extend them to an appropriate length to take photos. We present you with best selfie sticks on the market, and after you review this buying guide we are confident you will be snapping selfies everywhere you go.
Standout Picks
Criteria Used for Evaluation
Top 8 f Sticks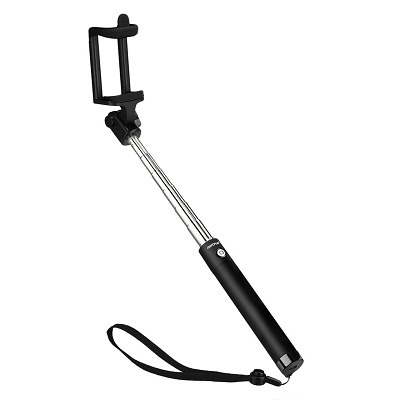 This product is the latest self-portrait monopod gadget that has a one-piece design so you don't have to bother installing your equipment piece by piece. Also, it is one of the most compact selfie sticks out there so you don't have to worry about incorporating it into your bag or pocket.
Read more
Ease of Use
There are two reasons why this is an ideal design when it comes to its adjustability and ease of use. Firstly, the body can be extended up to 31.5 inches. And, secondly, the head can be rotated 270 degrees. The snap button gives you excellent feedback and you can just lightly press it and feel the awesome user experience.
Portability
You do not need to worry about traveling with this stick as it is both light and compact. It can be folded down to 7.1 inches.
Compatibility
The stick is compatible with most of the devices although it might not reconnect automatically with iOS 7 or higher. Even though this sports near universal compatibility, it is specifically noted that this will not pair with the Samsung Galaxy S10 and other smartphone models.
Features
The U-shape design brings you more advantages than you might think it does… it doesn't take too much space and it can also be rotated to make the selfie stick look even smaller than it is. The silicone material of which the clamp is made of provides the extra friction to keep your phone safe and tightly mounted.
The handlebar has a matte surface so you can feel the grip and you will most certainly know that this Bluetooth selfie stick won't fall out of your hands. Another great security feature is the protective silicone material that is located on the clamp. This allows your phone to clamp more securely. Also, this comes with an extra wrist strap for enhanced safety.
One of the only issues with this model is the fact that the battery does not last long. With that said, the Bluetooth remote control allows for convenient operation.

2

. Selfie World Vortex Pro II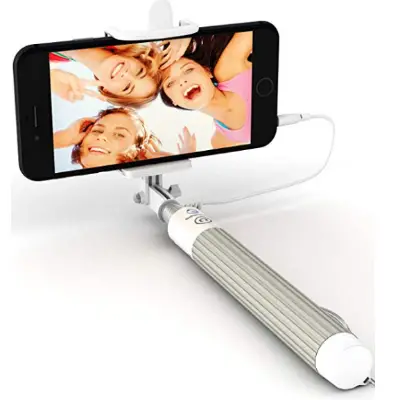 How many times have you been ready to take a great photo with an amazing backdrop, just to find that your selfie stick is out of battery? Then, you have to revert back to the early 2,000s and use your arm - resulting in a photo that is too close and cuts off the top of that beautiful mountain. With this stick from Selfie World, you'll never need to worry about changing the batteries or charging the stick. You simply plug the small cord into your headphone jack and you're ready to go!
Read more
Ease of Use
This is one of the easiest selfie sticks to use! You don't need to worry about connecting to Bluetooth or charging batteries. As long as your phone has battery, you're in business. To connect this stick to your phone, you just need to plug in the small cord to your headphone jack. Nothing more.
Portability
At its smallest, this stick is 8-inches long. When fully extended, it is 30-inches long. While this won't provide you with as much of a view as some others, it does make it more portable. It is also conveniently lightweight at only 4.2-ounces.
Compatibility
The Vortex Pro II is compatible with many devices. It will fit any phone or device that is not wider than 3.5-inches. This includes all Samsung Galaxy phones, most Androids, and most iPhones. Things start to get a bit tricky with the newer versions of iPhones that don't have the normal, circular headphone jack. The manufacturer simply says that this stick is not compatible with these phones, but reviewers have said that with the small adapter that comes with the phone, it works just fine.
Features
Selfie World calls this technology "plug n play." Once you plug in the cord, you're ready to go. The button to take the photo is at the bottom of the stick and easy to use. With this selfie stick, you can take versatile photos yourself, ranging from portraits, ariel view, landscape, panoramas, and close-ups. The fact that you never need to worry about charging the stick or dealing with Bluetooth is by far the best feature of this selfie stick.

3

. Foneso Extendable Monopod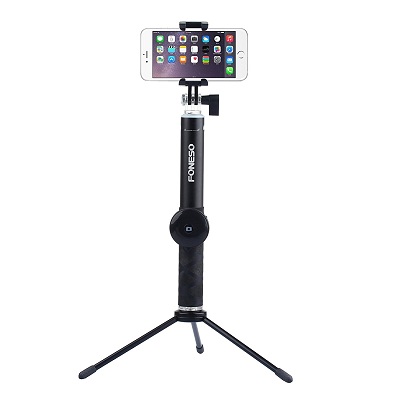 This amazing hand-held tripod enables you to take the selfies and group photos effortlessly and it will bring much pleasure to your life.
Read more
Ease of Use
This tripod/selfie stick combination comes with a wireless Bluetooth remote. The tripod itself is easy to set up and quite stable. Reviewers say that the only time you may need to read the directions is to pair the Bluetooth with your device. There is also a designated space on the tripod to hold the remote when packing up.
Portability
When folded, this amazing tripod measures only 7.1 inches, making it quite transportable and compact. This elegant selfie stick can fit in your pocket but when you extend it goes up to 32.7 inches. This gives you the ability to take a photo of yourself with a wide surrounding.
Compatibility
The phone holder is adjustable and it can fit almost any phone. The mount can be rotated up to 270 degrees which gives you an opportunity to take the photos from many different angles and distances.
Features
As mentioned, this is a two-in-one product! You get a selfie stick and a tripod. Thanks to the Bluetooth remote, you don't need to feel rushed or worry about your arm being in the photo. You can easily charge the remote using a micro USB charger. It's made entirely of aluminum which makes it very light and it features the rubber handles for a good grip. A carrying bag is also included!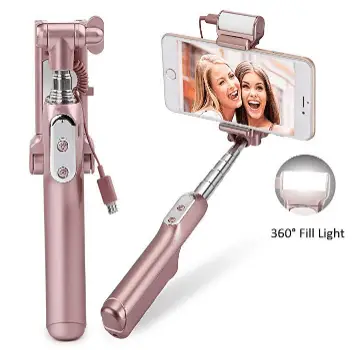 While it is certainly far from the most important aspect, what will draw many of you into this model is its rose gold finish. Of course, it also serves its purposes well as a selfie stick.
Read more
Ease of Use
The good news is the adjustable light and the mirror make it incredibly easy to utilize this. However, at the same time, this is not battery operated and comes equipped with an attached cable. As long as you keep it charged, you'll have no problems operating this selfie stick.
Portability
At its shortest, this can actually measure 7.3 inches. What this means, in addition to the lightweight nature, is you will easily be able to account for this on the go.
Compatibility
Here is the deal; as with most, this is going to work with all types of smartphones. Then again, some users have noted that it can be a little difficult to insert larger smartphones with cases into this.
Features
In addition to being a selfie stick, this can also be utilized as a smartphone stand. Additionally, the head can rotate 270 degrees to account for different angles and such. The ergonomic handle and the environmental PC material combine for an ideal construction. The Bluetooth remote can be used from up to 33-feet away.
It is available in two different colors, black or rose gold.

5

. Perfectday Foldable Extendable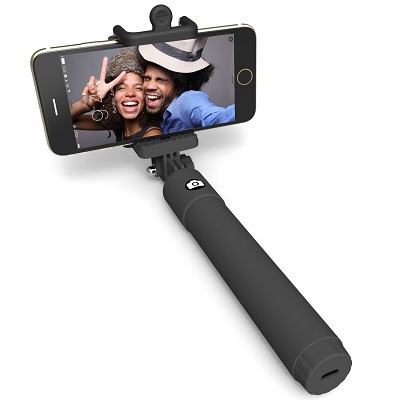 This amazing selfie stick features a Bluetooth remote control as well as the excellent battery, allowing you to take the perfect selfies with much better sight and width.
Read more
Ease of Use
It is a quite simple selfie stick to use. All you have to do is pair this device with your phone via Bluetooth and snap the photos with ease.
Portability
The compacted size of the stick is 7.1-inches and it can be extended to 31.5-inches. It only weighs 4-ounces, making it an incredibly portable device that won't weigh you down.
Compatibility
The PerfectDay selfie stick is compatible with basically all IOS and iPhones and is capable of handling the weight of these phones quite easily. The grip is strong and you don't have to worry about your phone. The stick will expand enough to accommodate any phone and even some of the smaller tablets.
Features
The head of the selfie stick is highly adjustable and the mount positioned on the top of this selfie stick can point your smartphone in any direction through a 180-degree arch. This allows you to take the photos from any position you want, according to the shot you want to take. It is available in two colors, black and gray.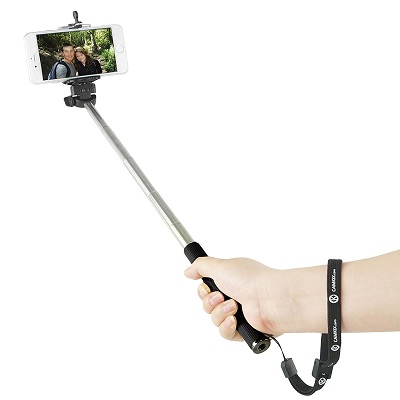 This easy to use selfie stick from CamKix is lightweight and portable but still extends to forty inches. It is compatible with any phone that is not wider than 3.25". If you are looking for something that is not overly complicated, this is a great option.
Read more
Ease of Use
Like many selfie sticks, this device is easy to use. The Bluetooth remote is compatible with Apple and Android devices, although some Andriod phones may need to download an app to connect. There is no specific button on the stick to take a photo, you can only take a photo using the remote, which can be tethered to the stick. Reviewers love how easily adjustable the view and length of the stick is.
Portability
This stick is a great size and easy to travel with. When retracted, it is only 11" long. When fully extended, it measures 40" long. This could easily fit in a backpack or even a small handbag. With a weight of only 7-ounces, it won't weigh you down either.
Compatibility
Luckily Apple and Android have taken the smartphone world by storm. This selfie stick is compatible with both. As mentioned earlier, the remote uses Bluetooth and Andriod users may need to download an app to use it. The clamp of this stick will hold any phone that is no wider than 3.25".
Features
The stick can be adjusted by 180 degrees, allowing you to get a great view of the scenery behind you. Another great feature is the wrist strap. This provides an extra layer of security if you were to accidentally drop the stick.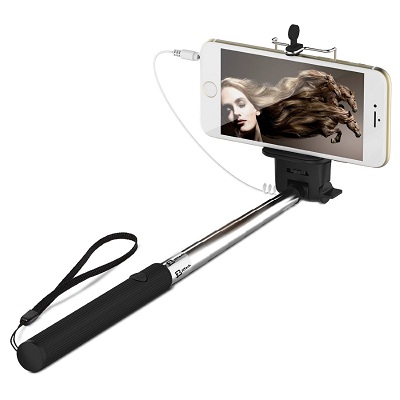 Most of the selfie stick users like the device that is battery powered because it is much easier to shot the photos via Bluetooth controls, but some of us prefer the models that are not dependent on the batteries. So, one of the reasons this is such a popular model is due to the fact that it does not rely on a built-in battery. Instead, it is battery-free for uninterrupted entertainment.
Read more
Ease of Use
The phone holder is adjustable and it allows you to shot the selfies from many different angles as well as the above-crowd photos. Since there are no batteries involved, this selfie stick is quite easy to use. All you have to do is simply plug in the 3.5mm audio cable and push the shooter button to take the picture.
Even though this can be extended to 28.7 inches, it is actually a fairly monotonous design. If you want to change the direction of your phone, you will need to unscrew several screws and screw them back again. Overall, this is not "premium" quality. At the same time, the frame at the end is quite sturdy and will secure your smartphone, which is a huge plus.
Portability
At just 4.8 ounces in total weight, it is literally incredible how easy this is to travel with.
Compatibility
This battery-free model is compatible with most of the smartphones if you download the "Camera 360" app and it is expandable up to 36 inches. While you will need to adjust some settings depending on what model of smartphone you have, this will work with several of the top-name phone models out there.
Features
As was noted, this does not come with a built-in battery. Instead, all you need to do is plug the included 3.5-millimeter cable into your phone. For the price, it is hard to go wrong with this option. After all, several buyers have raved about the experiences they have had with this.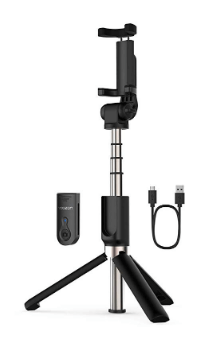 Perhaps you do not always want to hold your stick up in the air. What makes this selfie stick tripod so great is, in mere seconds, it can be transformed into different devices entirely.
Read more
Ease of Use
This stick can be rotated by 360-degrees, easily providing you with a great backdrop from any angle. The Bluetooth remote is easy to use, and should you have any questions, the included manual is easy to follow. However, the reality of the situation is this is a short selfie stick. It is well-designed, for sure, but this may be a deal breaker for some of you.
Portability
Without question, this was engineered with portability in mind. Whether you want to point to the foldable nature or the lightweight core, it does not matter. At its smallest, the length of this selfie stick/tripod is 7.9-inches. When fully extended, it is 26.6-inches long. It weighs only 4-ounces.
Compatibility
This device is compatible with most Android and Apple Smartphones. What you need to know about this model is the fact that the clamp can be widened to 3.15 inches. So, if you have a thicker phone with a thick case, it may not fit.
Features
As noted, this can easily be transformed into a tripod. Yet, on the other hand, this is rather limited when it comes to its range. It can only be extended up to 26.6 inches, for the record.
This sports an incredibly solid core and while you should not be careless with it, it should hold up very well over the years. Being designed with a Bluetooth remote, this will need to be recharged so you will need to keep an eye on the battery. As for the remote itself, it sports a wireless range of 10 meters.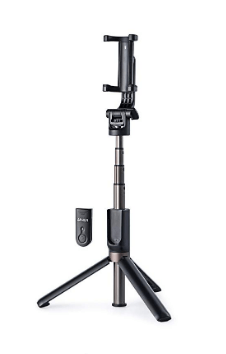 Anytime you buy from Anker, you know you are getting a high-quality item. That is simply how good they are and, in case you did not know, they also happen to make and sell a wonderful selfie stick.
Read more
Ease of Use
As with many other options on the market, this is a selfie stick tripod. This means it can be transformed into a tripod easily and quickly. Oh yeah, and this can also extend up to 27.5-inches.
Coming with your purchase is an integrated Bluetooth remote. This allows you to take photos with great ease. As for how long the battery on the remote lasts, it is rated to last up to 20 hours on a single charge.
Portability
First off, this only clocks in at seven ounces. Secondly, this will pack down compactly. This combination is about as ideal as it gets for portability.
Compatibility
Due to the fact that the cradle can be adjusted from 2.2 to 3.4 inches, this will be suitable for just about every smartphone out there. However, on another note, the tripod mount screw is a bit too short.
Features
Anker engineered their model with an aluminum alloy (which so many others do, as well). Additionally, this is equipped with an ergonomic handle for enhanced comfort and grip.
Leave it to Anker to design another great device, right? This tripod and selfie stick combination tool is convenient, well-designed, portable and durable.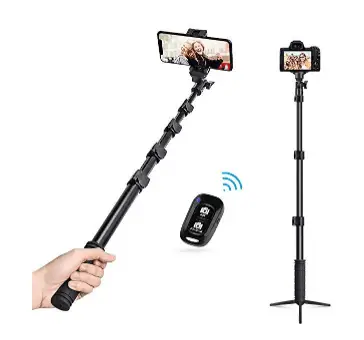 This model is simply too good not to mention. In addition to the fact that it can be extended to 49 inches, it is also designed with a high-quality aluminum alloy for enhanced stability.
Read more
Ease of Use
While it is nice that this comes with a Bluetooth remote (with a distance up to 30 feet), it needs to be activated every time you use it. For whatever reason, this was just glossed over. However, reviewers say that the device is easy to put together, easy to pair, and easy to use.
Portability
It is not as if this is heavy and cumbersome to carry around. With that said, some of you may be looking for more portable and compact options. When compacted, it measures 15.5-inches and it extends to 49-inches. In a way, this could be seen as both a convenient and inconvenient design. It is a bit ironic to say that but it really does describe this perfectly. But, it does sport more good than bad.
Compatibility
With or without a case, this is going to fit most smartphones out there. Popular models from Samsung and Apple, for example, will be perfect with this type of device. It can hold a phone up to 3.75-inches across.
Features
This is where this design really shines. It comes with a tripod stand to be used in that manner, can be extended to 49 inches, and has a head rotation of 360 degrees and a neck rotation of 180 degrees.
The combination of the non-slip soft rubber grip and the high-quality aluminum alloy core make this an ideally built selfie stick.

Subscribe to our Newsletter