Best Travel Tripods
In a Hurry? Editors choice:
Test Winner: GITZO

Tripods are tremendous, are they not? They are very simple in their design yet if you are a photographer or anybody who enjoys capturing movies and videos, they can literally be lifesavers. But, not all of them on the market will be
optimized for travel
. Finding the best travel tripods, quite frankly, can be a tricky endeavor. There are many so-called hurdles to get through to find the one that is best for you. With the help of this guide, though, that should be made a bit easier for you.
Now, for all intents and purposes, you can travel with any tripod you ever buy. It just might be hard to do so if it can't be folded or if it does not come with a storage case. Either way, that is what we want to put the focus on
today
.
Standout Picks
Criteria Used for Evaluation
Materials
Really, this comes down to whether you want aluminum or carbon fiber models.
The first order of business when you are looking to buy a tripod is to assess the materials. And, no matter where you look, there are going to be two prominent materials that come up time and time again and these are often used to construct the legs. The first of which is aluminum and this is, generally speaking, the weaker of the two options. With that said, aluminum itself is a high-quality and affordable metal. Though it is slightly heavier than the other primary material, this extra weight can lend its hand in delivering enhanced strength and stability. Then again, aluminum can corrode if it is not properly maintained (though it can't rust).
The other material is carbon fiber and, all things considered, is the best option out there. Not only is carbon fiber lighter than aluminum but it is also temperature-resistant. And, because it is a polymer, there is no worry about rust and little worry about corrosion (though polymers can still corrode). Also, do not think that this material is not strong, either. For its low density, it delivers incredible strength and stiffness. In fact, when basing materials weight for weight, it is actually around two times more rigid than aluminum.
Features
Do not get overwhelmed with this section as there are several features to keep in mind.
There are plenty of features to cover here and while we may not touch on them all, we want to touch on as many of the important ones as we can. For starters, tripods all start with the design of their heads. Due to the fact that the head is going to hold your camera, it is one of the most important portions to assess. Now, there are many different styles out there but one of the most popular is known as the ball head. This usually incorporates either a tri-control or dual-control design and both offer superb control. Moving on, tripods also come with certain lock systems (typically either flip or twist locks). Flip locks are ideal for beginners as they are easy to use but twist locks are the more "professional" of the two options.
Also, consider the height at which you will want your system to be adjusted. Each model out there will come with varying height settings and will be limited by a maximum and a minimum height. Additionally, do not forget about the feet. Some feet will be able to be converted but not all of them will (as there are rubber and spiked feet out there). Oh, lastly, quick-release plates are another major design feature. These, as you may have guessed, basically simplify the process of removing your camera from the tripod.
Versatility
Yes, these devices can be pretty darn versatile in their designs.
At the surface, this would seem like a pretty basic little device, right? Well, while that is somewhat true, there are options on the market that offer quite a lot of versatility. For starters, have you ever heard of a monopod? By assessing the prefix "mono", you probably have a good idea of what it is even if you have never heard of it before. As the name implies, a monopod is basically just a single staff that is used to support cameras and other such devices. The reason this is being brought up is that some tripods will be able to convert to monopods in the blink of an eye. In certain situations, using a monopod may be more beneficial or easier for you. As such, it is always nice if the model you have provides you with the ability to convert it.
However, it does not end there. To make some models even more versatile, they will come with legs that can independently be adjusted at different angles. Sometimes, the terrain under your tripod will not be even or smooth. If this is the case, with these types of legs, you will be able to adjust to the uneven ground. Oh, and most models out there will also allow the head to be removed for a different one, just to note.
Portability
If you are going to buy a tripod for travel then it needs to be portable, right?
Due to the fact that this is a guide assessing travel tripods, you knew this section would be inevitable. After all, what good would any sort of product be (that is designed for travel) if it were not portable? Indeed, this means this section is uber-important. At the same time, though, this section is also not too complicated. Let's take a closer look, shall we?
There are three important factors that you will want to keep in mind here. The first one is the collapsed size that the tripod can be folded to. The legs should be able to be folded up but if you are going to account for your own carrying bag, you need to ensure that the collapsed size of the model you go with will fit. Secondly, assess the total weight. One of the reasons why carbon fiber is so popular is due to its lightweight nature, after all. And, thirdly, you can look to see what models come with their own carrying bags or if they come equipped with shoulder straps.
Compatibility
For sure, you need to ensure that your camera fits safely and properly on the model you get.
There are two "tasks" that you need to accomplish. For starters, you need to ensure that you buy a travel tripod that will fit your camera. The good news is most modern cameras will work with most modern tripods. To double-check, though, you need to ensure that the thread size of your camera matches the thread size of the head of the model you are looking at. Of course, you could always buy the head separately if this happens to be an issue. But, for the most part, this will not be a problem for most of you.
Yet, you also need to assess the load capacity. In short, this is the maximum amount of weight that the tripod is going to be able to hold. Some will only support six pounds while others will support up to 40 pounds (it all depends on the design). This means that the total weight of your camera (and this does include the lens) should be around 1.5 times less that of the maximum load capacity. Given the expensive nature of this type of equipment, you may want to err on the side of caution.
OUR TOP PICKS FOR THE BEST TRAVEL TRIPODS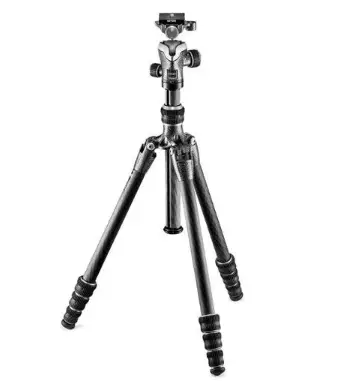 If you are willing to spend a good chunk of money on a premium model then you may want to look more closely at this bad boy. It is ridiculously expensive, though, so know that going in.
Read more
Materials
Not only are the tubes made of carbon fiber but they are also upgraded altogether. They are much stiffer than previous models which result in improved performance without the addition of a lot of weight.
Features
This can be adjusted (height-wise) roughly from 12 to 52 inches. Additionally, this comes with an expertly-designed head that is both super smooth and ultra-precise.
Versatility
For the record, the head can be removed and you can attach others onto this model. However, the manufacturer recommends it. Also, this comes with a short column that can be used for improved ground shooting.
Portability
First off, this can be folded which makes it much more compact than normal. Secondly, this is equipped with a shoulder strap which makes it easier to carry.
Compatibility
This has a load capacity of 22 pounds, which basically means it can support up to 22 pounds of weight.
Overall
Is the price ridiculous? Sure, but if you need a travel tripod for professional or commercial reasons, this can be a fantastic choice. After all, you may want a high-quality model securing your high-quality camera.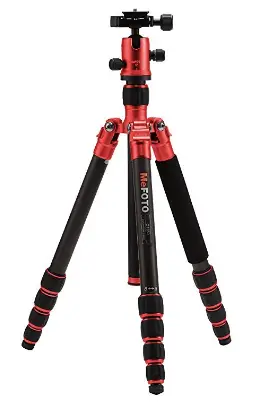 MeFOTO is a really popular brand and it is one that many of you have probably heard of if you have owned one of these devices in the past. Well, let's just say that it is popular for a reason.
Read more
Materials
Now, the main material utilized here is carbon fiber (which is a staple of this technology). However, the thinnest portion of the legs does appear to be a tad flimsy.
Features
There are features galore here such as 360-degree panning, a recessed center-column hook, a separate pan lock and head, and a precision Q Series ball head. Of course, the quick-release plate is missing a D-ring feature, which is a bit of a letdown.
Versatility
Without the use of any tools, this can transform into a full-size monopod. In addition to this, each of the legs can independently be locked into place in one of two different angles.
Portability
Past the fact that this does come with a carrying case for easier transport, the legs can also be folded back 180 degrees.
Compatibility
This can be used with a plethora of different camera styles and models (such as zoom lens, DSLR, point and shoot, and mirrorless cameras).
Overall
Even in spite of the slight hiccups, this still remains one of the most elite travel tripods out there. It will please just about anyone and everyone, which is all you could really ask for.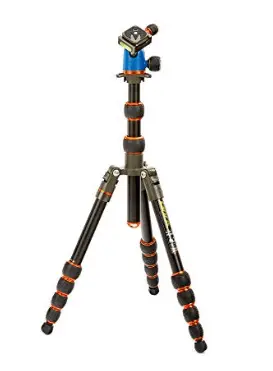 This manufacturer has created some top-of-the-line tripods but this one is actually their entry-level model. It is dubbed "Corey" and what is amazing about it is it features professional-level functionality at an entry-level price.
Read more
Materials
This is actually not made of carbon fiber and, instead, is consists of aircraft-grade magnesium alloy. In addition to this, the metal has been powder coated for protection against the elements.
Features
As alluded to, with Corey you get several of the features that you would see in the pro range of tripods from this very manufacturer. Additionally, this can be raised to 59 inches and can collapse lower than many others in its class.
Versatility
Due to the fact that this comes with a detachable monopod leg, it can also be utilized as a camera boom or as a microphone.
Portability
As with most of the other models that are optimized for travel, this bad boy can be fully folded down to a very compact size.
Compatibility
For the record, this system does utilize screw locks. Also, the load capacity is 30 pounds which is pretty darn impressive for an entry-level model.
Overall
At first glance, this does not appear to resemble what an entry-model would typically look like. The manufacturer really spoils you here with an absolutely superb design.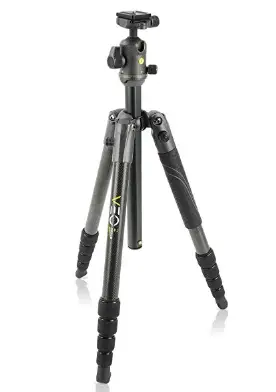 In addition to the carbon fiber construction, this device is designed with legs that can be adjusted to particular angles to account for uneven terrain. Of course, this is just the start of its greatness.
Read more
Materials
This is actually available in either aluminum or carbon fiber, for the record. Either option is great but the center column swivel is actually made of plastic (which could be mildly concerning).
Features
While this should have been equipped with a quick-release system for your camera, it can adjust to 59 inches (in height) and is designed with an innovative central column system for quicker installation.
Versatility
As was mentioned, the legs of this tripod can be set at certain angles (20, 45 and 80 degrees). This can account for uneven terrain, making this more versatile for different types of surfaces.
Portability
When folded, this measures just over 16 inches in height. While this will still take up a decent amount of room, it is still really nice that it can be folded.
Compatibility
This has a working load capacity of 17.6 pounds. Compared to the rest of the competition, this is nothing special, quite honestly.
Overall
Some slight limitations aside, this is another high-quality option at an affordable price. There is also a lot of innovation with this design and that is always a welcome sight.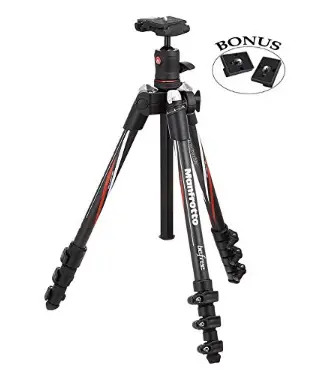 Admittedly, this has one of the lower load capacities on this list but it still remains a great design regardless. But, it is one of the lightest models that you will find so that is a major plus.
Read more
Materials
The BeFree is made up of carbon fiber and this makes sense when you take into consideration just how light in weight this bad boy is.
Features
What is really nice about the BeFree is the fact that the ball head is designed with a quick-release feature and an ergonomic locking handle. Oh, and this can also extend to 56.7 inches in height.
Versatility
Due to the fact that the legs only have two lockable positions and that the center column will not move, this is not the most versatile option on the market.
Portability
In addition to the lightweight nature of the BeFree and the durable carrying case that comes with your purchase, the legs actually fold up around the ball head (which enhances the compactness even further).
Compatibility
Yeah, the load capacity here is pretty uneventful. This device can only support 8.8 pounds safely so be aware of that.
Overall
Due to its portability alone, this is a highly compelling option. Of course, in spite of its minor flaws, it also holds up pretty well in the performance area, as well.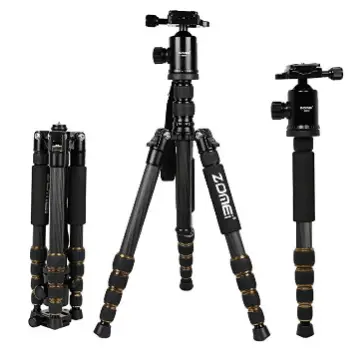 All in all, this is extremely solid from top to bottom. Nothing is going to blow you away with this option as it does not reinvent the wheel. Then again, if it is not broke then why fix it, right?
Read more
Materials
Even though this is designed of temperature-resistant carbon fiber, various users have noted that the poles can scratch rather easily (which means the exterior coating is not very good).
Features
With this model, you can adjust the height from 13.8 to 60 inches. This allows you to capture video and images at differing heights (which can be extremely beneficial).
Versatility
By screwing together the removable tripod leg and the center column, this can instantly be transformed into a full-size monopod.
Portability
In addition to the carbon fiber construction (which aids to the lightweight nature of this), this can also be folded up for storage and travel.
Compatibility
Even though this can safely support up to 33 pounds, one user noted that their camera (they stated it had a heavy lens equipped) produced a bit of wobble.
Overall
If you are looking to get your feet wet with this sort of device, this could be an excellent way to start. This model is affordable, well-designed and versatile. Not bad for a starter model, right?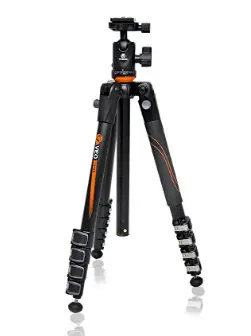 Even though some users have questioned the quality of the VEO 235AB, one thing that can't be questioned is its functionality. With all the features in play, this is almost a no-brainer.
Read more
Materials
The main material utilized here is aluminum but that is not really the issue. The quality of the components (such as the head and plate) is what the majority of reviewers have complained about.
Features
Indeed, this is packed with several great features. For example, this can be raised to 57.1 inches, comes with a quick-release plate, is designed with a soft rubber handle, and comes with a low-angle adaptor for extra-low shots.
Versatility
First off, each of the legs can be adjusted to three different angles. Secondly, the feet can be converted from rubber to spikes. All in all, this option is quite versatile.
Portability
There is no need to concern yourself over the portability of this tripod. After all, it comes with a carrying case, can be folded to 14.8 inches, and is only 3.3 pounds in total weight.
Compatibility
This works well for both mirrorless and DSLR cameras and, for the record, comes with a load capacity of 13.2 pounds.
Overall
Due to the overall design, this is able to overcome the slight issues it has with its quality. With that being said, though, it is understandable if you want nothing less than premium craftsmanship.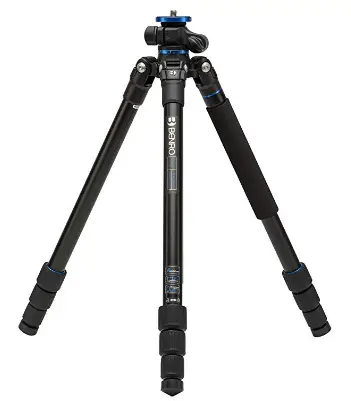 No, this is not the most stable option out there but it is far from a poor design, also. What is also nice is this device accepts SystemGo accessories and this basically allows it to turn into a portable workstation.
Read more
Materials
The choice is yours for either an aluminum or carbon fiber construction (with the former featuring magnesium alloy components). But, as noted, this is not the most stable design either way.
Features
Being able to reach 65 inches in height, this can go higher than other models in its class. Also, the center column allows you to position your camera in several different manners.
Versatility
As noted, this does accept SystemGo accessories. Additionally, this can also be used as a monopod in the blink of an eye.
Portability
Compared to other travel tripods, this is not the lightest but it is also nowhere near heavy. Past this, it can be folded to make it even more compact than it already is.
Compatibility
Due to the noted stability issues, the 30.9 pounds that this can support may be a bit of a stretch. Still, that is the rated load capacity so keep that in mind.
Overall
Most of you will certainly appreciate the versatile nature of this device. Variety is the spice of life and if this is a motto you live by, you will definitely want to seriously consider this tool.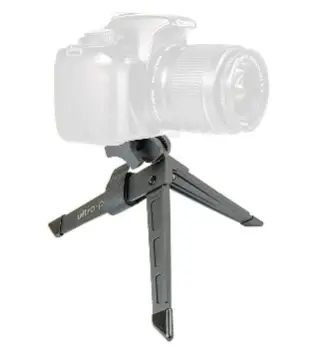 The UltraPod II is certainly a tripod but it is also very different. As you can see from the photos, this is about as compact as it gets and is almost a mini-model of sorts.
Read more
Materials
The frame of the UltraPod II is made of glass-filled nylon resin. Additionally, the feet are made of vinyl and the components of aluminum.
Features
This is really ideal for getting shots closer to the ground. Also, the ball and socket mount allow cameras to be positioned at any angle that is desired.
Versatility
A rather unique functionality is featured here. Thanks to the removable Velcro cinch strap, this can actually be secured to any type of vertical object (such as railings, posts, and trees) that the Velcro will fit around.
Portability
The winner for the most portable travel tripod on this list is the UltraPod II and it is really not even close. It only weighs four ounces (which is incredible) and can be folded to seven inches.
Compatibility
This can be used with all sorts of cameras but it only has a maximum load capacity of six pounds. So, it will not be ideal for heavier lenses.
Overall
To say this is only going to appeal to a certain demographic is an understatement. It really is brilliantly designed but it is also limited in several areas due to its miniature size.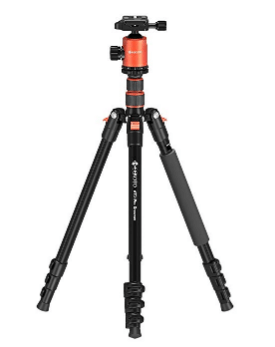 Probably the most notable aspect of this model is the fact that it can be raised to 77 inches. Then again, there is a lot of plastic included which could be seen as a bit of a negative.
Read more
Materials
As noted, there really is just too much plastic within this design. The poles are made of aluminum but several of the components are not made of metal.
Features
Again, this can be raised to 77 inches (and lowered to 19 inches). Also, in addition to this, this is equipped with a ball joint that can rotate 360 degrees (which means your camera can capture at any angle).
Versatility
In spite of the fact that this is limited in its available mounting plates, the legs can be adjusted at three different angles to account for uneven terrain and this can transform into a monopod.
Portability
At 3.37 pounds in total weight and the ability to be folded to 19 inches, this is about as portable as you would expect it to be.
Compatibility
For the record, this can support up to 17.61 pounds of weight. Despite this, various users have questioned the accuracy of this rating.
Overall
There really is a lot to like about this model but you can also nitpick a little bit. All in all, it is still a high-quality option on a long list of them.

Subscribe to our Newsletter