Best Yoga Wheels
In a
Hurry? Editors choice: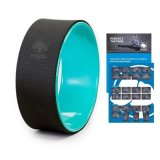 Test Winner: Seigla

When you are a busy type of person, but you want to
stay fit and healthy
, hitting the gym may not be the most convenient option.
However, you can still achieve better health and body in the
comfort of your office
or home by practicing simple yoga poses. As the yoga industry booms so as the increase of devices and props that you can use for the practice of yoga.
There are lots of accessories in the market that can be very beneficial for yoga practitioners and beginners.
Some of those items are yoga wheels. This is a must-have item for those who love to do yoga. The yoga wheels will not only make the practice more manageable, but it adds fun and excitement. If you are interested in getting a good one, we have listed below our tops ten best choices on yoga wheels.
Standout Picks
Criteria Used for Evaluation
Features
The yoga wheel basically looks like a wheel.
It is used as a support accessory. It also helps strengthen the muscles, opens the chest and back. If properly used, this will upgrade your yoga experience.
This tool will surely help you enjoy your workout while you develop the strength and flexibility to achieve challenging poses. The wheels in the market today have different styles and designs. You can also look at the color options.
If you are a fashionable person, you would like to go for a product that will also match your yoga mat and your outfit. Looking at the different products and comparing their basic features will help. Some of these are non-slip property, sweat resistance, use of eco-friendly materials, exterior padding, brand, etc.
Firmness is another feature to look for. When you use your wheel, it should be able to hold your weight and support your body. This comes hand in hand with safety. You surely do not want to get injured because you failed to look into this feature.
Another feature is its price and value. You can get this item for as low as 25$ to as expensive as 100$. Comparing other features will help you score good deals. If you are in a limited budget, you can also shop for this during clearance sale or black Friday.
Size
Yoga wheels come in different sizes.
There are manufacturers who produce small, medium, and large sizes. The sizes range from as low as 6 inches, up to 15 inches in terms of diameter and 5 inches up to 7 inches wide.
For this one, it will depend on your need and your body type. You should also consider that smaller wheels are more portable and more comfortable to carry around inside your bag. But if you want a more significant stretch and better support, then you can go for the big-sized accessories.
Another if you are a significant person or a tall individual, it is also best to opt for bigger yoga wheels as this provides better support in accordance to your size. Generally, it is best to consider larger ones because of the help that they provide.
If the size is not stated online, you can also contact customer service to learn more about your size options. You can also ask if the size of the product is appropriate for your height and body weight.
Comfort
If you are new to yoga, bending and flexing will surely be a big discomfort.
This is why you need to find a yoga tool that will help minimize that discomfort and help you improve while having fun. One of the things to look into is the exterior padding. Is it properly attached to the body of the wheel? Is it soft enough to provide a cushion when performing certain poses?
Some wheels can be quite hard and may cause pain because of inappropriate cushion or padding. This is one thing that you should check. Usually, it should have a thick one for added protection, safety, and comfort.
You should also make sure that the padding is attached sturdily on the cylinder. Some products have poor adhesion of filling and may not last long enough.
If you are buying an item online, you never get a chance to test the product. You will know if you are comfortable with it when it arrives at your doorstep.
However, to help avoid buying the wrong product, you can read reviews and compare the thickness of the padding and type of materials used. There are also products that are recommended by credible people like doctors and chiropractors; you can check them out too.
Cheaper items do not always mean that they are of poor quality. You can still score great yoga accessories at an affordable rate. However, for workout tools, it is best to go for quality and not compromise on comfort.
Use
The main reason why you want to buy a yoga wheel is that you want to use it for your workout.
Most wheels in the market can be used by beginners and advanced yogis. Also, the wheels are usually unisex and can be used by both male and females. The benefits of using yoga wheels are countless. It helps improve flexibility and strengthens the targeted muscles, which will also help prevent injury and will assist in achieving challenging poses.
Some people also purchase this product because they want to stretch their back, and this will serve that purpose well. The wheels also help in strengthening the core muscles, thus helping improve balance and posture.
It is best to buy a wheel with a guide included on the package. This way, you can quickly start your practice once you the item. Also, if you are a beginner, and you will be using this for your yoga practice, having a teacher around is also advisable.
Materials
Look for the most durable material.
It is also advisable to go for eco-friendly and non-toxic materials. Using environmentally friendly materials are also in line with yoga philosophy. There are different materials used, such as:
PVC- This is a plastic polymer and is widely used not only in yoga wheels but also in other products. This material is also durable and can withstand heavy weights.
ABS- This is also a type of plastic, commonly used for pipes. This type is considered stronger than PVC. But, one of its downsides is that it may become weak when exposed to the sun. This type of plastic is considered BPA free. This also has no known adverse effect on our health.
TPE- This material is a mixture of plastic and rubber material. This material is flexible and can elongate and return to its original form and shape. The material is used in household products and automotive purposes.
Subscribe to our Newsletter