Best Multivitamin for Women
In a
Hurry? Editors choice: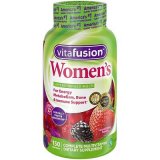 Test Winner: Vitafusion

As we press deeper in the the bleak winter months, ensuring that you get proper nutrition is more important now more than ever. In the summer, it's easier to get the minerals that you need from the readily available fruits and vegetables, but that proves to be a little more difficult in the winter. Adding a multivitamin to your diet will ensure that you are functioning at your best, even when your diet is lacking. Since men and women are built a little different, it means that women need different supplements over men, so ensuring that you take a supplement catered to your needs is important. In this guide, you will find some of our favorite picks for women's multivitamins so you will have all of the tools you need to perform at your very best.
Standout Picks
Criteria Used for Evaluation
Application
If you hate taking them every morning, chances are you are going to find a reason to skip it.
For some, taking a large and awkward pill every morning is not their ideal way to start their day, no matter how great the benefits will be. That's why we made to to take into consideration the size of the capsule, and what users had to say about how easy they are to take. Gummy options were, hands down, our favorite selection because everyone likes to start their day eating candy- unless you are a robot, in which case you do not need daily supplements! Gummy options are ideal, but often don't have the same level of ingredients as some of the others, and often come in at a higher price point. Capsules were our next favorite selection. For some users, they also were a little too big to swallow, but because they are in capsule form means that users will be able to crack them open and toss them into a smoothie if they don't want to swallow them. Lastly, we opted for tablets that were smaller, or that could be easily broken into pieces. Before you make a purchase, be sure to check to see how they are meant to be taken, and if that method will work for you.
Features
Most products offer users a base level of minerals to get you through the day, and other offer something a little extra.
We noticed that there were a tons of different formulas that are designed to cater to very specific ladies. If you are someone that is incredibly active and likes to get out there on the trials or hit the gym regularly, you might benefit from a formula that offers superior energy and well as a boost to your metabolism. If you are part of the aging crowded, supplements that offer a boost to heart and bone health may be better suited to your needs and you lifestyle as well. We wanted to make sure that we selected a wide assortment of different brands that offered different features that would work for everyone. We even made sure to include a brand that had natural stress reducing ingredients to help promote a sense of calmness throughout your busy day. Take a moment to consider what you hope to get out of these products the most, and then select a brand that is suited to your needs.
Product Purity
If it is something that you are going to be putting into your body every day, you want to make sure that it is derived from good, clean ingredients.
For the most part, most of these products are designed to be used by just about everyone- even those with food allergies. Many of the products out there are on the market are labeled to be non-GMO, and gluten free. We made sure to also select a few brands that are generally safe to take even for those that have food allergies, and will be safe to take even for those allergic to nuts, wheat, dairy, shellfish, fish, and soy. Also, many of the options on our list are also vegetarian. It is important to note that not all of the products that we selected offer the same purity guarantees. We also wanted to select a few brands that offer users the same quality of ingredients, but may not be non-GMO in efforts to come in at a much lower price point. Before you make your final decision, take a moment to consider if allergen free and non-GMO options are going to be worth the higher price point for you.
Size
Looks can be deceiving when it comes to the size of these bottles.
What we noticed is that serving sizes has a tendency to fluctuate from product to product. Just because a bottle offers users a whopping 200 capsules does not mean that it is going to last the user 200 days. For most, users will typically need to only take 2 capsules per day, but that number can increase rapidly when you are dealing with gummy options. While some gummy options only require users to take up to 2 per day, there were some out there that required users to take up to 6! No only does this mean that you are going to need to remember to take them more than once a day, but it means that you are going to burn through that bottle much faster. When selecting the best products for our list, we not only looked at the number of capsules of gummies that were offered per bottle, but we also checked to see how many users needed to take per serving.
Value
This is something that you are going to need to replenish fairly frequently (1-6 months), so we wanted to make sure that we selected affordable options.
It was important to us to select products that were packed with high quality ingredients with little to no fillers, but we also kept an eye on that price tag to prevent it from creeping up too high. There were some brands that we selected that came with a pretty high price tag, but those options would typically last users 6-9 months. Our advice is to not let the initial high price tag fool you. Look at the entirety of the product before casting out an options because it costs too much. Take a look at the number of capsules or gummies that are offered per bottles, and then look at how many servings one bottle can hold. From what we learned, even some bottles that hold up to 200 gummies will only offer users enough for a 30 day supply. It is important that you look at the whole picture before determining if a product is too expensive.
Subscribe to our Newsletter