Best Omega 3 Supplements
In a Hurry? Editors choice: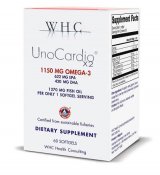 Test Winner: WHC UNOCARDIO X2

Have you ever heard of Omega 3? Chances are, you have as it is a very popular fatty acid. In fact, if you have health-conscious family members or friends you have probably heard the laundry-list-size of health benefits. While the intent of this guide is not to boast about why these fatty acids are so wonderful, it is good for you to know that they are. As for the purpose of this guide, though, we want to look at Omega 3 supplements, in specific. A supplement is one of the best ways to provide your body with a certain source and, of course, the source here is Omega 3. Not all options on the market will be the same, however, and that is why it is vital for you to understand exactly what you need to look for and why.
Standout Picks
Criteria Used for Evaluation
Effectiveness
Look at the details folks as not all formulas will provide the same potency.
Understandably so, it can be a little confusing to understand exactly what is going on here. To ensure that the information that is provided for you is not arbitrary, let's attempt to break this down as simply as possible. Okay, so here is the deal with Omega 3 fatty acids. They are necessary for your health but your body is not capable of manufacturing them. Thus, it may be necessary to provide your body with these fatty acids in the form of a supplement. But, not all supplements will be the same because not all of them will deliver the same amount of fatty acids.
Now, this is also where it is important to understand EPA and DHA. Both of these are acronyms for acids that are also readily available to the body. To ensure the best potency for any formula, both of these acids needs to be included and in high doses, quite frankly. Typically, the ratio is going to be 3:2 in favor of EPAs. In regard to how much of these acids you need daily, this can vary quite a bit. Different resources will have differing opinions on the matter and it also depends if you are taking them for health maintenance or due to a health condition.
Product Purity
Ensuring that the designer can back their claims for their product purity is essential, let's just say that.
It is absolutely vital for you to ensure that the formula you eventually go with is pure. Now, this is a very broad term in this regard so what exactly is meant by "pure". Well, you will hear and see this term a lot when people discuss Omega 3 supplements and for good reason. Several manufacturers will explain that their specific product is pure as it meets international standards for levels of heavy metals, dioxins, furans, and PCBs. Do not worry if all this sounds like gibberish to you because all you need to focus on is that the purity of any formula is verified via a reputable claim.
What you are looking for, in specific, is a Certificate of Analysis (COA). This is going to prove that an independent laboratory analyzed all the ingredient of the supplement to ensure maximum purity. You can also look for IFOS certification as IFOS (The International Fish Oil Standards) is a program for testing fish oils. Basically, any seller can "claim" anything they want to. But, in order for that to be legitimate, the proof needs to be in the pudding and that is achieved via reputable sources.
Use
This is in regard to how easy it is to consume the capsules and how bad the side effects are. In specific, the burping that can be a problem afterward.
One of the primary reasons why many people dread having to take their Omega 3 capsule for the day is due to the subsequent burping that tends to happen throughout the day. It would probably be fine if it was just a normal burp but nine times out of ten, it will be a "fishy" burp. Even avid lovers of eating fish can second the notion that "fishy" burps are unpleasant, to say the least. It is a common problem but because each supplement is going to be different, the problem can be magnified (or it can be minimized).
It is the ingredients that are in play that can affect the side effects that go along with taking Omega 3s (not just burping, for the record). The best thing to do is to glance through user feedback to see what other buyers have said. If virtually everyone concurs that there is a potent aftertaste and subsequent burping, expect that to be the case for you. Also, on a lighter note, some capsules will be larger than others. If you have general issues swallowing larger pills, you may want to avoid options such as this.
Capacity
While there is more to this than you may think, the overall capacity is important. Not just with how many capsules you get but also with the serving size that is in play.
It is important to note that you can't go overboard with these fatty acids. The FDA recommends that you take no more than three grams combined of EPA and DHA per day (keeping in mind that one gram equates to 1000 milligrams). Now, this does not mean you can't prioritize the capacity of the bottle that you purchase. Some sellers will design their bottles with 60 capsules, some with 90 and others with 200 or so (it depends on the seller). While it would seem the more the merrier, you also have to take the fatty acids per serving and the serving size into play.
You see, a bottle could have 240 capsules but if you have to take two for one serving, you essentially get 120 capsules (as you would need to take two for one serving's worth). Plus, using the same bottle as an example, if the EPA and DHA counts are low, you would need to take more servings to get your daily requirement (possibly). It is essentially an algorithm that comes into play and that means you will need to do some math.
Value
This goes hand-in-hand with the capacity but do not simply look at the price.
Without question, the value of a product is different than its price. It is not typically a good idea to solely base your purchase of a product on the price. While typically higher-priced products are better and lower-priced products are cheaper (in quality), it does not always work out that way. So, instead, pay attention to the value you will get. This goes hand-in-hand with what was just documented about the capacity. Meaning, you need to take the serving size, capsule amount, and acids-per-serving all into play.
Of course, some supplements will be downright expensive no matter how you slice it. If they provide you with a boatload of fatty acids per serving, though, the price could be worth it. As mentioned earlier, though, the daily intake recommendation for these acids will be different for all of you. For health reasons, most organizations will recommend right around 250 to 500 milligrams combined of EPA and DHA daily. If you have a certain health condition, though, consult with your doctor to see what they recommend for you.
OUR TOP PICKS FOR THE BEST OMEGA 3 SUPPLEMENTS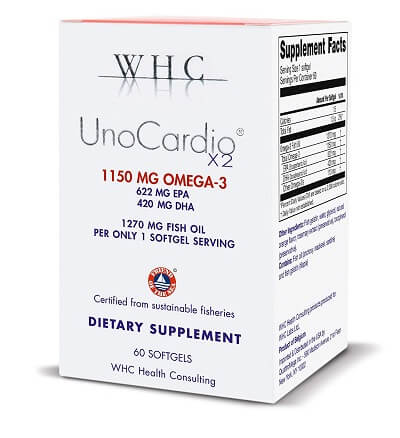 This list kicks off with arguably the worst value out of the bunch. Why is it number one, then? It is simple; the quality is so high that even though the price-per-capsule is high, the end result is beyond worth it.
Read more
Effectiveness
Per serving, you can provide your body with 622 milligrams of EPAs and 420 milligrams of DHAs. All in all, 1270 milligrams of fish oil are delivered with each serving.
Purity
Due to the eco-friendly and heat-free purification process that was implemented, the result is improved. Additionally, each individual capsule is wrapped to maximize the freshness.
Absorption
A common issue with products such as this is the aftertaste and subsequent burping that tends to happen. However, this is not the case here and several buyers have seconded that.
Capacity
Now, each bottle you buy only has 60 capsules inside. Yes, there are options out there that will offer you more.
Value
Even though this is expensive for only 60 softgels, do note that a serving size is only one. So, this can still last you a month or two (depending on how servings you take daily).
Overall
This list was not compiled to document the most affordable Omega 3 supplements out there. Instead, it is tailored to the best and, indeed, it is not going to get much better than this.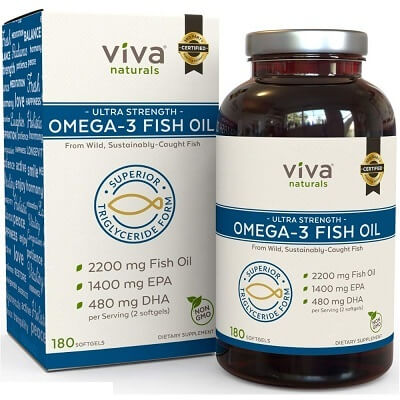 When you compare this to other brands on the market, it is astonishing how much fish oil (most of which is Omega 3 fatty acids) you receive per serving. This alone makes this brand compelling.
Read more
Effectiveness
If there is one thing you can't deny; this right here delivers the goods. With each serving, you will receive 2200 milligrams of fish oil (including 1400 milligrams of EPAs and 480 milligrams of DHAs).
Purity
In addition to the fact that this is IFOS 5-star certified, Viva Naturals also only uses smaller fish that are known to have less mercury and fewer toxins than larger fish.
Absorption
While these capsules are in triglyceride form and easier for your body to digest, several buyers have had issues with burping after their serving.
Capacity
There are actually two capacity options for you to choose from. You can either go with the 90-count bottle or the 180-count bottle.
Value
As opposed to the last option, the value here is terrific. Each capsule will be around 20 to 25 cents per (with the serving size being two capsules).
Overall
It is no surprise to see so many buyers rave about this supplement. Due to the high intake of fatty acids, each pill is going to deliver exactly what you are looking for.

3

. NUTRIGOLD TRIPLE STRENGTH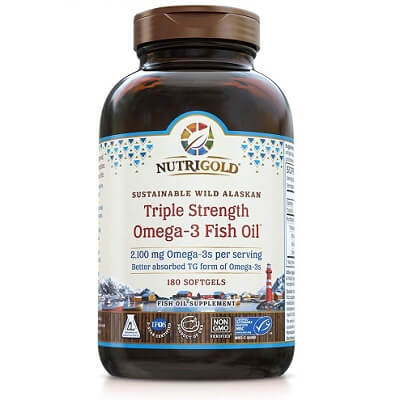 This has been dubbed the gold standard in premium Omega 3 supplements and it is certainly hard to argue that claim. Of course, you are going to pay for it as, in this case, quality truly comes at a price.
Read more
Effectiveness
Part of the reason this is the "gold standard" is due to the number of fatty acids you receive per serving. You get 1450 milligrams of EPAs and 550 milligrams of DHAs, in fact.
Purity
First off, this is another option that is IFOS 5-star certified. Additionally, the advanced molecular distillation process that was used ensures exceptional potency and purity with each serving.
Absorption
Out of the several options on the market, this right here seems to be one of the easiest ones to digest and consume. After all, not too many buyers have complained about it.
Capacity
With each bottle you buy, you will get 180 individual capsules.
Value
Now, one serving will produce a lot of Omega 3s. The problem is the serving size is two and the bottle you receive is priced very high. Let's just say you are going to pay for this one.
Overall
Yep, this is certainly the gold standard. Ironically, that could be used to describe the astronomical price, as well. Either way, you will not find too many other supplements that produce as much Omega 3s as this one.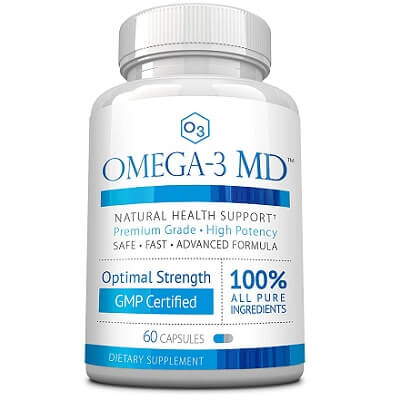 Yep, this is yet another highly expensive option. However, when you take into consideration that you are receiving 1400 milligrams of EPA and DHA (combined) per serving, it makes more sense.
Read more
Effectiveness
In total, there are 1500 milligrams of Omega 3 fatty acids. 800 of these milligrams are EPAs and the other 600 are DHAs.
Purity
The designer of this formula only uses cold-water fish and there is a reason for that. These types of fishes have around seven times more Omega 3 oils than other fishes.
Absorption
Overall, it seems that the capsules are quite large. In addition to this, one user did note that they burped up a metallic aftertaste.
Capacity
Now, the bottle that you receive has 60 capsules. Now, the good news is you can order this in a pack of three or six. Meaning, you can get 60, 180, or 360 capsules.
Value
As mentioned, you can buy in bulk and that can increase the value a bit. With that said, this is another expensive model and it is going to cost you.
Overall
This is yet another powerful and pure formula that is going to pay dividends to your health. Though the value could be better, that is to be expected a bit.

5

. SOLGAR FISH OIL CONCENTRATE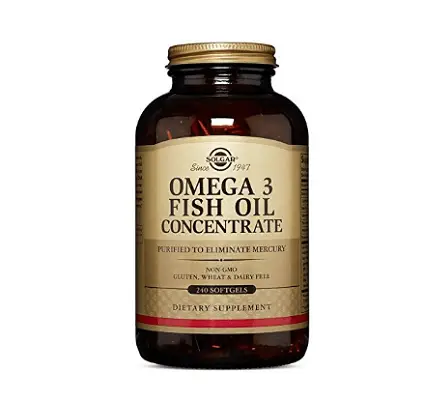 In regard to the price-per-capsule cost, this is one of the best values on the market. However, it is recommended that you take six softgels a day if you want to take this as a dietary supplement.
Read more
Effectiveness
Other formulas out there offer more fatty acids per serving but this is nothing to scoff at, either. Per serving, you get 600 milligrams of EPAs and 320 milligrams of DHAs.
Purity
First off, this supplement is tested for purity and it also has undergone molecular distillation to remove any mercury content.
Absorption
Do note that the capsules are pretty large here. They are going to be difficult to swallow for some of you, so just be aware of that.
Capacity
There are actually 240 softgels in each bottle that you buy. However, the serving size is two capsules.
Value
Going back to the serving size, it is actually recommended that you take three servings daily (which is two capsules each). The price is relatively cheap, though, and that is nice.
Overall
It may seem a little ridiculous to take six capsules a day and given that these capsules are large, to begin with, it is safe to assume that only a select few of you will be interested in something like this.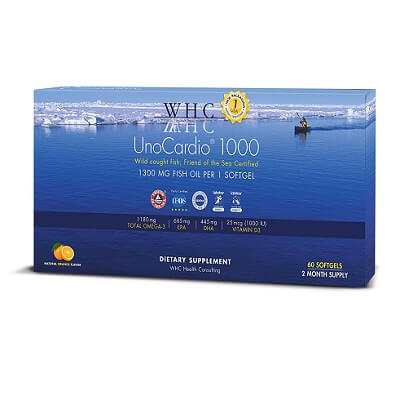 This is another supplement that was created by WHC and it features a new generation of eco-friendly fish oils. While you only receive 60 capsules per bottle, each serving provides over 1100 milligrams of fatty acids.
Read more
Effectiveness
There are 1180 milligrams of Omega 3s in each serving of this supplement. This breaks down to 665 milligrams of EPAs and 445 milligrams of DHAs.
Purity
Just as the oils are, the rosemary that was obtained to make this formula was done so using environmentally-friendly technology. Also, there is a balanced mix of rosemary and tocopherol extracts, to begin with.
Absorption
There have been buyers out there that have voiced their displeasure on the issue with burping after consuming this supplement.
Capacity
Disappointingly, there are only 60 capsules in each bottle that you buy here. Now, the serving size is only one so that is nice.
Value
The price point is a bit ridiculous here, all things considered. Though the serving size is only one, you only get 60 capsules and the price-per-capsule is nearly 75 cents.
Overall
Yes, there are better alternatives out there. However, this is provided by WHC and given they have the top option on this list, you can put your faith in them.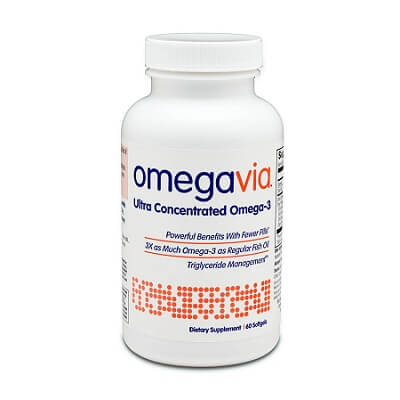 Granted you do not mind consuming large capsules, you will be able to reap the benefits of this next supplement. The reason that was said, though, is the capsules that are present are quite enormous in size.
Read more
Effectiveness
This is yet another formula that provides you with over 1000 milligrams of fatty acids in each serving. 780 of these will be EPAs and the other 260 will be DHAs.
Purity
As opposed to molecular distillation, heat-free supercritical CO2 extraction technology has been used for purification. Also, this is IFOS 5-star certified.
Absorption
While each capsule has been enteric-coated to reduce odor and improve the digestive comfort, some users have noted that fish burps can be a direct result of consuming one. Also, the capsules are quite large.
Capacity
This is yet another option that provides you with 60 capsules per bottle. And, you will only get one bottle unless you specifically buy more.
Value
The value is solid. It is not great nor is it bad; it is just simply solid. Each serving is only one capsule and the price of admission is not outlandish.
Overall
The sole potential issue with this supplement comes down to the absorption. This will be subjective, however, so this just may end up being the right option for you.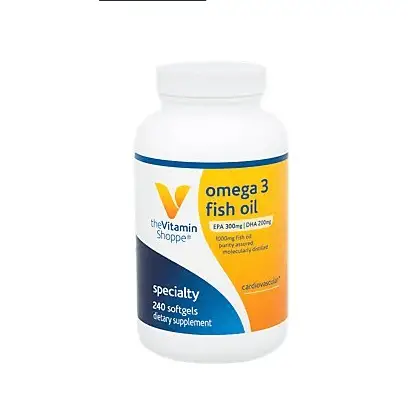 It is not too difficult to see why this is not the number one option on this list. However, in spite of the lower EPA and DHA per servings, the value is fantastic and you can even invest in a 240-count bottle for a reasonable price.
Read more
Effectiveness
Admittedly, you do not receive nearly as much Omega 3s per serving here as you do with other brands. However, you do get both EPA (300 milligrams) and DHA (200 milligrams) so that is nice.
Purity
The Vitamin Shoppe takes pride in the fact that they demand all their products to undergo rigorous testing. They also demand that scientific evidence is supported with every claim they make.
Absorption
One specific reviewer noted that they had to hold their breath while taking these capsules because the fish taste was so potent. Also, "fishy" burps have been known to be an issue here.
Capacity
There are actually three capacity options for you to choose from. To see if this product is for you, you can go with the 60-count bottle. Of course, there are also options for 120 and 240 capsules.
Value
The serving size is actually one (no matter the size of the bottle you pick). Now, the fatty acids count is a bit lower so you may have to take multiple servings.
Overall
It is very clear that The Vitamin Shoppe exerted a lot of thought into their formula. While their brand gets overshadowed by others, it still is worthy of the praise that it is given.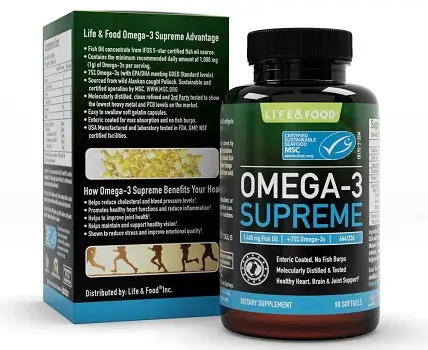 It was mentioned with an earlier supplement and it needs to be reiterated again here. If you have trouble swallowing larger pills then this may not be the best option. Though the capsules are shorter, they are also wider than other fish oil pills out there.
Read more
Effectiveness
It is touted that this contains over 75 percent of Omega 3s. Of this, you will get 644 milligrams and 336 milligrams of EPAs and DHAs per serving, respectively.
Purity
When making their formula, the manufacturer used cold extraction, molecular distillation, and filtration to ensure they would create the purest and freshest outcome they could.
Absorption
In spite of the fact that this is touted as being easy to swallow, several buyers have disagreed. According to these buyers, the capsules are a little wider than normal and can be harder to swallow, as a result.
Capacity
Two options at your disposal here with the ability to opt for a 90-count bottle or a 180-count one.
Value
With a serving size of two capsules and a relatively low price point, to begin with, it is safe to say that the value here is great.
Overall
Truth be told, this is a fantastic supplement that is really only hindered by one thing. That is, of course, the wideness of the capsules as they can be hard to swallow (so be cautious of that).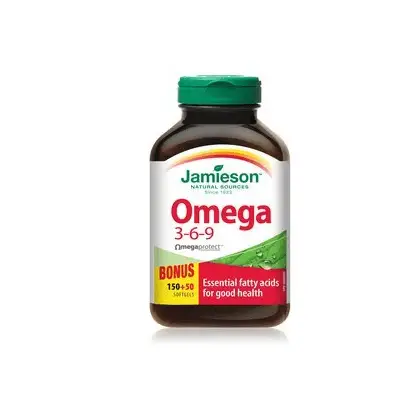 This is, without question, the most unique option on this list. This supplement actually provides you with Omega 3, 6 and 9 fatty acids. While there is some science behind this that you need to know, this will be a good option for some of you.
Read more
Effectiveness
The thing about this formula that you need to be careful about is you need to have the right balance of Omega 3, 6 and 9 fatty acids. Most of you probably consume a good amount of Omega 6s and 9s, to begin with.
Purity
This formula was derived from pure and fresh cold-pressed oils of sustainably sourced fish. Thus, this helps to support a healthier way of life.
Absorption
These are softgels and, overall, it does not appear that too many previous buyers have had issues with consuming them.
Capacity
In just one bottle of this supplement, you will receive 200 individual capsules that you can consume.
Value
The price-per-capsule is right around 15 cents and that is really good, all things considered. This is definitely one of the better values out there.
Overall
The main reason this option concluded this list was to show you a different type of Omega 3 supplement. It is terrific for those of you who do not get enough Omega 6 and 9 but could be a detriment otherwise.

Subscribe to our Newsletter