Best Whey Proteins
In a Hurry? Editors choice: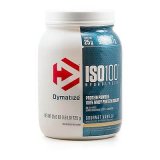 Test Winner: Dymatize ISO 100

Why whey? Whey protein contains all of the essential BCAA amino acids and is very easily digested. Whey proteins have been shown to aid in lowering blood pressure, enhancing antioxidants, lowering blood pressure,
reducing inflammation
and even helping to treat type 2 diabetes. The benefits of whey proteins are endless. Within days of incorporating whey into your
diet for runners
and other athletes, you will feel healthier, stronger and be on your way to being in better shape. Check out our top picks below and power up!
Standout Picks
Criteria Used for Evaluation
Top Ten Whey Proteins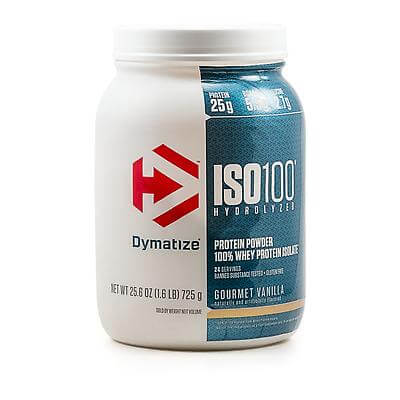 The overall consensus of the ISO 100 Whey Protein is that it does provide a sufficient amount of protein but does so at the expense of the flavor. Users note that it is not overbearingly bad, just a little bland and lacking the intended flavor.
Read more
Ingredients and Protein
As you would expect, per each serving you are delivered an optimal amount of protein (25 grams) and amino acids (5.5 grams). In addition, 2.7 grams of L-Leucine is also provided.
Allergens
Dymatize claims that their protein is both gluten-free and lactose-free.
Effectiveness
Workout junkies will agree that this protein is ideal for consumption before and after your exercise regimen for the day. Because it absorbs so quickly, it manages to replenish your muscles and leaves you ready to go for round two.
Taste
In order for you to obtain the actual flavor of the protein, you may need to add ingredients to it. For example, adding unsweetened cocoa to actually obtain the "chocolatey" flavor you may be looking for.
Variety of Flavors
Not only can you choose from staples such as chocolate, vanilla, and banana, but there are also unique flavor options such as cinnamon bun and fudge brownie. All in all, there is an astonishing 16 flavors to choose from.
Overall
If you were to consume this protein as a standalone product, you may believe you are drinking poorly-flavored water. The effects and performance are too great to pass up, though, so adding in flavors should suffice.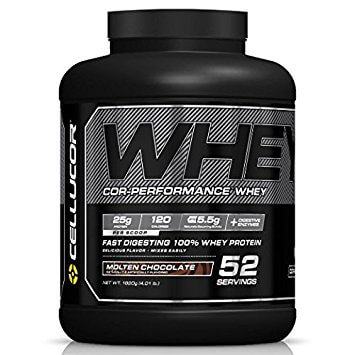 For whatever reason, the advertisement is extremely misleading for this whey protein as many users have pointed, one scoop of this protein is only 12 grams and not 24 grams. While it does not take away from the protein too much, it is definitely worth your attention.
Read more
Ingredients and Protein
Again, note that with every two scoops of this whey protein you will achieve the 24 grams of protein. In addition, the protein is very lean as a minimal amount of carbs and fat have been added.
Allergens
This formula contains both milk and soy, so look out if you have an intolerance to either of them. Also, while it claims to be gluten-free, this is misleading as it is manufactured on the same equipment that processes wheat. Thus, leading to cross-contamination.
Effectiveness
Due to the plethora of dessert flavors available, you can cure your sweet tooth without feeling guilty. Past this, this is a great way to replenish your nutrients after a workout and maintain lean muscle.
Taste
The taste is always going to vary as everyone has different taste buds but alas, the flavor seems to be pretty good overall. Many users have claimed they are not disappointed in this aspect.
Variety of Flavors
Hopefully, you have a thing for dessert-flavored protein as the flavors range from cookies n' cream, peanut butter marshmallows, strawberry milkshake, chocolate chip cookie dough, and many others.
Overall
Truth be told, this is as good as it gets. Given that it received the same rating as the whey above it, this can easily be claimed as the best whey protein on the market right now.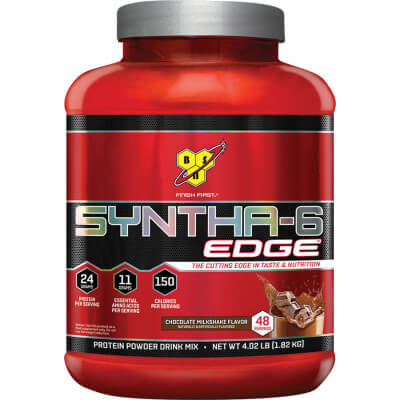 Whey protein can be sketchy for those with celiac disease as even if it is gluten-free, it is sometimes manufactured at a factory that also processes wheat. However, this next whey protein is tremendous but note, wheat is one of the ingredients ensuring it is non-gluten-free.
Read more
Ingredients and Protein
Besides being a great source of protein with 22 grams per serving and including essential amino acids and fatty acids, it happens to be a great source of fiber.
Allergens
Unfortunately, if you have common allergies such as lactose intolerance or celiac disease, you will want to stay away from this protein. Indeed, it is made with milk protein isolate, soy lecithin, and wheat.
Effectiveness
As protein is an essential component to help you build new muscle and repair muscles during recovery, this aids in that. Also, the formula is designed to suit a variety of diet plans and lifestyles.
Taste
This is yet another whey protein that actually seems to have above-average flavor. If you think otherwise, try and include it in your favorite recipes instead of consuming it on its own.
Variety of Flavors
Over 10 flavors, 12 to be exact, have been developed for this protein. Given the variety, everyone should be able to find a suitable flavor with options for a banana, vanilla ice cream, strawberry milkshake, cookies n' crème, among others.
Overall
While this is not a friendly protein for those with certain allergies, it features several different flavors and many of which are fairly tasty. But, it is also high in cholesterol so be wary of that.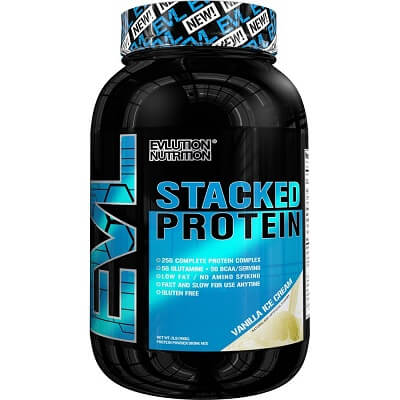 As you will soon find out, the competition is fierce when it comes to whey proteins and just edging out the top spot is the Evlution Stacked Protein. It does so with its amazing combination of proteins per serving and plethora of flavors.
Read more
Ingredients and Protein
Per each serving of this protein, it delivers 25 grams of protein. In addition to this, each serving also provides five grams of BCAAS and five grams of glutamine. This powder is slightly different than the rest on our list. Instead of being a 100% whey powder, it has a blend of whey, casein, and egg.
Allergens
This formula has been made in an NSF, GMP certified manufacturing plant. For those with gluten intolerance or celiac disease, vanilla, chocolate, strawberry, and chocolate peanut butter are all gluten-free.
Effectiveness
If you were to take this protein before and after your workout regimen for the day, it would assist in your muscle repair. However, to ensure a complete recovery, it has both fast and slow-release protein.
Taste
Whey proteins are not meant to taste like vanilla milkshakes, remember that. But, while some users have claimed it lacks flavor, it seems that most people agree the flavor is not too bad.
Variety of Flavors
There are six different flavors for you to choose from. These include s' mores, cookies n' cream, birthday cake, vanilla ice cream, mint chocolate, and chocolate peanut butter.
Overall
To be honest, even if a whey protein lacks flavor, as long as the taste is not unbearable you will be able to handle it. This is ideal because this protein acts as a perfect dietary supplement and an answer to your muscle recovery.

5

. Muscle Feast Grass Fed Whey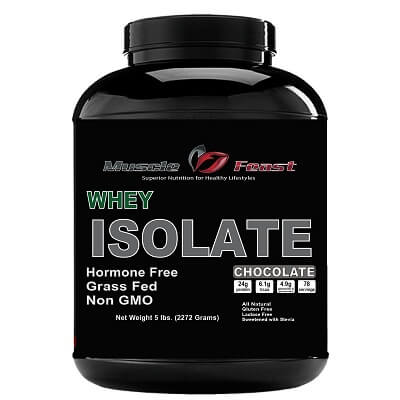 Overall, nearly every aspect of the Muscle Feast's Whey Protein is spot-on. This includes the performance, taste and amount of protein per one serving. Despite this, there is a lack of flavor options so hopefully, you are not too picky.
Read more
Ingredients and Protein
There are no additives or artificial ingredients whatsoever; instead, this is 90 to 98 percent pure protein and provides over six grams of BCAAs per each serving. This whey protein contains a blend of whey concentrate, whey isolate, and hydrolyzed whey.
Allergens
This resembles a vegan protein in that it is free of many major allergens. For example, it is free of soy, gluten, and lactose. To top it off, this is another GMO-free product.
Effectiveness
This is one of the most important factors when it comes to muscle recovery, strength and recovery. Also, various studies have suggested that this specific form of whey achieves anabolism as good as any.
Taste
As compared to various other whey proteins, the taste of this specific versions seems to be above-average. At least, analyzing user feedback, it appears to be that way but this will always be subjective.
Variety of Flavors
Clearly, this is one of the worst aspects of this whey protein. The only flavors that they have are chocolate, vanilla and unflavored. Yeah, that is not too much of a selection.
Overall
Perhaps the only reason this protein is so low on this list is due to the competition. After all, the only true drawback is the lack of further flavors. It may seem ludicrous to say this, but not everyone wants vanilla or chocolate.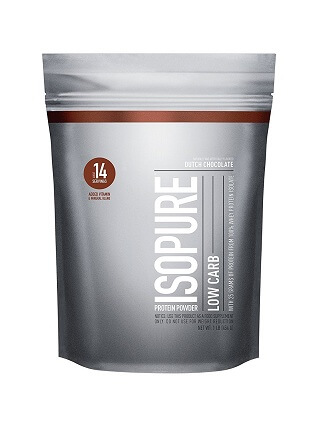 Just as the entries that have preceded it, this Isopure Protein Powder delivers all the goods that you come to expect from whey proteins. Sure, it does not seem to taste all that great on its own but remember, you can always add it to your favorite shakes and meals.
Read more
Ingredients and Protein
Not only do you receive a hefty amount of 25 grams of protein per serving, but there is also an added blend of vitamins and minerals. Even more so, there are zero and low carb options.
Allergens
Again, if you happen to have an intolerance to lactose or gluten (or have celiac disease altogether) then you will be pleased to know this is certified lactose-free and gluten-free.
Effectiveness
Between your meals, you can consume this protein to assist in keeping you full. Additionally, this is a key component of maintaining a healthy diet and exercise regimen.
Taste
While some reviewers have commented that this does not have that much taste as a standalone product, many also state it is not the worst protein they have ever consumed. All in all, though, it may be better with other recipes.
Variety of Flavors
Good luck not finding a flavor that you find appealing as there are 14 different options to select from. Some of which include mango peach, banana cream, apple melon, creamy vanilla and cookies n' cream.
Overall
The plethora of flavor options are nice to have but even so, it would be nice if the flavor was a tad more potent. Then again, this may be a moot point as you could easily include it in your favorite recipes.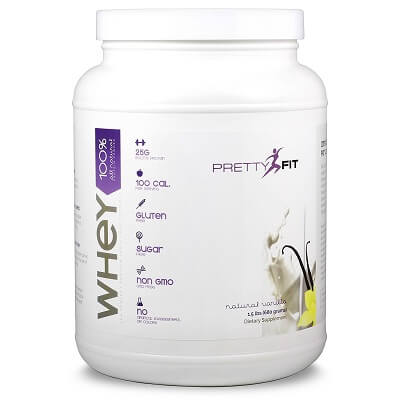 PrettyFit's All-Natural Whey Protein is actually designed specifically for women. Not only is it easily digestible due to the addition of digestive enzymes and the overall lack of lactose, but it is also not bloated with unnecessary ingredients as there are only five.
Read more
Ingredients and Protein
What is rather unique about this formula is that only five all-natural ingredients were used. Plus, with 24 grams of protein, no grams of sugar, and only one gram of fat, it is as healthy as it gets.
Allergens
Nothing artificial is included in this blend and even more so, it is both gluten-free and 99-percent lactose-free. In addition, it is a non-GMO product.
Effectiveness
Not only is this designed to help you build lean muscle and lose fat, but it also acts as an ideal way to fill your stomach for hours.
Taste
Whenever you see a whey protein that people actually like to consume, you know the taste is beyond above-average. The general consensus is that this is not too sweet or overpowering.
Variety of Flavors
Now, this is where the PrettyFit whey protein is a bit limited. With only two flavors available, either natural vanilla or natural chocolate, you are out of luck if you do not enjoy either one.
Overall
If you always seem to have a craving for either vanilla or chocolate and like the flavor, you will more than enjoy this whey protein. For women, there may not be a better choice, period.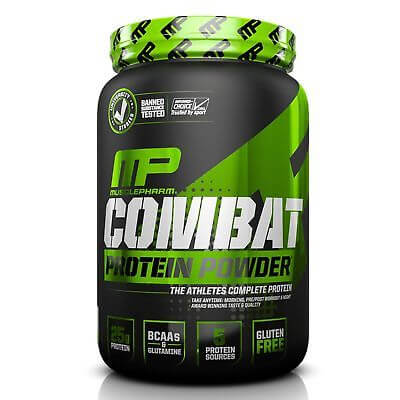 Being free of undesirable ingredients such as gluten, filler, and artificial dyes, this will appeal to a wide range of folks. However, it seems odd that MusclePharm decided to omit digestive enzymes so be aware of that.
Read more
Ingredients and Protein
This features both whey protein isolate and whey protein concentrate. All in all, per each serving, you can expect 25 grams of 100 percent whey protein.
Allergens
As a warning and precaution, this formula contains both milk and soy. As for gluten, this can be a bit tricky; while it does not have gluten as an ingredient, cross-contamination can arise as this is made in a facility that also processes wheat.
Effectiveness
After your workouts, this will greatly enhance lean muscle and also replenish your nutrients.
Taste
A specific reviewer pointed out while this is great when adding it to milk, it tastes way too watery when you mix it with water. But, it is at least reassuring to know that the flavor is quite good with milk.
Variety of Flavors
There are not too many flavors to select from but there still should be enough of a variety for most people. For example, there is cookies n' cream, vanilla, strawberry, cappuccino, and chocolate milk available.
Overall
If you can look past the fact that there are no digestive enzymes, which could prove problematic for those who struggle to digest dairy, and do not have lactose-intolerance or celiac disease, this is a solid whey protein.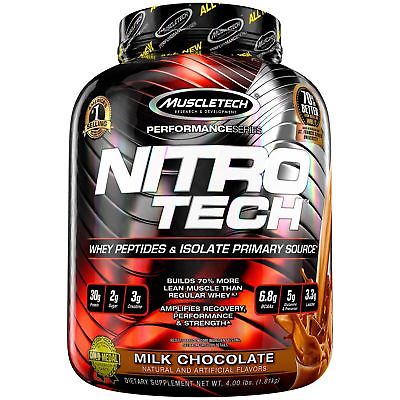 For those who are excessively obsessed (or required) with watching their carbs and sugar intake, you will appreciate how this formula aims to not add extra of either. However, some users have claimed that mixing this protein in water can be a hassle.
Read more
Ingredients and Protein
Per each serving, you are provided with a stellar amount of 24 grams of protein, 5.5 grams of BCAAs, and four grams of glutamine.
Allergens
It is not really specified whether this is gluten-free or not. However, glutamine peptides can be sourced from wheat and because this does feature four grams of glutamine, it may be contaminated.
Effectiveness
The performance and health advantages you come to expect from whey protein is present here. Of course, this includes promoting muscle recovery, building lean muscle, and increasing overall strength.
Taste
Alright, so many users agree that the flavor is certainly not the best here. Not only this, but a few have also made the claim that it does not mix very well at all.
Variety of Flavors
While there is certainly not an overabundance of flavor options available, it is nice that you have the option for either double rich chocolate, French vanilla, vanilla, funnel cake, and strawberry.
Overall
Some may end up being appalled by the taste and the mixing ability of this protein. That is fair but just know this, despite its unwelcomed flavor it is still as good a source of protein as you can get.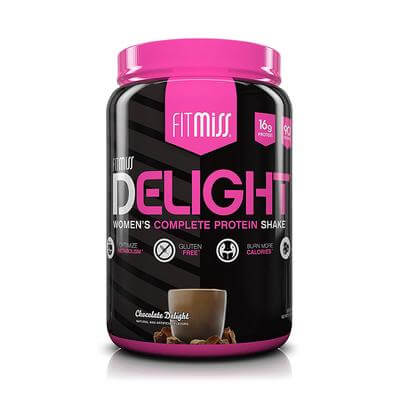 This is yet another whey protein designed for women and this version features a formula that is designed to quell women's hunger. Despite its effectiveness (which some users have questioned), many have taken issue with the deceivable container as half of it appears to be empty.
Read more
Ingredients and Protein
Not only is there an optimal amount of protein that is delivered per each serving, but the digestive enzymes aid in the digestive process and a healthy amount of minerals are provided.
Allergens
FitMiss labels their whey protein powder is gluten-free. Now, as always, for those with celiac disease, you need to be careful as there still could be some traces of wheat in the formula.
Effectiveness
It is not difficult to see what FitMiss is attempting to accomplish with their protein powder. They heavily advertise its capabilities of quelling women's hunger for hours. Problem is, several have claimed otherwise and stated it has left them hungry.
Taste
While there have been some reviews stating the flavor is either watered-down or leaving a chemical taste, others rave that the taste is actually very good.
Variety of Flavors
There are only flavor options for chocolate, vanilla chai, and cappuccino. Though this is not a ton of variety, it should suffice for most people's taste buds.
Overall
The number one claim of this protein is its effectiveness at curbing hunger and the issue is, there have been several users that have not seen such results. However, despite this, its formula is still ideal for women seeking a healthy protein powder.

Subscribe to our Newsletter