Best Fiber Supplements
In a Hurry? Editors choice: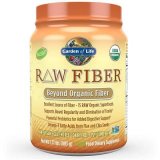 Test Winner: Garden of Life

As a consumer, it is always going to be more enthralling to conduct research on a
product
that excites you. For example, a new smartphone, a brand-new GPS watch, or even a new grill. Yet, sometimes the most beneficial products that you can invest in are the ones that you could actually care less about. This guide is a good example of that as we want to go in-depth and discuss fiber
supplements
. Getting your recommended daily intake of fiber is important and these
supplements
can assist with that. This guide will educate you on how to choose the best fiber supplement for you.
Standout Picks
Criteria Used for Evaluation
Effectiveness
Everyone is probably aware that it is recommended to have a certain amount of fiber intake daily. However, what you may or may not be aware of is that there are two types of fibers and loads of different subtypes. The two main types are soluble and insoluble. The former binds with fatty acids and will slow the digestion process to release blood sugars more slowly into the body. As for insoluble, these help hydrate and move waste through your intestines. These will help to prevent constipation.
But, within insoluble and soluble there are also loads of other subtypes. For example, two popular soluble types are psyllium and inulin. The former is ideal for helping lower your cholesterol and the latter will enhance your immune function. A popular subtype for an insoluble fiber is cellulose and this will help to reduce constipation and can also help with weight loss. All these types are beneficial, but certain ones may be more so for your needs than others. Oh, also, you can look for other essentials such as calcium, magnesium, and vitamin D.
Capacity
As a consumer, you always want to get the most out of your money. No one wants to invest in a product that really is not worth the money. In this instance, it is more complicated than it normally will be. Much like you would do comparing two different bags of snacks to ensure which one is offering more substance for the money, you need to address both the capacity and serving size of an option. Of course, it also depends on how much fiber is being provided per serving. But, here is an example of why this matters.
Let's say that you invest in a bottle, with capsules in this example, with 100 capsules. If the daily recommendation is two and you abide by this, the bottle will last you 50 days and two people 25 days. But, if there is a powder that has 70 doses and only requires one dose (which may be a tablespoon of the powder) per day, this will last 70 days. The point is to inform you that even a model with a higher capacity may not be a better deal.
Style
Oh boy, can this be a game changer. At the end of the day, you need to conclude what type of fiber supplement that you want. Generally speaking, they will either be powder-based or tablet-based. Both have their advantages and disadvantages but, to be honest, there is less of a chance that you will have an issue with a capsule than you will with powder. You see, with a capsule, you simply need to swallow it with a glass of water and you are good to go. Yet, with any powders, you will need to dissolve them in water to consume them.
Now, the issues arise with both flavor and texture. With some powders, it will be nearly impossible to create a liquid that does not clump up unless you quickly and vigorously stir the solution. Also, the end result may not even taste very good. Of course, this is solved with flavorless powders that can be dissolved in your favorite beverages. But, capsules are not perfect, either. Some of them can be incredibly difficult to swallow and given you will consume them daily, this could be a potential roadblock.
Materials
A lot of consumers will only be looking for options that are 100 percent natural and those that add no additives or artificial flavors at all. But, some formulas will do just this and while it is not detrimental, keep an eye out if this is something that bothers you. For example, with any additives, they can sometimes trigger allergic reactions or even possibly lead to health issues down the road.
As for artificial flavoring, this is not particularly an issue when it comes to your health. In fact, they typically are not harmful in the slightest. The thing about artificial flavors, though, is their taste can be unsatisfying for some.
Top Ten Fiber Supplements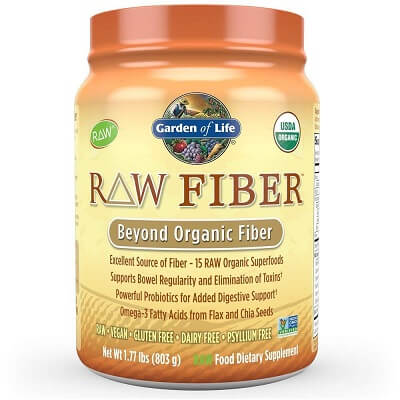 As the name of this next entry suggests, it is organic. However, as several buyers have claimed, those with sensitive stomachs may want to veer off this path as this powder can be difficult to consume.
Read more
Nutrients and Essentials
Along with nine grams of fiber per serving, which is great, this also provides you with seven grams of protein, probiotics, and omega 3 fatty acids. Plus, this is made with 15 RAW organic superfoods.
Capacity
Per day, you should take one scoop of this substance. In regard to the size, you can choose between small, large and a 1.31-pound bottle.
Allergens
Given the fact that this is certified USDA organic, it is free of gluten and dairy. And, yes, it is considered a vegan product.
Flavor and Texture
For sure, based on vast consumer feedback, this can be a hassle to take frequently. The reason for this is the rough and solid texture as it will become solid very quickly.
Unwanted Additives
Have peace of mind knowing that there are no artificial sweeteners, synthetic nutrients, isolates, preservatives, and fillers whatsoever.
Overall
While it can be hard to get down, this organic option provides some of the best health benefits of any supplement in the world. That will be worth it for most people.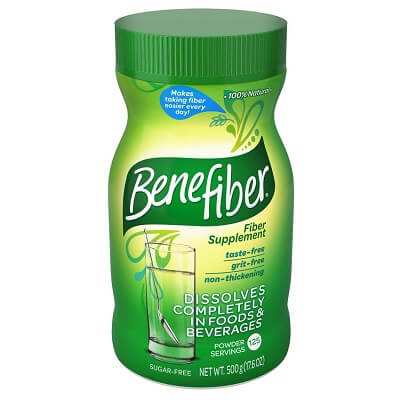 Outside of being 100 percent natural, arguably the best aspect of Benefiber's powder is the fact that it is tasteless. Some powders can be ruined by taste alone so it is reassuring that this is not an issue.
Read more
Nutrients and Essentials
This is a 100 percent natural dairy prebiotic dietary fiber powder supplement.
Capacity
There are several different size options to choose from, so that is a bonus. You can select either a 5.4-ounce, 8.7-ounce, 17.6-ounce, or 26.8-ounce bottle.
Allergens
Here is the deal here; this actually does contain gluten but it contains less than 20 parts per million. So, by the FDA definition, this can be considered gluten-free.
Flavor and Texture
Indeed, this is void of any taste and this means it can be added to your favorite beverages and foods. Plus, it will dissolve in most of the substances you put it in.
Unwanted Additives
As the product description points out, this is a 100 percent natural product so there is no worry about unwanted additives or preservatives.
Overall
As you can see from the customer feedback, a ton of buyers appreciate and love this supplement. Even though some buyers have claimed it has little effect, the vast majority agrees it is excellent.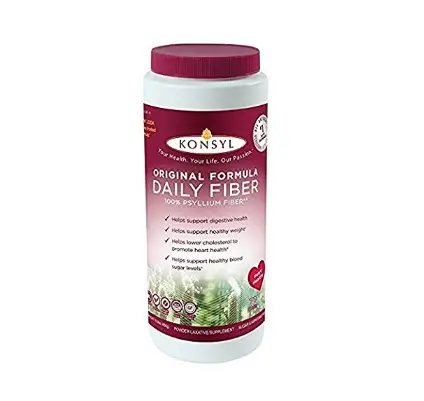 As great as this formula is from Konsyl Pharmaceutical, many of you will simply not be able to get over the consistency and taste. Then again, this is always subjective.
Read more
Nutrients and Essentials
Konsyl Pharmaceutical included six grams of pure psyllium fiber into their formula.
Capacity
This is a 15.9-ounce bottle with 75 doses in total. Given that this is recommended for people over 50 years in age, a half-a-teaspoon a day could be feasible.
Allergens
The main aspect of this formula is that it is gluten-free. With the elderly, in specific, you do not want to mess around with food allergies.
Flavor and Texture
This is a new product from Konsyl Pharmaceutical and some users have reported that it is much finer. Also, as mentioned, the consistency and taste can be a little overbearing.
Unwanted Additives
There are no additives and no sugar or even substitutes for sugar included in this formula. Also, this product is gluten-free.
Overall
For the older generation, this is an ideal option. Then again, the overbearing texture, which is almost similar to drinking pencil shavings, maybe too much.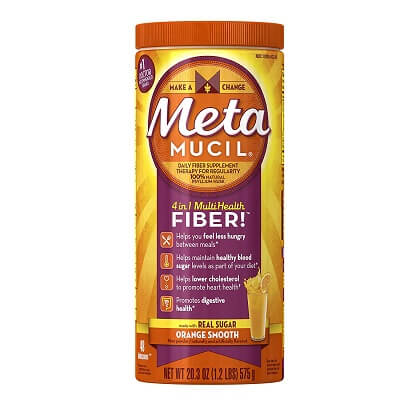 Now, this next option is a powder but be aware that this same brand is also available in capsules and single serve packets. But, for the record, this is covering the fantastic powder version.
Read more
Nutrients and Essentials
The secret to the success of this formula is the 100 percent inclusion of natural psyllium fiber.
Capacity
The bottle of this powdered version comes in 48 doses. Now, you can take up to three servings daily and one serving consists of one rounded tablespoon.
Allergens
At least for the powder version, and this is probably the same for the capsules, there is little concern for those of you with common food allergies.
Flavor and Texture
Some users have criticized this powder for tasting bland and also being a bit chalky. Also, it is not uncommon for the substance to clump together at the bottom of your glass.
Unwanted Additives
It is interesting to note that Metamucil does use aspartame as a sweetener in their formula. Also, there are eight grams of sugar per one teaspoon of substance.
Overall
What is so cool about this option is if you do not like powder, Metamucil has other options available for you. With what it provides you with, it is almost a no-brainer.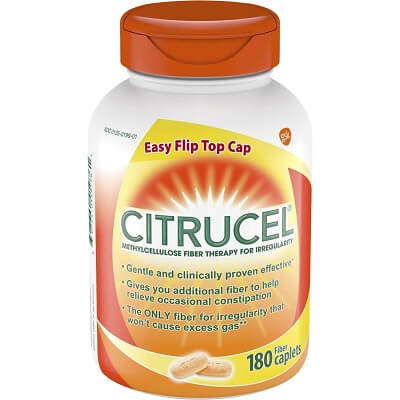 When looking at the glass half-full here, there is little to gripe about it. However, turn that glass upside down and you begin to analyze that the effectiveness of this option has been questioned.
Read more
Nutrients and Essentials
The fiber that is included here is methylcellulose and this is non-toxic and also non-allergenic. Plus, this is not going to cause excess gas based on laboratory testing.
Capacity
Due to the fact that each caplet does not contain too much fiber, you may need to take up to four at a time. But, they do come in small, medium, and large sizes.
Allergens
As mentioned, the fiber used in this formula is non-allergenic and does not feature gluten, either.
Flavor and Texture
Though these are less messy to make than powdered versions, the caplets are quite large and can be hard to swallow at once. Still, you need not worry about the flavor or texture.
Unwanted Additives
Just the straight stuff here ladies and gentlemen. There are no sugars, fake sugars or any flavorings whatsoever.
Overall
The rather low intake of fiber per caplet, only one gram, does hurt this option a bit. But, the methylcellulose type that this provides is certainly terrific.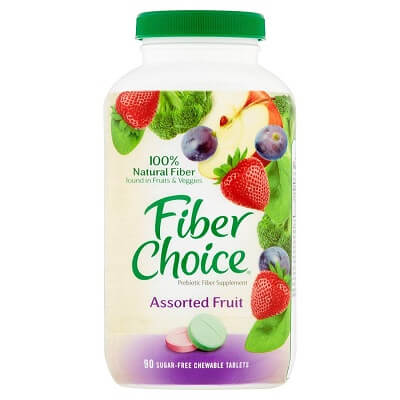 As compared to the other entries on this list, these chewable fruity tablets could just be the most delectable. Sometimes, you forget that these are providing health benefits for you.
Read more
Nutrients and Essentials
This is made of inulin and this is a 100 percent natural fiber that is found in fruits and vegetables. In addition, you also receive a healthy dose of vitamin D and calcium.
Capacity
In the bottle that you receive, there are 90 tablets. Two tablets will provide you with three grams of fiber, so keep that in mind.
Allergens
These are simply just chewable fruity tablets and because of this, there is no gluten.
Flavor and Texture
Again, these are chewable tablets and what you receive is an assortment of flavors including grape, green apple, and strawberry. Some users, admittedly, may not like the sweet tart-esque flavor, though.
Unwanted Additives
It is interesting to note that there are some artificial flavors present here. They include vitamin D3, Blue 2 lake and Red 40 lake.
Overall
Outside of the fact that this is ideal for adults, it is also nice for children as these are chewable tablets that taste like fruit. But, do note that the texture can take some time to get accustomed to.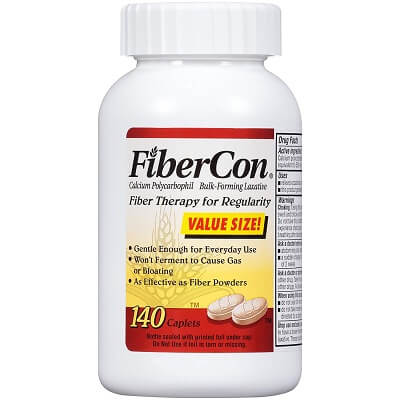 While the last entry was a powder, this one is consistent of caplets. With these, you get a strong amount of fiber per dosage and they are also very easy to swallow.
Read more
Nutrients and Essentials
In addition to the fact that you get four to six grams of fiber per a dose of two caplets, you also get 140 milligrams of calcium and 10 milligrams of magnesium.
Capacity
Per bottle, there are 140 tablets. But, you can buy this in either a pack of two or three, if you desire. Also, as an adult, it is advised you take two tablets a day.
Allergens
Those with common food allergies should not have too much to worry about here. In specific for Celiac disease, there does not appear to be gluten.
Flavor and Texture
Due to the fact that this is comprised of just caplets, you do not need to worry about dissolving them in water. Instead, you simply swallow them with a glass of water to avoid potential choking.
Unwanted Additives
Based on the product label, it appears that there are no unwanted additives.
Overall
A lot of consumers will look to avoid powder-based options due to the mess and the texture. If you are looking for tablet-based, this option could be the best you will find.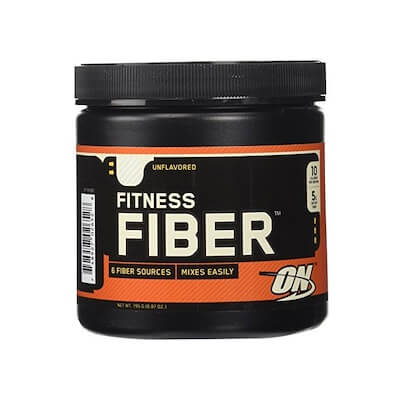 This is another option that is unflavored and it can be added to your favorite beverages. However, also noteworthy is it has a sensational six sources of fiber per serving.
Read more
Nutrients and Essentials
The six sources that were previously mentioned consist of inulin, guar gum, gum Arabic, psyllium seed husk, polydextrose, and digestion-resistant maltodextrin. Also, you get five grams per serving.
Capacity
There are 30 servings per container here and in total, you receive a 6.87-ounce bottle.
Allergens
There is no need to worry about gluten here, for those of you allergic to it, as it is not present in the formula.
Flavor and Texture
As previously mentioned, this has no flavor. Because of this, you can add it to your favorite beverages without worrying about ruining the flavor. However, users have noted that it tends to clump up when mixing.
Unwanted Additives
One other benefit to this being unflavored is you know that no artificial flavors and sweeteners were added in the developing process.
Overall
Without question, this is one of the better sources out there due to the amount of fiber you receive per serving. Plus, with this being unflavored, it can be mixed into your favorite drinks.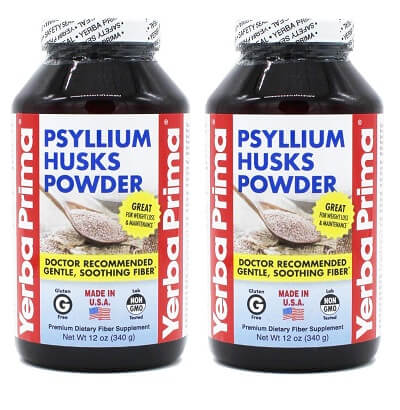 This specific option, which is comprised of psyllium husks, is ideally recommended for people with low carb eating diets. Plus, there are absolutely no additives in this formula.
Read more
Nutrients and Essentials
As with some of the other options on this list, this powder from Yerba Prima is pure psyllium fiber which has its health benefits and is ideal for low carb diets.
Capacity
Each bottle has 12 ounces of substance in it. You can either get a pack of two, three or four. Keep in mind, though, it is recommended taking one to three servings a day and there are 68 servings in one bottle.
Allergens
From the looks of it, it does not appear that there are too many common food allergies to deal with here.
Flavor and Texture
Both the flavor and the texture of this powder are mediocre. The issue with the texture is how it dissolves in water as it can clump and stick to glasses.
Unwanted Additives
Again, as the product label indicates, there are no additives in this formula.
Overall
To be honest, this option has one of the most common flaws that supplements tend to have. Of course, that is the texture. If you can get this down, you can get one of the better bang for your buck options.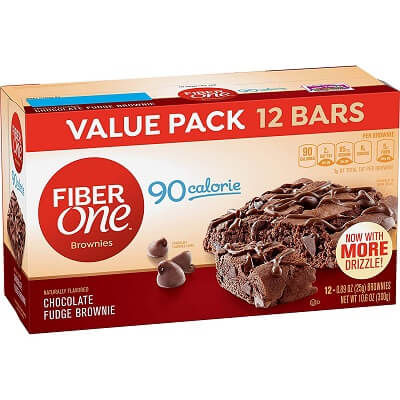 Now, this one is interesting. These delectable treats are literally brownies and yes, they taste amazing. But, the best part is they do include 20 percent of the daily value of fiber you need.
Read more
Nutrients and Essentials
Believe it or not, this actually does provide you with a solid amount of fiber. As mentioned, it gives you 20 percent of your daily recommended intake.
Capacity
One box of brownies contains 12 bars. Given the fact that these suckers can certainly be addictive, you may find yourself buying multiple boxes.
Allergens
Without a doubt, this is not ideal for buyers with common food allergies. It includes just about everything including wheat, soy, eggs and milk.
Flavor and Texture
It is not hyperbolic to claim that this is easily the best tasting option on this list. It is a fudge brownie with real chocolate chips and a drizzled topping.
Unwanted Additives
The flavor and ingredients of these brownies are really natural. Indeed, there are no colors, flavors, or sweeteners included from artificial sources.
Overall
Sometimes, it is crazy when you realize that some foods that provide health benefits taste good. This is the instance with these fudge brownies and yes, they are quite tasty.

Subscribe to our Newsletter