Best Massage Chairs
In a
Hurry? Editors choice: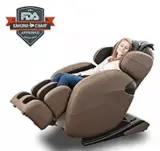 Test Winner: Zero Gravity Kahuna

When you're exhausted or have a lot on your mind, there's no better way to relax than having a
masseuse tend to you
. After all, who doesn't like a good massage? The problem is you have to plan it, to make sure that the massage therapist's schedule can accommodate you. So why not skip all this hassle and get one of the best massage chairs in the market.
It may seem like you are spending a lot, but you should look at the bigger picture. You don't have to plan when to use your massage chair since it's always at your disposal. You will end up saving money in the end because you can get as many massages as you want whenever you want. Owning a massage chair ensures you conveniently get numerous
health benefits
derived from a variety of massages. Overall, it's an investment worth every penny.
Standout Picks
Criteria Used for Evaluation
Support
A strong massage chair is the safest bet
Adhering to the support limit set by manufacturers is important. Otherwise, the massage chair could end up collapsing while you're using it. It's hard to predict the kind of injuries you could get, but it's really not worth the risk. You will have wasted the money you bought the massage chair with since it would end up damaged in one way or another. Most importantly, hurting yourself is just out of the question. In short, don't forget to check if the massage weight can support your weight before you make a purchase.
Ease of Use
The faster you operate it the faster you get to relax.
You need a massage chair, which is easy to operate. It's ironic to seek relaxation, only to end up frustrated because you can't get the chair to work. Fortunately, the listed chairs have automated functions and features that are a breeze to operate.
Comfort
Relaxing is impossible when you're uncomfortable
The only way to get to a relaxing state is by being comfortable. The two things go hand in hand. So make sure that the massage chair has a comfortable design. You will love zero gravity massage chairs since they guarantee that you'll be comfortable.
Versatility
The more versatile the massage chair, the more benefits you get.
The best massage chairs offer so much in terms of programs and techniques. There is no guarantee that any random chair will have exactly what you want. That is why you have to check what the chair offers and how versatile it is. If you do, you may get lucky and get more than what you wanted.
Advanced Features
Extra features equals better experiences.
As with tech pieces, some massage chairs have more to offer. For instance, some massage chairs have heating features, body scanning technology, speakers, and memory settings, to name a few. Likewise, there are those that have none of the mentioned features and functions. When you take your time to go through advanced features, you increase your chances of getting an excellent massage chair rather than an average one.
Best Massage Chairs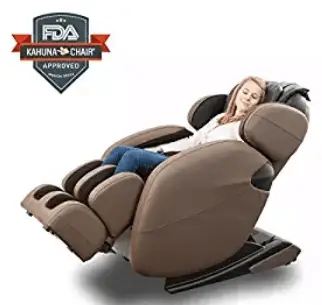 Kahuna offers massage chairs, which are top-notch. Massage chairs have come a long way, and this is the best example of what the highest industry standards have to offer. The frame structure of the chair is not what you would typically expect from the average massage chair. The LM-6800's frame is of an L-track design. Aside from that, this chair has several other features that set it apart from its competitors.
Read more
Support:
In order to benefit from this massage chair, the user must be approximately 200lbs.
Ease of use:
The massage chair's Smart body scan is outstanding. The scan's primary purpose is to customize your massages. It is able to detect your build and design a personalized type of massage afterward. The chair also has an air massage feature for your body. You will also enjoy the massage timer, which has a half hour limit.
Comfort:
The chair's purpose is to ensure that you enjoy your massage to the fullest. It will evenly spread your weight all over the chair, thanks to its Zero gravity design. The name of the design comes from the weightlessness the user feels when they sit on the chair. As such, your experience becomes more enhanced. Leaving you with a stress-free body.
The massaging chair also comes with airbags around the shoulder region. They have two layers and are really comfortable to lean on. You are in for a treat with the chair's Heat Therapy feature. The feature works for your legs and lower part of your back.
Versatility:
The massage chair offers quite a number of techniques. You will get; a combination of tapping and kneading, shiatsu, kneading, rolling, and tapping. The massage styles target several areas of your body. The ones mentioned above are for; whole back region, upper back, lower back, lower body and the combined benefit of your lower back and body. It has foot rollers to work on your feet as well.
Advanced features:
One of the benefits of buying a Kahuna massage chair is that you get access to its signature Yoga Stretching program. The program aims to stretch you out and make you feel sensational. You will feel completely awakened after the stretch. It does wonders for blood circulation, and you end up feeling total relief.
The full body massage chair has another signature program called the SH-Chiro. This program's main focus is on your spinal region. Its design unlocks the energy in your nerves enabling it to move along your spine. The energy doesn't just flow around your spine; it moves throughout your body as well. After using the program, most users feel relief in regards to spine pressure.
Overall:
Space is usually an issue when it comes to massage chairs. This chair has space saving capabilities. The technology allows the chair to utilize much less space around its rear. In the end, you will only need a distance of about three inches, when you place it near the wall. The chair can move frontward as it reclines to minimize space.

2

. Real Relax Zero Gravity Shiatsu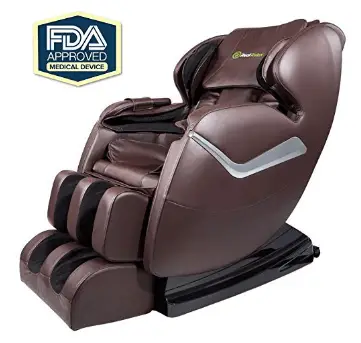 When describing this Real Relax massage chair, the words high-end and affordable ironically come to mind. This is another massage chair, which surpasses the basic alternatives in the market. To top it all off, it goes for almost half of what top brand massages cost. You don't have an excuse for not buying this chair. It's so pocket-friendly that it will take you a short amount of time to come up with the money.
Read more
Support:
Real Relax definitely outdid themselves with this massage chair. It's not exaggerated to claim that this is everyone's type of chair. It can support almost all kinds of weight categories and still function at optimum capacity. The massaging chair is able to handle a whopping 400lbs. Anyone can buy this massage chair since most individuals are within that category.
Ease of use:
You will love the chair's sleep feature. Once you stop using it turns off and can be used as a regular chair. You can use it for entertainment or just lounge on it and pass the time. The programs are automatic, and you will get a smart controller to make things effortless for you. The control helps you choose and set programs. You will also use it for the massage chair's timer.
If you want to relocate the chair, you won't need to get an extra set of hands to help you lift the chair. The back of the massaging chair has wheels, which make it portable and easy to move.
Comfort:
Since you can use it as a regular recliner chair, the company set up an armrest system. The system is exclusive and enhances your comfort as you relax. The shoulder area has a total of 50 airbags set around. The backrest has more massage rollers than other alternatives, and best of all, the chair has a zero-gravity design as well.
For added comfort, it has a waist heater built into it. The heater does wonders for your metabolism not forgetting your blood circulation.
Versatility:
With this massage chair, you will get four different types of intensities. The level of massage intensity will depend on the kind of massage program you choose. The programs are; strong mode, mild, relaxing, and sleep.
Advanced features:
The chair backrest offers eight different massage points. You will be able to control the strength and the speed of the massage you want. The rollers relieve you any stress you may have in your back region to your satisfaction. The massage chair also has an in-built massager for your hip region. It vibrates and gives the impression that hands are pressing and kneading against your hips.
Overall:
The massage chair competes with expensive brands because it also has most of its features. It's a good massage chair for a large household since it is very user-friendly.

3

. Electric Full Body Shiatsu Recliner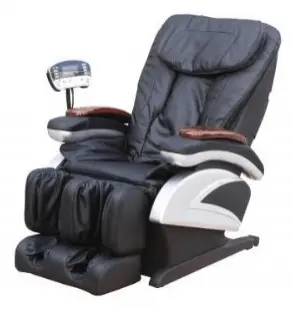 This massage chair will make you feel as if you have a Chinese doctor who readily caters to you. It imitates all the medicinal massage techniques that you would get if you hired a professional. The chair will offer you results that are shiatsu level at the comfort of your home.
Read more
Support:
Ideally, the massage chair can support people who weigh about 250lbs. However, some users tend to exceed the weight limit slightly. It should be noted that such actions are quite risky.
Ease of use:
It has a control panel that is simple to operate. The whole massage chair is automated so that you will have everything at your fingertips. You will be able to recline the backrest quickly and raise it when needed. The same applies to the ottoman at the foot area.
Comfort:
Once you sit on the chair, it immediately conforms to your body. It's capable of contouring to serve you best. Everyone who uses the massage chair gets a unique experience since it adapts to the shape of each user. You will also love the massage heads. Not only are they cozy, but they will massage your neck thoroughly targeting your tsubo points. Doing so helps relieve stress from the neck region.
Versatility:
Since the chair is an update, it comes with features and functions that surpass its predecessor. It has thirty airbags with twenty of them located in the lower region of the massage chair. The twenty airbags are responsible for the chair's fatigue relieving massage. The air massage tends to your thighs, legs, and feet as well. You also can control how strong you want the massage to be.
Another type of massage offered is the Ultra-long range option. The option comes in handy when you want a massage from the top of your neck to your tailbone. You will also get access to four programs which are; the Refresh, Relax, Extend and Recovery programs.
Also read about best neck gaiters
Advanced features:
This massage chair model comes with a vibration motor. It is high-powered and meant for massaging your bottom. You will also get percussion type massages and compression techniques as well. As a result, you will realize that your flexibility has improved. Other benefits include; better mobility and leg posture.
Overall:
Having a massage chair that invigorates you entirely is something to look forward to.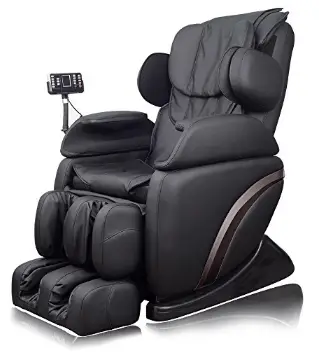 This is another good chair for shiatsu massage fans. The massage chair applies optimum pressure, such that you will forget that there aren't any palms, fingers, or thumbs on your body. Getting a chair that can provide you with the same benefits conveniently is remarkable. With the kind of features the chair has, you would expect it to cost significantly higher than it does.
Read more
Support:
The chair has strong support and can hold up to 300lbs. That's still a fair weight range since it doesn't exclude a lot of people.
Ease of use:
We all love continuous interruption-free massages. Thirty minutes worth some relaxation is a good deal. Another feature that makes this massage chair user-friendly is its silent operation. A noisy chair is hardly therapeutic. You can operate the massaging chair in two modes; either manually or automatically.
When you choose to automate the chair, it will provide you with combined techniques and multi-purpose massages. But, if you want full control and adjustment, the manual mode allows you to set the back rollers at any point you prefer.
Comfort:
The massage chair is very comfortable thanks to its overall design. Not only will it see to it that your body is taken care of, but it also takes special care of your feet. There are six kneading balls located in the feet sole area. They come in handy especially after a long day of walking or standing. The balls deeply massage and stimulate your feet, leaving you relieved and more relaxed than ever.
Versatility:
The massage chair offers four programs to choose from. The program options are; vibrating, kneading, spinal rolling, and shiatsu.
Advanced features:
You have to acknowledge a massage chair that has 3-D intelligent detection. Such a feature humanizes your massages and makes you feel like an actual masseuse is handling you. Such details are what make this a high-ranking massage chair. Aside from that, the chair's S-Track roller system is worth taking note of.
Other therapeutic and ergonomic features include the airbags that are well placed all over the chair. They are on the seat, shoulders, arms, foot, and even the calve area. Additionally, the airbag-related massages are available in two intensities.
Overall:
Shiatsu massages have some healing to them. The chair is worth it if you can get at least a portion of such benefits.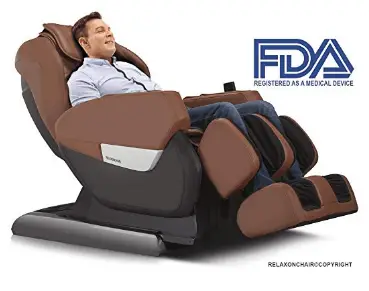 The FDA registers some massage chairs as medical devices. This RELAXONCHAIR is a good example of such a chair. So, if you feel a bit skeptical about getting a massage chair, you should at least go for one which has proven and medically recognized results. The chair has a high-end design that will meet your ergonomic needs.
Read more
Support:
You need to be at most 280lbs to use this chair. The good news is that people who are approximately 6" tall can also use it efficiently.
Ease of use:
The massage chair has the capability to adjust the height of your shoulder automatically. This micro function makes your massage experience more customized. It does so by fine-tuning your body's upper region. When you sit on the chair, it will also measure your spine. That is how the chair can tell the places that need massages. The automatic sensor in the chair, which carries out the function, will impress you.
One of the reasons why this chair is popular is because of its memory function. Once you settle on which type of massage you like the most, you have the option of recording it. So, whenever you want to experience it again, you can just use the recall function, and the chair will massage you the same way.
Comfort:
You will rarely find people complaining about massage chairs with zero gravity designs. There won't be any form of discomfort once you sit back, relax, and elevate your legs.
Versatility:
With this massage chair, you can get both manual type and automatic programs. The programs which are manual specific are; rolling, kneading, shiatsu, tapping and a combined kneading and tapping technique. The automatic type of programs include; Recovery, comfort, back and waist combination, relax, and the neck and shoulder combination.
Advanced features:
The company redesigned the chair's rolling system. That's how the massage chair has an upgrade of a better performing S-track system. Other beneficial features the chair comes with include air and deep tissue massages. That is how the chair gets a humanized type of feel. During deep tissue, the muscles in your back and legs slowly stretch out in a calculated manner. The technology of air massage is also impressive. Unlike other chairs, this one's airbags separately inflate and deflate. The purpose of doing so is to stretch and twist your body simultaneously. You can control the speed and intensity of the air massage, as you like.
Your legs and feet won't be left behind; they get the benefit of compression massages. The back and sides of the foot region have multiple airbags, which inflate to make this possible.
Overall:
The massage chair has some features that really stand out. Being able to massage your forearm, hands, and wrists is a bonus.

6

. Infinity IT-8500 X3 3D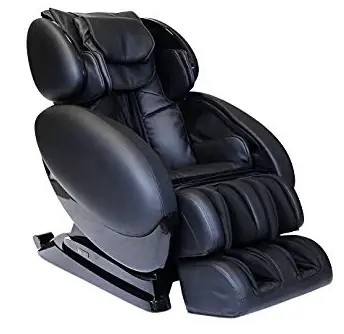 Infinity massage Chair Company offers some of the most advanced and innovative massage chairs. The chairs are relatively new to the market compared to other top brands. However, they are competing at the same level and will soon beat some of the high-ranking competition. It best fits people who like to upgrade and keep up with modern trends.
Read more
Support:
The company recommends the maximum weight limit of the chair to be 285lbs. If you don't fit in that category, you could also check out their other massage chair model. It has about 80lbs additional weight limit.
Ease of use:
The massage chair can efficiently serve multiple users. One of the reasons why is the chair's 3D technology. The tech allows you to adjust the roller depth and intensity to suit different tastes. It comes with a remote to control the chair functions.
Comfort:
You can trust that this chair is comfortable. Its design is based on your spine's natural shape. Combined with the chair's unique technology, continuous use of the chair will correct your spine effectively. All you have to do is kick back and enjoy its zero-gravity nature.
Versatility:
The massage chair offers several additional programs that are not available in its previous model. The programs are; working relief, sports refresh, neck and shoulder, extension, rest and sleep, and lastly, waist and spine. The chair has an airbag system that covers the entire body. The airbag areas are; the shoulders, arms, wrists, headrest pillow, lumbar, lower waist, gluteus, calves, legs, feet, and sole.
Advanced features:
One feature you are going to love is the chair's Bluetooth capability. You can listen to relaxing music as you enjoy your massage. You just need to set a wireless connection to your device, and you are good to go. There are also three new 3D programs in this model. First, there's the massage extend the program, which stretches you out to new levels. Secondly, there's a deep shiatsu program. This program is more intense and offers tension relief like never before. Thirdly, we have a healthy breathe program. Its main effect is to enhance your relaxation significantly.
Your feet will get special attention. The chair's foot massager has six rolling sole massagers and eight airbags.
Overall:
If you long for satisfactory neck massages, you will love its auto-extend feature. Thanks to the 3D system the rollers further extend to the correct neck region and massage the user suitably.

7

. Medical Breakthrough Ver 2.0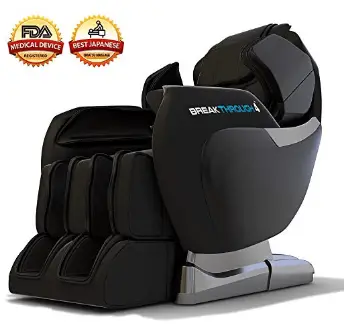 What makes this massage chair unique, is the fact that it was designed by over twenty-five surgeons, chiropractors, pain specialists, and doctors. You can trust that the professionals knew what they were doing when they came up with this chair.
Read more
Support:
To better fit in this massage chair, you should be around 200lbs.
Ease of use:
The number of ways you can customize the chair is endless. All the chair's aspects are virtually and easily adjustable.
Comfort:
It does a great job of weight distribution. You will feel deeply relaxed as soon as you sit on the massaging chair.
Versatility:
The massage techniques available are; knocking, kneading, shiatsu, flapping and last but not least, a flapping and kneading combination. You will also benefit from its six automated programs.
Advanced features:
Medical Breakthrough went a step ahead to create an extra memory function. The function provides an allowance for an extra user to save their favorite massage settings. The chair also has an infrared feature for heating purposes.
Overall:
Having this chair will feel like having an expert close to you at all times. Additionally, the chair's backstretch is at a chiropractic level, ensuring a healthy boost in your spinal region.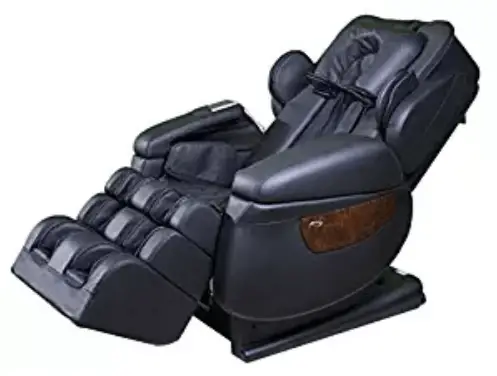 Luraco claims to offer a true USA massage chair alternative. The company takes pride in the fact that everything concerning this chair is U.S based. From the initial research phase to the development, right down to its assembly. Most massage chairs are often Asian imports.
Read more
Support:
This Luraco iRobotics chair can support people who weigh up to 300lbs.
Ease of use:
This massage chair has voice commands in seven languages. You don't have to move an inch to get the chair to do what you want.
Comfort:
The chair has a design that accommodates almost all body sizes. People of different heights can also use them comfortably. The minimum height requirement is 4'7ft, while the maximum height is about 6'6ft.
Versatility:
It offers multiple intensity massages. The controls are in six areas, which are; the arms, neck, upper back, feet and calves, and the lower back. You will also get specific body massages, with its kneading and tapping functions.
Advanced features:
What makes this a family-friendly chair, is the fact that it has room for five memory settings. Everyone can have their ideal massages whenever they please.
Overall:
Some aspects of this massage chair are attention-grabbing. A chair that can monitor your heart rate and blood pressure is invaluable.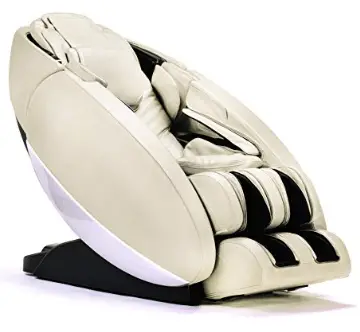 The company claims that their massage chair helps users maintain and recover from certain conditions. Some of the physical issues the chair can help with are; Fibromyalgia, Back Pain, Arthritis, and Sciatica.
Read more
Support:
The massage chair has a 300lb weight limit.
Ease of use:
The massaging chair comes with an LCD remote control. It will help you adjust the intensity, width, speed, kneading speed, focus, height range, roller speed of the underfoot, duration of the massage and the stretching direction.
Comfort:
As long as your height ranges from 5 to 6'9", you will find the chair comfortable. The massage chair also has an L-Track, which is 3D. It is a favorite because of its extensive body coverage. You will also love the full body stretch function. It will leave you feeling brand new and well on your way to recovery if you had an injury.
Versatility:
You will be spoilt for choice with this massage chair. It has over 30 programs designed by experts. For further customization, it comes with five settings for adjusting its intensity. You will also have three other programs that focus on deep-tissue.
Advanced features:
The full body massage chair has Bluetooth speakers and a USB port. Not only can you listen to music with this chair, but you can also charge your device simultaneously. Some of the chair's air cells are strategically in place to target the healing points of the user's body. They apply air pressure to manipulate and stretch for tension release in the muscles.
Overall:
This massage chair is also strikingly beautiful. It's definitely going to add aesthetic value to space it's placed in.

10

. Osaki OS-4000 Zero Gravity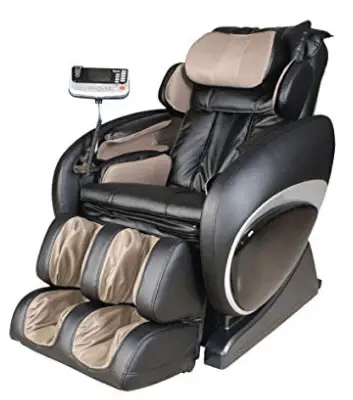 We all want our purchases to last for as long as possible. In order to satisfy this need, massage has top grade PU covering. It will keep looking new for quite some time.
Read more
Support:
The chair is for people with a maximum weight of 200-230lbs.
Ease of use:
The massage chair has a controller that you can use to control the chair if the primary remote is unreachable. It also has a large display, which makes it friendly to use.
Comfort:
If you are taller than 6", you might not find this chair comfortable. Other than that, the chair is cozy and ergonomic thanks to its zero-gravity design.
Versatility:
You will get six programs that come preset with the chair. They will also include a Swedish massage technique. For intensity and speed, you get five levels to choose from.
Advanced features:
The massaging chair offers seat vibration and two scan features. The first feature scans your whole body while the second one scans your legs. That's how the chair offers unique massages to each user based on their build and length of their legs.
Overall:
The chair has substantial features including air pressure massages for various parts of the body.

Subscribe to our Newsletter