Best Sleeping Pads
In a
Hurry? Editors choice: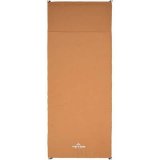 Test Winner: Tenton Sports Outfitters

For the avid camper or
backpacker
, when it comes to sleep there is nothing else as important as it gives you the strength needed to complete the activities that you have planned for the next day. Some of us when in the wilderness and nestled into our tent, have no problem rolling out our sleeping bag and getting comfortable on the ground, but for others, this can be a big inconvenience and can cause an uncomfortable sleep. Many who cannot get comfortable while sleeping in their
sleeping bag
due to the ground, usually look to invest in a sleeping pad. A sleeping pad is a portable pad which will add a sense of cushioning between you and the floor. If you are looking for a more comfortable sleep this summer season when you go camping or backpacking, then the below guide is for you.
Standout Picks
Criteria Used for Evaluation
Use
Having a top-notch pad is important for many reasons. Even though comfort is in the top three reasons, it is not the most important one. A sleeping pad's main role is to act as an isolator between you and the cold ground. Then why do you need a sleeping pad in summer? The truth is, even though the weather might make you think it's a good idea that you hike in a swimming suit, the ground has a different temperature. The difference in the air temperature and the ground temperature could make you feel sore in the morning even though you were not cold during the night.
Value
Needless to say, more expensive products usually have more features, although there are exceptions. The prices vary from $30 to $300 dollars for a sleeping pad with the highest quality. This doesn't mean that you should get the most expensive one unless you have the need to do so. Sleeping pads with high isolation properties are intended for adventurers going on high altitude exhibitions and backpackers who spend a lot of time sleeping on the ground. For the rest of you, a sleeping pad with a price range from $100 to $150 should get the job done. The final destination is also very important in the decision-making process. Rocks tend to be colder than softer terrains, therefore require a better isolation pad which means that the price will significantly increase.
Insulation
This is the first thing you should consider when looking for a sleeping pad or a sleeping bag. Even though most beginners are not familiar with the R-value of a sleeping pad, it is a feature that will provide you much greater comfort. R-value is a feature that becomes more important as the temperatures drop. However, if you are looking for summer sleeping pad only, feel free to ignore this value. R-value is the thermal resistance that your sleeping pad possesses. The bigger its resistance capacity, the greater is its ability to prevent the transfer of heat from the ground to your body. A sleeping pad with a higher R-value will have a bigger heat conduction resistance which will cause you to have a good and warm night's sleep.
That said, if you are looking for summer sleeping pad, an R-value of 2 should be sufficient isolator from the ground. Most sleeping pads have R-value from 2-4 and they are promoted as 3 season pads. However, autumn on a mountain could feel like winter on lower altitudes. For this reason, we recommend a higher R-value. Sleeping pads with R-values above 5 would be ideal for temperatures below the freezing point. They are even suitable for sleeping on ice or snow surfaces. Nevertheless, cold sleepers are advised to choose a sleeping pad with a higher value in order to feel more comfortable.
Style
Sleeping pads come in two forms: foam sleeping pads and air pads. The comfort they both provide is pretty much at the same level, however foam sleeping pads are much lighter, therefore more suitable for longer backpacking trips. They are also being used for other purposes such as providing extra support for your back in case you are carrying a backpack without a frame. However, they are also bulkier than air pads and not as durable. Aid pads on the other side are more compact, which is the main reason why they are backpackers' first choice. If you also prefer them over the foam pads make sure you bring with you a tape since they are known for their surprise punctures on the field.
Subscribe to our Newsletter