The Best Hiking Backpacks
In a
Hurry? Editors choice: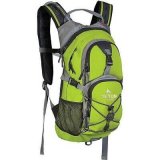 Test Winner: Tenton Oasis

Hiking is a tranquil and relaxing time when you can become one with mother nature and leave the concrete jungle behind for a bit. When going hiking in the wilderness, you need to ensure you pack the necessary gear to help you on this journey to reconnect, and the main piece of gear that will hold all the other stuff is a quality hiking backpack.
So before heading out, you want to make sure you have a
durable and comfortable backpack
to bring with you and that all your necessary gear will fit without issue. Now, if you have been backpacking before and used a backpacking backpack, hiking backpacks are a bit different as it will not be as big, due to hiking trips being shorter distances. That is why below we have explained what makes a quality hiking backpack.
Standout Picks
Criteria Used for Evaluation
Materials
When deciding on your backpacking materials and design, you need to figure out what type of backpacker you are. As mentioned before, minimalist backpackers could leave of nature. They are in fact ultralight packers and their essentials are usually not matching the amount of other people essentials. It is not rare that they choose to leave their tent at home and sleep under the stars. Even though most minimalist backpackers carry food with them, they even tend to limit their food and clothing choices as well.
Traditional hikers on the other side, are the typical ones, that pack a normal amount of essential gear in the backpack. You know that you are of this type if in the winter you need a twice as big backpack as in warmer weather conditions. If you are inspiring your kids to go along, you are either a traditional or the heavy packer type.
Backpacks that contain more compartments and pockets have more organizational space. If you are wondering whether you are going to need this feature, the answer is yes, it is essential for your hiking trip. If you simply pack all of your stuff in one main compartment, at every break when you need something from the backpack you will be required to unpack and repack. To save yourself this trouble, we recommend choosing a backpack with many compartments that will keep you organized during your trip. That said, your backpack needs to have the following compartments and pockets.
This is the place where you pack most of your stuff. The main compartment can sometimes be accessed from the top of it from the front of it. Professional backpacks often have a special space in the backpack for your sleeping bag so that you don't have to pack it in the main compartment.
Since the main compartment is usually located on the top of the backpack, it usually has a top lid which has the main function of keeping it safe from rain and moisture in general. In addition, a well-equipped backpack could also have front and side pockets. Side pockets are very convenient for bottles of water or other small stuff. However, the most useful pocket a backpack could have is a hip belt pocket which is very convenient for items that you plan on using during the whole hiking trip.
Value
The price of the backpacks on our list has all been noted for their value and durability. If you are shopping on a budget, we've listed some affordable backpack choices as well that should suit your needs. If you have to watch your spending, then focus on purchasing a backpack that only has what you really need, and then you can save some money.
When it comes to backpacks do not be swayed by thinking that the more expensive the better the backpack will be for you in the long run, or if it is cheaper that it will not hold up and eventually fall apart on you. When it comes to backpacks each is priced according to different factors, so keep in mind not only the price but also the quality, capacity, and adjustability of the backpack as well. Also, stick to your budget and never think you will not find a quality backpack that will not be in your budget because there is always an option on the market for you!
Comfort
Choosing pants that don't fit you might get the work done and cover you, but they won't be as effective as a proper pair. It is the same with backpacks. If it doesn't fit you right, you will wish you never took the trip in the first place. For this reason, it is very important to invest some time in choosing the right option for you. A correct sized backpack will be essential to your comfort while you are hiking and it will increase the functionality of the pack itself. Even though you are carrying a significant weight on your back, a well-designed backpack should not burden you. In fact, hiking backpacks are specifically designed to distribute the weight throughout the entire body and eliminate the pressure on specific parts of your body. If this is not done properly, the user will suffer back pain or the improper posture could even lead to knee or ankle pains.
For selecting the proper size of a backpack for your body you should consider the length of your torso instead of your height. The main reason for this lies in the fact that people come in different shapes, even people with the same height. If this feature is not stated by the manufacturer or the distributor, it is recommended that you contact him before making the purchase in order to check if it fits you right. And if you can't manage the methods that manufacturers use for measuring the torso, simply use a measuring tape; it works perfectly.
Features
The additional parts of the backpack include aluminum stays, frame sheets, and a frame. Each one of these parts has its role in providing additional support for your back and distributing the weight properly. Aluminum stays, for instance, are aluminum rods that are placed on the whole length of the pack and they provide the shape of the backpack.
Framesheets on the other side is actually a piece of material that is very thin and lined on the back of the pack. Besides providing it shape it is also protecting your back from sharp objects packed inside that could make you uncomfortable throughout the entire trip. Aluminum stays and frame sheets are usually used together in order to provide greater support.
The perimeter frame is, in fact, the outside construction that is making the contouring of the backpack. The main purpose of the perimeter frame is to prevent the user from sweating on the back. Without it, the backpack will attach to your back completely and cause a lack of breathability in that area and it could cause back pain.
Subscribe to our Newsletter