Best Fishing Backpacks
In a Hurry? Editors choice: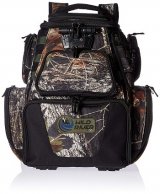 Test Winner: WILD RIVER NOMAD

We all know many toys and gadgets there are to bring out to the dock for a great day of fishing. Having them disorganized is not only dangerous for the person who has to dig through it all, but it also wastes time. Sure,
tackle boxes
are great but they don't often fit everything we need. That's where a fishing backpack comes into play.
These packs allow you to organize all of your accessories and many even have specific spaces for small tackle boxes as well. Choosing the one that matches your
style of preferred fishing
and your own personal style can require more patience than the sport of fishing. Use our guide to find the right fit for you or just to jumpstart your research and get going in the right direction.
Standout Picks
Criteria Used for Evaluation
OUR TOP PICKS FOR THE BEST FISHING BACKPACKS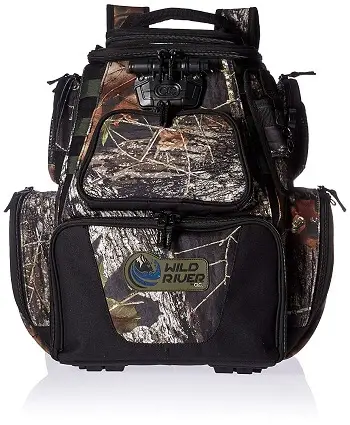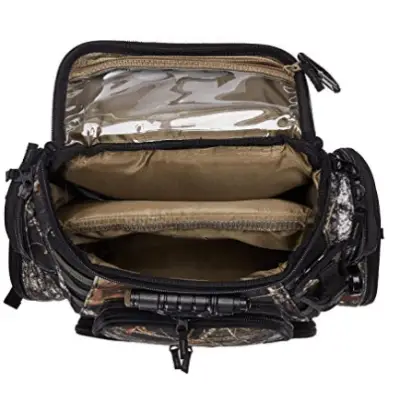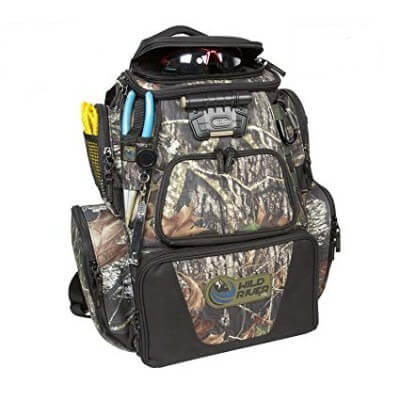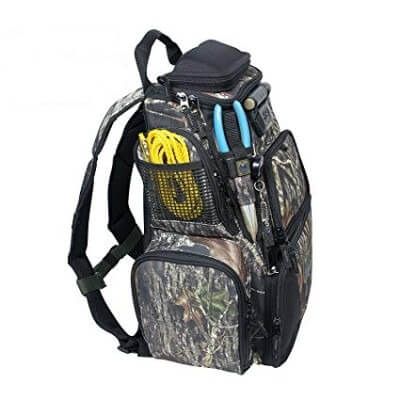 The Wild River Nomad is pretty much the be-all and end-all of all fishing backpacks on the market. It is brilliantly crafted in pretty much every way and is the go-to option, without question.
Read more
Features
There are storage compartments galore here such as the internal mesh pockets, removable pliers holder, upper storage area with a removable divider and external zippered pockets.
Durability
Let's just say the Nomad is built to last. In addition to the fact that the seams will not tear under pressure, there are base pads implemented that reduce wear. Oh, and while this is not waterproof, it does come with a waterproof cover.
Comfort
In addition to the fact that the shoulder straps are padded, this is also equipped with lumbar padding for extended comfort for longer sessions.
Capacity
This is quite the large pack and it can actually hold up to six medium number 3600 and four number 3500 trays for additional accessories.
Advanced Features
Past the included waterproof cover, one of the coolest features of the Nomad is its integrated light system. At night, with the light-powered, you can see inside the backpack. Oh, and the light also swivels up and down.
Overall
Can you see why the Nomad is the best of the best? For all of you hardcore fishermen out there, do yourself a favor and pick up this pack.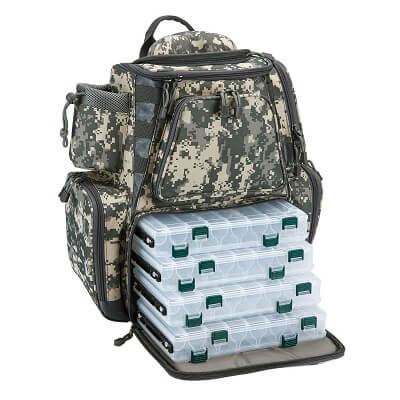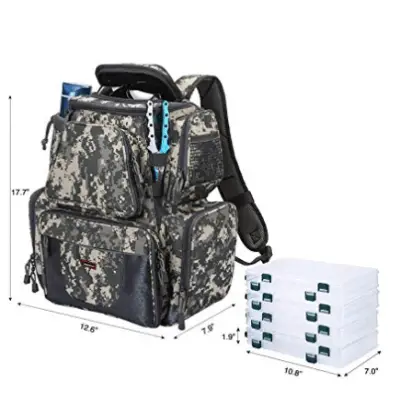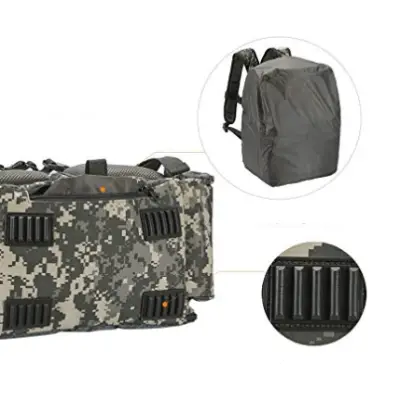 Goodness, what a design this is. Just merely the sheer build quality and the massive array of storage compartments of this model make it extremely compelling.
Read more
Features
The brilliance of this design starts here. This entire pack is divided into 11 different "rooms" thanks to the SBS zippers. And, amazingly, due to the unique design, a total of 18 different small areas can be achieved.
Durability
Deciding what is more impressive here is tough as this is made with high-quality and water-resistant 1200-denier nylon fabrics. But, the 86 sewing procedures have led this entire design to be 20 percent more resistant to water and 20 percent tougher.
Comfort
Even though the shoulder straps are not thickly padded, the padding that is present is solid. Additionally, both the straps and the back are optimized to be breathable.
Capacity
By collapsing the clapboard, you can get 12.6 by 7.9 by 17.7 inches (length by width by height) of free space to utilize. However, the thickness of the foam divider takes up too much space.
Advanced Features
You can either buy this with or without the four plastic trays but doing so is recommended if you need them (as they are high in quality). Oh yeah, there is also a hard molded sunglasses case on the top of this pack.
Overall
For virtually every type of fisherman out there, this pack is going to be a wonderful purchase. It is built like a beast and has several different compartments to hold different tools and items.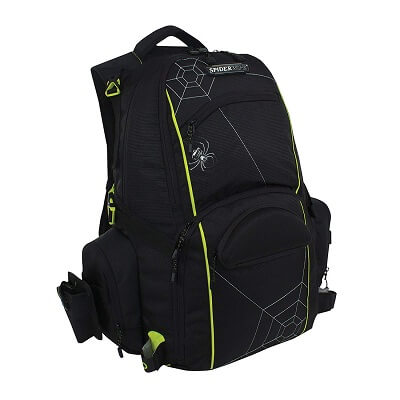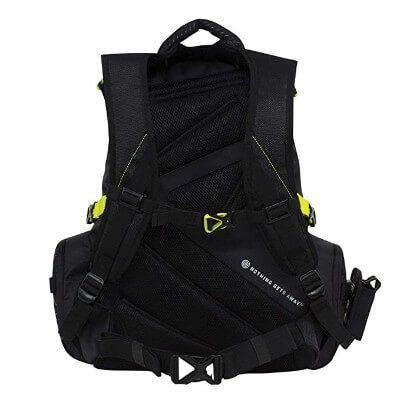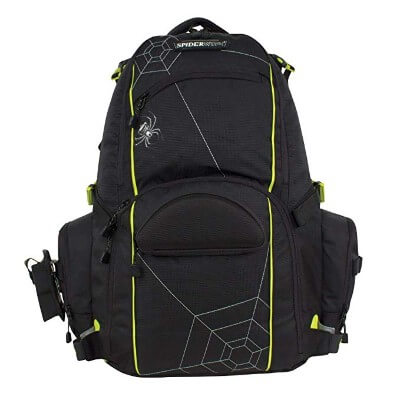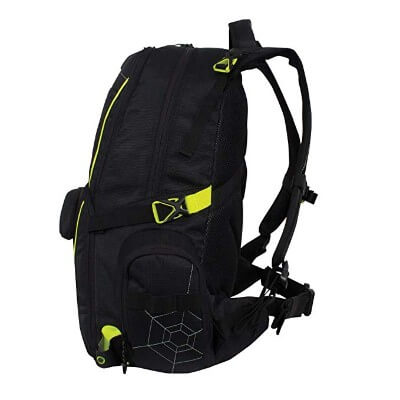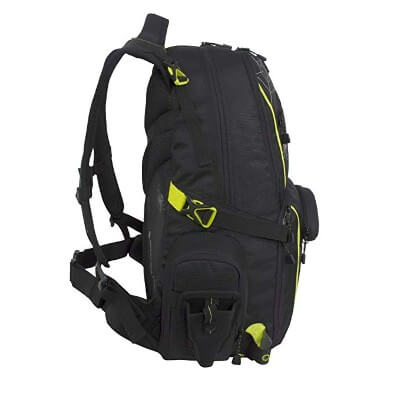 One of the subtle features that this has that so many of you will covet is rod holders. Among other well-designed features, it is one of the many reasons this stands out.
Read more
Features
So many storage compartments are present here including the aforementioned rod holders, three separate main compartments, zippered side pockets, and a sunglasses case.
Durability
For the record, this pack is made of 100 percent polyester and is well-built. However, the zippers have received criticism from previous users for being cheaply made.
Comfort
Several previous users have gone out of their way to claim how comfortable this is to wear and that can only be seen as a plus.
Capacity
As a whole, this measures 19.7 by 13.1 by 7.1 inches. Now, the actual interior space will be a little less than this, so take note of that.
Advanced Features
Included with your purchase are three medium-sized utility boxes. While you can place and use your own boxes with this, this is nice for those of you who do not currently have any that will fit inside this pack.
Overall
Some "money" features here really help to propel this pack to another stratosphere. With that said, however, the zippers could stand to be improved.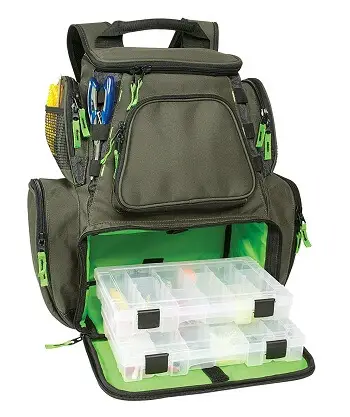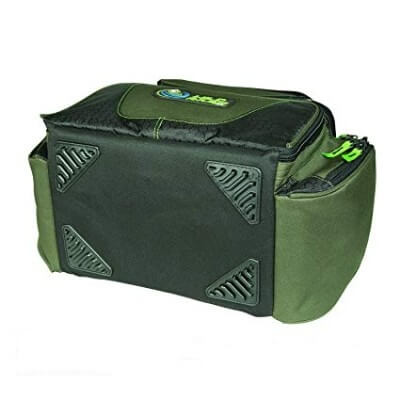 Sure, there are some flaws present to this design but when you look at it through unbiased lenses, you can tell that it deserves loads and loads of praise.
Read more
Features
In addition to the main compartment area (which does sport a removable divider), this is also designed with front web loops for better organization, a waterproof internal pocket, and also a convenient location for your pliers.
Durability
Even though this is built with base pads that will reduce wear, the zippers have received negative feedback from some users for being cheaply constructed.
Comfort
Not only are the shoulder straps largely made but they are also well-padded. Additionally, there is an added sternum strap that enhances the comfort even more so.
Capacity
Though this is not the largest fishing backpack in the world, the lower compartment can hold up to four trays (those that are of the #3600 style).
Advanced Features
Even though some of you may be disappointed that this does not come equipped with rod holders, the front pocket cover will fold down to provide you with a handy working surface.
Overall
You see, it is tough to argue that this is not a solid and well-designed option. It is also a Wild River branded model so you know, at the very least, you can trust it to deliver the goods.

5

. CALISSA OFFSHORE BLACKSTAR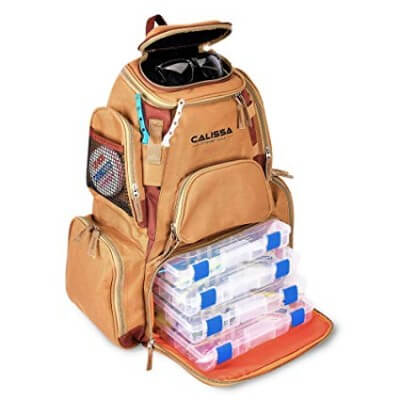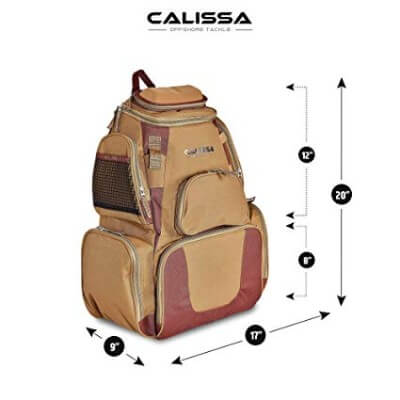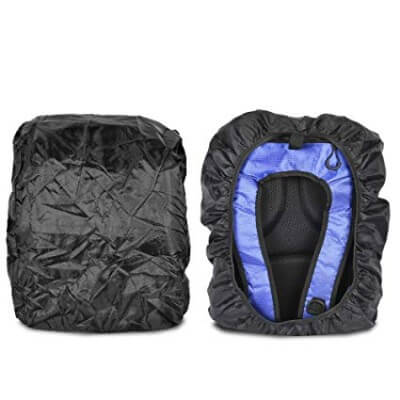 The Blackstar is a great pack that is manufactured from durable materials in the USA. It has eleven pockets, including a molded pocket for your sunglasses. You can choose to purchase this bag with or without tackle trays.
Read more
Features
If you are someone who likes to have a specific place for each item, the Blackstar from Calissa Offshore is bound to catch your eye. There are plenty of zippered pockets, mesh pockets, exterior loops, and even a dedicated molded sunglasses pocket.
Durability
This bag is made from polyester. It is a great option for fresh or saltwater and is resistant to corrosion. The Blackstar is held slightly off the ground by the addition of feet, which also helps to keep it upright and balanced. The bag itself is not waterproof, but there is an included rain jacket that will help to protect it. You can choose to purchase the bag with or without the tackle trays. Some reviewers have noted that the included trays have flimsy latches and they would have preferred to purchase them separately.
Comfort
The straps are comfortably padded and the bag fits well on many frames. There is also a chest strap to help take some of the weight off of your shoulders and provide balance.
Capacity
The Blackstar measures 20" tall, 17" wide, and 9" deep. You can choose to remove the divider between the top and bottom compartments for larger gear. The "trap door" compartment can fit up to four 3650 or 3600 tackle containers.
Advanced Features
This great piece of gear is made in the USA. It has eleven total pockets, is made from durable materials, features metal zippers, and includes a rain/sea spray cover. While there are not many extra features to mention, the bag itself is impressive.
Overall
To keep this item in tip-top shape, you should always remember to wipe it down after each use or run-in with ocean spray. The manufacturer offers a thirty-day refund and twelve-month warranty against defects. For an organized fisherman, this is a great option.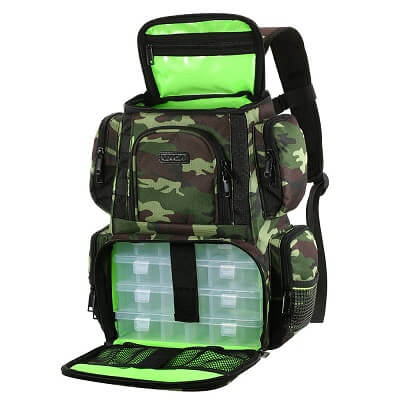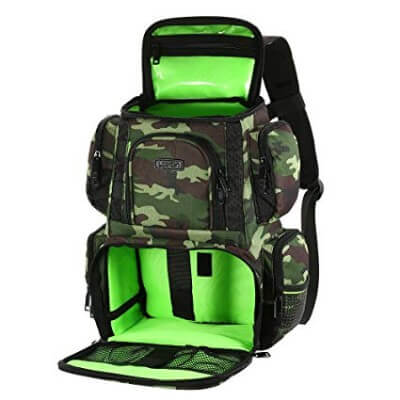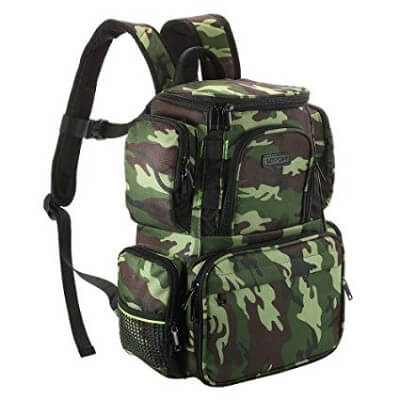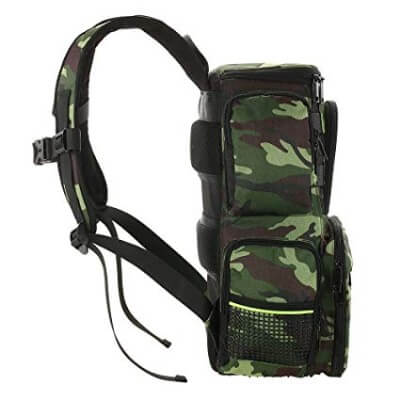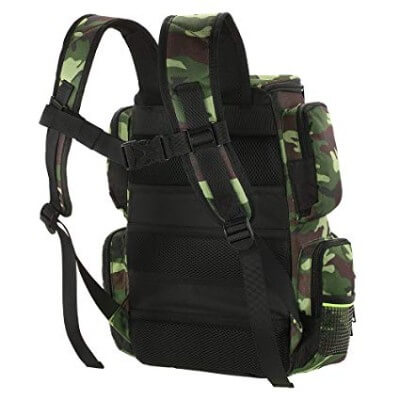 When the most common complaint about your backpack is that it is simply smaller than what it looks, you know you have designed something really good.
Read more
Features
First off, the main storage area is designed with a divider that can be removed for larger items. In addition, there are two mesh pouches and four zippered side pockets also implemented.
Build Quality
This is made of water-resistant, tear-resistant and high-quality polyester. Oh, and an anti-scratch bottom is equipped with rugged base pads to provide protection against abrasions.
Comfort
While the padded shoulder straps are really nice, perhaps better are the padded mesh panels that are integrated onto the back of this pack as these enhance the breathability.
Capacity
As was mentioned, several previous buyers have commented on the smaller stature of this model. It can still fit your essentials but it may not be large enough for some of you.
Advanced Features
The most important feature to address is that three transparent trays are actually included with your purchase (though you can buy the backpack without them).
Overall
When you look at this model from a quality standpoint, you can't help but be impressed. Granted it is large enough for your needs, this one here is a no-brainer.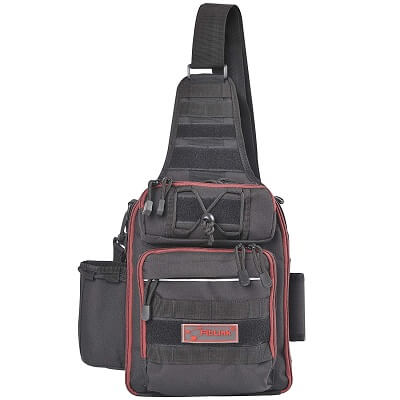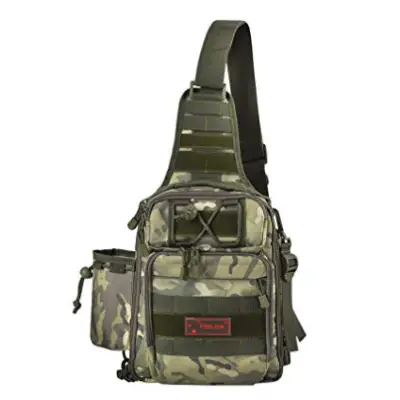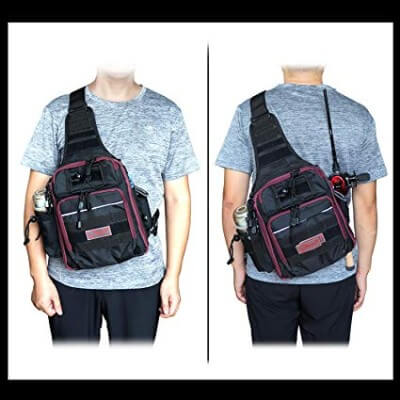 What makes this immediately unique is the fact that it only integrates one strap. Of course, there are plenty of storage compartments for all your fishing items and accessories.
Read more
Features
In addition to the multiple internal storage compartments, this model is also equipped with exterior pockets that can hold additional items (there are three in total).
Durability
First off, the SBS zippers are quite durable and the KAM buckle is as well. As for the main fabrics, this utilizes a 1000-denier heavy-duty nylon that has been finished with a waterproof coating.
Comfort
The single strap may be seen as a negative but the nice aspect of this design is the fact that the back is lined with breathable mesh. Oh yeah, and the shoulder pads are designed to relieve fatigue.
Capacity
Many buyers have noted that the actual size of this pack was much smaller than they were expecting it to be. Though the pockets and main compartment are not tiny, it may not be as large as you think.
Advanced Features
The same shoulder strap that was just documented can also be exchanged from the right to the left and vice versa (whatever your preference is).
Overall
Overall, you really have to appreciate the design put forth by Fiblink. Granted you do not require a monstrous pack, this should fulfill your needs quite nicely.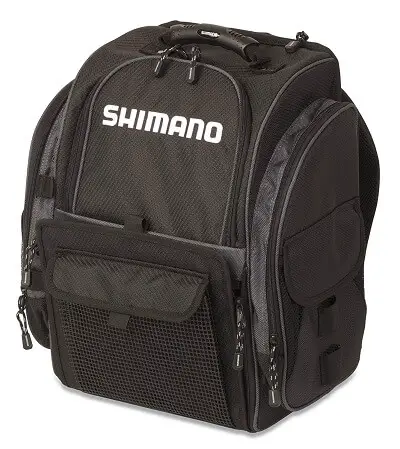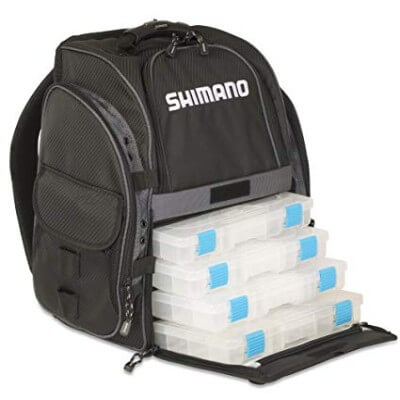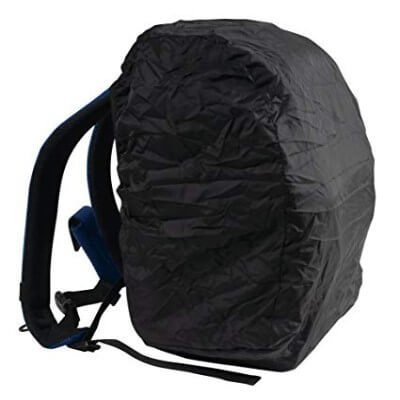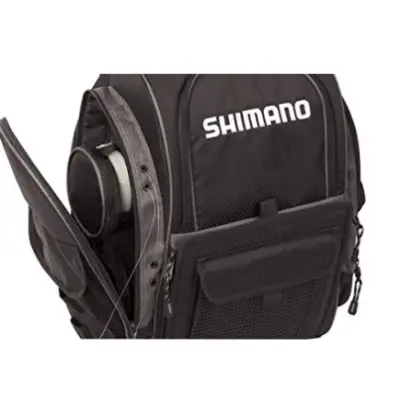 Chances are, you instantly had an interest in this option when you saw it was made by Shimano. Indeed, they are a top-name brand and their Blackmoon pack is worthy of your time.
Read more
Features
In addition to the built-in mesh rod holders on both sides, this is also designed with zippered side pockets and a zippered front opening to hold additional items.
Durability
Do note that this is not a waterproof design but it is made of heavy-duty and durable textured fabrics. But the included utility boxes, for the record, are water-resistant.
Comfort
The main issue with the Blackmoon is comfort. Look, the shoulder straps are thickly padded but the pack itself has been known to not sit properly on user's backs and is also quite heavy even without all your accessories.
Capacity
There are actually two sizes available so if the compact version is too small for your needs, it is quite convenient that you can opt for the medium-sized version instead.
Features
Though there are not too many features to speak of here, as alluded to, you do receive two utility boxes with your purchase, which is a nice bonus.
Overall
Due to name recognition alone, this is a compelling choice. Of course, even the best manufacturers have been known to design some failed products but this is not one of those instances.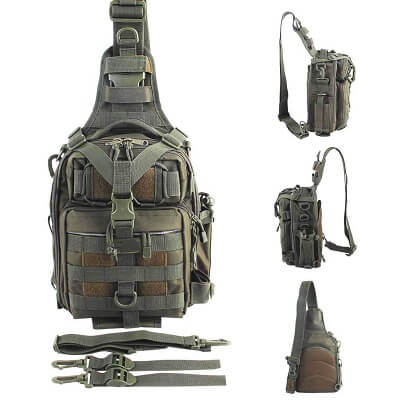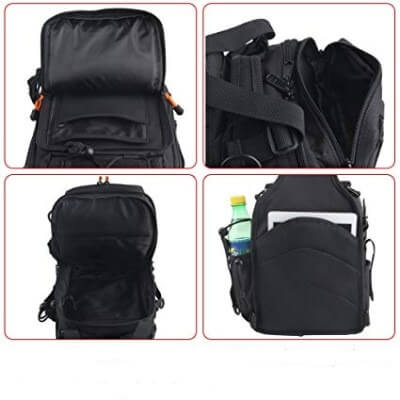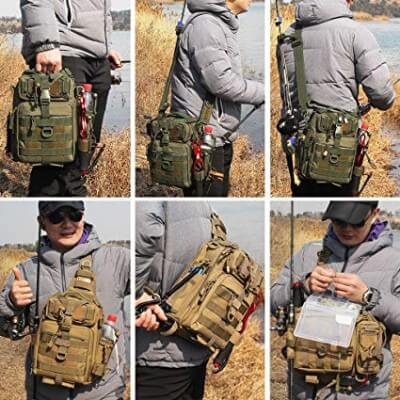 If nothing else, you can take comfort in knowing that this option is built like a beast with a number of convenient storage compartments. It is not perfect but it is still really good.
Read more
Features
All sorts of accessories can be stored in this pack with the multitude of storage compartments and the exterior pockets that are implemented.
Durability
The waterproof, weather-resistant and abrasion-resistant design here is fantastic. After all, what more would you expect from 1000-denier nylon fabrics?
Comfort
Even though the shoulder strap is designed with a widened frame to relieve fatigue, it actually does the opposite and can dig into your shoulder when you have this pack filled with extra weight.
Capacity
Admittedly, the main compartment is pretty small here and the entire design is not exactly optimized for users who need a ton of room.
Advanced Features
In spite of the comfort issues of the shoulder strap, it is nice in the fact that it can be adjusted to allow this to be used as a handbag, backpack, or shoulder bag.
Overall
Most of the major points (such as the build quality and storage compartments) this hits on well. Then again, the flaws are there so you need to contend with them.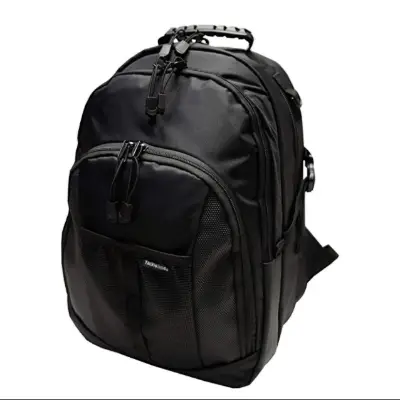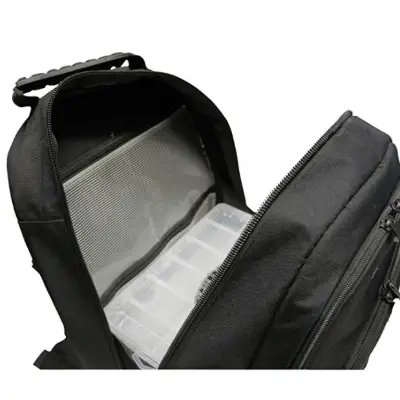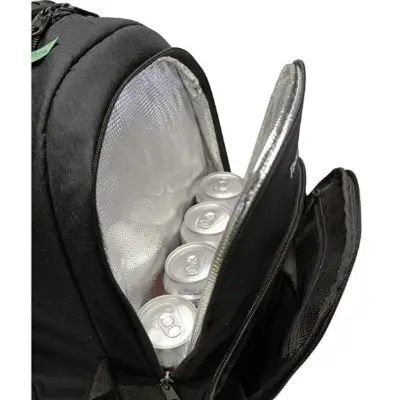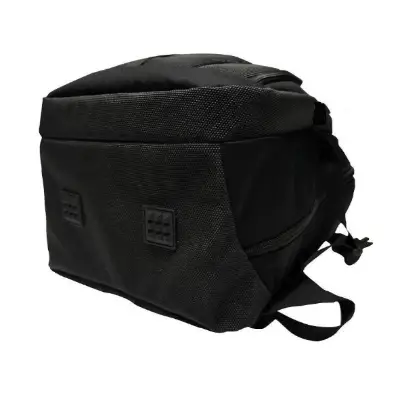 The TackleTime pack from Tool Era is an incredibly versatile option. It does not feature as much organization as other options, but it does include a foil-lined insulated pocket. The main compartment is expandable and fits five tackle boxes, laying flat.
Read more
Features
For what looks like such a small pack, it expands to hold a great amount of gear. In total, this pack has three different storage compartments. The largest pocket is ideal for tackleboxes, the middle pocket is great for food and drinks, while the front pocket is set up for tools. There are eight individual slots for tools and also a padded sunglasses pocket.
Durability
The exterior of the TackleTime is made from 420D nylon. It is water-resistant, but not quite waterproof. The bottom is lined on the exterior with PVC. This adds great durability to the bottom of the bag, and if you set it down in a puddle, you don't need to worry. There have been some durability concerns with the zippers and straps.
Comfort
This bag is pretty lightweight, at only three pounds. The straps are thick and decently padded.
Capacity
As mentioned before, the main compartment is ideal for tackle boxes. It can fit five boxes that measure 10.75" x 7" x 1.5", laying flat. The measurements of the backpack are 13" wide, 18" high, and 8" deep. There are side compression straps to keep everything in place and provide balance.
Advanced Features
One of the most admired features of the TackleTime is the insulated foil-lined pocket. It can fit four bottles, eight cans, or a hydration bladder. It works well to keep liquids both hot and cold. On the backside of the pack, there is an ID window where you can list your personal information, in the event that you misplace your pack.
Overall
We took a step away from the brand names with this one. While we may have lost some durability along the way, the TackleTime does come in at a more affordable price point and we love the insulated pocket.