Best Fly Rods
In a
Hurry? Editors choice: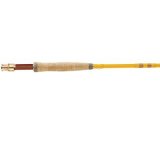 Test Winner: Eagle Claw Featherlight

Deep-Sea. Lake. Noodling. Fresh Water. Inshore. Fly. There are so many different types of fishing and each sport requires different types of poles, rods, baits, and
materials
. Fly fishing can be done in fresh or saltwater, and the most common fish that fly-fisherman catch are trout, grayling, and salmon. Fly rods are usually lighter than a typical pole and can be cast long distances with their light lures. Another great benefit of fly fishing is creating your own flies. Not only is this a fun activity and even more rewarding in the end, but it allows you to truly customize your fly for the specific fish you are going after. When it comes to fly fishing, the fly rod is one of the most crucial pieces of
equipment that an angler needs
.
Standout Picks
Criteria Used for Evaluation
Size
Another important thing to consider when buying a fly rod is the overall length of the rod itself. A rod's length can often determine what type of fly fishing it is best used for. For example, a shorter rod is often better suited for rivers and smallmouth bass, while a longer rod is often a good choice for lakes, larger rivers and shoreline fly fishing.
While there really isn't a "standard" length for a fly rod, the most popular size for most anglers falls somewhere in the nine to the ten-foot range. This length is often well suited for a wide array of fishing, including rivers, streams and some lakes.
Durability
Depending on how often you go fly fishing, your fly rod is going to take a fair amount of abuse. If you think about it, every time you cast, reel in a catch or change out the line, you're putting some stress on the rod. So it's important to have one that features solid construction that is both durable and easy to use. In most cases, modern fly rods are made from durable and lightweight materials such as graphite, bamboo, or ceramic materials. The handle is often made of either natural or synthetic cork material that allows for a more comfortable grip that wicks moisture away from your hands.
Use
The action of a fly rod refers to how much the rod will flex while casting, and how quickly it can recover from the flexing. It also refers to where the rod bends. A slow action rod, bends towards the blank, a medium action rod bends more towards the middle of the rod, and a fast action rod, not surprisingly bends towards the tip.
However, the action is more than just the way the rod bends; it's also how well it responds to your command as an angler. Does it flex with a simple tug of the wrist? Does it return to the ridged shape when you relax? And more importantly, does it allow you to control the line and prevent too much drag on the water?
Thankfully, the fly rods presented here offer a wide range of action, from slow to fast action, with the majority of quality ones falling somewhere in the medium action range. While the type of action used is often a preference of the angler, most fishermen choose to use a medium to fast action fly rod for general use.
Ease of Use
It is often said that an angler's success on the water can often be determined by how well he controls the line of his fly rod. After all, a trout can easily catch the fly, but it's up to the line to reel the fish in. Line control is a skill that isn't often focused on, but if you ask any fly fisherman worth his stripes, you'll quickly realize that it's a skill that many try to master from day one.
And while it is a skill that is learned through practice and trial and error, the best fly rods do play an important role in practicing it. Factors such as the length of the rod, its overall action, and the overall construction can all play a role in how well the angler is able to control the line as it is cast, brought back and danced over the water.
Generally speaking, rods that have a greater length will not only allow the angler to cast at longer distances but also help provide for better line control overall. Essentially more line can be held off the water and can reduce the unwanted drag. It's a balancing act, really between skill, technique, and equipment, so choosing a fly rod that helps to keep things in equilibrium is certainly a plus.