Best Hand Grips
In a
Hurry? Editors choice: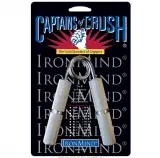 Test Winner: IronMind Captains of Crush

Whether you want to work on having the perfect handshake or want to be able to do more
weight lifting reps
before tiring, hand grips might be the perfect way for you to train. They are small, lightweight, and extremely convenient. You can take them with you everywhere and train whenever you get a chance.
One fun feature of these products is that they come in different levels of difficulty which allows you to see yourself steadily improve. You will be surprised how quickly
you grow stronger
and you'll be impressing your friends with feats of strength in no time. Let's look at the ten best selections on the market. While each is unique in some way, they all share in common the ability to strengthen your hand, fingers, and forearm.
Standout Picks
Criteria Used for Evaluation
Use
The different designs of these products make them each better for different purposes.
The three most common designs you will come across when shopping for these kinds of products are the classic metal, upside-down V-shaped design, the plastic design, and the design built for targeting the fingers. Each of these has its place and exercises your hand in different ways.
Typically the V-shaped designs are the most rugged and the most difficult. The plastic products are more beginner level and are great choices for any kind of rehab work. The finger exercises are great for building dexterity. When researching, we thought about all the different possible reasons users might need one of these products, and we tried to accommodate a wide range of needs with a variety of product types and features. We thought about several different types of users. One type of user is one who is interested in strength training and within that category, we considered different goals and reasons. Some users might want a product that can help them improve their handshake. Others might want to train for participation in other exercise or sports activities such as weight lifting, pull-ups with pull up bars, rock climbing, and others. The second type of user we considered is one who is more interested in honing his/her fine motor skills for activities that require delicate strength such as playing the piano. The third and final type of user is one who has an injury and is working on rehab. We wanted to make sure and include products for hand strengthening for all three kinds of users.
Color
Show some style with your favorite color.
Color choices aren't always available for every product, so when they are, they're a special addition. You might enjoy getting daily exercise, or you might need just a bit of extra motivation from a product that is not only easy to use but looks great, too. Either way, it's always fun to show off a little style.
Adjustability
Adjustability provides convenience.
When using any kind of exercise equipment, you will inevitably get stronger and what once was hard will become easy. That is when it's nice to have the potential to move up to the next level. The grip strengtheners we chose either had the ability to be adjusted or can be bought at several different levels. It might be handier to have the adjustability all in one product, but the single level products we looked at were simply so well built and so accurate that they deserved a place on the list as well.
Comfort
Comfort is extremely important.
When you are exercising and dealing with sore muscles and pushing your limits, you probably don't want to deal with added pain from the equipment you are using. We tried to choose products that had comfortable handles, but a very large number of these products, especially the classic metal design, are just not built that way. Their handles do have a practical purpose since they are exceptionally non-slick. We realize, too, that many users might want the roughly textured handle in order to grow calluses that will be useful for many other types of exercises and sports. We took that into consideration when considering options, but we also thought about those who might want to strengthen their hands for detailed activities such as playing an instrument. Anyone in this category probably will not want calluses to get in the way, and so we chose plenty of plastic or rubber handle products with this in mind.
Value
These products come in a range of prices.
Some of these hand grips come in a pack of two or several. When considering the value, we divided the price by the number of products you get in order to determine the actual price per product for use in comparing with other models. We always looked at quality, material, and comfort when determining the value.
Top 10 Picks
1

. IronMind Captains of Crush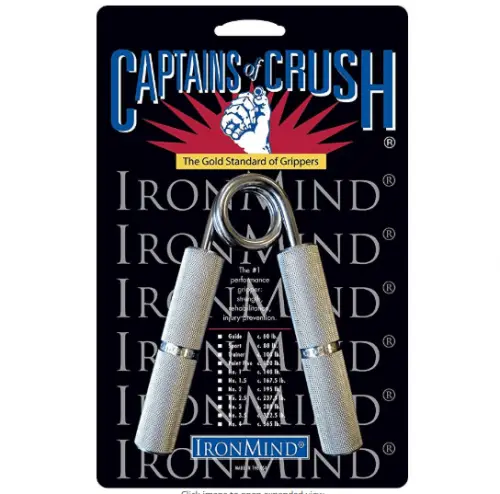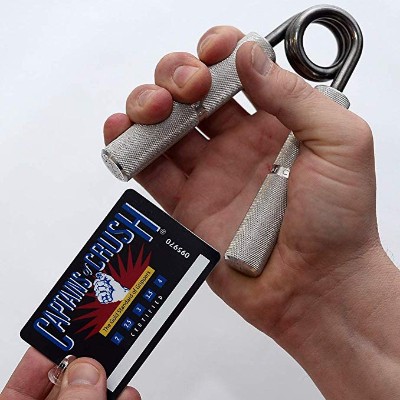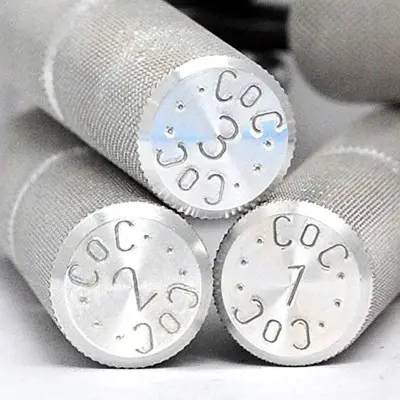 This IronMind Captains of Crush is great for anyone in the market for a simple, incredibly strong, well-designed product that can stand up to lots of use.
Read more
Use
The IronMind is a top of the line product. When purchasing, you can choose from 11 levels of difficulty. The IronMind is sturdy and will last for years. One great thing about the IronMind is that it starts out at a low level of difficulty (60 pounds) and increases in smaller increments than some models do. The early levels increase in increments of roughly 20 pounds. This makes the IronMind ideal for beginners, but it includes such a range of levels that advanced users will be able to find the right level as well.
Color
The IronMind is made out of shiny silver-colored alloy steel and billet aluminum.
Adjustability
The IronMind is not adjustable but instead comes in different levels. This could be a good thing or a bad thing depending on how you look at it. The downside is that you have to buy a new product each time you're ready to move a level up, but the upside is that this might serve as a kind of tangible motivation for you to keep improving. You can get anywhere from Guide Level at 60 pounds of force up to No. 4 Level (which is actually the 11th level of difficulty) at 365 pounds of force. The IronMind's top difficulty level is a higher poundage than any other product on this list.
Comfort
Most people find that the IronMind fits well in their hands and has a nice grippy texture so it is non-slippery when exposed to sweat. But some might find the rough metal texture to be a little uncomfortable on the hands. A little bit of use will cure this as it will not only strengthen the grip but also toughen pull-ups which will aid in other exercises such as pull-ups or weight lifting.
Value
The IronMind comes in a range of prices depending on which grip strength you choose. Nevertheless, each strength option and the price that goes with it are of high value. This is one of the best products you can find on the market, and the price is actually relatively low.
Overall
We love how the design of the IronMind Captains of Crush is simple and practical. The great thing is that it comes in 11 levels of difficulty, and it would be highly motivating every time you get to move up to the next level and see your improvement. The IronMind is a good option for beginners all the way to advanced users.

2

. Heavy Sports Heavy Grips Set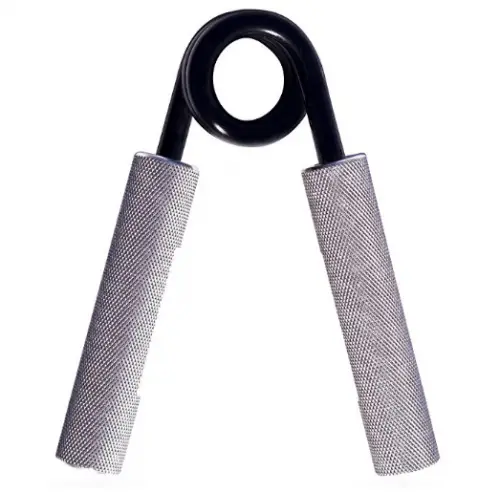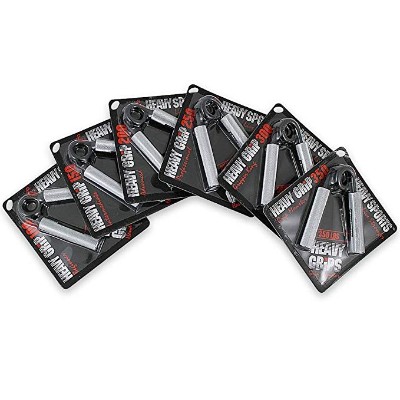 The Heavy Sports Heavy Grip is a good all-around product that is a bit more affordable than some models. The sets it comes in are designed with progression in mind and they come with the right levels to gradually improve.
Read more
Use
While it doesn't have as many level options as the IronMind, the Heavy Sports model does come in sets, which is really nice—you don't have to buy each level separately. The level increments are bigger jumps (50 pounds each) but should still be manageable, although you might have to do a bit more training on each one before being ready to move on to the next. Some users have reported that the Heavy Sports product is not quite as accurate on the poundage level as the IronMind, but unless you really need perfect accuracy, that shouldn't cause much of a problem.
Color
The handles are completely silver, but the spring is black which gives the product a nice look.
Adjustability
This product from Heavy Sports is not adjustable and much like the IronMind, each level of grip strength comes as a separate product. But the good news with the Heavy Sports product is that it comes in a set so you don't have to buy each level of difficulty one at a time. You have your choice of a set of six which includes all levels, 50-pound pounds to 350 pounds, in 50-pound increments. Or you have a choice between four different sets of three products. For example, the first set of three is for 100, 150, and 200 pounds. The second is for 150, 200, and 250 pounds. And so on. When choosing which set to get, if you go for one of the sets of three, it is probably best to choose the one that starts out with your current highest possible level so that you will be able to work up to two more levels from there. If you choose one that starts out a level above where you are, you might have trouble getting started.
Comfort
Heavy Sports markets this product as having non-slip handles, and they do admit that the rough surface is going to be tough on your hands, but that calluses will form and the problem will go away. If you want rough, tough hands as well as strong forearm strength, then this feature will not be deterred to you. But if the idea of sore, scraped up hands does not appeal to you, then some of the other products on this list that have comfortable grips will be a better bet.
Value
The Heavy Sports might seem a bit expensive, but it is sold in sets, and when you divide the price by the number of products you get in the set, you will find that the price per product is relatively low. This is a good, simple product and very much worth the price.
Overall
Despite fewer level options, Heavy Sports provides convenience. It is a good option for intermediate or advanced users who are ready to start out at a higher level and who aren't afraid to grow some serious calluses.

3

. MummyFit Grip Strengthener and Adjustable Exerciser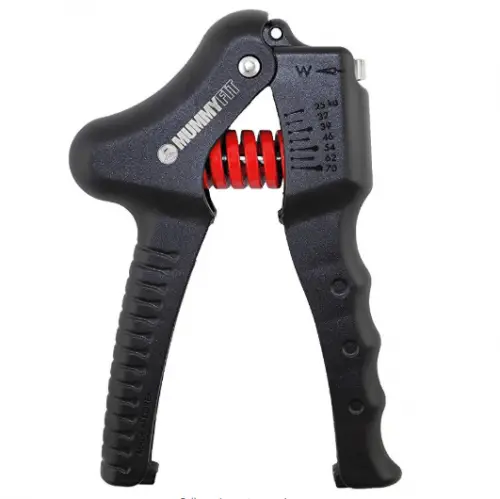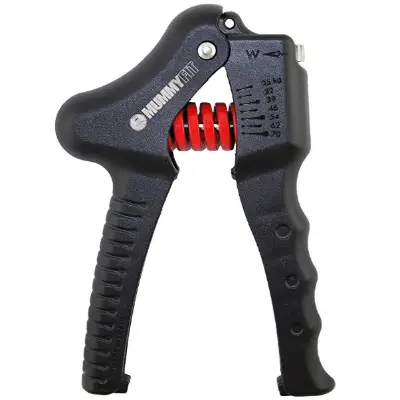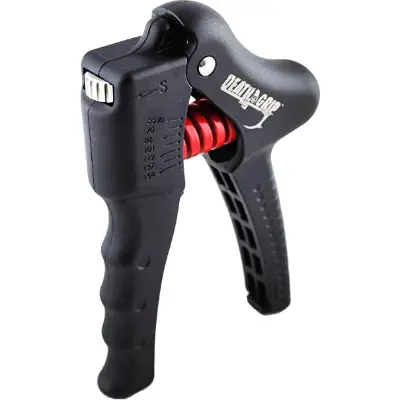 The design of the MummyFit makes it more safe and user-friendly than some other designs. The spring is partially enclosed and the look of the product is more inviting and less intimidating. If you are just starting out with these exercises, this might be the perfect option for you.
Read more
Use
The MummyFit is great for beginners particularly because it features a lower level range. Another great thing is that, unlike other designs that can be squeaky and might require grease to be silent, the MummyFit is silent during use which would prevent annoyance to others or yourself.
Color
Most of the MummyFit is black plastic, but the string inside is bright red for contrast.
Adjustability
The MummyFit is adjustable. This way you get seven levels in one. The range starts from 55 pounds and goes up to 157 pounds which is a good range and will provide a challenge for beginners to intermediates. It is easy to adjust using a knob on the side.
Comfort
The comfort of the MummyFit is better than metal grippers. It is made out of thermoplastic nylon and steel so it is still strong but is a little easier on the hands. Another nice thing is the design which is built to the shape of your hand and has places for your finders. Some users still found that this product caused blisters, and friction might make that inevitable with any model, but at least the MummyFit is a bit more comfortable than metal products.
Value
The fact that you get seven levels in one and for a reasonable price makes the MummyFit a good value.
Overall
The design is built for comfort and has low-level options which make the MummyFit a great choice for beginners. Advanced users will probably not find enough of a challenge with this one, but beginners will welcome the user-friendly qualities.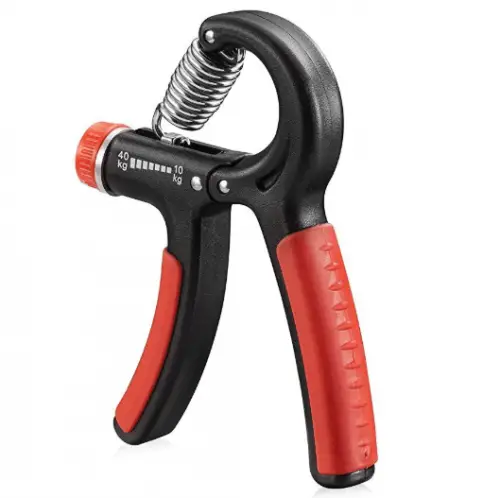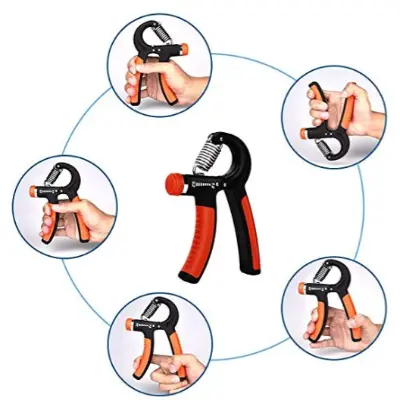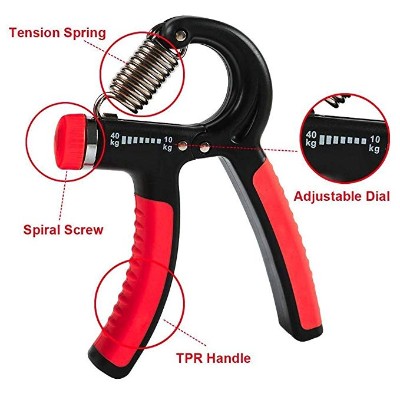 The range of difficulty levels on this one can be either a pro or a con depending on how you look at it. Anyone wanting a seriously difficult workout will see a major downside in the Eoney's low-level options. But for anyone needing this for injury recovery or for anyone starting out at a low level (we all start somewhere!), then this will be a great choice.
Read more
Use
The Eoney would be a great option for use in physical therapy, for the elderly, or for someone with no experience with this kind of exercise. It might not be such a good option for anyone who has larger hands or anyone who regularly exercises their forearm muscles. Another potential use would be for fine motor skill development and dexterity rather than strength training.
Color
The Eoney is black, silver, and orangish-red.
Adjustability
There are seven levels of difficulty built into the Eoney. It starts at 22 pounds and goes up to 88 pounds. The handle can also be extended up to 1 centimeter to accommodate your hand size, although 1 centimeter is not enough to make a lot of a difference for much larger hands.
Comfort
The Eoney is one of the more comfortable products on this list. Not only is it curved to fit in the hand, but it also has a rubber covering the handles in order to protect your hands. The Eoney might be one of the products least likely to cause blisters.
Value
The price of the Eoney is extremely low, but it has a low difficulty level to match. This is good news if that is what you need, and especially anyone in physical therapy will welcome the low cost and easy use.
Overall
For a gentle and beginner experience, the Eoney is a great option. For serious fitness buffs , it might be best to look elsewhere at some of the other products on the list.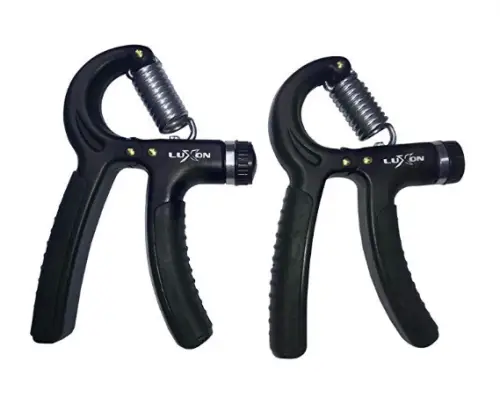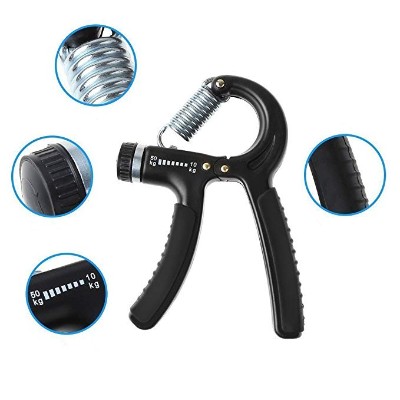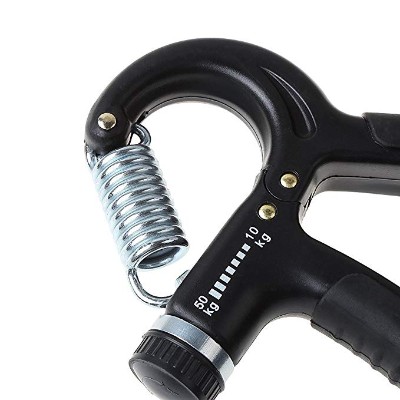 Another great option for rehab use, the Luxon is a gentle hand exerciser that can still offer a good range of levels.
Read more
Use
The fact that the Luxon comes in a pack of two could be useful if you want to work for both hands at the same time. Another great thing is that two people can use the products at once. Or, if one breaks, you have a backup. The Luxon is a low-level range like the Eoney, but unlike the Eoney, the Luxon goes up to 110 pounds as opposed to 88.
Color
The majority of the Luxon is black with a silver metal spring and silver accents.
Adjustability
The levels of adjustability for the Luxon start at 22 pounds and go up to 110 pounds.
Comfort
The Luxon seems to be a good compromise when it comes to size. It fits well in both large and small hands and users report that the handle is comfortable.
Value
The Luxon is at a low price and it comes in a pack of two. It is a well-built option with a wide range of difficulty levels.
Overall
Comfortable and beginner-friendly, the Luxon two-pack is a well-made option for some easygoing muscle work.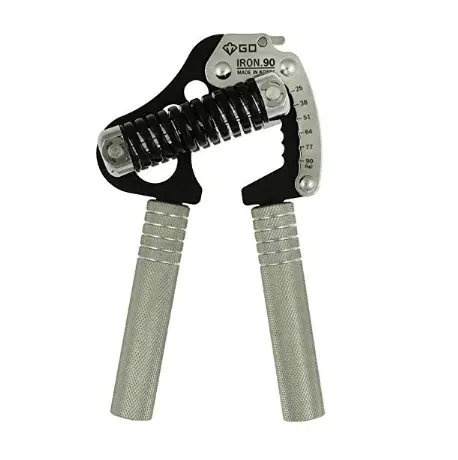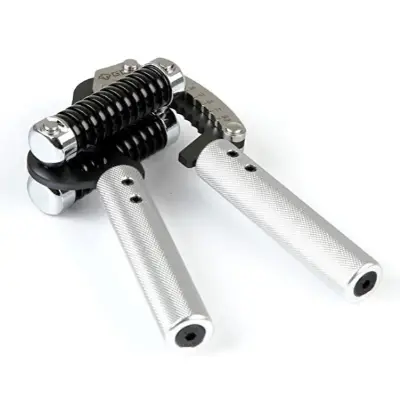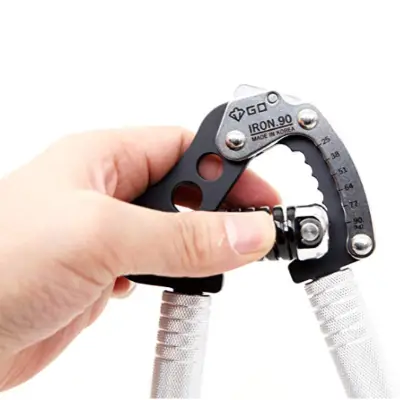 The best aspects of the GD are its durability, adjustability, and range of difficulty.
Read more
Use
The GD is a good option for beginners to intermediate, and possibly advanced users. The difficulty level goes up higher than some models, and the handles are metal with knurling which means you will have to be prepared for some blisters.
Color
The GD is mostly silver with some black and all the parts of the product are made out of metal.
Adjustability
Two easy to attach handle extenders come with the GD. They attach to the bottom of the handles and add quite a bit of length. There are six level options from 55 pounds to 198 pounds. Users have mentioned that the weight measurement of the GD is very accurate.
Comfort
The GD is not built for comfort, it is built for function. The knurling on the metal handles is great for gripped and durability, but it will inevitably cause some blisters.
Value
The price of GD is very high. You might be able to find other models on the list that serve your needs without such a high price tag. The high price of the GD comes from its being built so strongly and the material being all metal. The extendable handles are also a nice feature that adds to the price.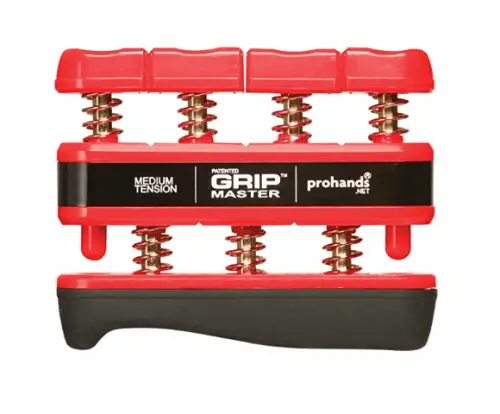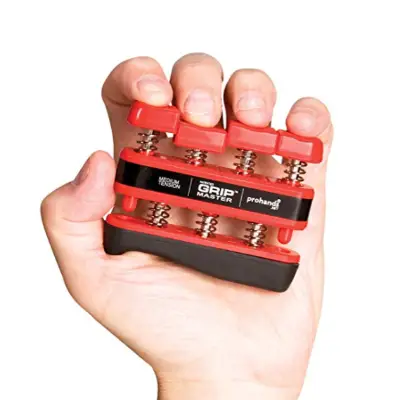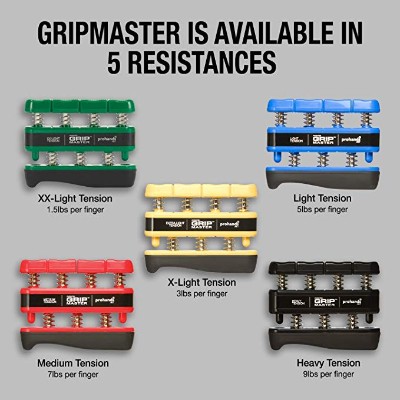 Although some users didn't find the Gripmaster to be difficult enough, others thought it was great for its intended purpose—to specifically strengthen the fingers as opposed to the hand as a whole.
Read more
Use
The Gripmaster would be great for athletes in certain sports such as rock climbing where you need finger strength as well as hand strength. This product exercises each finger individually and will help get all fingers to the same level so you can work on improving the weaker ones such as the pinkies. The Gripmaster would also be useful for musicians such as guitarists and pianists especially. Since the Gripmaster comes in fun colors and an appealing design it would be ideal for children who are participating in sports or music.
Color
When purchasing, you have the option to choose between black, blue, green, red, or yellow. The colors indicate the level of difficulty, though, too, so you might not have much of a choice of color if you need a specific level of difficulty.
Adjustability
Here are the product colors and corresponding levels of difficulty: black—9 pounds per finger, red—7 pounds, blue—5 pounds, yellow—3 pounds, and green—1.5 pounds. Each product itself is not adjustable. Instead, you have to buy the one with the right level.
Comfort
The Gripmaster is made out of plastic and is designed in a way that cradles the hand and fingers. It is unlikely to cause blisters unless it is used quite a bit.
Value
The low to the mid-level price of the Gripmaster seems like a good value considering its unique design and usage possibilities.
Overall
Great for targeting individual fingers, the Gripmaster deserves a solid place on the list for its unique capabilities.

8

. YZLSports Grip and Wrist Strengthener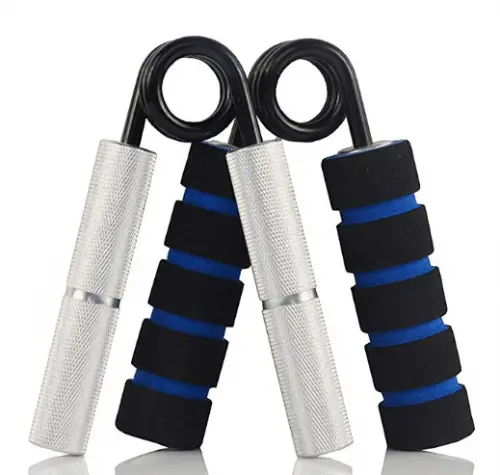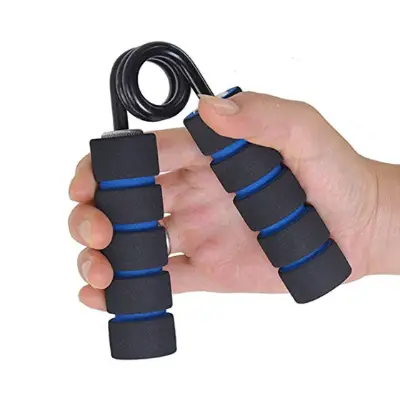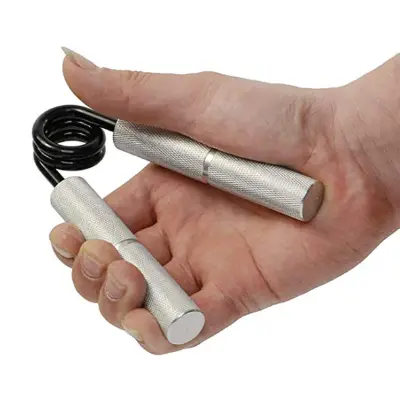 We are happy that the YZLSports product is designed for both comfort and some serious strength improvement. Unlike some models that are one or the other, this one does both well.
Read more
Use
The YZLSports product comes in enough options to keep anyone challenged. Beginners to intermediate to advanced will be able to find the right one for them. One of the accessories that come with this product is a flexible rubber exercise ring which is another style of hand exerciser and would provide some variety in your exercise routine.
Color
This model is silver and black. The covers for the handles are blue and black striped. The exercise ring will be either blue or pink.
Adjustability
This model is not adjustable and instead comes in 5 separate levels from 50 pounds to 250 pounds. Users have reported that the 250-pound model is extremely difficult.
Comfort
The foam covers that go over the handles are a welcome relief to the otherwise inhospitable metal grip. One problem might be getting the covers on and off. Users have stated that it is very difficult to do. While this does mean they won't fall off unintentionally when in use, it also means that you might damage the covers putting them on or taking them off since they are very tight and have to scrape against the rough metal knurling. So while the idea of the grip covers is really good, the design might be a little flawed.
Value
Considering all the accessories that come with it, the YZLSports model is a good value product. Another nice thing is that the grip comes with a 1-year warranty, but one thing to keep in mind is that the warranty covers only the grip and not any of the accessories.
Overall
It's exciting to see a product that comes with some extra accessories. Who doesn't like getting some extra goodies with your purchase? The extras that come with the YZLSports grip are certainly useful and practical in their own right.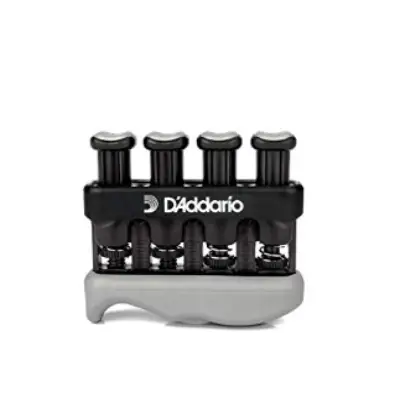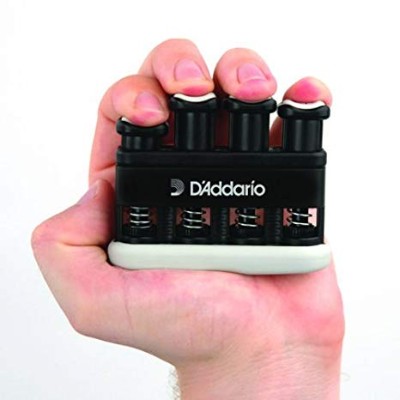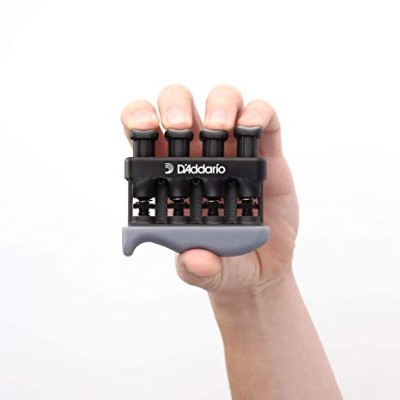 Whether you are an athlete or a musician, you'll want to check out this next option. This product from D'Addario allows you to set different resistance levels for each finger. Additionally, it can help string players strengthen their fingers and build callouses at the same time.
Read more
Use
This is a particularly great option for musicians. You can remove the bottom grip to uncover a "string" that will help you build callouses. For guitar or violin players, this is an excellent advantage. Otherwise, this is a great product for building up finger and hand strength. You can position the device to specifically work your fingers or you can flip it upside down to focus on the strength of your palm.
Color
This product is primarily offered in black with an off-white/gray trim. It does not call much attention and could pass as a paperweight on your desk.
Adjustability
One of the unique features of the D'Addario is the fact that you can adjust the tension for each finger separately. Each spring has a small adjustment knob and requires no tools. Some reviewers noticed that the springs do make a slight noise when the resistance is at its highest.
Comfort
For an exercise machine, this device could not be more comfortable. Each finger pad has a molded tip to make each rep comfortable. There is also a thick (removable) grip that rests against your palm or fingertips depending on how you use the device.
Value
The Varigrip is priced affordably and has great features. We love the fact that you can adjust the resistance for each finger and also the option to remove the lower grip to build callouses for string-instrument players.
Overall
Some reviewers claimed that the lowest setting was still too difficult for them. However, if you already have some hand strength, or can push through it, we think you would end up being very pleased with this product.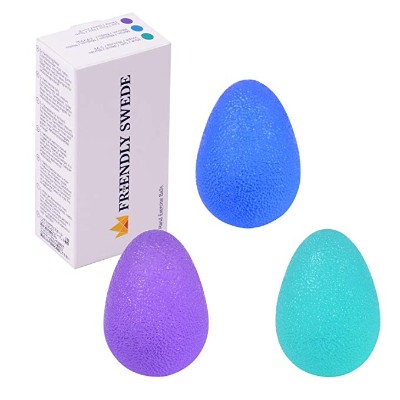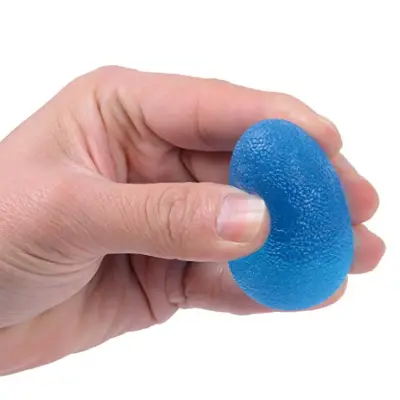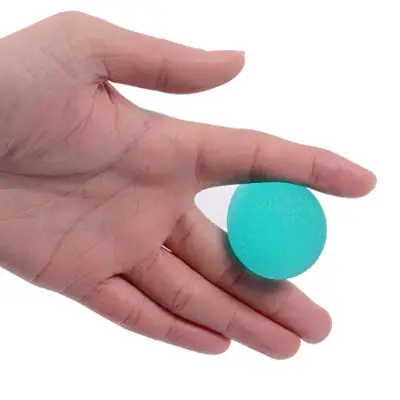 With a minimum age requirement of 5 years, this is a great option for children and adults. These eggs are available for different hand sizes and come with three eggs to a package, all with different levels of tension. They are great for increasing strength, reducing stress, and for fidgeters.
Read more
Use
This product from The Friendly Swede can be used in many ways. Most importantly, it is a great tool for increasing hand, finger, and forearm strength. No matter how hard you squeeze these eggs, they will return back to their original shape. You can also get a unique exercise using this product by placing the eggs between your fingers and squeezing. As mentioned, this product has more features than exercise. They are great for children who have trouble concentrating and always fidget. They have also been known to reduce stress and anxiety in people of all ages.
Color
The enticing colors change depending on which size you choose. You will find options including red, blue, purple, green, black, and more.
Adjustability
While each egg is not adjustable, there are three different size options to choose from. The Extra Small option measures 2" x 1.3". The Small measures 2.5" x 1.75". The Large is 3" by 2.2". Each set includes a soft egg, medium egg, and firm egg. This brings you tension levels of twenty, thirty, and forty pounds.
Comfort
These egg-shaped balls are made from thermoplastic rubber. They have a slight texture on the exterior that prevents them from being slippery.
Value
We think this is a great choice. This product is affordable, comes with three tension levels, and is versatile. To make it even better, The Friendly Swede also offers a lifetime warranty. It has been said that their customer service is outstanding.
Overall
Why not give these a shot? With excellent customer service, a lifetime warranty, and a product that you can share with the whole family, this is a great option.

Subscribe to our Newsletter