Best Hand Grips
last updated:
Mar 23, 2020
Whether you want to work on having the perfect handshake or want to be able to do more weight lifting reps before tiring, hand grips might be the perfect way for you to train. They are small, lightweight, and extremely convenient. You can take them with you everywhere and train whenever you get a chance.
One fun feature of these products is that they come in different levels of difficulty which allows you to see yourself steadily improve. You will be surprised how quickly you grow stronger and you'll be impressing your friends with feats of strength in no time. Let's look at the ten best selections on the market. While each is unique in some way, they all share in common the ability to strengthen your hand, fingers, and forearm.
In a Hurry? The test winner after 10 hrs of research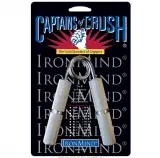 IronMind Captains of Crush
Why is it better?
Strong and durable
Eleven levels of difficulty
Made out of aluminum and steel
Comes from a leading brand
Accurate level measurements
In a
Hurry? Editors choice: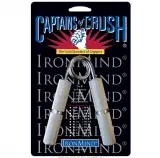 Test Winner: IronMind Captains of Crush

15
Researched Sources
10k
Reviews Considered
10
Hours Researching
20
Products Evaluated
Use
Color
Adjustability
Comfort
Value
By Default
Criteria Used for Evaluation


Use
The different designs of these products make them each better for different purposes.
The three most common designs you will come across when shopping for these kinds of products are the classic metal, upside-down V-shaped design, the plastic design, and the design built for targeting the fingers. Each of these has its place and exercises your hand in different ways.
Typically the V-shaped designs are the most rugged and the most difficult. The plastic products are more beginner level and are great choices for any kind of rehab work. The finger exercises are great for building dexterity. When researching, we thought about all the different possible reasons users might need one of these products, and we tried to accommodate a wide range of needs with a variety of product types and features. We thought about several different types of users. One type of user is one who is interested in strength training and within that category, we considered different goals and reasons. Some users might want a product that can help them improve their handshake. Others might want to train for participation in other exercise or sports activities such as weight lifting, pull-ups with pull up bars, rock climbing, and others. The second type of user we considered is one who is more interested in honing his/her fine motor skills for activities that require delicate strength such as playing the piano. The third and final type of user is one who has an injury and is working on rehab. We wanted to make sure and include products for hand strengthening for all three kinds of users.


Color
Show some style with your favorite color.
Color choices aren't always available for every product, so when they are, they're a special addition. You might enjoy getting daily exercise, or you might need just a bit of extra motivation from a product that is not only easy to use but looks great, too. Either way, it's always fun to show off a little style.


Adjustability
Adjustability provides convenience.
When using any kind of exercise equipment, you will inevitably get stronger and what once was hard will become easy. That is when it's nice to have the potential to move up to the next level. The grip strengtheners we chose either had the ability to be adjusted or can be bought at several different levels. It might be handier to have the adjustability all in one product, but the single level products we looked at were simply so well built and so accurate that they deserved a place on the list as well.


Comfort
Comfort is extremely important.
When you are exercising and dealing with sore muscles and pushing your limits, you probably don't want to deal with added pain from the equipment you are using. We tried to choose products that had comfortable handles, but a very large number of these products, especially the classic metal design, are just not built that way. Their handles do have a practical purpose since they are exceptionally non-slick. We realize, too, that many users might want the roughly textured handle in order to grow calluses that will be useful for many other types of exercises and sports. We took that into consideration when considering options, but we also thought about those who might want to strengthen their hands for detailed activities such as playing an instrument. Anyone in this category probably will not want calluses to get in the way, and so we chose plenty of plastic or rubber handle products with this in mind.


Value
These products come in a range of prices.
Some of these hand grips come in a pack of two or several. When considering the value, we divided the price by the number of products you get in order to determine the actual price per product for use in comparing with other models. We always looked at quality, material, and comfort when determining the value.
Expert Interviews & Opinions
Most Important Criteria
(According to our experts opinion)
Experts Opinion
Editors Opinion
Users Opinion
By Default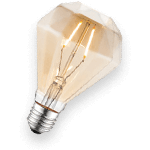 Use
Before purchasing, decide what your goals are and for what purpose you want to build a finger, hand, and forearm strength. Once you decide why you want to pursue this exercise, then you can determine which product design is best for you. A rough handled v-shape product would be best for the hardcore fitness enthusiasts, and a plastic design would be better for fine motor skills or injury recovery. Another thing to remember when purchasing is, if the product doesn't come in a set of two, you might want to consider buying two so you can work on both hands at once.
Adjustability
There are basically two possibilities when it comes to product adjustability. One is that the product can be adjusted to several different levels. The other is that the product comes in separate levels and you have to buy a new one for each level. When purchasing, you'll want to consider buying at least a couple of levels so that you can move up when you're ready.
Other Factors to Consider


Durability
There is no doubt that this tiny machine is going to take a beating. You will literally be squeezing it harder and harder over time to increase your strength. Knowing that the product you invest in will be able to handle the stress you put it through is important. Perhaps the most important part of these machines to look at for durability is the spring. Some have only one, and others have four. The spring provides the resistance which is what really works your muscles. Make sure that the spring is thick and securely set in place. Another important part of the product to inspect for durability is the grip. Some products have a foam grip that makes the device more comfortable to use. However, this same comfort-keeper can also become worn down very quickly. Luckily, this piece of material is much easier to replace on your own than a spring. There are also some cons about some of these products not staying in the chosen resistance setting. If you are looking into an adjustable product, that is something to look into as well.
One of the best ways to learn the true durability of these products is to read through some of the three-star reviews. We have found that the three-star reviews tend to be more honest and well-rounded.
Frequently Asked Questions
q:

What level should I start with?

a:

Time and again, what users consistently report is that it's very easy to overestimate your level. It's hard to know beforehand which level you can start at, but it's probably best to start with a lower level and work your way up. Even a low level will probably provide a challenge especially if you haven't done this particular exercise before. One option would be to start with an adjustable hand straightener model and that way you can figure out what level you're at and go from there.
q:

What is knurling?

a:

Knurling is a kind of texture manufactured into a metal product. It is done by putting in parallel and perpendicular diagonal lines. This creates the effect of a bunch of raised dots and gives the surface a rough, grippy texture.
q:

How do I use these?

a:

There are two main ways to use these products. You can use them with repetitions like in weight lifting. Or you can do a static hold for a set amount of time, kind of like how you would do a plank or a wall sit.
q:

I don't like the rough handles. What can I do?

a:

Many users have found it helpful to cover the handles with athletic tape. You could do that or you could get some thin foam and cut it to size and tape that around the handles. Another option would be to wear gloves. Opt for gloves that are tough but not too thick so they don't get in the way. Gardening gloves should be a great choice since they're not too thick and not too warm. Athletic gloves for sports are also a great option.
q:

What are some other benefits to using these?

a:

Besides all the benefits we've covered, hand grips can be a great tool for not just rehab but also injury prevention. They're also great to have close to your computer so you can use them from time to time and help prevent carpal tunnel syndrome. Two final benefits are increased typing speed and stress relief. These can take the place of a stress ball and you can strengthen your muscles at the same time.
q:

What kind of workout routines should I do?

a:

Besides just the obvious use, you might want to go beyond and do more varied or interesting exercises. You might also want to know how many reps to do in order to progress. Some products come with a workout program for you to follow which can be a lot of fun. But if your choice doesn't include a program, then the internet can be a great place to find workouts and advice. Or you can just follow your own routine and work on the grip whenever you have a chance and then gradually move up whenever you feel able.
q:

Can I skip levels?

a:

Skipping a level is going to be a lot harder than you might think. If you start out at your maximum level and work on it until you think you're ready to move on, it's probably best to go directly to the next level and move up one at a time. You might physically be able to skip a level, but it might be so difficult that it slows your progress and could even cause injury.
Subscribe to our Newsletter