Best Fitness Watches
In a
Hurry? Editors choice: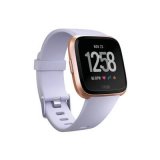 Test Winner: Fitbit Versa

If you are an avid exerciser or enjoy keeping active than you most likely have a workout routine that you try and stick to. But what if we told you that there is a new innovative way to keep track of your workout and progress digitally so that each week you can push yourself to new limits. We, of course, are talking about fitness watches! Fitness watches look like your standard watch but are jam-packed with features that keep you on your fitness track and help you achieve your fitness goals.

Some of the features that these watches come with are fitness tracking, heart monitoring, step count, and a variety of other metrics that you can review. If you are sick of writing down your fitness progress and want to move into the twenty-first century, the fitness watches below may be for you.
Standout Picks
Criteria Used for Evaluation
Value
A fitness watch is an investment. Even lesser-known brands will cost a couple of hundred dollars. Plan on spending anywhere from $180 to $600 when shopping for a fitness watch. Don't assume that just because something is a big brand name like Apple, Fitbit or Garmin watches, that the fitness watch meets your needs.
Most brands have a background in either smartphone tech, GPS tracking or standard watches. As they integrate into fitness watches, some brands will be better than others at certain functions.
Set a budget and shop wisely. Even the most expensive brands have deals on Amazon that include free shipping.
Features
Determine what functions are most important to you. Common functions include heart rate monitor, calorie tracker, movement tracker, and GPS location. But these certainly aren't the only functions relevant to all fitness activities.
Let's take a look at some of the metrics and ancillary functions your fitness watch may have.
Heart Rate Monitor
Keeping track of the number of heartbeats per minute helps you know if you maximize your cardiovascular workouts. Know that heartbeat metrics are less accurate the farther from the heart you are and rarely give true beats per minute (bps) reading during the activity. Heart rate is still a great function to keep you moving in the right direction of fitness, closing in on more consistent and accurate data.
Movement Tracker
Everyone has a friend who is counting daily steps. You can opt to measure movement throughout your day to keep yourself making more discipline activity choices like taking the stairs or walking to the park instead of driving. At the same time, you can focus on the movement during activity. Many devices will track movements ranging from walking activities, running, biking and swimming.
Caloric Consumption
Don't we all want to know exactly how many calories we burned so we don't feel too guilty about that Friday cheat-day dessert? Once again, realize that your fitness watch isn't an exact measurement but should be within 10 percent. The fitness watch is using an algorithm to calculate these numbers based on your age, gender and height/weight basis. Metabolisms do vary which is another reason for the accuracy range.
GPS Location
Fitness trackers use GPS to determine your location. This is great to map out your running route, making sure you ran the distance you intended. It also can be a fundamental safety feature for hikers and adventurers to not only help keep you from getting lost but help others find you if you do.
Sleep Tracker
Sleep trackers monitor your sleep cycles. Not getting enough REM sleep means you are probably waking up and still feeling tired. Understanding how long it takes for you to move through each sleep cycle and how much sleep you actually are getting help you adjust habits such as reducing caffeine or changing your bedtime.
Attachments
Some fitness watches also allow for more accurate and more metrics with attachments. Heart rate chest straps and VO2 monitoring are common attachments for serious athletes seeking performance data. Skin temperature and perspiration are additional metrics with armbands. These additional metrics help you ensure your body is maximizing oxygen consumption and sweating effectively to keep your core body temperature regulated properly.
Water Resistance
Not every fitness tracker is waterproof. This feature is a must for those who spend time at the beach, lake or pool. Most people don't need a dive watch. Having a waterproof watch to 30 meters is normally plenty to cover their lifestyle needs with some fitness watches extending to 200-meters depths.
Battery Life: Just like your smartphone tripods, your fitness watch's battery life will depend on how many functions are working at any given time. Usually, GPS mode sucks the battery life out faster than other metrics. Ideally, your fitness watch should get through the day of activity and still have 20% battery life. The fitness watch should also be easy to charge.
Ease of Use
Technology is no help if you can't use it. Fitness watches have a lot of integrations, but if something is too hard to use, it probably won't get used at all. Some people are just techier than others.
This is why a fitness watch that has smartphone integration should easily sync with your phone. Apps and push notifications should work seamlessly between phone and watch. The apps themselves should be easy to use and easy to read on the fitness watch.
As a fitness tracker, the information to should be accessible quickly and easy to understand. Real-time data and GPS tracking make the fitness tracker a better tool for athletes to monitor progress.
It should be easy to toggle through apps and get the data needed at any given moment. Fitness watches should have adequate battery life when in fitness mode.
Of course, as with anything new, there are always questions. Part of the ease of use means there is a reliable body of support, either through customer support at the company or a large body of peer-reviewed support. Getting accurate answers quickly builds is important for any technology product.
Subscribe to our Newsletter