Best Fitness Watches
In a Hurry? Editors choice: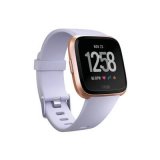 Test Winner: Fitbit Versa

If you are an avid exerciser or enjoy keeping active than you most likely have a workout routine that you try and stick to. But what if we told you that there is a new innovative way to keep track of your workout and progress digitally so that each week you can push yourself to new limits. We, of course, are talking about fitness watches! Fitness watches look like your standard watch but are jam-packed with features that keep you on your fitness track and help you achieve your fitness goals.

Some of the features that these watches come with are fitness tracking, heart monitoring, step count, and a variety of other metrics that you can review. If you are sick of writing down your fitness progress and want to move into the twenty-first century, the fitness watches below may be for you.
Standout Picks
Criteria Used for Evaluation
Value
A fitness watch is an investment. Even lesser-known brands will cost a couple of hundred dollars. Plan on spending anywhere from $180 to $600 when shopping for a fitness watch. Don't assume that just because something is a big brand name like Apple, Fitbit or Garmin watches, that the fitness watch meets your needs.
Most brands have a background in either smartphone tech, GPS tracking or standard watches. As they integrate into fitness watches, some brands will be better than others at certain functions.
Set a budget and shop wisely. Even the most expensive brands have deals on Amazon that include free shipping.
Features
Determine what functions are most important to you. Common functions include heart rate monitor, calorie tracker, movement tracker, and GPS location. But these certainly aren't the only functions relevant to all fitness activities.
Let's take a look at some of the metrics and ancillary functions your fitness watch may have.
Heart Rate Monitor
Keeping track of the number of heartbeats per minute helps you know if you maximize your cardiovascular workouts. Know that heartbeat metrics are less accurate the farther from the heart you are and rarely give true beats per minute (bps) reading during the activity. Heart rate is still a great function to keep you moving in the right direction of fitness, closing in on more consistent and accurate data.
Movement Tracker
Everyone has a friend who is counting daily steps. You can opt to measure movement throughout your day to keep yourself making more discipline activity choices like taking the stairs or walking to the park instead of driving. At the same time, you can focus on the movement during activity. Many devices will track movements ranging from walking activities, running, biking and swimming.
Caloric Consumption
Don't we all want to know exactly how many calories we burned so we don't feel too guilty about that Friday cheat-day dessert? Once again, realize that your fitness watch isn't an exact measurement but should be within 10 percent. The fitness watch is using an algorithm to calculate these numbers based on your age, gender and height/weight basis. Metabolisms do vary which is another reason for the accuracy range.
GPS Location
Fitness trackers use GPS to determine your location. This is great to map out your running route, making sure you ran the distance you intended. It also can be a fundamental safety feature for hikers and adventurers to not only help keep you from getting lost but help others find you if you do.
Sleep Tracker
Sleep trackers monitor your sleep cycles. Not getting enough REM sleep means you are probably waking up and still feeling tired. Understanding how long it takes for you to move through each sleep cycle and how much sleep you actually are getting help you adjust habits such as reducing caffeine or changing your bedtime.
Attachments
Some fitness watches also allow for more accurate and more metrics with attachments. Heart rate chest straps and VO2 monitoring are common attachments for serious athletes seeking performance data. Skin temperature and perspiration are additional metrics with armbands. These additional metrics help you ensure your body is maximizing oxygen consumption and sweating effectively to keep your core body temperature regulated properly.
Water Resistance
Not every fitness tracker is waterproof. This feature is a must for those who spend time at the beach, lake or pool. Most people don't need a dive watch. Having a waterproof watch to 30 meters is normally plenty to cover their lifestyle needs with some fitness watches extending to 200-meters depths.
Battery Life: Just like your smartphone tripods, your fitness watch's battery life will depend on how many functions are working at any given time. Usually, GPS mode sucks the battery life out faster than other metrics. Ideally, your fitness watch should get through the day of activity and still have 20% battery life. The fitness watch should also be easy to charge.
Ease of Use
Technology is no help if you can't use it. Fitness watches have a lot of integrations, but if something is too hard to use, it probably won't get used at all. Some people are just techier than others.
This is why a fitness watch that has smartphone integration should easily sync with your phone. Apps and push notifications should work seamlessly between phone and watch. The apps themselves should be easy to use and easy to read on the fitness watch.
As a fitness tracker, the information to should be accessible quickly and easy to understand. Real-time data and GPS tracking make the fitness tracker a better tool for athletes to monitor progress.
It should be easy to toggle through apps and get the data needed at any given moment. Fitness watches should have adequate battery life when in fitness mode.
Of course, as with anything new, there are always questions. Part of the ease of use means there is a reliable body of support, either through customer support at the company or a large body of peer-reviewed support. Getting accurate answers quickly builds is important for any technology product.
Top Ten Fitness Watches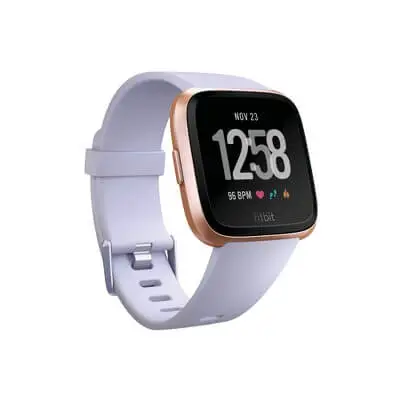 Fitbit is known for making quality watches that are made to track your fitness progress, so each week you can push your limits and achieve the fitness goals you are after. Not only is the Fitbit highly rated, but it is also a sleek and comfortable design to go with your gym attire or business attire.
Read more
Value
This watch from Fitbit comes to you at an affordable and reasonable price. This watch is great if you are just starting out to track your fitness progress or if you are a veteran at tracking your fitness progress.
Features
This watch comes with a variety of fitness features that will help you progress towards achieving your fitness goals. The features that this watch includes is heart monitor, tracks sleep routine, comes preloaded with workout routines, and is an mp3 to name a few.
Water Resistance
This watch is waterproof up to 50m, which means you will have no issue if you get caught in the rain or want to track your swimming progress.
Ease of use
All Fitbit watches are quite simple to use and have simple layouts which will allow you to start tracking your activity progress as soon as you open the box.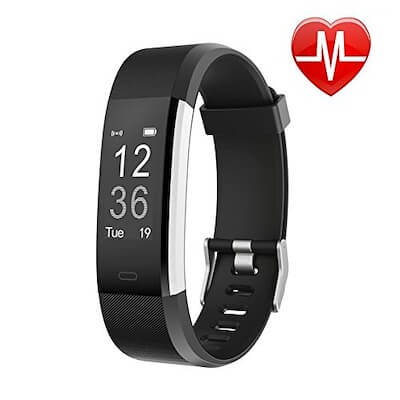 This fitness watch is a great watch if you are trying to stick to a budget and are just getting into starting to track your progress. With its sleek design and affordable price tag, this may be the watch for you.
Read more
Value
This fitness watch may be the most affordable on our list and do not be swayed due to the low price tag. It may not come with as many features as some of the other watches on our list but will do a great job of tracking your fitness progress.
Features
This fitness watch does not come with as many features as some of the other watches on our list but it does come with a heart monitor, sleep monitor, GPS, and activity tracker.
Water Resistance
This fitness tracker is waterproof and can be used to track your swimming progress, in the rain, or any other body of water. For the price and being waterproof if you are looking for a basic and affordable design than this is the watch for you.
Ease of use
This fitness watch is easy to use but does not have as big or as crisp of a screen as some of the other watches on our list. Once you use it a couple of times, you will get used to the screen and how it operates.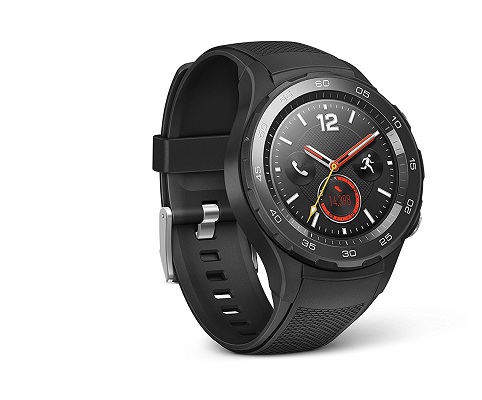 The Huawei Watch 2 is a smartwatch that does a lot without needing the smartphone. Stream music, GPS tracking, and heart rate monitoring don't need to be synced with your phone. Monitor VO2 Max and recovery time. The watch isn't waterproof but is water-resistant up to 1.5 meters. This is designed for Android wear but has limited syncing with Apple iPhones. The Huawei boasts a three-week battery life when in watch mode and 2 days on fitness tracking mode. When in constant GPS mode, it reduces to approximately 10 hours.
Read more
Value
A stylish smartwatch with many features for a mid-level fitness buff. Ceramic bezel gives a real watch look with a rugged design for moderate activities on land. Comes at a higher price than other fitness watches on our list but for the durability and features included, it is well worth the price tag.
Features
Download additional Android health apps for extra fitness tracking. NFC and Google assistant to pay on the go without your phone.
Water Resistance
This watch is water resistant which means it will be fine in light to mild rain but it is not recommended to be submerged in water for long periods of time.
Ease of use
Huawei is an emerging Chinese brand, currently considered in the top 3 for smartphone and wearable tech. Huawei is aggressively seeking to improve its products to be more competitive on the Android and iOS platforms.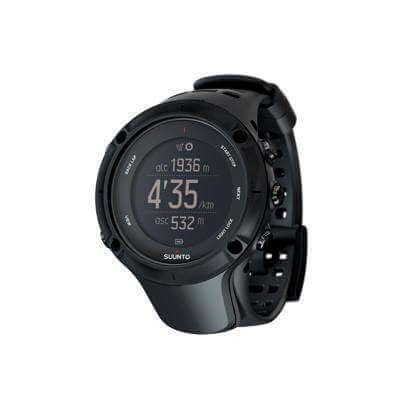 The Suunto Ambit3 is designed for adventure and fitness. With real-time GPS and route navigation, you won't get lost on the trails. The altimeter and weather information will also keep you safe while trekking new paths. It includes a swimming heart rate, respiration and temperature monitor and tracks speed, distance and pace. Battery life is 30-days when in "time only" mode and up to 18 days when using fitness features, ahead of the curve on most fitness watches on the market. The Ambit3 is waterproof to 100-meters and syncs to smartphones for easier tracking.
Read more
Value
This watch has a higher price tag than other fitness watches but that is because it is much more than simply a fitness tracker. It is a sleek and advanced watch that is jam-packed with a variety of features to make your life easier.
Features
Push features for incoming weather keep you safe and healthy. Bike power support is available via Bluetooth Smart.
Water Resistance
Suunto is a brand known for dive computers and precision instruments including dive watches. The brand history lends itself to integrating technical data into durable wearable tech.
Ease of use
Designed by those and for those who love being out in the elements. The Suunto is a smartly designed fitness watch for everyone from the weekend warrior to a career triathlete.

5

. Garmin Forerunner 920XT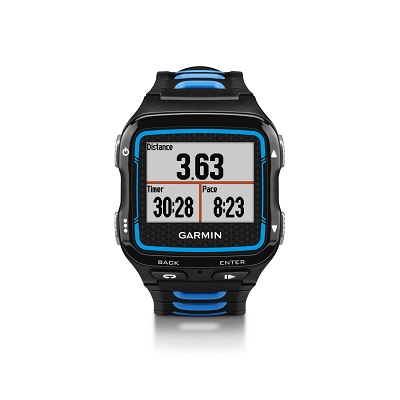 The Garmin Forerunner 920 XT starts as a serious fitness tracker and gives you smartphone capabilities. There isn't much to dislike about this fitness watch, except the price as it is on the higher end of the fitness watch spectrum. Measured metrics include speed, distance, and ascent along with real-time GPS recording. With the power meter is attached, you can also measure VO2 max during cycling challenges. This is a fitness tracker for athletes looking to take their performance to the next level.
Read more
Value
Garmin is a leader in GPS technology and innovation. Garmin fitness watches are no different when it comes to integrating a lot of technology into a small device. That is why some may find the price tag on this watch quite high. It is not just a simple fitness tracker but rather a device that will help you with a variety of tasks.
Features
Race predictors for serious cyclist and runners with additional attachments and pairing. Running dynamics metrics measure cadence and ground contact time to help stay on pace.
Water Resistance
This watch from Garmin is waterproof and can be used to track your swimming progress, in light & mild rain and any other water activities you may find yourself.
Ease of use
A good investment for serious athletes who want to as much information as possible to improve results. The Garmin Forerunner 920 XT is a fitness watch that will provide results for years.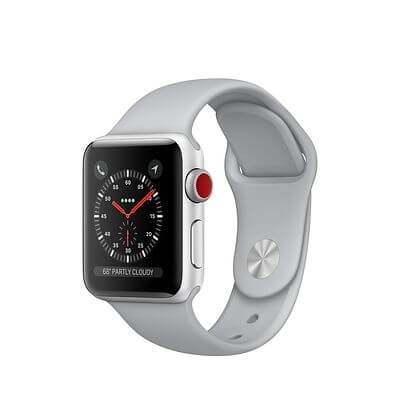 Another great watch from Apple is the Apple Series fitness watch 3. This watch is the new and improved version fitness watch from Apple and is jam-packed with features to help you achieve your fitness goals week after week. If you have other apple products than this may be the watch for you as they will be compatible with each other.
Read more
Value
This watch from Apple comes to you at a higher price tag as most Apple products do, but if you have ever used a product from Apple than you know that the price is justified as the features and compatibility is incomparable.
Features
The features on this watch include GPS, heart monitor, phone connectivity, waterproof, and is overall sleek. If you decide to go with this watch then you will find that it reminds you of owning any other Apple product and will be convenient and reliable.
Water Resistance
This watch from Apple allows you to keep it on when you go swimming and can handle getting wet. This is a convenient feature as you do not have to take off your watch when you get into the water or when it rains. This also allows you to track your swimming progress if that is your exercise of choice.
Ease of use
Like any other Apple product, this watch is quite easy to use and simple to set up. It uses the IOS system so if you are familiar or have used another apple product most likely you will be able to dive into this watch hand use it right away.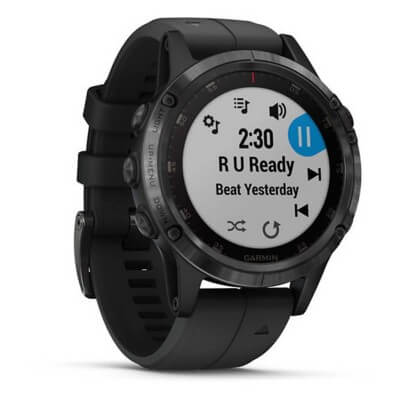 Garmin's Fenix 5 is a high-quality watch that offers you a bevy of features. It's a great watch that comes about average sized and it offers you a very long battery life, which is a real plus when you are an outdoor enthusiast that loves being on the go. In fact, the battery life in this product is so great, it's probably one of the best in this review. The Fenix 5 offers a lot of sensors and other measurements you'll love, and you'll never need to worry about the battery dying on this product.
Read more
Value
This watch has a higher price tag but when you break down the features you are getting and the quality of the watch the price soon becomes justified. Garmin, as a brand, is well-known for producing high-quality outdoor products, and they have a nice focus on sport watches. Their Fenix 5 watch is no different, and you'll get outstanding customer support when you purchase this product. Garmin makes sure their products are very high-tech and include all the latest features in their designs. You'll not only be able to track your workout progress well and know where to stand at all times with that, but you get a lot of safety knowing you'll be able to track your location with the GPS and compass features on this watch.
Features
The Fenix 5 doesn't really seem to be missing anything since it has all of the workout progress tracking technology you can think off, maps you can use, and a great GPS feature built into it. You can track just about anything you'll need to with this watch, and you are also able to use several of the applications that you can download to the watch. In fact, this watch comes with so many features, it's very hard for us to think of what else it could possibly need.
Water Resistance
This watch from Garmin is waterproof and great for any outdoor adventuring where you may find yourself near some bodies of water.
Ease of use
Garmin's Fenix 5 watch is an excellent technological opportunity for you to grab a nice working watch. Garmin has done a great job over the years of updating this watch, making this product better and better as the years pass with more technology and more applications. Because of all of this hard work, Garmin's produced a very nice watch here, and their watch comes with extra-long battery life, a built-in heart rate sensor, and it is also a pretty compact watch by design. You'll also be able to pick from two different sizes with the Garmin Fenix 5, which means you'll be able to get a great fit and the right size in this watch.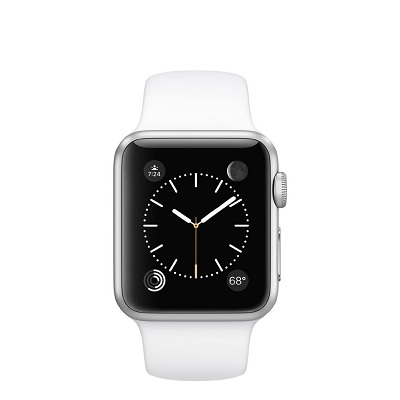 The Apple 7000 Smart Watch is everything you expect from Apple; stylish and sleek with a lot of extras. However, this is more of an urban activity tracker than a hard-core outdoor tracker. It is water resistant, not waterproof and the finish on the colors will rub off with extended use. Charge at night to get the most out of the 19-hour battery life; the magnetic charger is very convenient and easy to use. It has a heart rate sensor, accelerometer, and gyroscope.
Read more
Value
The Apple Series 7000 Smart Watch is everything you want in a smartwatch, integrating phone, text and fitness needs into a sleek design. For all this watch offers and the affordable price tag, it may just be the watch for you.
Features
Various color finishes make it a stylish accessory for work or play. Access to the plethora of apps the App Store offers.
Water Resistance
This watch is not recommended to be submerged in water. Apple does make some great products but they do not mix well with water. So to be safe, if you do decide to go with this watch, do not wear it in the swimming pool.
Ease of use
Apple is known for its sleek efficient designs and smart technology. The Apple wearable tech continues to improve in both function and design.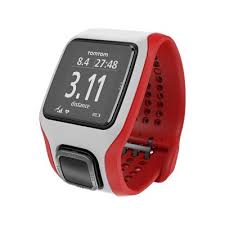 For the price, the TomTom Runner Cardio is a good fitness watch with most of the bells and whistles you could want. It does, however, have some bugs that can make it unreliable or frustrating to use. A built-in heart rate monitor doesn't need additional attachments and you can measure distance, speed, calories and time on this GPS watch. While it is waterproof to 40 meters, some of the metrics are not as reliable in the water as they are on land. Although it touts real-time metrics, it does take the GPS time to sync up in new locations. When not in tracker mode, the battery charge is good for weeks; this drops to approximately 9 hours when in heart monitor and GPS mode.
Read more
Value
The TomTom brand started in 1991 as a Dutch start-up for PDAs and has morphed into a global brand for wearable tech. So they have been around for quite some time and have become a powerhouse in GPS and wearable tech. The price tag on this watch is reasonable and fits the watch and the features that it comes with.
Features
Stores up to 500 songs and includes Bluetooth headphones. Audio feedback gives real-time performance information.
Water Resistance
This watch from TomTom is waterproof and can be used to track your swimming progress and be used outdoors if you find yourself in mild & light rain.
Ease of use
The TomTom Runner Cardio offers the plethora of fitness tracking metrics but isn't always reliable with real-time data. Some might be disappointed with a toggle button instead of a touch screen.

10

. Casio G-Shock Mudmaster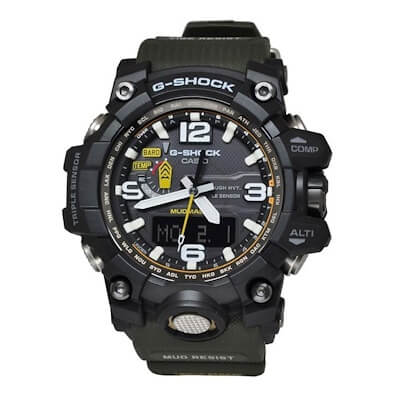 With a name like G-Shock Mudmaster, you can imagine this watch is built to withstand the toughest trail or beach conditions. This analog atomic watch is waterproof to 200-meters. It's designed for wet, rainy and diving conditions with a digital compass, temperature readings, altimeter, and barometer. This isn't a fitness tracker; it's a fitness watch that will give you situational metrics as you challenge yourself.
Read more
Value
The G-Shock Mudmaster is an old school sports watch that will take some serious abuse and continue to provide reliable data. While many athletes love the G-Shock brand, this is not a true activity tracker. For the price, this durable and tough watch is well worth it.
Features
A digital compass for navigation through tough terrain. The double LED light illuminates the watch at night for improved readability.
Water Resistance
This watch is known for being durable and tough, it can be used in up to 200-meters of water. So it is safe to say you can use it anywhere you may find a body of water.
Ease of use
Casio G-Shock is known for durable activity watches. For a reliable watch in almost any adventure, G-Shock continues to prove why it's a leader in the sports watch industry.

Subscribe to our Newsletter