Best Smartphone Tripods
In a
Hurry? Editors choice: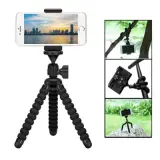 Test Winner: ZTon's Mini

As manufacturers began offering smartphone tripods to help with
better pictures and selfies
not all of them seem stability of the tripod in mind when they developed their product. So, while a smartphone tripod is a must-have product for anybody who loves selfies or snapping lots of great pictures on the go, you do need to pay attention to how stable the phone tripod you decide to purchase. By getting a tripod with plenty of stability, you'll be able to snap some of the best pictures you've ever been able to. Since there are so many options in smartphone tripods, it can be hard to know which ones will help you take the pictures you want to take. So, we've pulled together reviews of the top smartphone tripods in the market today and included detailed criteria for each product to help you decide which one fits your needs best.
Standout Picks
Criteria Used for Evaluation
Features
Depending on what you really want in a tripod, you'll see that tripods come in many different styles, and that means you'll find several different features. One of the first things you'll want to think about is how portable you want the tripod to be. If you need something you want to carry in your purse, then you'll want something small. If you just need it to go in the car, then it can be larger. Also, some of these tripods double as selfie sticks , and if you take a lot of selfies, you might prefer that.
As far as stability goes, that also comes with the design of the tripod's legs. Legs that can stabilize even on uneven surfaces are the best to go with and will give you the best quality pictures, no matter what the tripod design is. So, make sure you check out how well the tripod holds up on the uneven ground.
Ease of Use
Some people find different smartphone tripod designs easier to use than others, and what you'll be comfortable with can vary with what your friend might like. So, really take yourself into account here. If you go to the store to look at phone tripods, play around with them to see how comfortable you feel with the setup.
Most portable tripods give you a simple setup since they are made to be put up in a matter of seconds. If you are a bit nervous about figuring out the setup process, portable tripods are great, and ones that also double as selfie sticks are probably the easiest to use if you are new to the process. Also, the more stable the legs on the tripod, the better the pictures you'll get.
Durability
While these types of products aren't too overly expensive, you'll still want to make sure you buy something that is going to last you for a while. One important thing to consider here is a cellphone tripod that can hold a variety of different smartphones since we tend to go through our smartphones pretty quickly. If you get a versatile tripod, you won't need to replace it when you get a new phone.
Value
The price range is always going to be important, but one of the nice things about these products is that they don't usually come overly expensive. If you want a good value, make sure you stick with something that is durable, versatile with the types of phones it can hold, and easy for you to use. If you are able to discover that, you'll have a smartphone tripod that is well worth the value.
Top Ten Smartphone Tripods
Subscribe to our Newsletter