Best Android Phone Smartwatches
In a Hurry? Editors choice: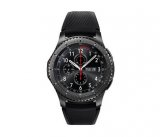 Test Winner: Samsung Gear S3 Frontier

Unless you have been living under a rock for the last several years, you are fully aware of what a smartwatch is and why all your friends rave about the technology. Today, we want to look at some specific models that will pique the interest of Android users. Now, as you will see, several of the best Android models will also be compatible with iOS. However, you will not see iOS-only designs (such as the Apple Watch series) on this list. Remember, Bluetooth-compatible devices will not work with all Bluetooth-enabled devices even though, in theory, it seems like they should. You need to be careful and ensure you buy a smartwatch that is compatible with your device. Of course, there are loads of other features you need to pay attention to so let's not waste another unnecessary breath chit chatting.
Standout Picks
Criteria Used for Evaluation
Features
There are a ton of features that make up the best smartwatches out there.
There is a lot to cover here, so buckle in. It is amazing how many features are packed into a typical smartwatch and it goes without saying that their functionality is their greatest selling point. Even the most basic models out there should be designed with the ability to alert you of certain notifications on your smartphone (calls, texts, emails, etc.). But, not all models will sport the same software so ensure you can easily and conveniently check your most recent notifications. In addition, in the modern world that is dominated by apps, you may want to make this a priority. What is nice for Android watches is the Wear OS has thousands of apps that are optimized for the platform. Speaking of apps, some models will be able to use certain payment services (such as Google Pay) and this can come in handy.
But, it is not all about the smart features. Some Android smartwatches can also serve as fitness trackers. And, some will even sport built-in GPS and heart rate monitors. With these slight additions, you can take your fitness experience to another level. And, crazily enough, that is just scratching the surface of what most of these watches can perform.
Durability
Protecting your investment is vital and possessing a watch that can withstand abuse is a great way to do so.
At this point, you need to ask yourself a question. Do you want to buy a watch that is rugged or one that is somewhat fragile? It seems like a stupid question to ask but you need to know that there are models out there that will not be designed to handle much abuse. If you are careless with your watch then you should err on the side of caution. In this case, keep some of the following factors in mind. Firstly, the materials that make up the model need to be top-notch. As an example, you will often see carbon fiber bodies and Gorilla Glass faces being utilized. As far as the band is concerned, some models will allow them to be interchanged. And, while everyone always has a preference, leather and nylon bands work great.
Secondly, and this goes back to the materials, the watch itself should be designed to handle abuse. Some designers will even test their models to withstand drops at decent heights, shocks and extreme temperatures. If you see that a specific brand passed military specifications, for example, you know it is built to last. As far as the water-resistance rating is concerned, remember that a model that is water-resistant to 50 meters does not mean it can be submerged to that depth. That would be waterproof, as there is a big difference.
Compatibility
You have to ensure that the watch you buy is compatible with your phone.
Make no mistake about it, this should be priority number one. Even though it is the briefest of the sections it is the most important. The main reason for this is if you invest in a smartwatch that is not compatible with your current smartphone, you will not be able to sync the two devices together. Now, it was mentioned at the beginning, Apple users, not all of the models documented above will work with your iPhones. As this guide was tailored to Android phones, all of the above will work as such. In fact, most of the models above implement Google's Wear OS. This will work with any device currently running the Android 4.3 operating system or higher.
Now, it is worth noting that this same operating system (the Wear OS) will work with iPhones. However, there are certain capabilities that will not be possible. Per the contrary, Apple watches, which are extremely popular, will only work with iOS devices. If you are ever concerned if your current smartphone will be compatible, you can always double-check the current operating system that it is using.
Battery Life
The last thing you will want to do is charge your watch constantly so look for one with good battery life.
This is where things can get a little tricky. Here is the deal; there are some watches that will last longer than others due to the batteries that are built-in. However, it goes much, much deeper than that. A lot of what dictates battery life is how you, the user, utilize the watch. The same models that sport all these fancy features, such as integrated GPS, can drain the battery if you are not careful. With GPS, in specific, this is why you will see sellers specifically make mention of the fact that the battery will not last as long when you use the feature continuously. The same concept can apply to voice capabilities and even to the screen brightness (this is a huge one).
So, while the model you invest in should have good battery life, you will have a direct impact on the battery. This is why some designers will integrate a power saving mode into their watch. In instances where you need to optimize the battery as much as possible, this mode can come in handy.
Style
Though the main style is important, there are also a couple of nuances to keep in mind.
For the record, there is more to this section than just selecting a smartwatch that you find visually appealing. In fact, there is much more to it. For starters, pay attention to the design of the display. Common display types will be LCD, OLED and AMOLED. LCD displays are thicker and are quickly becoming extinct. The latter two displays will be the better option most of the time. Also, do you want a touchscreen interface? Due to the size of a watch, it can be difficult to operate a touchscreen. There are still designs out there that integrate button-control interfaces and this is an option if you want it.
Now, let's talk about the style for a second. No matter how you slice it, timepieces such as these are used as fashion statements. So, you will most likely want to invest in a model that is stunning (or at least somewhat). The chances of doing that, though, are greater when a seller provides you with customization options. Thankfully, most sellers will and will have different watch faces and bands available.
OUR TOP PICKS FOR THE BEST ANDROID PHONE SMARTWATCHES
1

. Samsung Gear S3 Frontier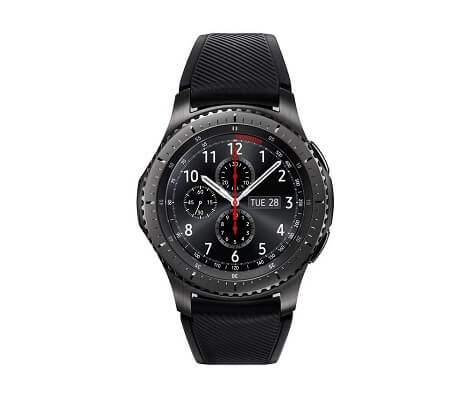 For most people, the first thing you think of when you hear "Android" is Samsung. They are linked to the operating system and their Gear S3 is the cream of the crop.
Read more
Smart Features
This pretty much has it all. The Gear S3 sports text, call, and get notifications, the ability to pay with Samsung Pay, a built-in speaker and microphone, built-in GPS for activity tracking, and basic fitness features.
Durability
Samsung built this to last, let's just say that. It is designed with military-grade performance and it is going to resist dust, water, drops from decent heights and extreme temperatures.
Compatibility
For iOS users out there, you can use this watch. In regard to Android users, you will need to be using the OS 4.4 or later in order for this to sync.
Battery Life
Now, it is advertised that this can last for four to five days. However, this is only while it is in the power save mode. Do not get fooled by the claim.
Visual Style
Either model you go with, as there is the Classic in addition to the Frontier, the result is stunning and beautiful. Both the watch face and the band blend flawlessly.
Overall
It seems odd to say but at this price point, this is somewhat affordable. That is really the icing on the cake, to be honest, as the quality is that of a top-end model.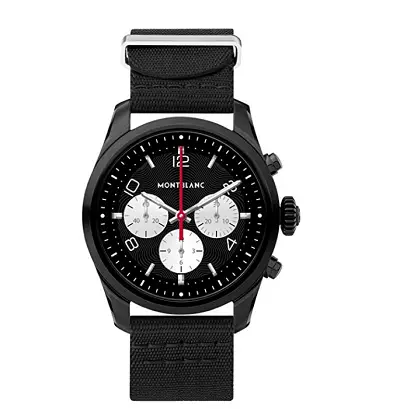 Let's just get this out of the way; not too many of you will be interested in this bad boy. The reason is due to the astronomical price tag. But, make no bones about it, this is a top-of-the-line watch.
Read more
Smart Features
While this is lacking somewhat in fitness features, it is equipped with a boatload of sensors including a barometer, heart rate monitor, and altimeter. Also, this does incorporate the Google Pay payment system.
Build Quality
At this price point, the build quality better be exceptional. With the durable nylon strap and the 50-meter water resistance rating, it is.
Compatibility
The state-of-the-art operating system that is implemented here is compatible with both iPhones and Androids.
Battery Life
Even with the display illuminated the entire day, the battery is still going to last. It is quite robust and to enhance it, you can utilize the Time-Only mode and get a week out of this watch.
Visual Style
Due to the sapphire crystal case and the AMOLED touchscreen (in addition to the black strap and black coating), this is as gorgeous as it gets.
Overall
There is no way to sugarcoat the fact that this is downright expensive. Good things can come at a price, though, and this exemplifies that concept exquisitely.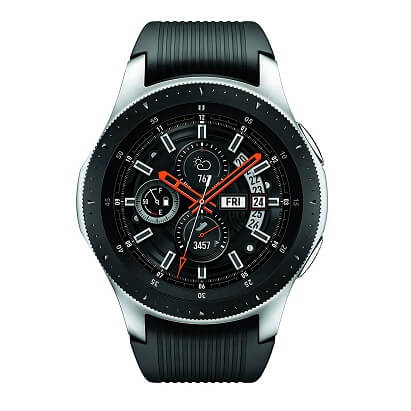 Two of the top three options on this list are directly from Samsung. That really should not surprise anyone and their Galaxy Watch is designed to last with military-grade durability.
Read more
Smart Features
Perhaps this is too smart because the fitness features are a bit limited because of it. With that said, this sports several sensors and the ability to make calls and answer texts.
Build Quality
To say this is built to last is an understatement. The Galaxy Watch passed military specifications and is tested to withstand 4.9-foot drops, dust, water, shocks, extreme temperatures, and high altitudes.
Compatibility
Not only is this going to sync with your Android devices but it is also going to sync with your iOS devices, which is nice.
Battery Life
While the average battery life is going to vary based on several factors, it is noted that you can go nonstop for days on a single charge.
Visual Style
In addition to the fact that you can choose from a selection of interchangeable bands, there are also three different color options available. Either way, you go, the style is spectacular.
Overall
It is safe to say that the software could use a little work while the hardware is tremendous. As a total package, however, you can't go wrong here.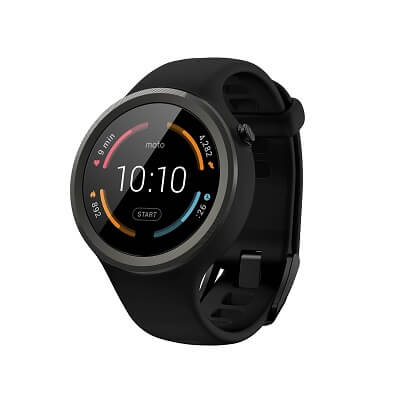 With a few different styles available and all sorts of sensors built-in (including an accelerometer and a barometric altimeter), it is safe to say that the Moto 360 Sport is intriguing.
Read more
Smart Features
This is equipped with all of the goods here. Integrated is a body fitness tracker, heart rate monitor, several different types of sensors, and basic fitness metrics such as steps and calories.
Build Quality
Do note that the Moto 360 Sport has an IP rating of IP67 which means it is resistant to both water and dust. However, the band is made of rubber and tends to attract dirt.
Compatibility
Granted you own a device that is either running the Android 4.3 operating system or later or the iOS 9 operating system or later, you will be able to sync with this smartwatch.
Battery Life
A few buyers have claimed that the battery life here is not good. Some specific reviewers even allude to the fact that this can kill their phone's battery, as well.
Visual Style
This is a classic design that sports edge-to-edge glass and an incredibly thin bezel. There are a few different colors and all of them are quite stylish.
Overall
In spite of the rubber band that some of you may not like and the criticized battery life, the Moto 360 Sport is an exceptional watch that is packed with features.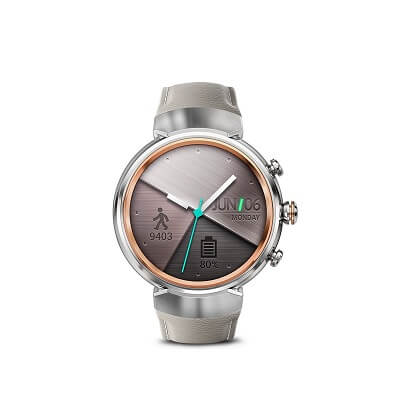 The best word to describe this next watch is wow. It is not so much the features, even though they are fantastic, but the style. It is utterly magnificent, let's just put it that way.
Read more
Smart Features
Overall, the notifications of the ZenWatch 3 are limited. In spite of this, this will organize your important information and provide you with some basic smartwatch features. Also, this has a built-in speaker for calls and voice messages.
Build Quality
Due to the fact that the ZenWatch 3 is made of premium, cold-forged steel, this makes it much stronger than traditional steel. Also, the display is protected with Gorilla Glass.
Compatibility
The Bluetooth technology that is used here is Bluetooth 4.1. As for the compatibility with your devices, it will be compatible with Android 4.3 operating systems or later.
Battery Life
To improve the battery life, Asus designed their model with the latest Qualcomm Snapdragon Wear 2100 processor. Also, in a mere 15 minutes, this can be charged to 60 percent capacity.
Visual Style
Is this the most breathtaking watch ever designed? In regard to the style, it just might be. The diamond-cut bezel and the cold-forged steel craftsmanship ensure this.
Overall
Yes, the software could have been improved. However, as a watch, the premium materials and the completely stunning interface make this all but irresistible.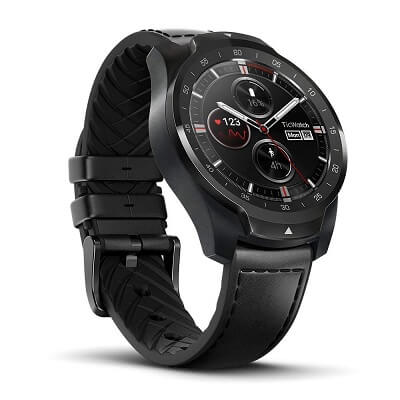 While there are those smartwatches that seemingly everyone has heard of, here is one that very few of you have probably heard of. That is a shame because as you will see, the TicWatch Pro is fantastic.
Read more
Smart Features
You would never think this is a second-tier model with the features. This includes a built-in heart rate monitor, step counter, cadence monitor, the ability to use Google Pay, access to several apps and more.
Build Quality
The software is great here but the hardware may be even better. The carbon fiber body is covered with a stainless steel bezel and the watch is complete with an Italian leather band.
Compatibility
Now, this is compatible with iOS devices. However, you can only make calls or send text messages with an Android device synced.
Battery Life
What is really nice here is that there are two different modes built-in. You have the Smart Mode and the Essential Mode. The former gets you up to two days of battery life and the latter can last for up to 30 days on one charge.
Visual Style
There are hundreds of watch faces available that you can choose from. It really does not matter which one you pick as all of them complement the band tremendously.
Overall
After you have seen this, you will never forget the name TicWatch. As you can see, they deserve a lot more recognition as their Pro is phenomenal.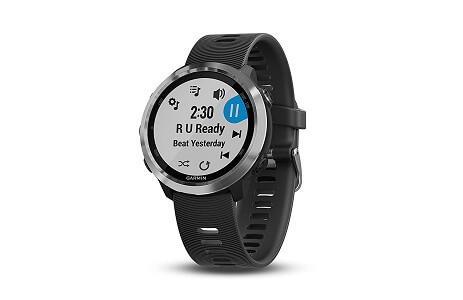 A lot of you are probably wondering why it took so long for Garmin to appear on this list. They are the kings of GPS watches and their Forerunner 645 is one of their best.
Read more
Smart Features
As this is made by Garmin, you know the advanced running dynamics will be there. Of course, this can also utilize Garmin Pay and also sync music from your select streaming services.
Build Quality
It is noted that this sports a water rating of five ATM. This is also equivalent to 50 meters. But, this does not mean you can submerge it down to 50 meters.
Compatibility
While it seems there are a lot of bugs with the Bluetooth connectivity, this is compatible with Android devices.
Battery Life
When simply in smartwatch mode, the integrated battery of this model can last up to seven days on a single charge. If you utilize the GPS continuously, though, this lowers to five hours.
Visual Style
What is nice is this is truly designed for runners with its five-button interface. However, as a style, it is okay at best (but that is not the point of this model).
Overall
As mentioned, the visual appeal was not the main goal of the Forerunner 645. Garmin typically focuses on software and functionality and that is what the Forerunner 645 excels at.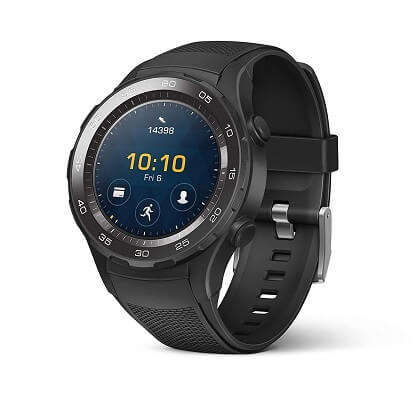 Admittedly, for a watch at this price range, it is a little surprising that the W2 is not built a little better. As far as its functionality is concerned, that is where the money is at.
Read more
Smart Features
This is about what you would expect from a smartwatch. The W2 sports a built-in GPS and a continuous heart rate monitor, workout coach that will provide you with real-time guidance, and NFC and Google assistant.
Build Quality
Yeah, the build quality could be improved. Some users claim it is fragile and while it is not waterproof, it is water-resistant.
Compatibility
The operating system that is integrated here is the Android Wear 2.0 and this means that it will indeed work with Google and Samsung phones.
Battery Life
In the watch-only mode, you can get up to three weeks on a single charge but this lowers to two days on the saving mode and seven hours while using the GPS continuously.
Visual Style
The build quality is not indicative of the visual style, let's just say that. No matter which style option you choose, each of them is glorious.
Overall
In regard to its functionality and its style, it is hard to go wrong with the W2. However, with a better build, it could have landed even higher on this list.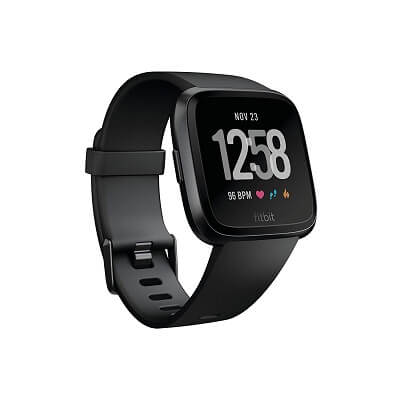 As was said with Garmin, it took a little while for Fitbit to make an appearance on this list. This brand of smartwatches is iconic for their fitness tracking and the Versa, while limited, is no different.
Read more
Smart Features
Just know that there are all sorts of features built-in here. But, the issue with the Versa is you can't program the step reminders for any hour range you want. Your day starts at midnight and ends at 11:59 PM and you can't adjust that.
Build Quality
Do note that it is noted that this is waterproof. With that said, one user specifically went out of their way to state this was an arbitrary claim.
Compatibility
Yes, this is going to sync with both Android and iOS devices. However, you will not be able to answer notifications with your iOS devices when they are synced.
Battery Life
While certain factors will always play a major role, it is advertised that the Versa will last for four-plus days on a single charge.
Visual Style
For sure, this has a Fitbit style and it is very unique. It does not look like a traditional watch but it is very sleek and subtle.
Overall
There is a lot to love about the Fitbit Versa that it is easy to mask the flaws. Yet, some flaws are there and no one is going to deny it.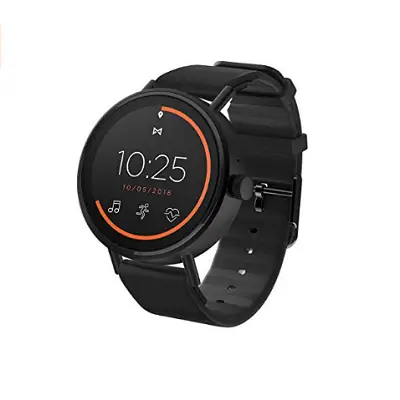 This is another somewhat unknown model, at least when compared to top-name brands, that does not get the praise its due. The Vapor 2 deserves your attention, ladies and gentlemen.
Read more
Smart Features
A lot of the go-to features that you love in smartwatches, such as activity tracking, built-in GPS, Google Assistant, and multiple phone notifications, are integrated here.
Build Quality
The Vapor 2 is not rugged and is mostly comprised of plastic. It is quite thin and light and is not going to take much abuse.
Compatibility
Being powered with Google's Wear operating system, this is compatible with Android and iOS operating systems.
Battery Life
It is estimated that you can get up to 24 hours of battery life of a single charge.
Visual Style
There is a single dial on the side of this and it is a bit stiff to operate. But, the sleek and vibrant color touchscreen accent the band extremely well.
Overall
Admittedly, you need to be careful with the Vapor 2 due to the build. The features make it worthwhile, though, so that is nice.

Subscribe to our Newsletter