Best Hybrid Smartwatch Models
In a Hurry? Editors choice:
Test Winner: Nokia Steel HR

Fashion over function or function over fashion? The problem with smartwatches is that they lack the appeal that consumers are looking for from a
traditional watch
. Then again, the issue with traditional models is they lack the smart features that the modern world craves. What if there was a device that combined the best of both worlds? Well, it just so happens that there is an answer and that answer is in this best hybrid smartwatch list. This literally combines the functionality of a smart device with the traditional appeal of an old-school watch.
Standout Picks
Criteria Used for Evaluation
Materials
Before we dive into the beef of this section, let's briefly talk about the composition of the best hybrid smartwatch model. Generally speaking, you can't go wrong with stainless steel due to its combination of appeal and durability. But, there is a decision you need to make for the band. Do you want metal or leather? The main advantage to the former is it requires less maintenance and will not age as quickly (lasting much longer). For durability, go with metal.
Okay, now to assess a highly discussed feature of most watches, water-resistance. The best hybrid smartwatch will have some sort of water-resistance rating. It will either be indicated in ATM, feet, or meters (but all is the same at the end of the day). To provide an example, a rating of 5 ATM can withstand pressures of water that is equivalent to 50 meters in depth. However, this does not mean it is waterproof down to 50 meters. This is a common misconception as this rating is really ideal for light swimming and other outdoor activities. When you get into the area of a 10 ATM rating, then you are talking about snorkeling and prolonged contact to water (yet still no diving).
Features
Right from the get-go, and this was alluded to at the beginning, understand that the best hybrid smartwatch is not going to possess the technology of standard models. However, this does not mean they are devoid of smart features as this is where the hybrid comes into play. Some models will possess more functionality than others and choosing what you desire is really a matter of preference. For example, some watches will be equipped with heart rate monitoring. Meanwhile, others may simply have the basic functionality of alerting you of incoming calls and texts from your smartphone.
Of course, there are also other designers who will equip their model with fitness tracking capabilities. With this, the watch will be able to track certain metrics such as calories burned, total distance, and steps taken. But, perhaps you want to be able to control your music and perhaps even take a photo from your watch. If so, look for hybrid models that account for it. Remember, they are smart devices even though they may not look like it.
Battery Life
Typically, when you are talking about old-school watches the battery life is really not going to come into play. Yet, as soon as you throw in Bluetooth technology and smart features, that all changes. However, as compared to typical smartwatches, the best hybrid smartwatch is still not going to quite require the same amount of juice. The reason for this is the lack of a touchscreen and a brighter display. Hence, this is why you will see most versions come equipped with a simple cell battery (or button cell) that is designed to last for a certain time without needing to be charged.
The benefit of this is obvious; you never need to physically charge the watch. But, due to the smart functionality, they are not going to last for a very long time. Most manufacturers rate their model to last up to six months (or sometimes even up to a year) before needing to be replaced. Yet, and this is important, they say this with a bit of an asterisk. They typically claim it will last up to a certain time and claim it is based on usage. What this means is someone who uses the smart features on their watch every day will run the battery quicker than someone doing so once a week.
Comfort
For the most part, there are two factors needed for a watch to be comfortable. Firstly, it needs to not be too cumbersome and bulky. Secondly, the band needs to be comfortable. Now, in regard to the dial, it is probably better if it is too small than too large. Being too large not only causes it to stick out like a sore thumb but it also can create more weight.
As for the band, this goes back to the debate that was discussed earlier in regard to a leather band versus a metal band. While metal wins in the durability department, it does not in the weight department. Leather bands are very comfortable to wear for prolonged periods of time due to their lightweight nature and moisture-absorbent properties. Meanwhile, metal bands can feel quite heavy after a while.
Top 10 Picks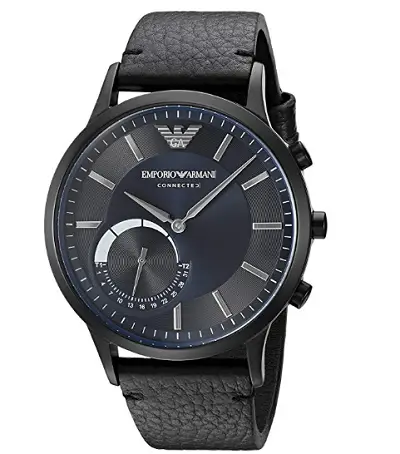 This could be the most gorgeous and beautiful watch on this entire best hybrid smartwatch models list. Yet some limitations with the accompanying app and the extra weight hold it back a bit.
Read more
Materials
Be aware that this is not waterproof and is instead water-resistant to the depth of 100 feet. Also, the case material is stainless steel.
Features
With this watch, you can receive smartphone notifications, filter them, control your music, and view activity tracking. But, as mentioned, the accompanying app has received some criticism.
As for the appeal and interface, wow; that is the best word to describe the visual design here. The silver-toned indexes match perfectly with the gunmetal case, black leather strap, and a royal blue interior.
Battery Life
Emporio Armani rates their model to last up to six months with the integrated cell battery. Now, again, this number is based on usage and maybe less than that.
Weight and Comfort
Though the leather band is far from uncomfortable, it is worth noting that this is one of the heavier devices on this list. At just under one pound, there is some girth.
Overall
For pure functionality, there are some limitations with the app that prevent this from being on the top of this list. Then again, the striking appeal will be enough to sell a specific demographic.

2

. Michael Kors Slim Runway


For some people's taste in the best hybrid smartwatch models, this next entry may be a little much. Due to the flashy appeal and polished silhouette design, it will attract a crowd, let's just say that.
Read more
Materials
Due to the 50-meter water-resistance rating, this is suitable for short periods of recreational swimming but nothing such as snorkeling or diving.
Features
While you can't physically make calls from this watch, it will notify you when you have incoming calls and texts. Also, you can filter the notifications from up to six people.
The combination of the flashy metal appeal and the slim silhouette maybe a little too flashy for some folks. But, the minimalist look will still be what some are seeking.
Battery Life
Much along the line of various other designs, this is run via a non-chargeable battery. When the time comes, you will need to replace the current battery.
Weight and Comfort
In spite of the minimalistic design, there have been some buyers who have claimed that this can be a bit too large and long. Just keep that in mind if you have a small wrist.
Overall
If you are quite fond of the flashy metal design at work here, then, truth be told, you can enjoy one of the more consistent designs on this list. But, it really comes down to your personal taste.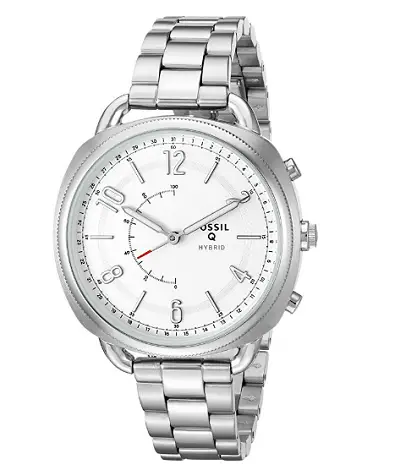 We go from a watch that may be too flashy to one that could end up being too bland in our best hybrid smartwatch models list. Though the all-stainless appeal of the Q Accomplice will not be for everyone, the functionality is superb.
Read more
Materials
In addition to the fact that both the bezel and the band are made of stainless steel, the Q Accomplice is water-resistant to the pressure equivalent of 165 feet.
Features
Thanks to the customizable link button, you can snap a photo and control your music straight from the Q Accomplice. Also, it can track your everyday accomplishments such as calories burned and steps.
As for the appeal of the watch, most consumers love the appeal of stainless steel appliances and for some, they may eat up this all-steel appeal. Oh yeah, and the hands are luminescent and will glow in the dark.
Battery Life
Based on your usage of the watch itself, you can get up to six months of battery before it needs to be replaced. But, it is always on so be aware of that.
Weight and Comfort
The provided metal band actually has a narrow profile which reduces the overall weight. But, it is interchangeable and other Fossil-branded bands can be used.
Overall
The build quality and smart functionality of the Q Accomplice is what is most likely to sell you. But, if you adore that all-steel appeal, that will only make matters better.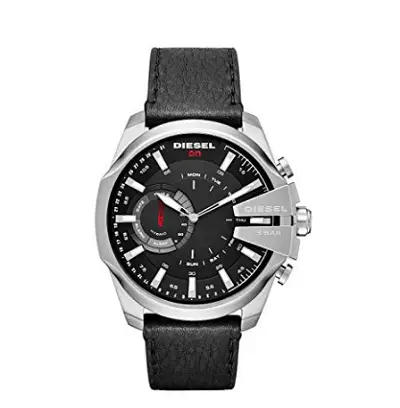 Speaking of heavy, how about this next best hybrid smartwatch model? Now, the good definitely outweighs the bad here and that is why it is getting the praise it deserves. But, the weight is still a potential concern.
Read more
Materials
The familiar combination of a leather strap and a stainless steel case works perfectly here. Also, this is water-resistant to 100 feet.
Features
This is another model that integrates a link function and this allows you to control your smartphone's music, ring your phone and also snap a photo. Plus, you can receive alerts and notifications.
As for the design, this is far from minimalist design, let's just say that. Now, the visual design is far from ugly but because you can track your activity with the sub-disc on the dial, it could be too cluttered for some.
Battery Life
It is rated that this battery could last for up to six months before needing to be replaced.
Weight and Comfort
Oh yes, the weight. The leather calfskin band is a nice touch but the bulkiness and chunkiness of this watch will simply be too cumbersome for some people to deal with.
Overall
If you reduce the weight and the bulk of this model, it could have landed in the top five easily. But, it goes without saying that those issues can't be ignored.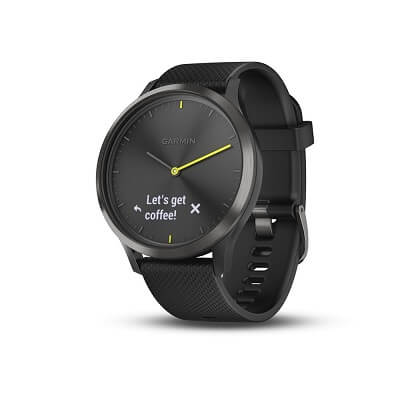 Garmin lands at the top of a list that has to do with this technology, what a shock. Their Vivomove HR model is world-renowned and one of the most popular devices in the world.
Read more
Materials
As this piece sports a water-resistance rating of 5 ATM, it can withstand pressures of waters equivalent to the depth of 50 meters.
Features
In addition to the 24/7 heart rate monitoring that is offered by the Vivomove HR, it also includes fitness monitoring tools such as fitness age and VO2 Max. It also can be used with the Garmin app.
One thing we love about this watch is the style. Not only is the base color combination amazing, but there are also loads of other options. Plus, the discreet, touchscreen display puts it over the top.
Battery Life
Most of these types of device run off batteries that never need to be charged. However, the Vivomove HR need to be charged and can last for two weeks in watch mode or up to five days in smart mode.
Weight and Comfort
One positive about the silicone band is that it is both lightweight and comfortable. Yet, it appears it is on the flimsy side so be somewhat cautious with it.
Overall
It is Garmin so you know that the device is high-quality. But, what is so great about their Vivomove HR is it combines everything consumers love about this best hybrid smartwatch and adds a heart rate monitor.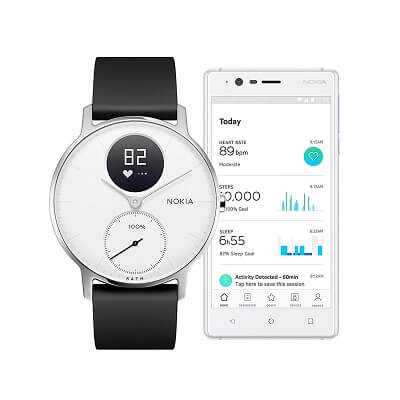 The Nokia Steel HR is another model from our best hybrid smartwatch list that is equipped with heart rate technology. It is also another model that is highly acclaimed and overall, is downright gorgeous to look at.
Read more
Features
The Steel HR can also continually track your heart rate. But, it can also act as a full-fledged fitness tracker and also is compatible with Amazon Alexa.
Nokia provides you with a few different options for the style, but the white dial and black band is an ideal choice. Coupled with the gorgeous interface, this is stunning.
Materials
Nokia rates its Steel HR with a water-resistance rating of 50 meters. As they point out, this can handle showers, rainfall, and even snorkeling.
Battery Life
Much like with the other previous model, this is run via a long-lasting battery. It can last for up to 25 days on one charge with an additional 20 more days in power reserve mode.
Weight and Comfort
Thanks to the fact that the bands are interchangeable, you can upgrade to a different strap if you do not enjoy the default one (which is comfortable, by the way).
Overall
Nokia, much like Garmin, should be commended for their design. The slick appeal and functionality will be enough to sell even the toughest of critics.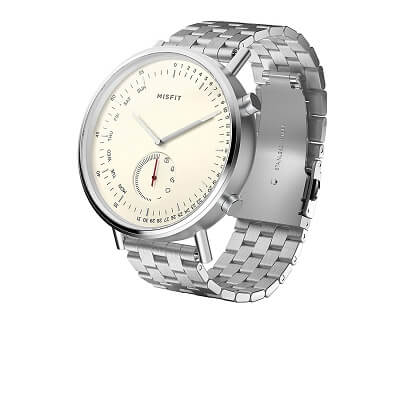 Now, as opposed to the previous two models, this next one on our best hybrid smartwatch list does not integrate a heart rate monitor. However, its stainless steel body and water-resistant core give you plenty of reasons to buy.
Read more
Materials
The stainless steel body is coupled with the satin aluminum face for both durability and visual appeal. Also, it is water-resistant to 50 meters.
Features
With the integration of the smart button, this allows you to play music, find your phone, and even take photos. Also, you will be notified of incoming calls and texts.
The minimalist approach of the display prevents clutter and will be appreciated by some users. As for the appeal, it is pretty much straight silver.
Battery Life
Misfit Wearables claims that their model will last for up to one year with the included non-charging replaceable battery. Of course, this depends on usage.
Weight and Comfort
Even though some consumers have claimed the watch face can be large on smaller wrists, it is extremely lightweight and may not even be noticeable.
Overall
This is arguably the most cliché model on this entire list. The reasons are clear and that is the Command combines an extremely minimalist design with smart functionality.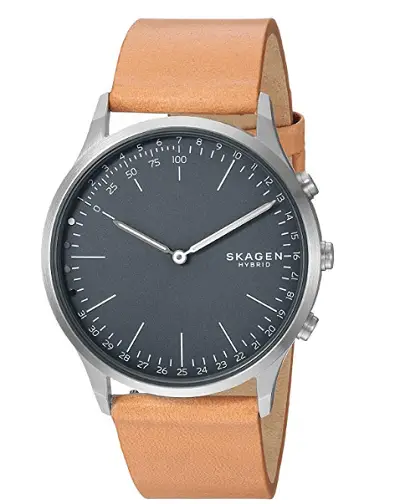 Right from the get-go, it is apparent to know that the Skagen Jorn is one of the sleekest and thinnest best hybrid smartwatch models you will find on the market. Plus, it is interchangeable with other bands.
Read more
Materials
The combination of the leather band and the stainless steel case is ideal for build quality. Also, the unit as a whole is water-resistant to 30 meters.
Features
This works much as a fitness tracker does but it can also receive smartphone notifications. When this happens, you will feel a gentle buzz on your wrist.
As for the appeal, if you are looking for an incredibly sophisticated and professional-looking watch, this is it. But, do note that there is no backlight for nighttime viewing.
Battery Life
As great as this model is, the four-month battery life rating is not the best out there. Still, you can always replace the battery so that is nice.
Weight and Comfort
Wow, is this ever a sleek and thin design on display here. What is also nice is the band is interchangeable and you can use any Skagen branded band that measures 22 millimeters.
Overall
The Jorn is probably best for consumers looking for a sleek watch that will match their professional outfits. Although, its smart functionality also makes it ideal for casual wearing.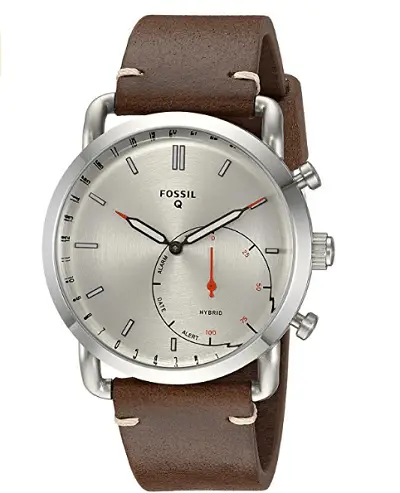 Fossil has a couple of excellent best hybrid smartwatch models that landed on this list and their Q Commuter is the first. Though it is slightly thicker than most traditional watches, its array of smart features make up for it.
Read more
Materials
Fossil engineered their Q Commuter with a stainless steel case and a genuine leather band. In addition, as with most other models, this is water-resistant (down to 100 feet).
Features
The Q Commuter really has it all including smartphone notifications and activity tracking. Although, the gentle buzz for notifications could be a little more noticeable.
The silver-tone dial blends perfectly with the brown leather band. However, the interface itself is a bit flawed as the markings closest to the bezel are extremely minuscule in size.
Battery Life
It is estimated that this battery will last for up to one year before needing to be replaced. Again, this is going to vary based on usage and settings, though.
Weight and Comfort
As compared to traditional watches, this could be considered a bit heavy. Then again, on the positive side, the included band can be swapped out for other Fossil bands.
Overall
If the slight blemishes of this model are not enough to scare you off, then you can sport a very impressive smartwatch that could end up being the envy of all your friends.

10

. Kate Spade Grand Metro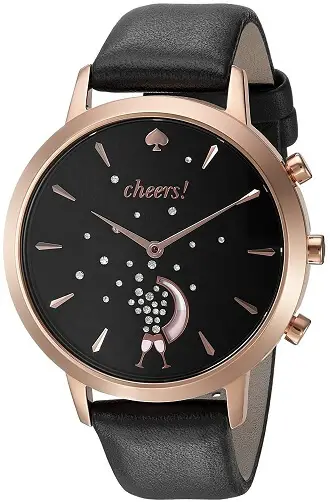 The last of the best hybrid smartwatch models on this list is actually a women's exclusive design. Due to the design of the dial, it is not difficult to see why. But, that is not necessarily a bad thing.
Read more
Materials
While the watch as a whole is built with quality in mind (with a leather strap and a rose gold-tone case), it is not waterproof.
Features
The Grand Metro is really an ingenious design as you can assign contacts or apps to a number on the dial for the ultimate customization. Also, the perfect selfie can be taken with your camera app open.
As for the appeal and interface, Kate Spade optimized their design for women that much is apparent. But, one aspect to note is that the dial does not have a backlight feature for nighttime viewing.
Battery Life
The estimated battery life for this integrated battery is in the ballpark of most of the other models on this list (up to six months).
Weight and Comfort
On one hand, this is not a heavy model, which is nice. However, the band is actually not interchangeable and what you see is what you get.
Overall
With the sleek appeal and unique customization at play for this model, it is not difficult to see why it cracked this list. But, and there is always a but, it is not flawless.

Subscribe to our Newsletter