Best Hybrid Smartwatch Models
In a
Hurry? Editors choice: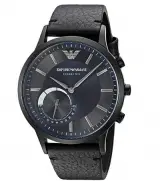 Test Winner: Emporio Armani

Fashion over function or function over fashion? The problem with smartwatches is that they lack the appeal that consumers are looking for from a
traditional watch
. Then again, the issue with traditional models is they lack the smart features that the modern world craves. What if there was a device that combined the best of both worlds? Well, it just so happens that there is an answer and that answer is in this best hybrid smartwatch list. This literally combines the functionality of a smart device with the traditional appeal of an old-school watch.
Standout Picks
Criteria Used for Evaluation
Materials
Before we dive into the beef of this section, let's briefly talk about the composition of the best hybrid smartwatch model. Generally speaking, you can't go wrong with stainless steel due to its combination of appeal and durability. But, there is a decision you need to make for the band. Do you want metal or leather? The main advantage to the former is it requires less maintenance and will not age as quickly (lasting much longer). For durability, go with metal.
Okay, now to assess a highly discussed feature of most watches, water-resistance. The best hybrid smartwatch will have some sort of water-resistance rating. It will either be indicated in ATM, feet, or meters (but all is the same at the end of the day). To provide an example, a rating of 5 ATM can withstand pressures of water that is equivalent to 50 meters in depth. However, this does not mean it is waterproof down to 50 meters. This is a common misconception as this rating is really ideal for light swimming and other outdoor activities. When you get into the area of a 10 ATM rating, then you are talking about snorkeling and prolonged contact to water (yet still no diving).
Features
Right from the get-go, and this was alluded to at the beginning, understand that the best hybrid smartwatch is not going to possess the technology of standard models. However, this does not mean they are devoid of smart features as this is where the hybrid comes into play. Some models will possess more functionality than others and choosing what you desire is really a matter of preference. For example, some watches will be equipped with heart rate monitoring. Meanwhile, others may simply have the basic functionality of alerting you of incoming calls and texts from your smartphone.
Of course, there are also other designers who will equip their model with fitness tracking capabilities. With this, the watch will be able to track certain metrics such as calories burned, total distance, and steps taken. But, perhaps you want to be able to control your music and perhaps even take a photo from your watch. If so, look for hybrid models that account for it. Remember, they are smart devices even though they may not look like it.
Battery Life
Typically, when you are talking about old-school watches the battery life is really not going to come into play. Yet, as soon as you throw in Bluetooth technology and smart features, that all changes. However, as compared to typical smartwatches, the best hybrid smartwatch is still not going to quite require the same amount of juice. The reason for this is the lack of a touchscreen and a brighter display. Hence, this is why you will see most versions come equipped with a simple cell battery (or button cell) that is designed to last for a certain time without needing to be charged.
The benefit of this is obvious; you never need to physically charge the watch. But, due to the smart functionality, they are not going to last for a very long time. Most manufacturers rate their model to last up to six months (or sometimes even up to a year) before needing to be replaced. Yet, and this is important, they say this with a bit of an asterisk. They typically claim it will last up to a certain time and claim it is based on usage. What this means is someone who uses the smart features on their watch every day will run the battery quicker than someone doing so once a week.
Comfort
For the most part, there are two factors needed for a watch to be comfortable. Firstly, it needs to not be too cumbersome and bulky. Secondly, the band needs to be comfortable. Now, in regard to the dial, it is probably better if it is too small than too large. Being too large not only causes it to stick out like a sore thumb but it also can create more weight.
As for the band, this goes back to the debate that was discussed earlier in regard to a leather band versus a metal band. While metal wins in the durability department, it does not in the weight department. Leather bands are very comfortable to wear for prolonged periods of time due to their lightweight nature and moisture-absorbent properties. Meanwhile, metal bands can feel quite heavy after a while.
Subscribe to our Newsletter