Best Outdoor Games
In a
Hurry? Editors choice: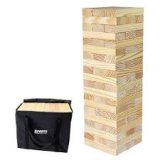 Test Winner: Giant Tumbling Timbers

Bringing everyone together over a shared love of
hot
dogs and hamburgers on your
patio
is a great way to spend a hot Saturday evening this summer, but what will everyone do after the last piece of blueberry pie is served? Investing in some fun and engaging lawn
games
is a really great way to bring everyone together and make all of your
summer
get-togethers memorable for years to come. These various types of outdoor activities have come a long way in recent years, as they have slowly and steadily picked up popularity. Afraid you can't play anything because your yard isn't all the spacious? No need to worry because a lot of these options can be played in a relatively small space.
Standout Picks
Criteria Used for Evaluation
Value
This area of outdoor gear can get a little pricey, and sometimes it is unnecessarily so. We made sure to keep an eye on the price so that it didn't eat up all of your recreations summer time funds. If you don't have a lot of money to spend, some of the models that are made out of plastics and PVC often are significantly less expensive. Padded price tags often come when you are dealing with anything made out of wood- such as cornhole, lawn bowling, and tumbling blocks. While they might end up setting you back a little bit more money, they will make up for it in durability and quality. Some of these can really take a beating when things heat up and get a little competitive, so you want to make sure they will be able to hold up, but also without draining your summer funds.
Durability
No one likes to spend money on something only to have to last a couple of cookouts before it needs to be thrown away because it begins to fall apart. We wanted to select products that would hold up to whatever you threw at it (literally) and then could be packed neatly away in the garage until the next summer. Besides, if you find a real winner that everyone loves, you might find that at your next party everyone will ask where that fun activity went- and you don't want to have to break it to them that it fell apart and you had to throw it away. Products that used wood seemed to be incredibly durable- although they often cost a lot more than their plastic counterparts.
Portability
You won't always want to play these at your house, because you are often on the go during the summertime. We wanted to select items that were able to be packed up and brought along with you without causing too much trouble. Many of these sets come with the addition of a sleek nylon carrying case. These bags not only make it easy to pack into the trunk of the car when heading to the beach for a week, but it also protects it from the weather and spiders when tucked away in storage during the winter. If your circle of friends and family are younger and full of energy, you might want to buy something that requires a lot of movement and energy. If your circle consists of younger or older folks, you might want to keep your eyes on slower paces games like bocce ball or croquet. No matter what you decide, you want to make sure that no one feels left out, and that everyone has a fun time full of excitement and laughs.
Use
It's hard to host a party because you are always concerned that your guests aren't having a fun time. When shopping around for something fun to while you wait for the hot dogs to finish cooking, or after you polish off the last piece of the pie, you should take into consideration the group that you are buying it for. Planning a good summer cookout with friends and family can seem a bit daunting, especially after everyone is done eating and that tired post-dinner silence falls over the group. While cooking a great meal is one of the most important features to a BBQ, investing in some fun games to play out in the yard is a great way to inject some life in those that become tired after dessert. If you are throwing a party with mixed company (say, both sets of in-laws) having a common activity that everyone can engage in might help to break the initial awkwardness. We wanted to make sure that we selected products that made sure they did just the trick at your next party, and to do that we kept an eye on certain things while we conducted our research.
Subscribe to our Newsletter