Best Beach Games
In a
Hurry? Editors choice: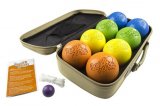 Test Winner: SeaTurtle Sports

People often associate activities such as swimming, tanning, and
grilling
when talking about the beach. However, is there really anything better than kicking back at the
beach
and playing your favorite outdoor game? Wait, you do not have a favorite and are currently on the lookout?
Well, that is good news as we are hoping to help you with your dilemma. There are so many incredible beach games out there that it can be
exponentially
difficult to find the one that piques your interest the highest. Not only that but you also may want to find a kid-friendly game that the whole family can partake in. Fear not, down below is an epic variety of beach games that is sure to leave you with some ideas.
Standout Picks
Criteria Used for Evaluation
Top 10 Picks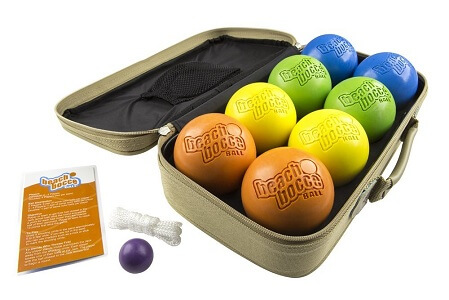 Bocce ball is not only a fantastic beach game, but it is also a great outdoor game period. Anyone can play due to its simplicity, it can account for several players, it is a blast and this specific version has nearly indestructible balls that can be played on virtually any surface.
Read more
Model/Concept
One person begins by throwing the target ball. From there, each team or player will have their own colored bocce ball and the goal is to throw your balls as close to the target ball as you can. The closest ball wins.
Portability
SeaTurtle includes a canvas carrying case with your purchase and it will hold all the bocce balls in one convenient place.
Ease of Use
For the setup, there really is not one, to be honest. The game only consists of several bocce balls and a target ball. It really is an incredibly simple game; which would have been improved with a target ball that was a brighter color as it easily blends in and can be hard to see.
Materials
All the bocce balls have been crafted with crackproof, rustproof and shatterproof polymers. Plus, they are injection-molded and should last long enough to pass down from generation to generation.
Versatility
Due to the durability of the bocce balls and the small diameter size of only three inches, this game can be enjoyed by all ages and played on any surface you can imagine.
Overall
About the only aspect that could be fixed about this bocce ball set is the target ball. In spite of that, though, few games are as fun to play. Plus, it is ideal for all ages and up to eight players can play at once (if you split up into teams).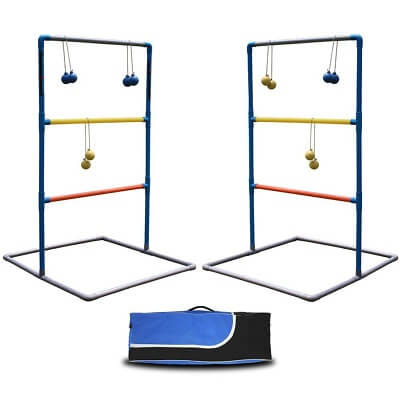 There is a high chance that you have either played ladder golf or seen it played. It certainly can be a frustrating game, those who have played it can attest to that, but few possess its strategy and all-out entertainment.
Read more
Model/Concept
Basically, there are three of bars of differing heights and your goal is to land the bolas (which are two balls connected with a rope) on any of the bars (each one representing different point values).
Portability
The frames of both ladders can be dissembled and placed in the included carrying case. Overall, the ladders are lighter than you will probably imagine.
Ease of Use
No tools are required to assemble both of the ladders and it can be done in mere minutes. Instructions are included for reference, though.
Materials
While the frame itself is made of a premium PVC material for safety, the stakes have received criticism. Some buyers reveal they are too flimsy for their liking. Also, other users have had issues with the connectors breaking.
Versatility
Whether on the beach, in your backyard, or even at a campground, this game is ideal to play anywhere outdoors. It can be played indoors, but caution must be taken with errant throws.
Overall
Despite the build issues that some users have alluded to, this is an overall well-built version of ladder golf. Simply, it is one of the most entertaining games you will find.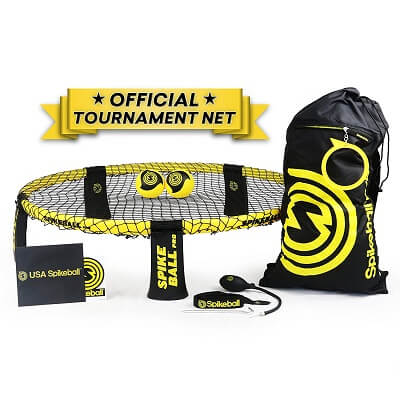 The Spikeball Pro Kit was actually a product that was conceived and presented on the world-famous television show Shark Tank. It is a brand-new concept and if you can impress the businessmen on Shark Tank, you have done something.
Read more
Model/Concept
Without going too in-depth, the best way to describe Spikeball is a mix of volleyball and four-square. Two players will play against two others and a net is placed in between them. From there, you take the included ball and attempt to ricochet it up at your opponents.
Portability
A huge bonus is a durable and lightweight backpack is included with your investment. It sports a storage pocket for necessities and padded shoulder straps for comfort.
Ease of Use
The setup process is not a bad one and there is even an included serving marker to ensure you set up the serving distance appropriately. Additionally, an air pump is included for the balls.
Materials
There is no-slip rubber coating on the legs to ensure stability on all surfaces and new material for the balls that improves their texture (which can lead to more spin control). Yet, various buyers have commented on the flimsy net.
Versatility
What is so nice about this game is you can vary the playing distance. For example, at the tournament level, you can play with a diameter of 50 feet. If you wanted to play this indoors, though, you could reduce the playing area at will.
Overall
Clearly, this was worth Shark Tank's time. Now, the net could be improved and designed with a sturdier material but as it sits, Spikeball is a versatile and innovative experience.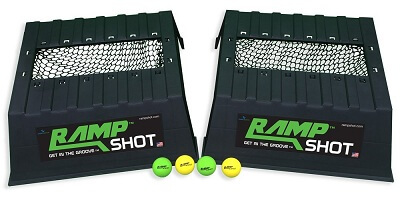 This next game is probably unlike one you have ever seen and it is based on interactivity. However, it is not going to be for everyone due to its difficulty and could be seen as a no-go for younger kids.
Read more
Model/Concept
Much like in most beach games, two teammates will stand on opposing sides and work together to score points. Points can either be scored by getting the ball directly into the net or by catching it off a rebound.
Portability
Both of the RampShot ramps will stack on top of each other and can be easily thrown into the backseat of your vehicle.
Ease of Use
Several users point out that this is not the easiest game and that it may not be suitable for younger children. Plus, one user even mentioned they had to alter the rules to make it more feasible.
Materials
While the ramps may not be waterproof, they are weather-resistant. In addition, both the ramps are made up of high-quality plastic and are designed with grooves to allow the ball to ricochet.
Versatility
If you have the space, this can be an indoor game. However, RampShot was clearly designed as an outdoor game and is perfect for the beach, camping, tailgating, and backyard adventures.
Overall
RampShot takes a classic formula and adds a unique twist to it. Honestly, this is a fantastic game for people who are kind of bored with the tried and true formula of games such as horseshoes, cornhole, and washer toss.

5

. Viva Sol Horseshoes Set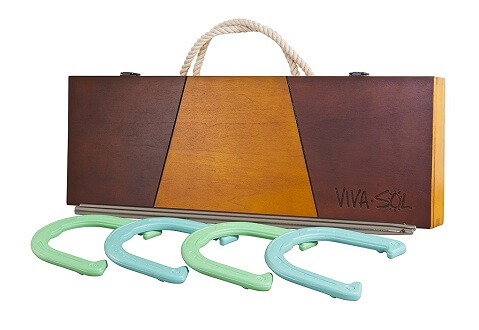 Who does not like an old classic game of horseshoes? If you do not like change and prefer the classics, this set could be for you. Yet, due to the heavy nature of the horseshoes themselves, which are made of forged steel, they may be too heavy for children.
Read more
Model/Concept
Few people do not know what horseshoes is but if you have no clue, the purpose of the game is to toss your horseshoes as close to the opposing pole as you can.
Portability
While there was a reviewer who reported they had issues when packing everything inside the included case, a beautiful and luxurious walnut finish, an all-wood case is included.
Ease of Use
All that is required on your part is to set up the stakes at an appropriate distance away from one another. From there, the game is ready to go. But, due to the weight of the horseshoes, it may be too difficult for children.
Materials
Again, the horseshoes have been made of forged steel and are quite heavy. But, they should hold up to abuse longer than cheaper models. Also, the stakes are rustproof and made of stainless steel.
Versatility
Due to the horseshoes and stakes, this is for outdoor use only. It can be used virtually on any surface that you can physically stick a stake into, though.
Overall
For novices and newcomers, this may not be the best beach game. But, if you and your family have a passion for horseshoes (or at least really enjoy the activity) then this is right up your alley.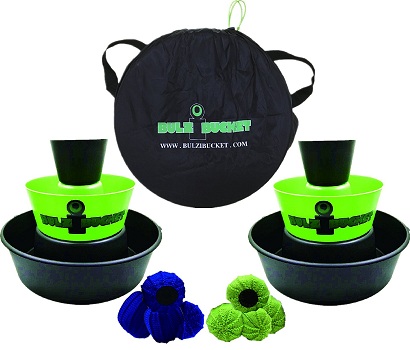 Bulzi Bucket is essentially a lighter and easier alternative to the famous game cornhole. Because of this, it makes it ideal for any and all ages and also for simpler portability. It is a necessary combination for some beachgoers, which is for sure.
Read more
Model/Concept
While this is not exactly like cornhole, it has the same concept but uses round surfaces in place of giant boards. Plus, you can play one of three ways; either via throwing, assisting, or kicking the bag.
Portability
One of the benefits of this game as compared to traditional cornhole is it is much lighter. As an extra, it also comes with a portable carrying case.
Ease of Use
Per the product description, it should take you less than 20 seconds to assemble this game. All things considered, it is tough to ask for anything more than that.
Materials
Outside of the fact that the majority of the game is crafted of plastics with flex resin, more than a few buyers have expressed dissatisfaction with the quality of the bags.
Versatility
There really is no limit to where you can enjoy this game. In fact, it can be played indoors, outdoors, at the beach, poolside, and anywhere else you can think of.
Overall
It is fair if you believe this is an overpriced game and truth be told, perhaps it is. Yet, the sheer convenience and versatility should be enough to sell you. Plus, at its core, it is pure entertainment.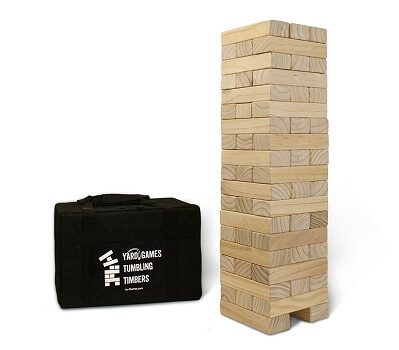 Tumbling Timbers is a game that you will no doubt be familiar with and one you might have played religiously as a child. It features a very simple concept and this could be seen as its greatest attribute; it just depends on your preferences.
Read more
Model/Concept
Basically, this game starts after you have constructed your tower (more on this later). The goal is to successfully remove a block without the tower collapsing and the last player standing wins.
Portability
Included with your purchase is a high-quality and high-strength nylon carrying case.
Ease of Use
Granted, the setup process is easy, it can become monotonous very quickly. Every time the tower falls, you must reassemble it to play again. Yeah, that can get annoying quick.
Materials
Each of the blocks has been crafted of solid pine wood and have been pre-sanded. Now, because pine is softwood, they will swell up if exposed to water.
Versatility
This can be played indoors and outdoors and virtually anywhere. Again, due to the pinewood, though, stay a reasonable distance away from the water so it is not exposed to it.
Overall
Let's just be straightforward here, this game will only appeal to a specific demographic of people. Of course, this is almost too perfect for your children who can stack blocks together.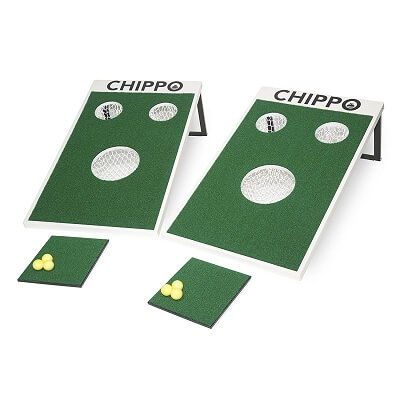 Do you enjoy playing both golf and cornhole? Well, if you do, then it is hard to imagine a beach game that is more up your alley than Chippo. Essentially, it is cornhole combined with golf and it is not only a blast to play on its own, but can also help with golfers' short games.
Read more
Model/Concept
If you have ever played cornhole before, the same general concept applies. You attempt to throw your target in one of the nets of the target board (or land it on top). However, this version substitutes beanbags for golf balls and you chip the balls instead of tossing them.
Portability
Built into the underside of each board is a compartment that will store the chipping mats. In addition, the steel legs will fold under the boards.
Ease of Use
An important detail to bring to your attention is you will need to supply your own golf club. Speaking of which, you will physically be chipping golf balls to score and this could prove too difficult for some people.
Materials
First off, the boards are engineered with reinforced plastic and have been covered in artificial turf. As for the balls, they are made of high-density foam. Lastly, the chipping mats will not slip or move when you chip off them.
Versatility
Because the golf balls are made with a safe foam material, this is safe to play virtually anywhere. Heck, it could even be an indoor game.
Overall
If you despise golf, then you may not be into this iteration of cornhole. Yet, if you feel the exact opposite about it, pick this up as there is no better way to golf while at the beach.

9

. Bucketball Beach Edition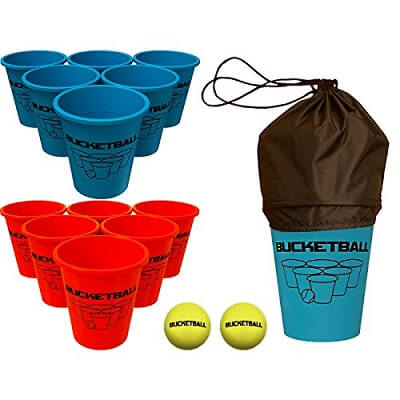 If you have ever played beer pong than you will be familiar with BucketBall. Now, to make it kid-friendly, the beer has been stripped away from the equation. Of course, for adults only, you could transform it into beer pong very quickly.
Read more
Model/Concept
Much like in beer pong, there are six buckets for each team and they should be placed in a triangular formation. The goal is to get your ball into the opposing team's buckets and the winner is the person who successfully lands their balls in each bucket.
Portability
Inside of the included tote bag, all the components will take up less than one cubic foot of space and weigh less than seven pounds.
Ease of Use
All you need to do to set up this game is separate the set of six cups around 20 feet from one another. Each set of six should then be arranged in a triangular formation.
Materials
Unfortunately, the quality of the buckets leaves a lot to be desired according to a few buyers. These buyers claim some of the buckets cracked too easily.
Versatility
With other accessories, you can actually play this on the water. However, even without the extra accessories, there is no harm to play it anywhere your heart desires.
Overall
Some of you may shake your head with BucketBall and feel that you could just grab some random cups and play the same game. While this is not exactly false, the total package of this investment is worth considering.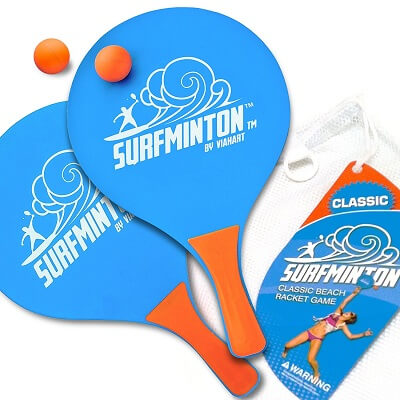 When it comes down to it, some beachgoers can be entertained with two rackets and a ball. This is exactly what you are getting with this last game and it is not flashy, but it can still provide hours of entertainment; especially if you are competitive.
Read more
Model/Concept
Whether you have a partner with you or want to play by yourself, you can do either here. Either use the paddle to bounce the ball by yourself or do so with a partner.
Portability
A high-quality mesh bag is included with your investment and the overall weight is kept to a minimum.
Ease of Use
Literally, there is no setup required. Much like with a sports ball, once you get out the paddles and ball you are ready to rock.
Materials
The thick plywood paddles are water-resistant but not waterproof. Also, the balls are made of light plastic and are rendered useless in moderate winds.
Versatility
Even if you have no interest in playing beach tennis, your children or young ones can easily get the hang of this.
Overall
Is this game to die for? Probably not but it is an entertaining side game that can achieve mindless joy. In fact, it could be a good way to shut your kids up once in a while!

Subscribe to our Newsletter