The Best Portable Grills Reviewed & Tested
last updated:
Feb 07, 2020
Camping and grilling really do go hand in hand. Lugging a giant grill to your campsite is a thing of the past. Everyone enjoys the hot dogs grilled on the fire but what about making some quality burgers or steak, or grilling up some veggies on your next camping trip. These portable grills are compact and the perfect accessory for camping, tailgating, or even a home barbeque. We have included a great variety of grills on this list, including both charcoal and propane options. Each has its own advantages and disadvantages, but the decision is yours to make. Check out the criteria section to learn what is most important when shopping around. Then, relax and let us guide you through the top options available today.
This is the best product on our list that is currently in stock: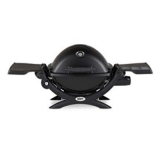 Weber Q1200
Why is it better?
Lightweight
Cooks quickly and evenly
Easy to set up
Durable
Available in multiple colors
In a
Hurry? Editors choice: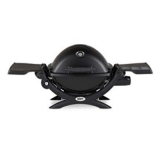 Test Winner: Weber Q1200

14
Researched Sources
1,879
Reviews Considered
15
Hours Researching
18
Products Evaluated
Size
Power Source
Features
Materials
By Default
Criteria Used for Evaluation


Size
Grill SIze
Perhaps one of the more important aspects of a portable grill is how much cooking area is available for use. After all, chances are you'll be cooking for more than just yourself. While the grills presented here have a fairly wide range of sizes overall, the available cooking areas appear to be relatively consistent, ranging between 187 and 608 square inches, with the average somewhere between 250 and 285 square inches.
What this means is that the majority of these grills have the available space to cook a good size meal including vegetables, meats, some buns, and even to warm water for tea or coffee without too much trouble, and still be small enough to be easily transported from place to place.
Burner Size
If you decide that the best portable grill for you needs to use propane gas, other criteria to keep in mind is the overall burner size, as well as its shape and orientation. While it may not seem like much, knowing these things can help you determine how well heat and flame are distributed if there are any cool areas on the grill that can be used for staging, or "dead zones" where heat simply won't reach. Knowing these things helps you to not only cook better but to also have the freedom to experiment with different types of food and grilling.


Power Source
Generally speaking, most portable grills offer two types of fuel sources. They either make use of propane gas, or they use charcoal or wood. Both of these have their advantages and disadvantages, and choosing one over the other is a personal decision that should be left up to the cook in question.
A propane gas grill allows for exacting heat and flame control since the source of the fuel can be easily regulated through valves and regulator hoses. However, the cost of the fuel depending on the size of the grill and the amount of cooking needed can get rather expensive. In addition, there are safety concerns that are inherent in using flammable gas under pressure. On the good side of things, though, propane gas often burns much cleaner than charcoal and doesn't produce the smoky charcoal flavor that can be undesirable for some people.
A portable grill that uses charcoal, however, does have some decided advantages over propane gas. First, there isn't as great a safety hazard, since the fuel source isn't under a good deal of pressure. While it can certainly still burn things and potentially set items on fire, you're probably not going to have to worry about explosions. Second, for some people, there is no replacing the taste that a charcoal grill can produce – that smoky woodsy flavor that is easy to recognize, but so hard to replicate.
However, there are some disadvantages when using charcoal. For one, it can be rather messy. The soot from the charcoal briquettes can get practically everywhere if you're not careful. Second, it can be difficult for a beginner to control the heat and flame, since the fuel source isn't changed, but rather the airflow around the flame controls the temperature. And finally, transporting a bag of charcoal can be a bit inconvenient compared to transporting a small propane tank.
Whichever fuel source you choose will depend greatly on your preferences and skill with the portable grill. Thankfully, there are a number of choices in each category, so finding the right one for you shouldn't be that much of an issue.


Features
Let's face it, when it comes to grilling, controlling the flame and the heat is the name of the game if you want great tasting food. Thankfully, today's portable grills offer quite a few options when it comes to controlling both the fuel that is the source of the heat and the overall temperature of the grill itself during cooking. These can range from easy to use dial systems on the propane-fueled grills or venting systems that control temperature rather well by increasing or decreasing the amount of airflow around the flames. Whichever method you choose, it's nice to know that the control you need is available.


Materials
Between the heat of cooking, the potential inclement weather, and the constant use during the camping and tailgating season, your portable grill is going to take a lot of abuse. So you want it to be strong and tough. However, you probably don't want to lug around a heavy cauldron type set up each time you go camping, so it also needs to be lightweight and portable. The balance between practicality and toughness is often found in the overall construction of the portable grill.
The first thing to look at is the materials used in making the grill. Often materials that are either heat resistant or that will conduct heat readily are used. Metals such as aluminum, stainless steel, and sometimes cast iron are used to not only provide the necessary strength but also make it easier for the heat to be distributed evenly around the camp grill.
After you know that your grill is constructed with quality materials, the next step is to take a look at the hardware of the grill. Are the hinges well made? Do the vents open and close easily? Can the regulator knobs be safely used? Are the hoses intact? Is the body of the portable grill thick enough to withstand the heat that may be generated? Is the grill relatively easy to clean? All these questions are ones that should be answered by looking at the overall construction of the portable grill. Thankfully, with most of the grills on this list, the answers to these questions are affirmative.
Expert Interviews & Opinions
Most Important Criteria
(According to our experts opinion)
Experts Opinion
Editors Opinion
Users Opinion
By Default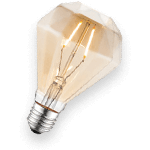 How often will you be using the grill?
If you're going to be using your grill every weekend, or for prolonged periods of time, you'll want a portable grill that is not only easy to use and transport, but also easy to have repaired when it breaks down over time. Frequent use will often cause the various smaller parts of the portable grills to wear out, and they will need replacement if the grill is to function well. So a grill that is simple to maintain and easy to clean might be a better choice if you see using it on a regular basis. However, if you see yourself using it once or twice during the season and putting it away into storage, a portable grill that has more bells and whistles or modern conveniences may be more appealing overall.
Pre-Seasoning
A great way to save time and space is to pre-season the meat and/or vegetables before setting out on your camping trip. You can do this with just spices or with a marinade. Not only will this bring more flavor to your food but it will also save you some room in your pack.
Pack Less
Try to think out your meals in advance. First of all, by doing this, you'll be sure to have all of the ingredients that you need. Secondly, you'll know exactly which types of pots and pans you'll need to bring. To save space and weight, remember that you can use pots and pans as mixing and bowls. Also, the uses of heavy-duty aluminum foil are endless. You can easily mix and season vegetables in an aluminum pocket.
Other Factors to Consider


Weight
All of these grills are deemed as "portable" grills and their sizes reflect that. For each product, we listed the size of the burners and of the grills themselves, but you can not forget to take the weight of the grill into consideration as well. Perhaps the heaviest part of the grill will end up being the fuel source that is required. Some campgrounds feature stations to hook up to a fuel source, but if you are going into the backwoods, you may need to provide your own. Especially if you will be traveling a long distance from your car to the campsite, the weight of the grill is something to keep in mind.
Frequently Asked Questions
q:

What type of grill is best for tailgating?

a:

The best type of portable grill for tailgating depends on a number of factors including the location that the tailgating is taking place, the number of people who will be using the grill, and even what's on the menu.

Generally speaking, though, you'll want a grill that is easy to move around, allow you to keep your serving trays and utensils in easy reach, that has a relatively large cooking surface and can be easily packed away at the end of the day without any real fuss.
q:

What's the best way to clean a portable grill?

a:

The best way to keep your portable grill clean without the use of chemicals is to use the heat that exists right after cooking to remove the grease and stuck-on food with a grill brush, a little bit of soap, and maybe a spritz or two of water.

However, we know that the likelihood of cleaning a grill immediately after use is pretty slim. So instead, there is a great and easy way to clean the stuck-on food and grease off your grill cooking surface. Start by removing the cooking surface, and wiping off the excess material as best you can. Now, go inside and preheat the oven to about 450 to 500 degrees, and place the cooking surface in the oven for about half an hour. Make sure you place a cookie sheet underneath to catch any errant grease. During that time, use a soft, damp cloth to remove any excess grime from the body of the portable grill, and wipe it dry completely. Trust us, without the grilling surface, it makes it much easier.

Once the timer goes off, carefully remove the grilling surface from the oven, and allow it to cool. Then simply take your wire grill brush and remove the grease, grime and food particles that have been essentially turned to ash by the heat of the oven.
q:

How many people can I accommodate with a portable grill?

a:

When you're looking to buy a portable grill, you'll need to take into account the number of people that you will probably be cooking for. Knowing that you'll be able to easily determine how large a grill you'll need to purchase.

As a general rule, the amount of food needed to feed one average adult will take up about 70 square inches on the grill. Add to that the amount of room needed for flipping a burger, or adding on an extra hot dog or two, and a grilling surface of 285 square inches will provide you enough room to cook for four people, depending on their appetites.

Of course, there is nothing wrong with buying more grill than you need, but then you'll have to deal with waste heat and the potential waste of fuel to heat the larger area. Plus the larger portable grills aren't always as easy to move around as a smaller one.

The best course of action is to think about how many people on average you'll be cooking for years with this portable grill. If it's only a few people or just yourself, a tabletop grill will provide more than enough room. However, if you're the chef at the local tailgating party, something larger may be in order.
q:

Why would I need a portable grill?

a:

Many wonder why they would even need a portable grill as they have a BBQ at home and when they go camping they cook over the fire, but what if you could have the ability to make some quality meals while anywhere. This is what the portable grill allows you to do, it allows you to bring anything your heart desires and grill. Usually, these grills are affordable and a good addition to your gear as you never want to be camping or at a tailgate and not have the ability to cook up some quality food. If your a person that will find themselves outdoors quite often than a portable grill is highly recommended.
q:

How far away should my grill be from my tent?

a:

As a general rule, about 10 feet between your grill and tent should be sufficient. If there is a lot of wind, you may want to increase the distance by a couple more feet. This distance is important not only for avoiding fire, but also to keep you, your belongings, and your tent from stinking. Do you know how they say that smoke follows beauty? That is wonderfully flattering but can also be dangerous. As an extra safety measure, you should also always clear the ground around the grill. Make sure that no flames or heavy smoke are heading for a pile of leaves.
Subscribe to our Newsletter