The Best Portable Grills Reviewed & Tested
In a Hurry? Editors choice: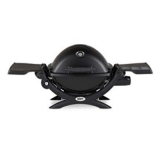 Test Winner: Weber Q1200

Camping and grilling really do go hand in hand. Lugging a giant grill to your campsite is a thing of the past. Everyone enjoys the hot dogs
grilled on the fire
but what about making some quality burgers or steak, or grilling up some veggies on your next camping trip. These portable grills are compact and the perfect accessory for camping, tailgating, or even
a home barbeque
. We have included a great variety of grills on this list, including both charcoal and propane options. Each has its own advantages and disadvantages, but the decision is yours to make. Check out the criteria section to learn what is most important when shopping around. Then,
relax
and let us guide you through the top options available today.
Standout Picks
Criteria Used for Evaluation
Size
Grill SIze
Perhaps one of the more important aspects of a portable grill is how much cooking area is available for use. After all, chances are you'll be cooking for more than just yourself. While the grills presented here have a fairly wide range of sizes overall, the available cooking areas appear to be relatively consistent, ranging between 187 and 608 square inches, with the average somewhere between 250 and 285 square inches.
What this means is that the majority of these grills have the available space to cook a good size meal including vegetables, meats, some buns, and even to warm water for tea or coffee without too much trouble, and still be small enough to be easily transported from place to place.
Burner Size
If you decide that the best portable grill for you needs to use propane gas, other criteria to keep in mind is the overall burner size, as well as its shape and orientation. While it may not seem like much, knowing these things can help you determine how well heat and flame are distributed if there are any cool areas on the grill that can be used for staging, or "dead zones" where heat simply won't reach. Knowing these things helps you to not only cook better but to also have the freedom to experiment with different types of food and grilling.
Power Source
Generally speaking, most portable grills offer two types of fuel sources. They either make use of propane gas, or they use charcoal or wood. Both of these have their advantages and disadvantages, and choosing one over the other is a personal decision that should be left up to the cook in question.
A propane gas grill allows for exacting heat and flame control since the source of the fuel can be easily regulated through valves and regulator hoses. However, the cost of the fuel depending on the size of the grill and the amount of cooking needed can get rather expensive. In addition, there are safety concerns that are inherent in using flammable gas under pressure. On the good side of things, though, propane gas often burns much cleaner than charcoal and doesn't produce the smoky charcoal flavor that can be undesirable for some people.
A portable grill that uses charcoal, however, does have some decided advantages over propane gas. First, there isn't as great a safety hazard, since the fuel source isn't under a good deal of pressure. While it can certainly still burn things and potentially set items on fire, you're probably not going to have to worry about explosions. Second, for some people, there is no replacing the taste that a charcoal grill can produce – that smoky woodsy flavor that is easy to recognize, but so hard to replicate.
However, there are some disadvantages when using charcoal. For one, it can be rather messy. The soot from the charcoal briquettes can get practically everywhere if you're not careful. Second, it can be difficult for a beginner to control the heat and flame, since the fuel source isn't changed, but rather the airflow around the flame controls the temperature. And finally, transporting a bag of charcoal can be a bit inconvenient compared to transporting a small propane tank.
Whichever fuel source you choose will depend greatly on your preferences and skill with the portable grill. Thankfully, there are a number of choices in each category, so finding the right one for you shouldn't be that much of an issue.
Features
Let's face it, when it comes to grilling, controlling the flame and the heat is the name of the game if you want great tasting food. Thankfully, today's portable grills offer quite a few options when it comes to controlling both the fuel that is the source of the heat and the overall temperature of the grill itself during cooking. These can range from easy to use dial systems on the propane-fueled grills or venting systems that control temperature rather well by increasing or decreasing the amount of airflow around the flames. Whichever method you choose, it's nice to know that the control you need is available.
Materials
Between the heat of cooking, the potential inclement weather, and the constant use during the camping and tailgating season, your portable grill is going to take a lot of abuse. So you want it to be strong and tough. However, you probably don't want to lug around a heavy cauldron type set up each time you go camping, so it also needs to be lightweight and portable. The balance between practicality and toughness is often found in the overall construction of the portable grill.
The first thing to look at is the materials used in making the grill. Often materials that are either heat resistant or that will conduct heat readily are used. Metals such as aluminum, stainless steel, and sometimes cast iron are used to not only provide the necessary strength but also make it easier for the heat to be distributed evenly around the camp grill.
After you know that your grill is constructed with quality materials, the next step is to take a look at the hardware of the grill. Are the hinges well made? Do the vents open and close easily? Can the regulator knobs be safely used? Are the hoses intact? Is the body of the portable grill thick enough to withstand the heat that may be generated? Is the grill relatively easy to clean? All these questions are ones that should be answered by looking at the overall construction of the portable grill. Thankfully, with most of the grills on this list, the answers to these questions are affirmative.
Top 10 Picks
1

. Coleman Road Trip Propane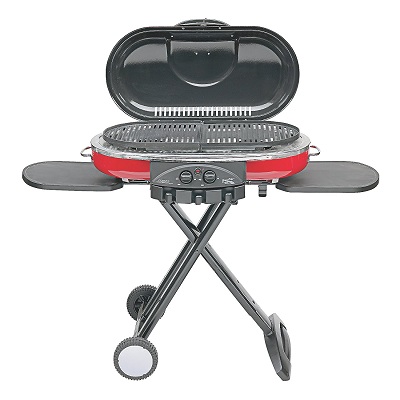 When it comes to versatility and practicality, it's hard to beat this grill from Coleman. It is designed with the champion barbeque chef in mind and features a number of practical characteristics that make grilling at the game or in the backyard a breeze.
Read more
Size
The cooking area on this grill is fairly large – nearly 285 square inches of viable area. There are two burners featured in this portable grill, each covering approximately ½ of the grilling surface.
Fuel Source
This grill features easy to control propane gas, nearly 20,000 BTU of heat that is fueled by two 16.4 ounce propane cylinders.
Features
This portable grill features easy to use dials to control the amount of flame and propane gas used, as well as a push-button ignition system for full control. In addition, the included technology makes it easy to regulate the heat and provide a constant flow even in windy or extreme conditions.
Materials
There are a number of features on this grill that make it stand out from the rest of the pack with ease. For example, it is relatively lightweight at approximately fifty-three pounds and is easily collapsible for transportation and storage. There are two trays on either side of the grilling surface when ingredients and tools can be safely stored. And finally, the grill surfaces are made from cast iron and porcelain, making them relatively easy to clean. The only complaint that was cited was that the exterior paint was prone to chip off over time.
Summary
Pound for pound this portable grill is one of the best on the market today for the price. While the cosmetic paint job does leave a bit to be desired, this workhorse can easily handle enough food for two to four people and fit easily in the trunk of a car. It's a perfect addition to your tailgating team.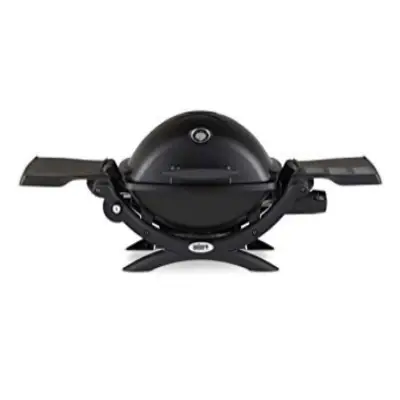 The Q1200 is durable, easy to use, and lightweight. At only 31-pounds, it can be transported almost anywhere, and by anyone. With high-quality components, you can feel confident that this grill will last you through many seasons.
Read more
Size
This Weber Q1200 grill is a great size grill for two to four people. The cook space measure 189 square inches. This allows you to cook many different items, including a whole chicken. When the lid is closed and tables are open, the dimensions of the grill are 15.5" high, 40.9" wide, and 16.5" deep. Overall, the grill weighs 31-pounds.
Power Source
One of the great features of this propane gas grill is that you can use the small camping propane tanks to fire it up. If you prefer to use a larger tank, you'll need a hose adapter. However, considering that this article is all about portability, we think the small tanks are perfect. One burner produces 8,500 BTU per hour. There is an easy to use burner control valve on the side. Some reviewers have said that it is easy to accidentally switch to the on position and to be careful with it.
Features
Perhaps one of the best features of this portable grill is it's ease of use and clean up. It is simple to clean after using and also includes a grease catching tray. There is minimal maintenance needed. To keep an eye on the temperature without opening the grill, there is a built-in thermometer on the lid. If you desire, there is a two-wheeled portable cart that can be purchased to pair with this grill.
Materials
As you have come to expect from Weber, this grill is made from durable materials. It features porcelain enameled cast iron grates, as well as a cast aluminum lid and body. The iron grates retain heat well and evenly. The burner tubes are made from stainless steel with no welds, making them more rust and burn-resistant.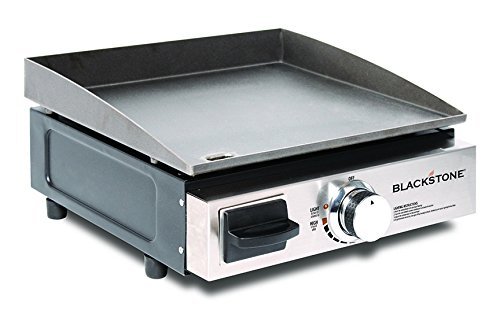 If you want true portability and go anywhere practicality for your portable grill, this third entry on our list from Blackstone certainly warrants consideration. Small and compact, it easily fits on any table or flat surface that you can find and offers consistent cooking.
Read more
Size
Considering the grills compact nature, the cooking area is relatively large, measuring about 260 square inches in size. This grill features an H-shaped single burner that extends throughout the entire cooking area to provide for superior and consistent heat overall. In addition, the burner itself features approximately 12,000 BTU of heat for extremely fast cooking times.
Fuel Source
This portable grill features the ability to use a small one-pound propane gas tank, which is easily found in most hardware stores.
Features
The cooking temperatures are easily regulated using a centralized dial that controls the amount of propane gas sent to the burner.
Materials
The overall construction of this portable grill is compact, efficient, and fairly straight forward in its design. It offers consistent heat and a large grilling surface, and the stainless steel construction is fairly durable. The only two complaints that we saw was that the grilling surface sometimes warped under high heat usage and the propane tank didn't last beyond one or two uses.
Summary
If you're looking for a relatively small portable grill with a large overall cooking surface to use in a wide range of settings, this example from Blackstone should certainly be on your list. While we certainly would have liked to see a bit more durability in the griddle surface itself, overall this is a truly well-made piece of equipment.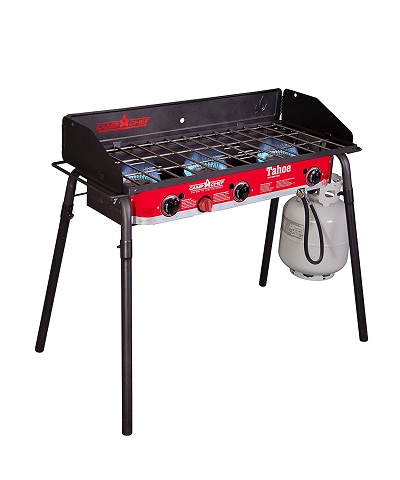 If you're looking for a bit more durability and functionality in your portable grill, it's hard to pass up what the Camp Chef Tahoe has to offer. Built for established campgrounds or backyard adventures, this grill offers the ability to easily cook for larger groups.
Read more
Size
The available cooking area of this portable grill is one of the largest we've seen at approximately 608 square inches that is spread over three burners. The likelihood of you not having enough cooking space with this grill is pretty much non-existent. Unlike many of the portable grills on this list, the three included burners are full-sized, and rival that of the burners found on a typical kitchen stove.
Fuel Source
The three burners are supplied with approximately 30,000 BTU of heat through the use of propane gas.
Features
Overall the heat distribution and control is fairly good, although a few cool areas on the grill were surprisingly found when all three burners were in use at the same time. Thankfully, the intensity of the flame can easily be adjusted using one of the three control knobs at the front of the burner stove.
Materials
What struck us the most about this particular portable grill was how solidly built, and heavy it was. The entire grill weighs about 48 pounds, but it is still easily broken down and can be placed in an easy to use carrying case. The frame is stainless steel construction, and the burner area is made from high-quality lightweight aluminum. It also includes an easy to use regulator hose for added safety. The one complaint that we most consistently saw was that the overall weight made it somewhat difficult to transport.
Summary
If you are cooking for larger groups in your camping or tailgating future, this portable stove from Camp Chef is certainly one to consider for your future. While it is a bit on the heavy side, its sturdy nature and versatile heat control make for a great overall grill.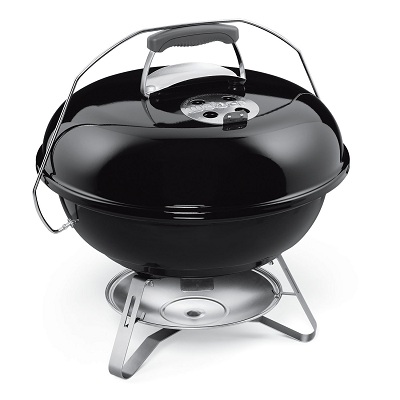 Sometimes the classic is a classic for a reason. This example of a portable grill from Weber has withstood the test of time and for good reason. It's extremely portable, easy to use, and features a great all-around cooking experience.
Read more
Size
The grill size is fairly decent, at 240 square inches, and can easily accommodate enough food for three to four people. There is no specific burner with this particular portable grill, as the heat source is either wood or charcoal briquettes. The size of the heating area is dictated by the number of charcoals and their positioning within the grill itself.
Fuel Source
This portable grill uses charcoal briquettes or wood as per the preference of the user.
Features
Heat and flame control on this particular portable grill can be somewhat difficult if cooking with charcoal is something that is unfamiliar to the user. However, with the correct expertise and experience, heat and flame control can be accomplished.
In addition, the entire grill itself weighs less than 18 pounds, so it's fairly easy to transport. The one consistent area of complaint we found was that the lower charcoal grate wasn't the best quality overall, and was liable to warp under high heat.
Materials
This grill has a fairly simple domed designed that is put together to maximize the cooking around and the use of heat from the charcoal pieces. The grill, outer portion, and grilling rack are constructed of lightweight steel material, and the glass-reinforced nylon handle makes it simple enough to regulate the temperature while cooking by using the lid.
Summary
If you're looking for an easy to use charcoal grill that has more than enough room for plenty of food, the Weber Jumbo Joe 18 inch Portable Grill is one to consider. While we would have like to see a bit more durability in the charcoal grate, overall this portable grill is no slouch.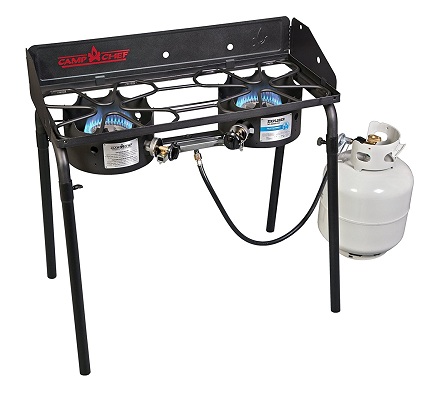 This sixth entry in our list is also from Camp Chef. The Explorer 2 Burner Outdoor Camping Modular Cooking Stove is a portable, rugged, and versatile grill that allows you to enjoy some great outdoor cooking at the fraction of the room.
Read more
Size
The cooking service of this grill is approximately 448 square inches.
Fuel Source
The fuel source for this particular grill features propane gas that is divided between two burners. The burners featured in this grill are two (2) normal size burners, one at each end of the grilling area. Each one has their own dial for adjustment purposes and a three-foot regulator hose.
Features
The propane is divided between two burners and the flow can be easily adjusted using the corresponding nozzles and regulators provided with the grill. There were notable cool areas on the cooking surface itself, but with an output of approximately 30,000 BTU each, the amount of heat produced is more than enough to cook most foods adequately.
Materials
While the other portable grills on this list come with most things you'd need to get a great meal going, this portable grill could be considered a foundational piece, with the ability to mix and match the accessories to make a truly customizable piece of equipment.
Most choose to accessorize with griddle plates, barbeque equipment, and wind protectors. While the ability to customize is certainly a perk, a few included accessories would certainly make the portable grill more useful right out of the box.
Summary
If you're looking for a portable grill that can be truly customized to fit your needs, this modular system from Camp Chef may be the way to go. While we certainly would have preferred a few accessories included, the ability to truly customize this grill, as well as its sturdy construction makes it stand out from the rest of the pack.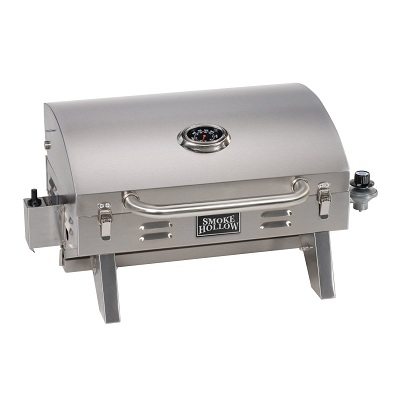 If a great barbeque is in your future as a chef, you'll definitely want to consider this portable grill from Smoke Hollow as your go-to piece of equipment. It's light, has a respectable cooking surface, and can travel easily in a car, camper or truck to your destination.
Read more
Size
The grilling area on this portable grill is somewhat smaller than the others on the list at 205 square inches, but is still quite respectable, especially for smaller and more intimate groups. The burner is U-shaped in configuration and extends throughout the entire cooking area. The shape and overall size help to distribute the flow of heat somewhat evenly throughout the cooking area, but there are certain zones where the amount of heat dispersed is highly different. This is most likely due to the U-shaped burner design.
Fuel Source
This heat for this grill is fueled by either a 1 pound propane tank, or through the use of an adapter hose and regulator, a larger, 20 pound propane tank is possible.
Features
Overall the heat control is fairly good, provided that a careful eye is kept on the grill itself. There were a number of reports of the grill becoming abnormally hot very quickly once the lid was closed.
Materials
The body and cooking area of this portable grill is fashioned out of high-quality stainless steel and features a locking lid, folding legs, and an easy to use carrying handle. In addition, the lid can lock into place, helping to prevent significant accidents or food mishaps.
Summary
While the heat control and distribution do leave a bit to be desired, this portable grill from Smoke Hollow is a respectable choice when it comes to enjoying a great barbeque in the backyard.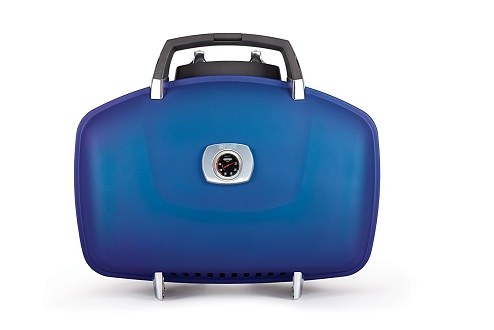 The Napoleon TQ285-BL Portable Propane grill is a compact and light way to enjoy outdoor cooking for a relatively small group. This grill is not only easy to use but is also very easy to transport.
Read more
Size
The grill is relatively small, featuring only 285 square inches of available cooking space. The two burners are relatively small in size but feature stainless steel tube construction to allow for every efficient heat distribution over the cooking area of the grill.
Fuel Source
The two burners are fueled by propane gas that feeds approximately 12,000 BTU of heat between two burners.
Features
Overall the heat and flame control of the Napoleon grill is very good. Each burner is independently controlled, so complex zones of indirect and direct cooking can be maintained fairly easily. The burners also feature a temperature gauge and a steady ignition switch for great flame control when needed.
Materials
The body of the portable grill is fashioned out of lightweight aluminum, while the cooking surface is made from a porcelainized cast iron material, so it does have a bit of extra weight when in full use.
While the overall construction is well made, some users found that closing the lid often allowed for the collected grease to spill outside the grill itself when in use, leading to a significant cleanup.
Summary
While this portable grill definitely gets high marks for heat control and overall size, the overall construction does leave a bit to be desired. However, if having to clean up on a regular basis is no worry for you, then this gift may just be what you need.

9

. Char Broil TRU Infrared Bistro 180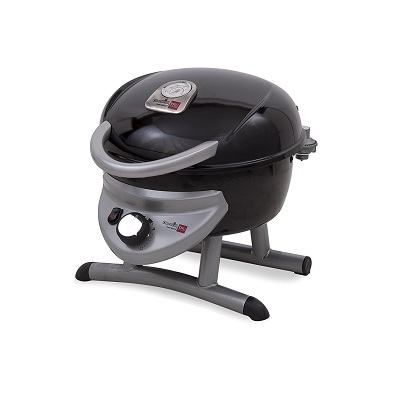 This portable grill from Char-Broil stands out not only because of its relatively small size but also because of the use of infrared heat. The infrared heat allows for a faster, less drying outdoor cooking.
Read more
Size
The cooking area is relatively small, only about 285 square inches, but also includes an upper cooling area that is great for steaming vegetables or rice as needed. Instead of having individual burners as heat sources, this grill uses infrared heating units that can be activated to cook a wide variety of foods quickly and easily.
Fuel Source
This grill features a propane gas source, with an electrical ignition switch to allow for a fairly quick start-up and consistent heat.
Features
The heat is generally controlled through the included regulator knob. And while the amount of flare-ups that occur is much less than with traditional cooking grills, they still exist, so caution should be taken.
Materials
This portable grill is fashioned out of porcelain-coated steel, so it is relatively lightweight yet strong. The grill is designed to use as little fuel as possible by making use of the infrared technology to allow for the evenest distribution of heat possible. The only complaint that we saw as far as construction was that the assembly of the item was somewhat convoluted and that the legs were found to be somewhat flimsy in their design.
Summary
If you're looking for a small tabletop grill that can help you keep your foods moist and delicious, the Char-Broil TRU Infrared Patio Bistro is definitely worth a second look. While the assembly and leg construction might be a bit of a bother overall, the ability to cook food evenly and quickly makes this one a true winner.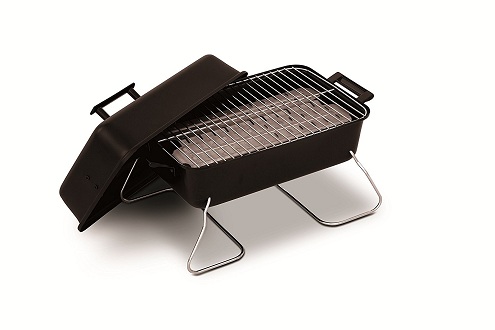 And finally, if you're looking for the classic charcoal grill that can go just about anywhere you can, the Char-Broil Portable Tabletop Charcoal Grill is certainly one to have on your list. With this portable grill, you're truly in control, so the food comes out tasting exactly how you planned.
Read more
Size
This grill has a pretty small cooking surface, about 187 square inches, which is enough for a few burgers or two skirt steaks. While it's not suitable for larger groups, it's more than enough for a few people enjoying an afternoon barbeque.
There aren't any burners, per se, but the charcoal can be easily arranged to allow for both direct and indirect cooking if needed.
Fuel Source
The fuel source is charcoal briquettes or wood, depending on the preference of the user. The charcoal bin is somewhat shallow, so using more fuel to cook at higher temperatures may be a bit problematic depending on the skill of the user.
Features
Like many charcoal portable grills, the heat control is maintained through a series of vents located on the side of the cooking area, and the use of the lid to regulate the temperature once the charcoals have been prepared. While it does take practice, these methods of heat control can be just as exacting as those offered with the use of propane gas.
Materials
This portable grill is fashioned out of lightweight steel and features a porcelain-coated steel grate for cooking use. The included legs raise it off the tabletop about six to eight inches, so it's the clearance isn't that great. Also, the metal used was somewhat thin, and some found it to be less than durable after a few uses.
Summary
This portable grill offers an affordable and convenient way to cook a few steaks or burgers for a backyard barbeque or a camping trip without the use and fuss of propane gas. While the simple and lightweight design may be less durable than desired, overall this is a solid choice for an easy day of cooking.

Subscribe to our Newsletter