Best Fire Pits
In a Hurry? Editors choice: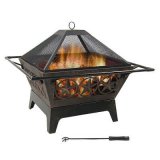 Test Winner: Sunnydaze Northern Galaxy

Few activities in life are more relaxing than cracking open a
cold
one with your friends while sitting next to a bonfire. However, not everyone can simply dig a hole in their yard to create a custom fire pit as it will not comply with their city's regulations. As such, investing in a pre-built fire pit is the clear way to go. Yet, a lot of decision making goes into selecting an optimal one for your needs. For instance, do you want to burn
wood
or gas? Does it need to be portable for other
outdoor
adventures? These are just a few examples of the types of questions you need to ask yourself. To provide a clearer understanding of what you may be looking for, check out our top picks for the best fire pits onthe market today.
Standout Picks
Criteria Used for Evaluation
Effectiveness
There are times where you will sit next to a bonfire on a cool, summer night. Then, there will also be occasions where you will be surrounding a bonfire on much colder day and nights. Heck, even on summer nights the weather can significantly drop and when your body is used to the warmth, it can be quite a shock. The bottom line is the heat that a fire pit outputs is an important factor. While it will be further addressed later, if you opt for a gas-powered fire pit then you can analyze the heat based on the maximum BTUs of heat it can produce.
While the amount of heat you need will vary, a good reference is that a mid-sized home of 2000 square feet will need up to 50,000 to 60,000 BTUs of heat. But, this metric will not accompany wood-burning fire pits. Mostly, for this type, you can control the heat based on how much wood you burn and the type that you burn. For example, hardwoods will burn longer and hotter than softwood. Yet, you can still look for wood-burning fire pits that are larger and deeper, to account for more wood.
Materials
For most people, fire pits are much more than simply a piece of equipment that can be used for bonfires and family gatherings. Oftentimes, they are used to add a fancy piece of décor to someone's backyard. No matter your intentions, both the build quality and visual appeal of fire pits will come into play. How well it is built, which is indicative of the materials being used, plays an obvious role. Even with a cover, they can be exposed to the elements outdoors and materials such as steel, aluminum, and copper all can add necessary durability. On top of this, sometimes, the main body will be coated with a heat-resistant finish to add protection.
Then, there is the appeal. A few fire pits on this list are table fire pits and they are typically designed with handcrafted brilliance. For instance, one fire pit on this list features steel mantel and slate tile to add elegance. Of course, those who love the look of rustic furniture will appreciate that some fire pits come with a "rustic" finish.
Portability
It was a question that was asked in the introduction of this guide and now, it is time to address it. One of the first questions you need to answer before you even think about your future fire pit is do you want a model that can easily be transported? The reasons you may want a fire pit that abides by that could vary. As an example, you may want to be able to take your fire pit camping to your friend's get together. In order to do that, you would need a design that is tailored towards portability.
Unless you are planning on buying a fire pit table, which will not be easy to transport in the slightest, most should be able to be hauled around. However, to ensure they are, check the dimensions (height, length, and width) and the weight. In addition, there may be a carrying case included and in this scenario you know it is designed for portability.
Features
Based on the type of fire pit you invest in, whether a wood-burning or gas-powered model, the design features are going to differ. In regards to a fire pit that requires the use of a propane tank, some important features to look for are in reference to the propane tank itself. You could look for a thermocouple valve that allows you to cut off the gas in the case of emergency, a long pre-attached hose for connecting the propane tank, or even decorative rocks to replace the appeal of wood.
However, these are all different for a wood-burning fire pit. Some examples of important design features to seek are a protective screen that prevents embers from scattering everywhere, an included cooking grate to cook your meats and also a fire poker when you need to manage the fire. All these could be classified as bonus features and if you are aiming to save every single penny, you could pass on them.
Top 10 Picks
1

. Sunnydaze Northern Galaxy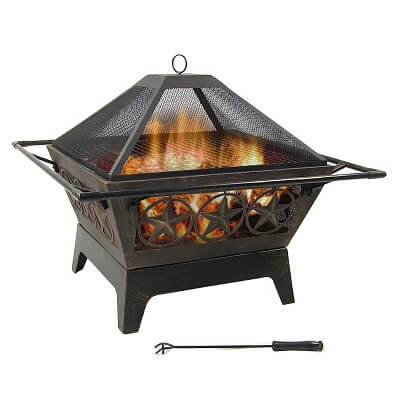 What a masterful design that Sunnydaze crafted for their Northern Galaxy Fire Pit. It not only features four built-in mesh side panels to enhance the heat but also a high-temperature finish that adds heat-resistance for safety.
Read more
Heat Output
The four mesh side panels are not just for show as when a breeze hits, you will better feel the heat outputted from the Northern Galaxy. Of course, the three-star emblems on the panels are for show.
Construction
The main base and frame of this fire pit are crafted from durable steel. However, for safety reasons, it has been coated with a high-temperature paint that adds considerable heat-resistance.
Size and Portability
In total, with the rail and the screen, this measures 32 inches long by 32 inches wide by 16 inches tall. As far as girth, it weighs 30 pounds and could be considered portable.
Included Features
For your convenience, Sunnydaze has included several additional features along with the fire pit itself. This includes a 23.5-inch steel-mesh spark screen, fire poker, 23.5-inch cooking grate and a built-in chrome wood grate.
How it Burns
Any type of gas is not an option here as this is strictly a wood-burning grill. Some woods burn more efficiently than others but at the end of the day, that is your preference.
Overall
When it comes to finding a fire pit that is relatively portable, highly efficient at outputting heat, and built to last, the Northern Galaxy Fire Pit immediately comes to mind. Few pits can achieve what Sunnydaze has achieved with theirs.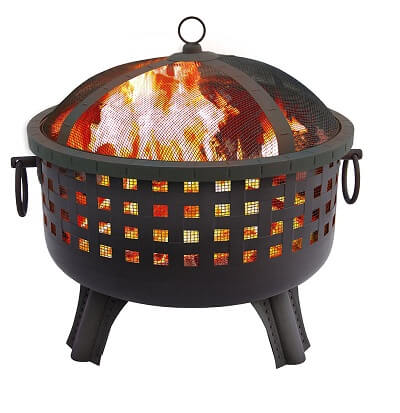 If you look across the web for the top rated fire pits, Landmann's Savanah is going to pop up on more than one occasion. It is not a coincidence, either, as you will soon find out why this fire pit is raved by so many.
Read more
Heat Output
Because this is one of the deepest fire pits of its kind, you can enhance the size of the fire. But, due to the stitched outside construction and mesh paneling, you can feel 360 degrees of the heat.
Construction
Composed throughout the mainframe is steel and this adds a substantial amount of durability in the long run. However, in addition, the four included legs add stability and necessary support.
Size and Portability
The depth has already been alluded to; and at 23.5 inches, you can add a substantial amount of wood for burning. Yet, despite this immense depth, at just 22 pounds with included ring handles, this is highly-portable.
Included Features
To protect you and your family from possible danger, a screen comes for the sides of the pit. Additionally, Landmann includes a fire poker for you to manage the fire.
How it Burns
Wood is the necessary component to use with this fire pit, although you could solely use newspaper or cardboard it would require constantly re-filling the pit. Due to the depth, adding some sand at the bottom to raise the wood may be logical.
Overall
Are you starting to realize why so many reviewers and users around the world have fallen in love with this design? Of course, it is not without its slight caveats but all things considered, the good far outweighs the bad.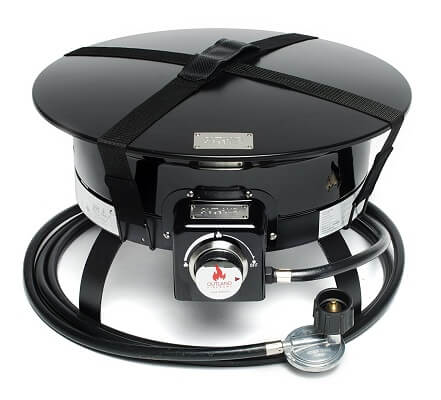 One of the better aspects to fire pits that burn propane gas is that they do not emit smoke. With the Outland Firebowl, in specific, it provides a clean, smokeless flame with an emphasis on portability.
Read more
Heat Output
As this is run off of propane, there is a specific amount of heat it will output. It is rated at 58,000 BTU, which is the primary metric to measure heat. Even though the heat is far from bad, it may not be suitable for winter nights.
Construction
Outland Living did not take any shortcuts when they were building their Firebowl Fire Pit. With stainless steel burners and fasteners, a solid steel construction, an enamel finish, and a high-temperature powder coating, you can clearly see that.
Size and Portability
At just over 23 pounds in weight and with a diameter of 19 inches, this is more than feasible for transport. On top of this, there is an included carrying kit.
Included Features
Besides the carrying kit that comes included, you also receive a pre-attached 10-foot hose for your propane tank, a decorative rock set and a propane tank stabilizer ring.
How it Burns
Indeed, wood is not the optimal resource for this fire pit. Instead, a standard five-gallon propane tank is going to do the trick. As one might guess, though, this is not included with your purchase.
Overall
As the first two fire pits were wood burners, which means you could consider the Firebowl from Outland Living the best gas-operated fire pit on the market. That is quite a claim but when you analyze the design, it is easy to see why.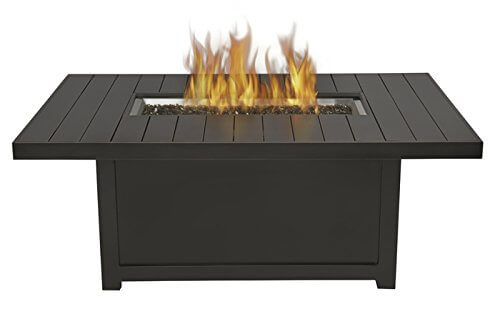 Let's just say that with a fire pit of this magnitude, given that it is a fire pit table, do not plan on hauling this around everywhere you go. No, what Napoleon provides for you is an excellent product that will add something special to your backyard décor.
Read more
Heat Output
Unlike other fire pits, the brunt of the heat comes from the center. While this may seem like a step-down, it will output 60,000 BTUs of heat when it starts cooking.
Construction
With such an immense price tag, one would expect a lot from the build quality. It is safe to say your expectations will be meant with a rustic bronze finish for appeal and a handcrafted aluminum frame for durability.
Size and Portability
Let's be honest, this fire pit is not going anywhere once you assemble it. At over 100 pounds and 56 inches in length, you would need a helper plus a truck or trailer to haul it around.
Included Features
Past the obvious fact that this is a table which has special benefits in its own right, it also comes with a thermocouple valve. This is not only a safety feature, cutting off the gas in an instance notice, but can also save on propane.
How it Burns
An access door reveals where you need to plug in your propane tank. Unfortunately, there is no good way of turning on the propane and you must crawl under the table to do so.
Overall
Even though your wallet will be hurting after this one, not many products add more appeal to a backyard than a fire pit table. At its core, though, it delivers 60,000 BTUs of heat for those chilly nights.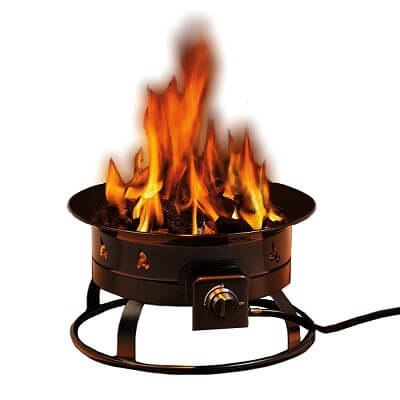 Notwithstanding the fact that this next fire pit tends to be a gas hog, it is one of the best on the market. A few reasons why is it features a 10-foot hose for your propane tank and it is only 22 pounds in weight.
Read more
Heat Output
Despite being able to achieve a max heat output of 58,000 BTUs, several users seem to agree that on colder nights, it does not quite release enough heat.
Construction
The base is made out of metal and even when the fire is going, it manages to not be too hot to scald you. In fact, you could even rest your hand under the floor while it is outputting heat.
Size and Portability
This is one of the easiest fire pits to haul around, bar none. It weighs only 22 pounds would have been enough but add on to that it's diameter of 19 inches, taking this on adventures should prove to be relatively hassle-free.
Included Features
To ensure your propane tank is out of sight, there is an included 10-foot hose for hookup. In addition to this, the included decorative lava rocks add a touch of elegance.
How it Burns
While a propane tank that is needed to power this fire pit is not included with your purchase, it provides a painless way to fire up your pit.
Overall
One design aspect that could use improvement is how much gas this fire pit requires for operation. To be blunt, it is a gas hog. Yet, as far as everything else is concerned, it is more than worth an investment.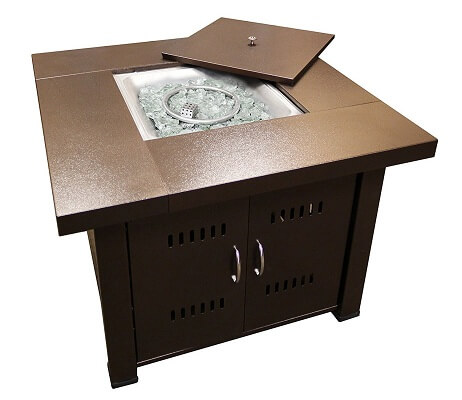 The AZ Patio Heater is one of the best because of its integrated thermocouple failure device and durable steel design. But, as certain accessories, such as a cover and glass rocks, are either not included or include a minimal amount, you may need to make an additional purchase.
Read more
Heat Output
Thanks to the pulse ignition system, you can instantaneously ignite this fire pit and at its peak, it can achieve 40,000 BTUs of heat. Overall, this should cover a radius of around 15 feet.
Construction
You would not know it by glancing at it, but solid steel is the primary element that was used to construct this pit. But, due to the hammered bronze finish, all you see is a rustic appeal.
Size and Portability
If you are seeking a portable fire pit, this is not ideal for you. As this is a patio fire pit, it is designed to be assembled in your backyard (ideally on your patio) and stay there.
Included Features
In spite of the fact, glass beads are included with your purchase, they do not include too many and you may feel you need more. Plus, you may or may not wish to invest in a separate cover.
How it Burns
Instead of only having the option of one gas source, that being propane, AZ Patio Heater's Fire Pit can be powered by either propane or butane gas; the choice is yours.
Overall
Impressive, that is the word that best describes this design. If only there were a few additional accessories included with your investment; that would be ideal.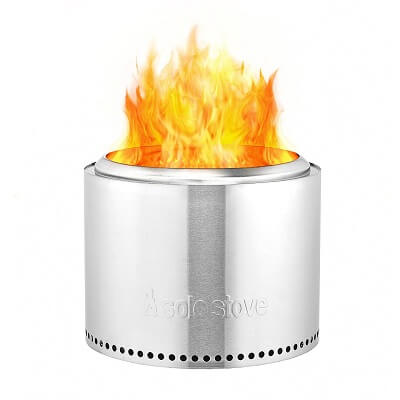 It is a common misconception that stainless steel is rustproof. As a few reviewers have pointed out, their Solo Stove Bonfire has succumbed to rust. However, this is truly the only significant issue you will find for this stainless steel fire pit.
Read more
Heat Output
Due to the double wall design, the burning process and the airflow are maximized. The result for you is a more efficient and hotter-burning fire.
Construction
Despite being crafted with stainless steel, which really is a fantastic material, many users warn that their fire pit began to rust. Some even claimed they properly maintained their fire pit and it still happened.
Size and Portability
As compared to the other fire pits on this list, few can compete with the Solo Stove Bonfire in regards to portability. With your investment, you receive a heavy-duty carrying case and the pit only weighs 20 pounds.
Included Features
To be honest, this is a pretty straightforward design. One important aspect to note is unlike some wood burners, this practically eliminates all the smoke.
How it Burns
Any type of wood can be used in conjunction with the Solo Stove Bonfire. However, using hardwoods will be more efficient as they tend to burn longer than softwoods.
Overall
If not for the claims of rust, this would essentially be flawless. Still, one can't be blind to this reality but in terms of its performance and overall design, few can compare.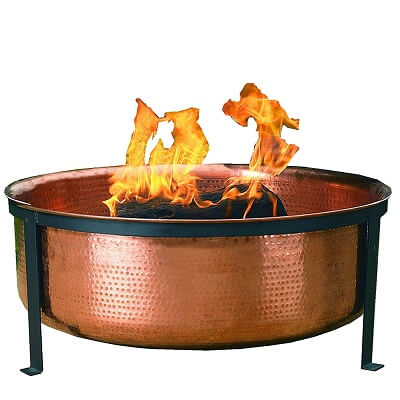 Ah, here is something different. In order to achieve an enhanced rustic look, CobraCO crafted their fire pit from 100 percent copper. Because of this, the copper will naturally be affected by the heat and discolor.
Read more
Heat Output
The extra deep tub of this fire pit is beneficial for a few reasons. One, you can throw more firewood inside for a longer fire; and two, this will enhance the size of the fire for more heat.
Construction
Past the fact that this, again, is constructed from 100 percent copper, the fire tub itself actually rests inside of a durable black wrought iron stand. Thus, this provides its stability.
Size and Portability
Transporting this to a local event or even to a friend's house should not prove to be an issue. It is designed for portability and even includes a screen cover (even though it is quite thin).
Included Features
To prevent rain and other debris from entering inside when it is not in use, there is a protective vinyl cover with an elastic stretch band that comes included.
How it Burns
For a much cleaner burn, try and burn seasoned hardwoods. Again, any normal wood that is not wet will suffice but for your experience, use this type of a wood (such as oak or ash).
Overall
The copper could be what persuades you to choose this fire pit; or, on the other hand, it could be the reason you veer away from it. If you are a fan of the rustic style, though, it will most certainly be the former.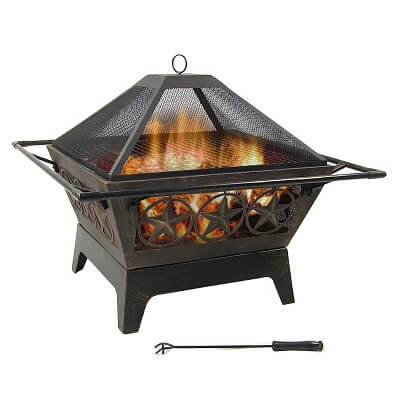 As the name suggests, consider this a fire pit and grill hybrid of sorts. Its main functionality is that of a fire pit but thanks to the included hinged door and cooking grate, you can toss charcoal inside to create a grill.
Read more
Heat Output
Right from the get-go, you can no doubt tell this is shaped more like a grill than a fire pit. Because of this, you can enjoy decently-sized fires at night.
Construction
Despite the product description stating that the steel is heavy-duty, many reviewers have begged to differ. Still, the high-temperature, heat-resistant paint is a nice feature.
Size and Portability
Weighing in at 30 pounds and sporting dimensions of 36 inches long by 27 inches wide by 25 inches tall, casual transport should be more than reasonable.
Included Features
Everything you need to transform this into a grill is included. For example, a hinged door to access the food, a chrome cooking grate, and even a fire poker to manage the charcoal.
How it Burns
For cooking purposes, charcoal can be used inside this pit and when the time comes, caged wood can be inserted to start a bomb fire.
Overall
While this fire pit is not going to replace your current grill, it is rather convenient that it can be used as such. After all, what better way to spend your Saturday night than by the bomb fire roasting burgers?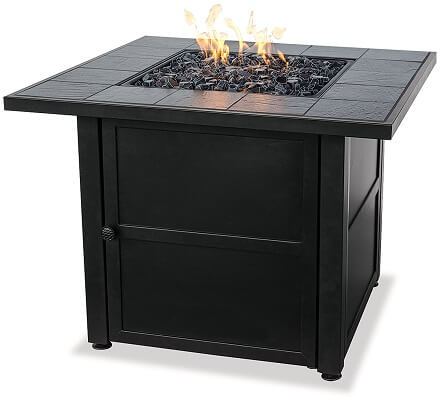 This is another fire pit that combines the appeal of outdoor furniture with the traditional heat of a fire. The surface features an eloquent makeup of slate tile and steel mantel that adds an excellent centerpiece to your backyard décor.
Read more
Heat Output
At 30,000 BTUs, this does not possess the power that some other fire pits do on this list. Yet, it will still manifest the goods.
Construction
Despite the metal portion of the bottom being less than up to par, the handcrafted slate tile and steel mantel are beautiful. On top of this, the main body is designed from weather-resistant steel.
Size and Portability
No tools are needed to assemble this bad boy but at over 80 pounds, it is not likely that this is going anywhere once you install it.
Included Features
Endless Summer could have included a more durable cover but in spite of this, they integrated a hidden control panel with an electronic ignition for fast and easy operation.
How it Burns
Once again, a propane tank is required with this design. No, one does not come included with your purchase.
Overall
The décor of this fire pit may outweigh its performance, to be brutally honest. That is not so much a bad reality, but just understand what you are getting here.

Subscribe to our Newsletter