Best Outdoor Clocks
In a Hurry? Editors choice: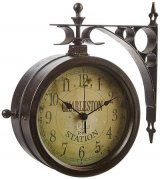 Test Winner: Infinity Charleston

When it comes down to it, there are a plethora of reasons to why you would want to install an outdoor clock in your backyard or patio area. It can be a useful tool to keep an eye on the time when you are outside performing yard work or relaxing, to inform you of the current temperature and humidity level outdoors (if it is equipped to do so), or even as a stylish piece to add to your outdoor décor. But, given that you will be mounting it outdoors (even though you do not have to as many will be suitable for indoor use), the design needs to be resistant to the weather and durable as a whole. Yet, as previously mentioned, it should also be stylish and elegant enough to fit into the décor of your patio, swimming pool deck, or any other backyard area. So, as simple as the device really is, this gives you a glimpse of what truly is in store.
Standout Picks
Criteria Used for Evaluation
Weather Resistance
Given that these will be mounted outdoors, they need to be designed to withstand the elements.
If you were simply in the market for clocks that you wanted to use indoors, this right here would not be the least bit of concern. However, this guide is for models that are specifically tailored to be mounted outside. So, this then clearly indicates that one of the most vital features is weather protection. But, how exactly do you distinguish models that are weather-resistant and those that would be ruined in mere days if left outside? Well, first off, you can assess the materials. For instance, a material such as resin is a natural material for outdoor use as it is all but impervious to water damage and the elements outside. Of course, even metal can be used with great success but only if it sports an all-weather coating to prevent corrosion and rust buildup.
And, if the clock has internal components, then there also needs to be a strong seal. If it is not properly sealed, then moisture can infiltrate inside and cause the glass face to fog up. Subsequently, you then will not be able to see any of the internal components.
Durability
Outside of weather-resistance, the clock you invest in should be comprised of durable materials that will last.
This section does go hand-in-hand with weather protection but it seemed right to separate this as both are important in their own ways. As mentioned before, resin is also a material you will often see be utilized due to its composite blend, ability to handle a ton of abuse, and aforementioned weather-resistance.
But, what about metal and plastic? Well, the latter is certainly not bad and can be quite durable if it is high-strength and hard plastic. But, some of you may want to stick with metal and that is not a bad choice. Of course, there are a ton of different types of metal out there including steel and aluminum. Aluminum, and more specifically die-cast aluminum, is a very good material for outdoor clocks. In addition to being a joy to look at, die-cast aluminum can actually be engineered to be stronger than steel but also lighter (which is a natural benefit of aluminum).
Features
While simple in nature, these clocks can come equipped with other features that can end up swaying your decision one way or the other.
In this modern era of technology, can a device really only serve one function anymore? It is becoming increasingly rare to see a technology device of any kind that does not have multiple uses. Well, you guessed it, with this device it is certainly no different. While most models will not have an abundance of features, admittedly, there are a few important ones that come up time and time again. And, if you have been paying attention so far, you will have a good idea of what those two features are.
Outside of being weather-resistant, outdoor clocks are unique in that they sometimes have both a thermometer and a hygrometer integrated. The former you should be very familiar with as this will allow the model to gauge the current temperature outdoors. But, have you ever heard of a hygrometer? It is actually an instrument that is used to measure an atmosphere's humidity. With both of these instruments, though, they will need to be calibrated to ensure optimal accuracy. In general, you probably should not expect these instruments to be extremely precise as buyers tend to point to these as common complaints.
Accuracy
A clock that is not accurate is simply a visual piece and not too many consumers will be fond of that.
Ah, speaking of precision, now it is time to educate you a bit about the various types of movements that can be implemented in any type of timepiece. Of course, you have your common staple movements that most everyone has heard of (quartz and mechanical). But, there are also radio controlled clocks out there (dubbed atomic) that are synchronized by a radio station. Let's start with quartz and mechanical, shall we? Starting with the former, this type of movement is really nice as it requires minimal maintenance and is run via batteries. It uses batteries as its primary power source and tends to be very accurate and is really a staple of the technology.
As for atomic models, these are very interesting. You see, these are actually controlled via the National Institute of Standards and Technology radio station in Colorado. Depending on the clock you invest in, it may decode the signal once per day or even more. But, it will be updated at least once a day to ensure any errors are fixed right away for optimal accuracy.
Style
Who really wants to mount a clock that is not going to match the existing decor?
This is one of those rare instances where you could make an argument that the visual style is as important as any other consideration you will make. Especially, when you are talking about technology devices. But, that really is the reality of the situation here as the model you select should fit into your current décor. Or, it should at least be compelling enough (in its artistic and visual design) for you.
Yet, it really does come down to you and your preferences. Some of you probably adore the rustic appeal that some antique clocks have and if so, you will want to lean toward the models made of die-cast aluminum and those that are coated with rust or bronze finishes. If you want a basic design, though, shoot for a plastic or metal frame with traditional hand markers and an enclosed glass case. It really is whatever you want, folks.
OUR TOP PICKS FOR THE BEST OUTDOOR CLOCKS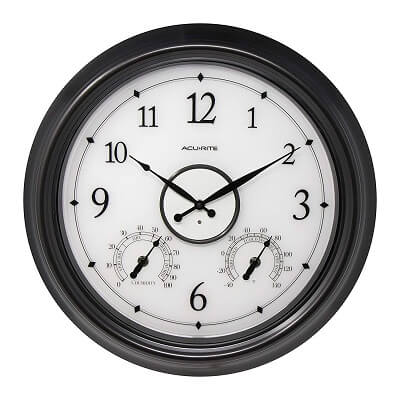 As you can gauge by the product name, this indeed utilizes LED lighting. But, it also features temperature and humidity sensors, in addition to quartz time for accuracy.
Read more
Weather Protection
While this is not necessarily waterproof, it is resistant to the weather. However, it is advised in the instructions that you avoid leaving this fully exposed to the sun.
Durability
For the price of admission, this bad boy better be durable. With a black metal frame, it is safe to say it is fairly durable.
Features
This has a crazy amount of features, to be honest. It includes temperature and humidity sensors and also an integrated light sensor that will activate a warm, ambient light during dark conditions.
Precision
Thanks to the fact that this has implemented quartz crystal timekeeping, it is able to maintain an optimal amount of accuracy.
Visual Style
The crisp and clean interface of this model is superb. Plus, thanks to the aforementioned light sensor, in darker conditions, the LED lighting will illuminate the face.
Overall
For some people, the addition of the LED backlighting will make all the difference in the world. Then again, you pay for it so if you could care less about this feature, you may not like this option.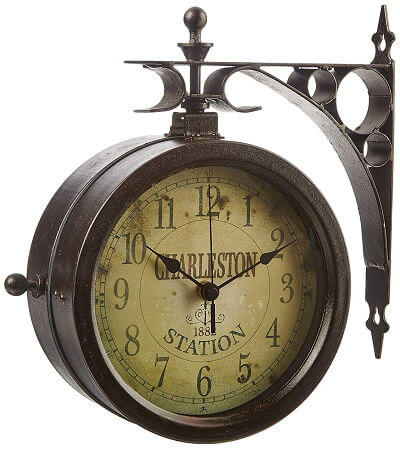 Wow, is this ever a unique and brilliant design? On top of the fact that the clock is double-sided with one side temperature and the other time, it is on a swivel and can rotate 360 degrees.
Read more
Weather Protection
Though this can also be used indoors, it is waterproofed and protected against most climates. Most likely, it is claimed "most climates" as it can't be guaranteed to hold up against intense storms and such.
Durability
Okay, so the actual body of this design is heavy and well-constructed. Yet, the face of it is simply paper and as some users have pointed out, this can fade and peel.
Features
This is where the brilliance of this design comes into play. It sports a thermometer and a clock but each is on a different side. And, the unit can rotate 360 degrees so you can see either face at will.
Precision
This is operated by the ever popular quartz movement system and it ensures optimal accuracy for the time.
Visual Style
If you are a fan of rustic, then you will fall in love with this model. Its antiqued dial, black metal hands and rust finish all attribute to the beautiful rustic nature.
Overall
Not enough can be said about the elegance of this design. The combination of the rustic appeal and the double-sided face create one of the most compelling outdoor clocks on the market.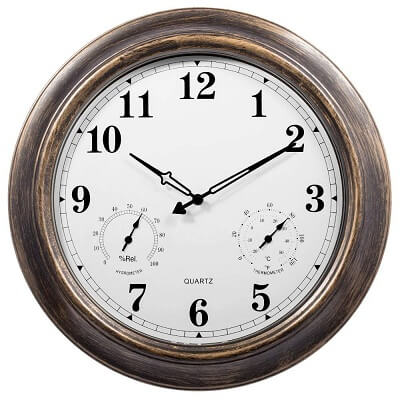 Back to the popularity awards, this would either land the bronze or silver award. Yet, a common complaint, and one of the few, of this model is the inaccuracies of the temperature and humidity sensors.
Read more
Weather Protection
Due to the fact that this is both UV-resistant and weather-resistant, it is fully suitable for outdoor use. Also, it sports a waterproof seal to prevent permeation.
Durability
Nothing but metal and glass are used here. This includes metal hands and a metal frame and also a glass lens that encapsulates the main face.
Features
With both the temperature and humidity sensors integrated, this can measure temperatures from -10 degrees to 130 degrees and humidity levels from zero percent to 99 percent.
Precision
Though buyers have criticized the accuracy of both the temperature and humidity readings, this is equipped with precision quartz movement for enhanced accuracy.
Visual Style
There are a few different styles that you can pick from and no matter which one you choose, few buyers out there will find any issues with any of them in regard to the appeal.
Overall
For the most part, nothing really stands out here. This is certainly not a bad aspect because it is one of the more consistent options you will find.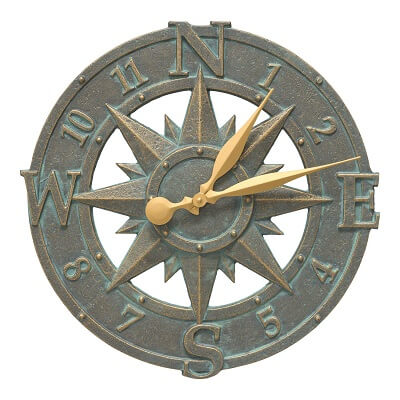 Okay, even though this model does not have any extra features (besides the compass) the die-cast aluminum alloy construction is utterly beautiful and adds a bit of elegance anywhere.
Read more
Weather Protection
What is dubbed as being a Whitehall exclusive, this sports an impressive Alumi-shield all-weather coating. With this, this is more than suitable to handle the elements.
Durability
As mentioned, this is made of die-cast aluminum and there is no plastic in site. But, the markers are made of flimsy metal so do not mess around with them too much.
Features
Indeed, there are not that many features integrated into this model. But, as you can see from the photos, there is a compass (or, at least the indicators for all four directions).
Precision
The general accuracy of this specific clock has not been criticized and that can only be seen as a good thing in this case.
Visual Style
No matter which design you go with, all of them are utterly fabulous. This is thanks to the natural look of the die-cast aluminum and also the bronze finishes.
Overall
You know, the best word to describe this model would be luxurious. It has been said a few times but man, the appeal of this just takes your breath away, does it not?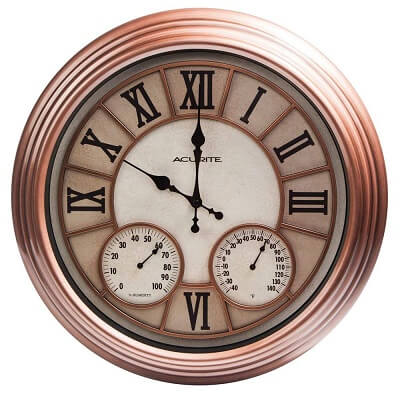 This is another model from AcuRite and while this does not have LED lighting, it is built with an all-weather metal frame that is as functional as it is elegant.
Read more
Weather Protection
Due to the metallic copper finish, this frame has been engineered to handle all types of weather conditions. However, as some have noted, do not mount this in direct sunlight.
Durability
It is hard to go wrong with the durable metal frame that is incorporated here. Also, it has been coated with a metallic copper finish for protection and appeal.
Features
As with so many other outdoor clocks on the market, this comes equipped with the ability to gauge both the temperature and the current humidity levels outside.
Precision
It seems to be the general consensus amongst buyers that the sun badly affects the accuracy of both the humidity readings and the temperature (which is natural).
Visual Style
Is it safe to call this magnificent in appeal? Well, it should be and as some consumers have reported, it looks even better in person. Overall, the copper finish is glorious.
Overall
When judging this just for its capabilities to tell time, it is fantastic. When you take into consideration how finicky the other sensors can be when it comes to their accuracy, though, the overall quality is diminished a bit.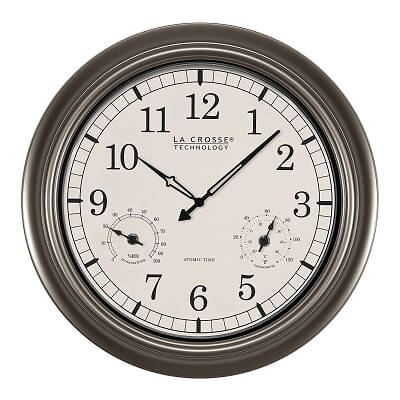 If you were giving out popularity awards, this would undoubtedly take home the gold prize. While this certainly is not a popularity contest, this is one of the best.
Read more
Weather Protection
First off, avoid direct sunlight as that can affect the accuracy. Secondly, while this is sealed for outdoor use, when exposed to heavy rain, the interior glass can become cloudy.
Durability
This is constructed of a combination of glass, metal and plastic. The frame is plastic, the hands are black metal and the lens is glass.
Features
As with some of the other models on this list, this is equipped with a thermometer and a hygrometer and these will measure temperature and humidity levels, respectively.
Precision
Now, this is interesting here. This is completely unique in the fact that it is run via an atomic clock in Colorado. It is radio-controlled and will reset daily to the hour, minute and second for splendid accuracy.
Visual Style
This is not a standout design but it is very sleek and could even be seen as minimalist. In fact, the pewter-painted frame is quite stellar.
Overall
For sheer accuracy purposes, this could be the best unit on this entire list. While a few buyers have commented on its complexity of programming, it is a fantastic design.

7

. Springfield Conch Shell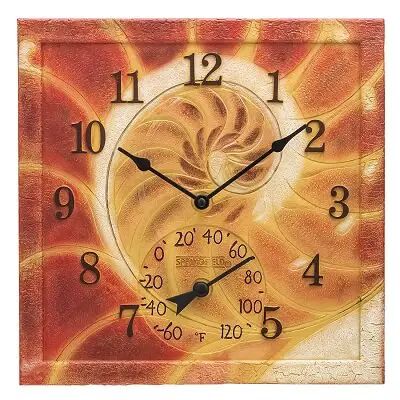 For those looking for uniqueness, this is a good option here. Instead of being circular, this actually sports a square frame and has a few different decorative designs available.
Read more
Weather Protection
Springfield does not recommend mounting this in direct contact with the sunlight. As for everything else, this is designed to be both fade and weather-resistant.
Durability
This is actually made of resin and this is an ideal material for outdoor equipment and products such as this. It is also sturdy and overall well-constructed.
Features
While this is not going to measure the humidity levels outside, it is going to measure the temperature from -60 degrees to 120 degrees.
Precision
Both the time and the temperature readings have been made to be accurate. With the former, Springfield implemented quartz movement.
Visual Style
In addition to the fact that the square design and the impressive detail create a unique experience, the swirl pattern of the conch and the bright colors make this a design to remember.
Overall
It is safe to say that this design is not going to be for everyone. It all comes down to the appeal, of course, and some will find the artistic makeup and the square engineering to be corny.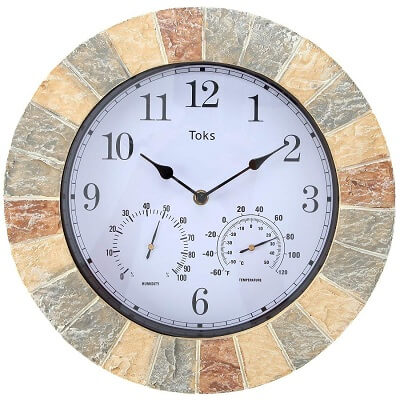 For the record, just to avoid confusion, the frame on this model is designed to replicate stone. But, in actuality, it has been made of plastic but will resist the outdoor elements.
Read more
Weather Protection
Indeed, this has been engineered to resist all the elements including the rain, snow, sleet, and sun. Overall, it does a suitable job resting outdoors.
Durability
Again, this is not actually made of stone. Though it looks like it from the photos, it is actually plastic that has a chrome finish.
Features
In addition to the timing mechanism, this also can record the current humidity levels (from zero to 100 percent) and the current temperature (from -60 degrees to 120 degrees).
Precision
Once again, quartz movement has been selected as the system to keep time. Also, once again, this is another model that does have issues with its temperature accuracy.
Visual Style
Each of the available frames that you can choose from is beautifully designed. It is just too bad the glass is awful with glaring as it can make the face difficult to see at times.
Overall
This is a cheaper option and the primary reason why is due to the faux stone (which is merely just plastic). Then again, it is a suitable option with a handsome design.

9

. Whitehall Ivy Silhouette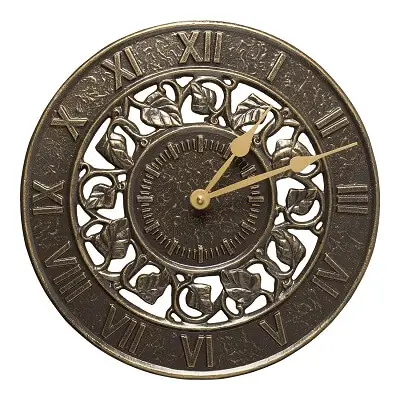 Now, speaking of a design that can be tricky to see from a distance, how about this one? It really is a tremendous aluminum design, though, but you may need to retouch the numbers with gold paint.
Read more
Weather Protection
Whitehall Products engineered their model to be weatherproof and it can handle elements such as rain, heat and humidity.
Durability
Without question, the durability of this option is a non-issue. This is due to the heavy-duty aluminum that was used to construct it.
Features
As with the last option, this is a solo design that has one purpose in life. It will tell you the current time and will literally do nothing else.
Precision
Several users have reported that the timing mechanism of this does not last that long. It is a bit disappointing, for sure.
Visual Style
To make it easier to see from a distance, you may need to retouch the numbers with gold paint. It will be worth it because this subtlety will bring out the ivy silhouette bronze finish.
Overall
Basic would be the best word to describe this timepiece and though some touch-up paint may be necessary, it may be worth it for the right consumers.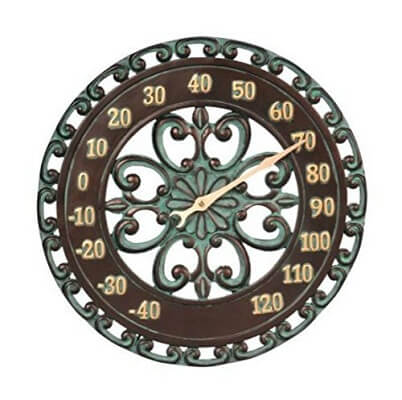 Okay, so, technically this is not an outdoor clock. But, given many of these models include thermometers, it seemed appropriate to include this model regardless and it is a beautiful design.
Read more
Weather Protection
Being made out of resin that is designed to look like metal, this is not going to rust when exposed to the elements.
Durability
As mentioned, this is made of resin and is pretty durable. Yet, with that said, the hand is exposed and not covered and can be easily bent.
Features
The thermometer has an open scrollwork design that allows it to easily be hanged and can also be easily calibrated. Also, it measures temperatures from -40 degrees to 120 degrees.
Precision
There is no time here but the temperature has been claimed to be inaccurate by some reviewers. The seller claims, though, that it is most accurate between 14 degrees and 120 degrees.
Visual Style
Even though this can be hard to see from a distance, it has a distressed verdigris finish and is decorative with amazing accents.
Overall
No, this is not a clock and is only a thermometer. For what it is, though, it is both practical and appealing (although not flawless in its design).

Subscribe to our Newsletter