Best Kids Raincoats
In a
Hurry? Editors choice: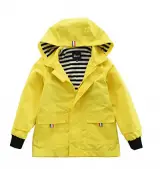 Test Winner: Hiheart

As the
weather
begins to shift from bright and sunny to cold and wet, getting your little one to put on the right gear for the weather that day can be frustrating. However, if you select gear that they love just as much as you do, there will be no struggle when the time comes to hit the road. Investing in a good raincoat for your child is a great way to stay
dry
while still going on outdoor adventures. Just because it is a bit wet outside doesn't mean that you have to cancel your hiking or
fishing
plans, it just means that you have to prepare accordingly. Selecting a great jacket for your little one needs to have two things. It must be made from a lightweight and
waterproof
(water-resistant) material.
Standout Picks
Criteria Used for Evaluation
Materials
Of course, materials was one of the most important things that we looked at when conducting our research. We discovered the top two materials used for these products are nylon and vinyl. Nylon is considered to be water resistant, but it isn't necessarily waterproof. Vinyl, on the other hand, is one of the best materials at wicking away water completely so that you stay nice and dry. The only downside to vinyl materials is that they can be a little too hot and it doesn't breath very well. A jacket that is too hot and sticky is bound to find its way to the benches on the playground after outside playing for a while. To combat potential hotness and stickiness, we tried to select designs that utilized a nice and breathable cotton or polyester lining on the inside. The lining on these types of jackets helps absorb some of the moisture that comes from sweating while wearing vinyl, and it also makes it incredibly easy to throw into the washing machine if your little one has been splashing in too many mud puddles.
Size
Buying any type of clothing without trying it on first is worrisome, especially when it comes to your children that seem to be growing like weeds. That's why we made a point to try and select brands that not only offered a lot of different size options, but that also uses a size chart to reference in order to buy the perfect size for their little ones. Another thing that we took into consideration was the percentage of parents that felt like their model fit as described. Generally, if the percentage of users were under about 70 percent, we typically moved on to the next product. When percentages are on the low side, it typically means that the consistency of each size is a problem rather than it just being a matter of finding the right size. We want to make sure that you get a perfect size the first time, because no one likes heading to the post office to return clothes.
Water Resistance
One of the most important things that we can impart is that if you are ever on the fence about what size to get, it is always better to buy just a little bit bigger than normal for a couple of reasons. The first reason because children are constantly growing, and you don't want to turn around and find that the jacket that you just bought them doesn't fit anymore. Sure, it may not look as sharp as when they first try it on, but it will serve its purpose of keeping them dry and comfortable while out in wet weather. Another reason we suggest buying a size bigger is that a lot of parents don't like that these jackets are a little bit on the thin side. This means that it will be great in the summertime when it's hot and muggy, but what about in the fall and spring when there is a little bite in the air? If you buy a size bigger than normal, it means that you will have more room underneath to layer warmer clothes on those cooler days. There should be no reason why you would ever have to cancel a trip to go hiking or a fishing trip with your little ones over the weekend on account of rain. If you are equipped with the right gear, a little bad weather shouldn't ever have to slow you down!
Fit
It can frustrating buying gear for your little ones because it seems like every time the sun comes out after a thunderstorm, they grow another inch. We feel that it is important that you purchase something that is able to grow right along with your child, and that might mean buying something that is just a little bit bigger, to begin with. In our opinion, it is better if it fits just a little too big than too small. No one like to wear vinyl that fits incredibly skin tight. We tried to pick designs that were also more gender neutral so that not only will it be able to grow with your children as they physically grow taller, but it will also be something that they won't grow out of emotionally- like that cute pig sweater that you bought your daughter but now she claims she is too old and mature to wear anymore. To narrow down the best of the best that is currently for sale out there on the market so that your child is prepared to go on adventures in any type of weather, there were a few things that we took into consideration.
Subscribe to our Newsletter