Best Boot Dryers
In a
Hurry? Editors choice: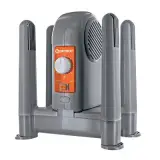 Test Winner: DryGuy

Soggy
sneakers
is a surefire way to ruin your day. Even if you leave them on the front steps to dry overnight, you can still sense a little bit of dampness the next day. How can you make it so that your shoes are going to be high and dry quickly without the need to throw them in the dryer or set them next to a
windy
freeway? Investing in a handy boot dryer will not only speed up the drying process, but it will also help protect against mold, bad odors, and bacteria, especially extending the life of your footwear. Plus, they can be great for other gear such as gloves and
jackets
. In this guide, you will find some of the best boot dryers out there on the market to keep your feet
warm
, happy, and healthy.
Standout Picks
Criteria Used for Evaluation
Ease of Use
After a long day of hiking or working in cold and wet weather, the last thing that you are going to want to do is fuss with a complicated device.
We wanted to make sure that we selected designs that were incredibly easy to use, and that didn't require you to sit down with an instruction booklet. Many of the averagely priced options out there simply need to be plugged into the wall and then left to run constantly. This way, you know that wherever your travels take you, you know that you have a warm place to hang your wet gear that will not need any time to warm up. One of the common complaints about the designs that have an on and off switch is that they take to long to properly heat up. Selecting a design that is on all the time means that you will not have to wait for it to heat up, and there will be nothing for you to do at all except hang up your gear.
Effectiveness
If it isn't very effective, then you have a very weird shoe tree sitting in your mudroom.
There were a few things that we considered to determine what made the most effective device. The very first thing we looked at was the type of blower that is used. Convection blowers were our number one choice because these types of blowers ensure that hot (or cool) air is constantly circulating around your gear. This method not only helps to expedite the entire process, but it also helps to air our odors and bacteria that may fester in stagnant sneakers. Another thing that we considered was what past users had to say about how well the device worked. Sure, a company can make claims that their blowers are powerful and silents, but the proof is always in the pudding. We made sure to read what users had to say about each design, and would shy away from options that had an overwhelming number of users make claims that a product took to long to work. If it takes longer than about 8 hours for heavy duty gear that it dripping wet, then the blower probably isn't all that powerful, to begin with.
Materials
Winter gear is notorious bulky and heavy, so we wanted to make sure that we selected designs with materials that could stand up to whatever you can throw at it- literally.
What we found is that designs that use unstable materials often buckle of tumble over in the face of the serious gear. Almost all of the options out there are made out of some type of molded plastic or polymer, so the real test was how durable these materials were. One easy way to determine how well a device is built is to listen to what past users had to say. Even for products that made our list, there were the occasional users that found that their gear had a tendency to cause the entire unit to topple over. Keep in mind, even the most expensive unit out there on the market only weighs out 5 pounds, so there may be some instances of instability. If there were an overwhelming number of users that just felt that they couldn't keep anything on the top without the whole unit bending, breaking, or toppling over- we would simply move on to the next product.
Portability
Winter adventures don't always happen at home- sometimes you take your show on the road.
We kept this fact in mind as we determined the best products for sale. What we determined, however, is that the floor models that are designed to live in mudrooms were generally the best option in terms of power, but they didn't travel very well. Most, however, had the option of removing the arms of the base to make it just a little easier to toss in the back seat of your car when hitting the road, or simply placing into storage. The shoe-insert designs are going to be the best option for wintertime travelers. These options may not offer the same level of convection and blowing power, but they are going to travel a lot easier. Typically, these designs about just a tad smaller than a shoe, and some even have features that allow them to extend to fit into larger shoes. If you want something that is going to be lightweight and easy to carry along with you, the insert options are going to be your best bet.
Value
As always, we want to save you money when we can.
The good news about these devices is that even the high end, brand name designs are going to come in at a price point that is probably not even going to cost you as much as you spent on your hiking boots. With that said, we generally stuck to the averagely priced options that used the same type of blowers and stands. These options that run about in the middle of the road in terms of price are perfect for those that just need something that is simple, effective, and easy to use. Typically, designs that carry the larger price tags often come with a lot of extra bells and whistles that most users will admit they don't even use.
Subscribe to our Newsletter