Best Bamboo Wind Chimes
In a Hurry? Editors choice: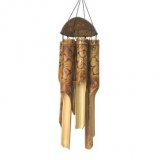 Test Winner: Beachcombers

The gentle melody of bamboo wind chimes, complementing and mimicking the natural sounds around you, can be the
perfect addition to your backyard
or window; chiming on your porch as an attractive welcome for your guests. Wind chimes have a long history and interesting symbolism. They date back to ancient Rome, China, and Japan, where they were called Furin, literally fu, "wind", and rin, "bell". In early (more than 2000 years BC) China, they would apply mathematical formulas to the designs to make them in tune with the universe. If you're into Feng Shui, go for four, six, or eight tubes for good luck, or five to eliminate negative energy, and bamboo chimes should be placed in the south and southeast of your house or garden. Below we have listed the top ten sets of bamboo wind chimes to
bring peace to your home.
Standout Picks
Criteria Used for Evaluation
Top Ten Sets of Bamboo Wind Chimes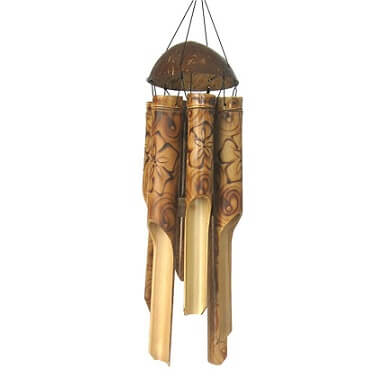 A classic bamboo chime looks with a twist. Something for those who want a more decorative look whilst maintaining a natural aesthetic.
Read more
Look
A rustic, traditional look with a coconut top ring and pale bamboo. The Flutes and sail are decorated with a distinctive flower pattern made by burning the wood. As this process does not involve paints or dyes, you can achieve a decorative look without unnatural colors.
Size
37 inches long
Where to Hang
Because of the design features, we'd recommend somewhere they can be seen. A patio is a perfect place to admire them as they catch the wind. As they make a loud sound, somewhere not directly above a seating area might be best, for the viewing as well.
Wind
Despite the weight of the flutes, the smallest breeze picks up the sail and will cause them to chime. As they are fairly heavy, the sound is loud.
Wear and Care
After a couple of years of fairly strong weather, the flowers do fade and rub off.
Summary
The Beachcombers Burnt Flower is a very popular design, as it adds something extra to your chimes without being too extreme.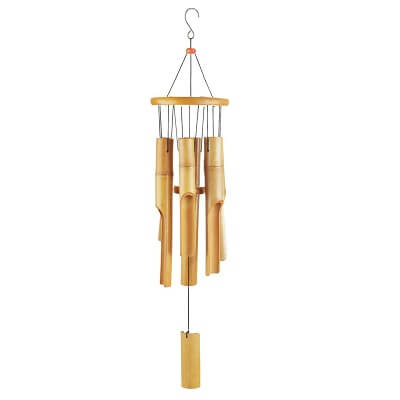 A fun and light-colored chime which would go nicely in lighter rooms or gardens.
Read more
Look
The bamboo is a pale yellow color, so we think it looks great inside if it can pick up any wind as it will blend in well with most interior design styles.
Size
This wind chime is 32 inches long.
Where to Hang
With its 'S' hook and swivel hinge, the DateDirect is easy to hang anywhere, perfect if you do decide to place it inside.
Wind
As a heavy model, the DateDirect needs quite a strong breeze, or more wind than average to make a good amount of sound.
Wear and Care
Be aware of the DateDirect's already pale color - apart from cracking, direct sunlight will cause it to fade.
Summary
A bright and unique chime that could be just the answer if you like the sound of bamboo and want something plainer for inside the house or a small garden.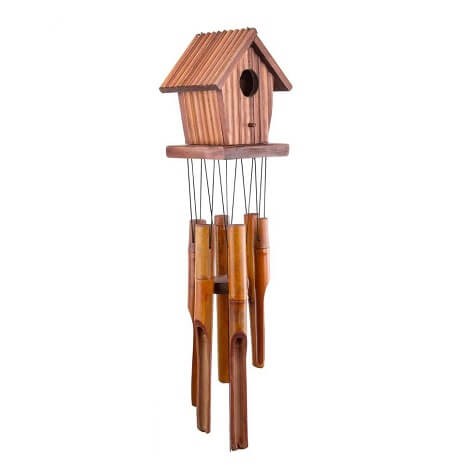 The attraction of the WOODMUSIC is obvious, and we think a birdhouse is a lovely addition to wind chimes. It's one of the most popular chimes out there, and a consistent top-scorer. WOODMUSIC will also plant a tree in your name, making it even more of a green purchase.
Read more
Look
The reddish tone to the house matches the warm tones of the bamboo well. The tubes hang at a nice distance from the birdhouse to allow it to stand out.
Size
The chime is 37 inches in length, quite small considering it includes the house, with six tubes of varying lengths. They are fairly thick in themselves.
Where to Hang
Anywhere the birds can reach it, so a tree is ideal. It's worth thinking about where you would normally place a birdhouse ie. not too close to buildings or where people might be so that the birds aren't scared. It's definitely worth it as they will cause extra movement and sound. It's also relatively compact for the design.
Wind
The chime is fairly light so it doesn't need much wind, but it is also not very loud, which will suit some. Furthermore, you'll get added sound from the birds.
Wear and Care
The chime is well-varnished all over and so should last longer than most bamboo models.
Summary
A stylish addition, especially to a garden, or even to attract birds to a balcony or terrace. It ups your green credentials and combines feeding the birds with light sounds.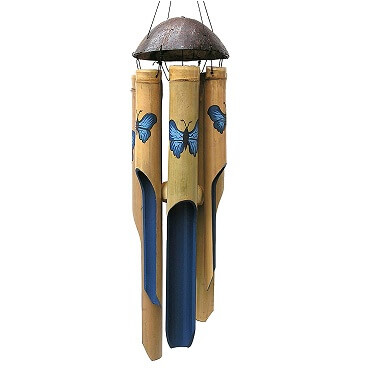 The Blue Butterfly is another from Cohasset and our most distinctive pick. By now you'll know that this brand signifies quality, it's market presence being a testament to that. Consumers love their range and keep coming back, happy to replace or add to their collection.
Read more
Look
A classic six-tube, coconut top ring look, but with a beautiful, hand-painted butterfly pattern. We also love that the insides of the tubes have been painted; a simple way to add a big pop of color.
Size
The Blue Butterfly comes in three sizes-small, medium and large, ranging from 30 to 45 inches. This is a great size range, making the chimes versatile in spite of their bold colors and patterns.
Where to Hang
Because it's so decorative, the Blue Butterfly could be at home in the garden or house, but of course where it can be seen!
Wind
As the tubes are fairly small and narrow, it is a quieter, subtler chime. It won't be too loud, so no need to worry about your neighbors!
Wear and Care
As with all Cohasset products, the Blue Butterfly is handmade. It comes with a care booklet, and there is some advice to spray or varnish but we found it didn't need this, even after a few seasons.
Summary
A beautiful, distinctive look and gentle sound, for those looking for a delicate addition to their garden.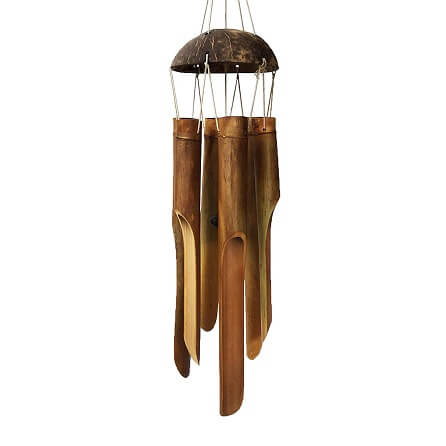 For a classic bamboo and coconut chime look, consider the Green Natural. Another simple, authentic choice. Green Natural is committed to eco-friendly products and customer satisfaction, and you'll even get a free keychain with purchase! (Subject to availability).
Read more
Look
A very similar, natural look the Cohasset Antique, except the tubes hang much lower from the coconut top ring. Both are lovely, rich dark brown. The prominent string cords add to the rustic look.
Size
The Green Natural comes in small, medium and large, with the large at just 18 inches long, so this is by far one of our smallest chimes. This means that the tubes will produce a higher sound.
Where to Hang
This windchime actually works nicely inside as well as outside.
Wind
The reason for its versatility in terms of placement is because it only needs a light breeze to chime.
Wear and Care
Each bamboo windchime is hand-carved and unique, so as usual with bamboo, protect it from extreme weather conditions. However, the darker tones mean that the Green Natural should stand up to the elements better than lighter colors.

6

. Cohasset Double Antique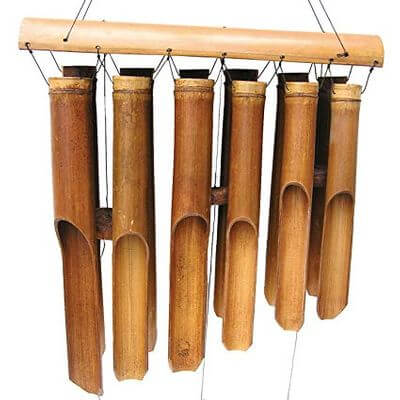 A really special wind chime for its panpipe-style look. A talking point as well as a melody-maker.
Read more
Look
The only one of our picks to feature the look of the wind chime's sister instrument, the panpipe. There are three strikers among the twelve, lined up tubes. There is also a decorated and carved model, as well as a 'welcome' sign version if you really want to make a statement on your front porch.
Size
The Cohasset is 30 inches long, with the tubes being relatively long at 16 inches.
Where to Hang
It chimed nicely and despite the number of tubes made a gentle sound in a large, enclosed patio. In addition, the flat shape may give you more options for where to hang it if you lack space.
Wind
Because of its longer tubes, the Cohasset Double is a quieter sound. It will chime nicely without much wind due to the number of tubes and strikers, but their arrangement means that it can stand up to heavier weather as well.
Wear and Care
Showed cracks and other wear after a few years exposed to sun, wind, and rain. However, this is a fairly good inning for a natural, untreated wind chime.
Summary
A really interesting look and a nice nod to the traditional panpipe.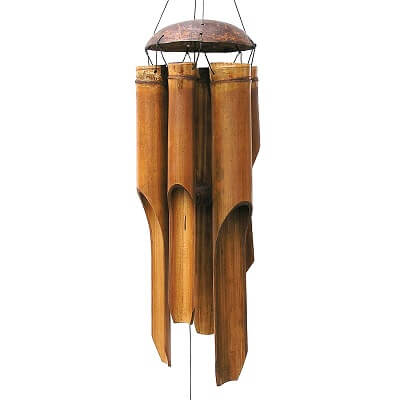 Cohasset probably has the widest range of chimes available on the market with over 200 styles. We could have filled our top ten picks with their products, but you'll see we've kept it to a minimum and chosen differing chimes from their collection. However, they're still worth the representation as a top brand. They've been traveling to Bali for 20 years, and their products are only sold from North America or Europe, so beware of this when you purchase.
Read more
Look
As the name suggests, the Simple Antique is a classic chime to start our list with. The rounded coconut top is a popular, beachy look, with the tubes quite thick and rustic, in a mid-range, natural color.
Size
There are the standard six tubes, each about a foot long, clustered fairly close for a complex sound. The large size is 45 inches long, with the medium and small coming in at 38 and 31 inches, respectively.
Where to Hang
Along with its natural look, we recommend a tree or pergola, or island beach hut if you have one!
Wind
Requires a fairly strong wind to hear the sounds due to the size of the striker but the tubes are close together so it shouldn't have to swing far.
Wear and Care
The chime is handmade in Bali, so will be subject to natural wear, which is part of the charm of using bamboo and traditional manufacture processes. The tubes are varnished and can stand up to three years of outside use before splits showed. The Simple Antique resists tangles well.
Summary
An authentic, classic chime from an ethical company. With minimal decoration and a long, thick tubes, this should provide a consistent, low sound.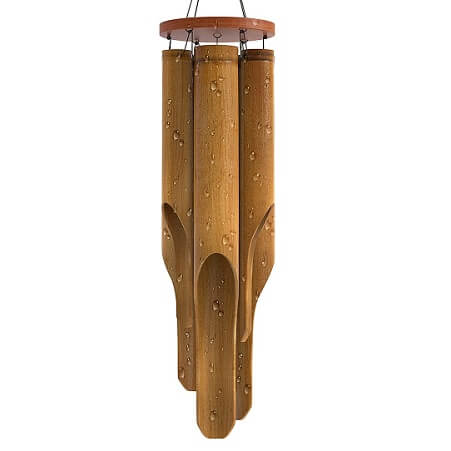 A functional look for those who want to add some interest to their outside space without a decorative element.
Read more
Look
The Nalulu features a simple flat top circle in warm orange, with sandy brown tubes below. Handmade in Bali and finished to a high standard.
Size
The windchime comes in two sizes, with the large size being 42 inches long, and the medium 35 inches. The tubes are 16 and 12 inches long, respectively. The six tubes alternate for three each of equal length.
Where to Hang
It can be placed in a variety of locations, we recommend an entranceway, patio or in a tree.
Wind
Stands up to strong winds, and may, in fact, do better in these conditions. The varying length tubes should create some different sounds whatever the wind strength.
Wear and Care
The chime is sanded, smoothed and well-varnished, with probably the best finish of any we've seen. The pieces are thick and well stained, which means that they should last well. The product also comes with a downloadable care guide - useful as opposed to pieces of paper, which are easy to lose.
Summary
Along with a quality product, Nalulu will also follow up with you personally, and we think the additional care guide is a great idea. A good all-rounder for a sturdy choice.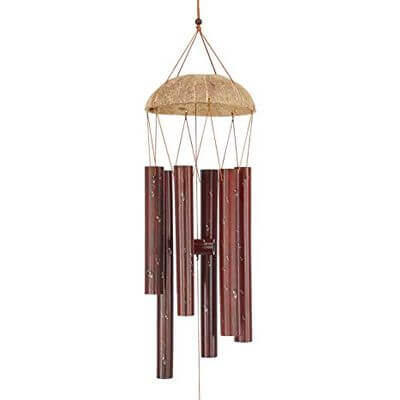 Astarin has been making their hand-crafted wind chimes since 1929, but are still a lesser-known name in this niche business. This one is a few special features that separate it from the rest.
Read more
Look
The Astarin follows the popular trend for a coconut shell top ring, except this time in an off-white tone. In contrast, the tubes are a rich mahogany color and highly polished. The hook is also on a swivel hinge, which means that the chime will turn and swirl as it moves in the wind. The other interesting aspect of this chime is that all the tubes are of different lengths.
Size
This chime is 28 inches long.
Where to Hang
The interesting thing about the Astarin is that it has an adjustable striker to modify the tone of the chimes. This is unique among our picks so definitely worth it if you like a variety of sounds.
Wind
The tubes are all different lengths, so each one will make a unique sound when struck. It held up well in high winds and still made a pleasant sound.
Wear and Care
The Astarin is well-varnished and looks sleek. This means that they will handle life outside well, but equally, this means that any wear will show up against the clean look.
Summary
The aesthetic won't suit everyone, particularly those looking for a traditional wind chime feel, but well worth considering for its unique features and different look.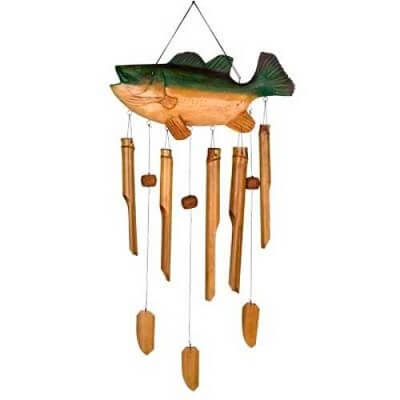 The Bass won't be for everyone but fans will love him. We also like the interesting, horizontal design to complement the shape of the fish.
Read more
Look
Fairly obvious with this chime: the gorgeous wooden bass that sits atop the tubes, in place of the top circle. We think he's individual yet understated, in natural wood and dark green tones. The design as a whole is a bit different, the less common horizontal arrangement, including three strikers and sails.
Size
Medium length, at 35.5 inches.
Where to Hang
Hand-carved in Bali and Vietnam, as with most bamboo, avoid direct, strong heat and take the chime down during the harsh winter months. True fishing fans might like to hang the Bass on their boat or dock. It would also look great on the cabin porch.
Wind
The Bass will chime in the mild wind due to its multiple sails and striker design. The five lined-up tubes and strikers will be moved by their neighbors as well as their own for more of a 'tap' sound than a constant, deep chime.
Wear and Care
Apply a coat of varnish in the spring to extend its lifetime. Woodstock provides excellent further care information on their website.

Subscribe to our Newsletter