Best Outdoor Projectors
In a Hurry? Editors choice:

Test Winner: Viewsonic HDMI

It seems like every single time you leave the movie theater, you are left marveling at what it would be like to watch every single movie and
sporting
event in the theater. While it is theoretically impossible to 100 percent replicate the experience of a movie theater, a great way to attempt to do so is to invest in an outdoor projector.
Of course, nine times out of ten, you will have to account for the surround
sound system
but the fact remains that the best outdoor projectors will present a breathtaking experience regardless. The implemented
technology
that goes into them, though, does determine how amazing certain projectors can be. To take some of the guesswork out of it, we have researched and brought you the top 10 best available today.
Standout Picks
Criteria Used for Evaluation
Features
All electronics, including projectors, are loaded with features. To avoid getting carried away, we mainly focused on resolution and lamp design.
The Resolution Size
This is one of the most important specifications that you need to pay attention to. No, it is not the only factor in determining the image quality of an outdoor projector but it is one of the main ones to keep in mind. However, it can get a bit confusing for people who are not familiar with terminology as you will often see projectors with a native resolution and support for higher resolutions. But, to the average person, what do both of these specifications mean? Well, the native resolution of a projector is its single fixed resolution and this is what it is designed to operate at.
Meanwhile, if a projector supports a higher resolution it means it is able to upscale to reach the intended quality. Basically, upscaling is a simple conversion of a low-resolution image to a high-definition resolution. So, a projector with a native resolution of 1080p will look clearer than a projector that supports 1080p as it needs to upscale to do so. Still, at the end of the day, the higher the pixel count, the higher the resolution; so keep that in mind.
The Design of the Lamp
One of the most important design integrations of a projector is its lamp. Much like a light source, you will see projector lamps rated based on lumens. Basically, a lumen is a primary means of measuring light sources and measures the brightness of the projector. So, how do you know a good lumen count? Well, that is why you are here to learn just that. For the most part, you would like to keep the lumen count past 1000. Anything below that will be very difficult to see in broad daylight and will only be ideal for darker environments. At the same time, once you get beyond 2000 or 2500 lumens, the projector lamp will probably be too bright for indoors. Thus, this makes projectors that sport lamps over 3000 lumens in light perfect for outdoor use.
However, you can also assess the life expectancy of the lamp itself. Most of the time, it will range from 10,000 to 30,000 hours. While these lamps will still not last forever, a lamp with a 30,000-hour lifespan will last you several years even if you use it regularly.
Power Source
Do not overlook the simple things and remember that not all your devices will be compatible with the outdoor projector you buy. If the port your device requires is not present on the projector, then you are sadly out of luck. Because of this, it is critically important for you to take this into consideration. Thankfully, most outdoor projectors will have a great combination of older ports and newer ports. For example, it is difficult to find many modern outdoor projectors that do not have one or multiple HDMI ports.
HMDI cables are used for so many modern devices that it is almost mandatory for them to be included. For gamers, all next-gen gaming consoles, such as the PS4, Nintendo Switch, and Xbox One, utilize HDMI cables. Also, common ports such as USB (for flash drives and external hard drives, among other things), AV, and VGA are also good to look for. Basically, be aware of what your devices need to be connected to for video.
Sound Quality
This is probably the worst aspect of outdoor projectors. Even the most elite models may not have the greatest sound and this is something you should come to expect. Honestly, if the sound quality is excellent than you should count your blessings. It is not as if they are horrendous but if you are used to the crystal-clear sound that you get from your home theater system, you may be disappointed. Yet, this also leads to another important design element of outdoor projectors. Because of their limitations when it comes to their sound quality, generally speaking, most of them will have built-in ports that allow you to hook up an external speaker system.
In addition to this, an analyzation that can get swept under the radar is how loud the unit is. Depending on the excess noise of the fan, some can be unbearable when you are watching movies or shows with quiet portions. The last thing you want to deal with is an outdoor projector that sounds louder than your actual movie.
Top 10 Picks



With a native resolution of 1280 x 800 and a lamp with a lumen rating of 3300, it is easy to see why ViewSonic's outdoor projector is as good as it gets. While the sound leaves a lot to be desired, this is normal for most projectors, the picture quality makes up for it.
Read more
Features
Resolution Size
Besides the fact that the native resolution is indeed 1280 x 800, making it an HD projector, ViewSonic integrates exclusive SuperColor technology to offer a wider color range for enhanced quality.
Lamp Design
Thanks to the DynamicEco feature that reduces the overall power consumption of this system by up to 70 percent, the lamp life is extended by up to 10,000 hours. In terms of its lumens, it sports 3300 of them.
Screen Size Range
If you were to project this from a 30-foot distance, you could achieve a remarkable screen size of 270 inches. However, this is reduced to around 110 inches at 12 feet away.
Power Source
All sorts of inputs and ports are present on this projector including HDMI, multiple VGA, composite video, S-video, and audio in/out.
Sound Quality
Even though this is designed with ViewSonic proprietary SonicExpert technology that is supposed to enlarge the speaker chamber and deliver a better sound, multiple users have agreed to disagree that the sound quality is good.
Overall
By simply adding your own custom surround sound system, you can fix the lone issue with this outdoor projector. Its picture quality is unparalleled and at the end of the day, it is difficult to ask for much more than that.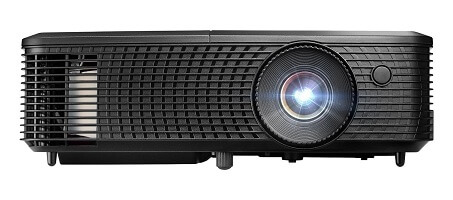 Probably the only design aspect preventing this outdoor projector from claiming the top spot is its reported issue with the build quality. In terms of technology, this is incomparable to most of the competition with its insane refresh rate and resolution.
Read more
Features
Resolution Size
Optoma rates their DLP Projector with a full HD 1080p resolution and that means it measures 1920 x 1080 pixels. This is ideal as it gets, besides 4K, for Blu-ray movies and high-quality content.
Lamp Design
The 3000-lumen lamp combines with a sharp contrast ratio to deliver a perfect reproduction of the REC.709 color spectrum. In Layman's terms, the sharpness and brightness are superb.
Screen Size Range
From 12 feet away, this outdoor projector can capture a 107-inch picture. Meanwhile, moving in a little closer to eight feet will net a 66-inch picture which is still acceptable.
Power Source
Besides the dual HDMI inputs and an audio out port, this has integrated MHL connectivity that allows you to turn your projector into a smart display by connecting either your tablet or smartphone to the projector.
Sound Quality
While you still may prefer better sound quality, the built-in 10W speaker does provide a clear sound. Overall, it has not been criticized too much by the consumer base.
Overall
It goes without saying that this is one of the most impressive outdoor projectors in the world. A few users have taken issue with the build quality, stating it to be non-durable, but you can't ignore the exceptional internal technology.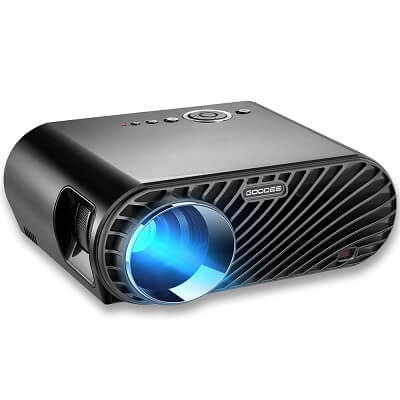 While this next projector is a little cheaper than the previous two, it is not at all indicative of its overall quality. In fact, with the plethora of inputs, the impressive native resolution, and high brightness level, the lower price is merely a bonus.
Read more
Features
Resolution Size
While this does support full HD, which is 1080p, the native resolution of this projector rests at 1280 x 800. This provides 3.5 times the clarity of other lower-end projectors on the market.
Lamp Design
GooDee increased their projector with 35 percent more lumens to deliver enhanced brightness and a clearer image. This upgrade was GooDee's way of meeting the strict needs of most consumers.
Screen Size Range
Per the product description, the ideal and recommended projector distance for this unit is about 2.5 to 4 meters away which will project a screen size of 80 to 120 inches.
Power Source
Due to the fact that this supports HDMI (with two ports), VGA, AV, and USB, you can hook up any device you can imagine to this projector. This includes your gaming systems, Blu-ray players and even laptop computers.
Sound Quality
Stereo speakers have been built-in with SRS sound, which is a noteworthy sound technology, but Dolby sound is not supported. One other aspect to note is the noise level of the projector is controlled within an acceptable range.
Overall
Forget about the price for a second, just sit back and marvel at the design that is presented to you. With the standard that some outdoor projectors have set, it is quite amazing to think that this model holds up to them admirably.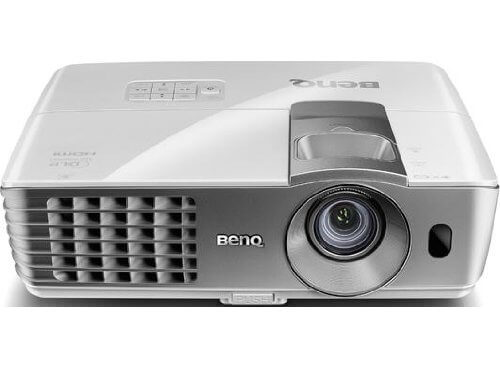 After all these years, the BenQ 1080p Projector has stood the test of time and still remains an elite model. Given the sheer amount of technology that was integrated to ensure the best picture quality possible, this should continue to stay relevant for years to come.
Read more
Features
Resolution Size
Not only does this sport a resolution of 1080p, but it also supports 3D viewing. Combining with the amazing resolution is DLP technology that displays over a billion stunning colors to provide a resounding picture.
Lamp Design
Perhaps one can make the argument that the lamp of this projector needs to be upgraded. Its 2000 lumens are very good but its 6,000-hour rated lamp life is somewhat disappointing considering others are double and triple this.
Screen Size Range
Depending on the distance of the projector and the surface you are displaying it on, you can achieve a 200-inch picture which is beyond larger than any single person should require.
Power Source
Even though it is subtle, the addition of two HDMI ports is convenient as you do not have to constantly switch between two HDMI devices. There are also other connectivity options for other devices.
Sound Quality
Once again, do not expect too much from the speakers but there are some built-in. If you are not anal when it comes to sound quality, they should suffice just fine, though.
Overall
If you could upgrade the lamp of this projector, with a model that has a longer lifespan, it is possible this could have climbed even higher on this list. BenQ should be commended for their design as all these years later, it is still highly impressive.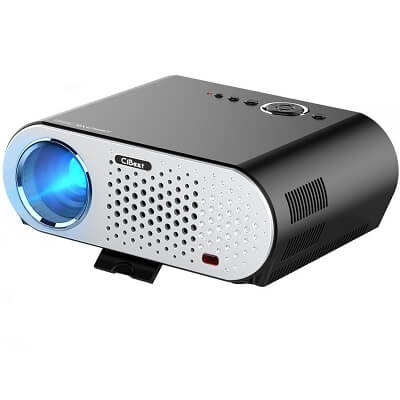 It is hard to imagine an outdoor projector that is better than one that combines top-of-the-line technology with a compact and portable design. While this projector falls under that category, there are some potential caveats that could scare some users off.
Read more
Features
Resolution Size
While the native resolution of this projector is 1280 x 800, it supports 1080p because it has a built-in HD decoder chip.
Lamp Design
This sports one of the most impressive lamp designs of any outdoor projector on this list. It not only has 3500 lumens but it is rated to last 30,000 hours which could last you up to 20 years even if used regularly.
Screen Size Range
It is possible to achieve image sizes of 35 to 180 inches from 1.2 to 5.5 meters away but the manufacturer recommends a projection distance of about 2.5 to 3.6 meters.
Power Source
With the integration of dual HDMI ports, a VGA port, dual USB ports, and an AV port, you can connect a multitude of devices including video game systems, computers, and Blu-ray players.
Sound Quality
Despite the fact that a HIFI level stereo audio performance built-in amplifier chip enhances the overall sound quality, the true issue here is with the fan of the projector. As some users have reported, this can be distractingly noisy.
Overall
The aforementioned noise issue could be a concern along with banding, which one reviewer reported was a huge issue. Still, despite that, it is astounding to think that this portable machine produces such marvelous quality.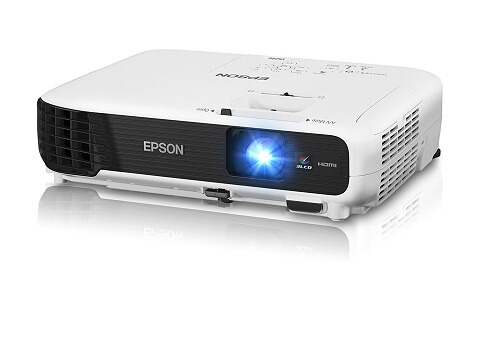 Unlike the other outdoor projectors that have preceded this one on this list, this is not an HD device. It does not necessarily mean the quality is poor but it is not quite HD. Thankfully, the design of the lamp does make up for it a tad.
Read more
Features
Resolution Size
Truthfully, this is an ideal outdoor projector for projecting basic graphics and presentations because of its 800 x 600 resolution. Those seeking higher specs may be disappointed here.
Lamp Design
Two aspects make this a high-quality lamp and the first is that it outputs 3000 lumens of light. However, it is also rated to last up to 10,000 hours which should be sufficient for most people.
Screen Size Range
Utilizing the E-Zoom plus button on the remote control, you can enlarge the image if it is not large enough on your current screen.
Power Source
Because this supports HDMI, it is going to compatible with most modern devices on the market including recent Nintendo and Sony video game systems and all sorts of DVD and Blu-ray players.
Sound Quality
Okay, this section leaves a lot to be desired. As one user pointed out, there are no audio outputs on this projector and to hook up external speakers, you must utilize an HDMI splitter.
Overall
Hooking up an external speaker system can be unnecessarily annoying and the resolution may leave some people disappointed. However, with a sensational lamp and the latest compatibility, it is still more than worth a look.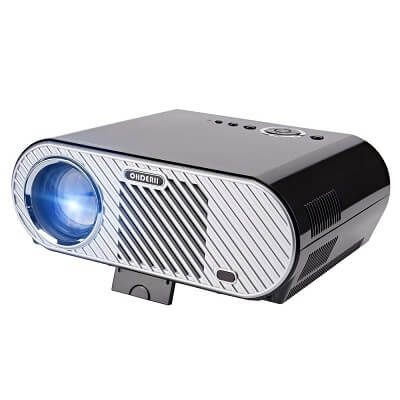 Everything is in order for this to be one of the best outdoor projectors on the market. Yet, slight design issues halt this from being top five material but hey, seven is not too shabby, right?
Read more
Features
Resolution Size
Once again, this is another projector that does support full HD but one that has a lower native resolution. Still, at 1280 x 720, it is still considered HD and should suffice for most quality aficionados.
Lamp Design
The single LCD panel has an ultra-high power LED light source that emits 3200 lumens and a rated lifespan of 20,000 hours; making it one of the more impressive designs out there.
Screen Size Range
With a projection distance from 1.2 to 7.5 meters, you can actually achieve a picture that is 280 inches in size. Given the sizes of most modern televisions, that number is completely astronomical.
Power Source
Much like the competition, most inputs are present to ensure a large number of your devices will be compatible. This includes an HDMI, VGA, USB and AV in port.
Sound Quality
There are built-in speakers in this unit, that utilize SRS sound, but the 3.5mm AV port can be used to hook up external speakers for enhanced sound.
Overall
It is going to be difficult for you to find a much better outdoor projector at this price range. One would think because of this, the quality and lamp would be average. Yet, that is not the case here as the specifications prove otherwise.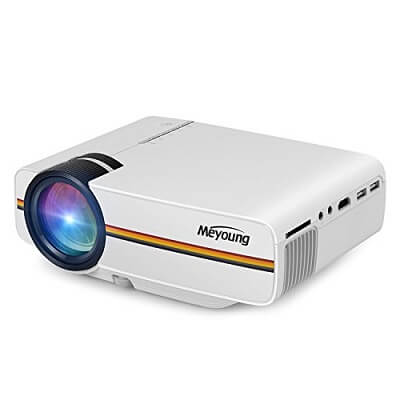 This next outdoor projector is a great device for people who are not worried about owning a projector with picture perfect, mind-blowing quality. Still, all things considered, all the below features combine to make a worthwhile addition to anyone's home theater system.
Read more
Features
Resolution Size
Let's be honest for a second, the 800 x 480 native resolution is not going to win an award for best picture. Yet, it can upscale to 1080p and overall, most users seem to be satisfied with the image quality.
Lamp Design
On one end, the 30,000-hour lifespan rating of this lamp is superb. However, its 1200 luminous efficiency is alright but will not be bright enough for daytime viewing.
Screen Size Range
The throw distance is rated at 4.9 to 13.12 feet and depending on the distance you choose, the image size can be 50 inches all the way up to 130 inches.
Power Source
You would be hard-pressed to find many modern devices that will not be compatible with this unit. Because of its compatibility with HDMI devices, USB devices, mobile HDD, and SD cards, your choices are nearly endless.
Sound Quality
As the product description points out, if you use a VGA cord to connect the projector while watching videos, you will need an external speaker as a VGA cable can't transmit an audio signal.
Overall
Is this the brightest or highest resolution outdoor projector in the world? No, it is not but a few aspects that are beneficial about it are its amazing lifespan of its lamp and its compatibility with modern devices.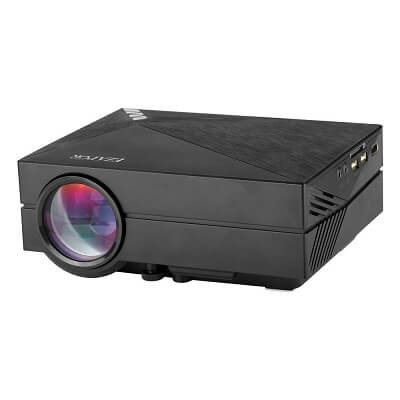 Ezapor designed one of the most compact and portable outdoor projectors on the market. Their GM60 may not blow technology enthusiasts away with its specifications, but it sure is a great projector to take with you on all sorts of adventures.
Read more
Features
Resolution Size
The good news is this does support 720p and 1080p video. Yet, it needs to upscale to do so as its native resolution is only 800 x 480 which is still solid all things considered.
Lamp Design
There really is no getting around it; you will need a dark environment for this to work up to your standards. Its 800-lumen lamp is just not powerful enough to emit enough brightness for daytime watching.
Screen Size Range
Even though some projectors can throw an image well over 100 inches in size, this is recommended to stay at 100 inches and is large enough for practically anyone.
Power Source
Per the usual it seems, Ezapor integrates five universal ports that will meet the needs of most devices which includes a VGA port, SD card slot, USB drive, HDMI port, and AV port.
Sound Quality
Thankfully, you can add an additional sound system with this projector because of its 3.5mm audio output as one reviewer noted how atrocious the sound quality was by itself.
Overall
This is marketed as a mini-LED projector so be cognizant of what you are getting here. It is a compact and portable design that is perfect for parties and outdoor adventures. Yet, it will not blow you away with the quality, either.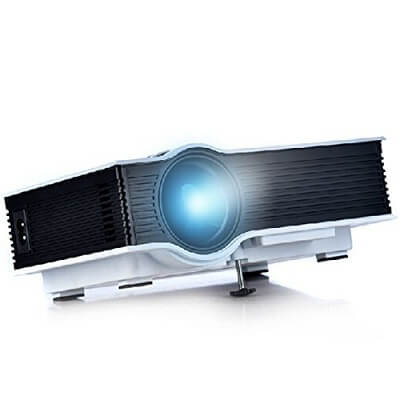 To be honest, this is almost an identical design to the outdoor projector that was just documented. In fact, they are almost carbon copies of each other.
Read more
Features
Resolution Size
Due to the native resolution of 480p, when you try to read numbers or small words on the screen it can be difficult. While it does support 1080p, the upscaling ensures it is not true HD.
Lamp Design
For sure, at 800 lumens, this is not the brightest lamp in the world and to get the most out of it, you will need a dark-lit environment and not a sunny day.
Screen Size Range
Despite its limited quality and brightness, the screen size can still get up to 130 inches; although it is recommended in the product description to stay within 80 to 100 inches.
Power Source
You name the device and it is probably compatible with this design. For instance, you can connect your PS3, PS4, laptop, Amazon Fire Stick, and USB devices.
Sound Quality
Even the manufacturer recommends using an external speaker for enhanced sound so that should tell you all you need to know about the sound quality. Still, the built-in speaker is nice to have.
Overall
What more is there to say that has not been said already? Once again, this is not ideal for people looking to show off their super advanced outdoor projector but acts as a great device to view your favorite programs outdoors.

Subscribe to our Newsletter