Best Truck Tents
In a
Hurry? Editors choice: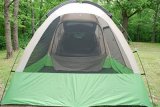 Test Winner: NAPIER BACKROADZ

On a long road trip with a
friend
, there is nothing better than just driving until you need to pull over to the side of the road and pulling out your truck tent to fall asleep comfortably in. Whether you are planning a cross-country road trip or just want to head up to the backcountry to check out the stars and are driving your truck, you definitely want to check out getting a truck tent. For the average person, it may sound completely ridiculous to camp in the back of a pick-up truck but a truck tent gives you the ability to sleep anything even on the beach or even sleep on a back road. All you have to do is park your truck in a safe location and pull out the tent to sleep in. Below we have listed the top ten best truck
tents
in the market today.
Standout Picks
Criteria Used for Evaluation
Overall Fit
No matter what you look for in a tent, the price, quality, design, simplicity, portability, or fitting capacity, it is all proven irrelevant (for truck tents) if the tent itself does not fit over the bed of your truck (or SUV). When searching for your next truck tent, you need to tread carefully and be 100 percent certain that you are selecting a model that accommodates for your truck. Some manufacturers will give you multiple size options so everyone can get a properly sized tent. In the instance where you have options at your disposal, run over the measurements of your truck to ensure it will fit. Also, take into consideration if your bed is a full-sized, mid-sized or a compact-sized version.
Of course, these size options are not always at your convenience. Some truck tents are sold in one size and if so, will not fit every single truck in America. Sellers may even specify a minimum bed-size or if a rear-mounted spare tire will prevent it from working. In a rarer situation, you may even come across tents that are specifically designed for a certain car model. Either way, do what you need to make sure you know the truck tent will fit your truck.
Then, there are some tents that work strictly for minivans and SUVs. These types are a little less strict as most will have a sleeve that can be attached to the rear of the vehicle. Thus, adapting to a wide number of SUVs and minivans. When it comes to which trucks/SUVs will fit certain models, you can take great pleasure in knowing that most sellers will not leave you in the dark and will specify which ones will work.
Features
Tents are designed to be a portable form of residence, allowing people a place to live on the go (for a certain amount of time). Thus, it is quite important how well the interior is designed. Different design choices will hold different values from person to person. But, in general, there are some factors you want to look for when analyzing the interior design of a truck tent.
Firstly, decide which kind of floor you would like. For truck tents that have an attached sleeve that connects to SUV's, this is not so much of an issue. But, for traditional truck beds, the sleeping area is in the bed of your truck. Typically, manufacturers will either sport their tent with or without a sewn-in floor. Looking at it through objective eyes, both hold their advantages. With a sewn-in floor, you do not have to sweep out the bed of your truck. The air mattress, if small enough, could then rest comfortably on the floor. But, without a floor, you can leave some of your heavier equipment in the bed without moving it (as long as it is not in your way).
Next, the amount of ventilation will be paramount for some people. On hot summer nights, you will want a breeze coming inside to make it breathable and possible to sleep. The amount of ventilation will strictly depend on the number of mesh windows installed and also if the outer door folds up. Also, keep a special eye out for tents that have a storm flap as this will enhance privacy and provide a good deal of protection against the weather. Speaking of weather, included rain flies and water-resistant fabric are also nice in the instance where you must sleep in the tent in a downpour.
Although not nearly as important as other interior design choices, for extra storage and organization some sellers will outfit their tent with gear pockets; which is a nice touch.
Ease of Use
When it comes to any sort of work, it is beneficial for people when it is as simple as possible. Clearly, when you pull off to the side of the road and are ready to sit back and rest you do not want to spend several minutes setting up a tent. Traditional tents are one thing, but truck tents will (depending on how you use them) often times require you to set-up and disassemble multiple times. As with any process, the more times you take part in it the simpler it will become in the proceeding instances you do it. But, some tasks will remain difficult no matter how many times you complete them.
Some prior experience constructing tents will help, but novices should still be able to put them up with little to no hassle. Versions that have color-coded poles and a sleeve system are always a good way to achieve this. But, a key for some people will be if the tent is easy to put up with one person. Depending on the way it is designed, some will be a complete hassle with one person and completely unbearable. In the instances where you are by yourself, this can prove to be a huge issue. When disassembling, it is also convenient when a storage bag comes alongside the tent itself to allow a place for storage.
A little piece of advice, in general, is to set-up your truck tent before you commence on your journey. This way, if you run into any speed bumps you can sort them out in the pleasure of your own driveway. Plus, you gain some practice so when you construct it in real-time you can achieve it even quicker than you would have before.
Subscribe to our Newsletter