Best Canopy Tents
In a
Hurry? Editors choice: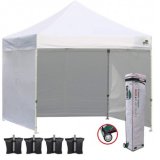 Test Winner: Eurmax Ez Pop-Up

With
warmer weather quickly approaching
, everyone's focus begins to slowly shift from winter mode to summer mode. Visions of farmer's markets, garage sales, camping, and trips begin to fill our heads. With so many fun events and activities to check off of our summer bucket lists, sun safety can often fall to the wayside. This is why we felt it was important to provide our readers with a list of the best canopy tents on the market today.
These products will not only help to give you shelter from the sun but will provide protection in the event of
unexpected summer rainfall
, too. This market can be rather saturated which is why we did the dirty work and found you all of the information you need to know prior to making your purchase. Let's dive into the world of these specialized shelters!
Standout Picks
Criteria Used for Evaluation
Size
You need to know the exact measurements in order to ensure the canopy tent is the right size for what you're using it for.
When we look at the size, there are a few different measurements we should take into account. First of all, and perhaps the most obvious, is the actual physical size of the product. Most of the options on our list follow the standard 10x10 style. Another size concern you might want to do your research on is what the headspace is like inside of the shelter. Some options have limited height in the middle of the canopy simply due to the design of the frame. Other options have more of a peak in the center which will provide more space and headroom.
Materials
High-quality and durable materials are of the utmost importance.
The shelter you choose will only be as strong as the materials used in its construction. The good news is that a lot of the manufacturers on the market realize this, so you're going to see a lot of the same types of materials used in making these shelters. The legs need to be strong enough to stand and provide a stable shelter. This typically means that manufacturers are going to use steel in the construction of the frame. Though steel tends to be quite heavy, it is a good choice for frame material as it'll extend the lifespan of your shelter. One thing you've probably already noticed is the overuse of the word 'polyurethane' in our review. This is a popular coating choice that will help provide protection from harsh weather elements and corrosion. When it comes to the canopy tent fabric, one you're going to commonly see is polyester.
Features
Different shelters have different special features that set them apart.
Every tent that you have read about in our buying guide provides consumers with unique features. Some have an easy set-up/tear-down process. Some come with extra features like sandbags or wide legs to provide further stability. We really loved that some of the shelters had quick-release buttons designed to save precious sensitive finger skin from getting pinched. You can rest assured, though, whichever product you ultimately decide upon, if it has made our list, you will be happy with the features it provides.
Portability
Carrying bag, roller bag, or neither? It's your choice
We're not going to lie, some of these are heavy. There are a lot of factors that play into the weight of the shelter – what material is used to make the frame, what the shelter is made from, how many walls it has, etc. If your plan is to be toting your item around with you, you're going to want to make sure the option you choose has a wheeled bag. The bags aren't perfect but they certainly make transporting it a lot easier.
Weather Resistance
How well the shelter can stand up to wind and rain are important considerations to take into account.
When we're looking at the weather resistance of canopy tents, we have a few different elements we're judging the products on. First of all, is the shelter's ability to resist water. This was a big one. We wanted to make sure the products on our list are deemed waterproof in order to protect you and whatever it is you're protecting under the canopy.
The next weather event we took into account was the wind and how wind-proof the products were. Some options were limited in this regard due to the weight, design and stability level. Typically, beach style canopy tents are more likely to be able to resist wind as they manufacturers design them for use on beaches – where the wind can get out of hand quickly. Canopies that are more or less designed for commercial use, however, rely more on their overall weight in order to keep them stable and are meant to be used in situations where the weather won't get out of control.
Subscribe to our Newsletter