Best Truck Bed Covers
In a Hurry? Editors choice: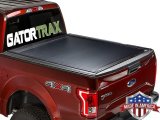 Test Winner: GatorTrax Tonneau

Anyone who owns a
truck
is either looking for a new
bed
cover, bought one without a cover or content with their cover. Clearly, if you fall into the latter than you would not be reading this right now (one can only assume). So, that leaves you in one of the former categories and no matter which one you fall in, the point remains the same. Owning a high-quality bed
cover
(or tonneau cover) is essential for all truck owners as the bed is an ideal storage location. But, you want the equipment and
tools
in the back-end of your truck to be protected against the elements. This makes it all the more vital to pay close attention to the most important details.
Standout Picks
Criteria Used for Evaluation
Materials
So, the first thing you need to learn about truck bed covers is that they come in a plethora of different styles and materials. From hardcovers to soft to retractable to fold-ups, there is a wide variety. However, the main material that is utilized will also differ from model to model. Some of the more popular ones are ABS polymer, fiberglass, aluminum, canvas, and vinyl. Let's begin with vinyl, shall we? No matter what Mother Nature has to offer, vinyl is going to protect your cargo from weather damage. In addition, it is typically crafted from a marine-grade material for further durability.
As far as aluminum, this is one of the lightest materials and is typically found in folding covers. Typically, a layer of fabric will then be wrapped over the aluminum panels. For fiberglass, the lid will integrate a resin-filled honeycomb pattern and this is ideal for both longevity and strength. Now, for ABS polymer, this is both easy to use and high in strength. Part of the reason why is because of the molded crossbows that are integrated underneath the surface. Lastly, a canvas is another good option for ease of use and durability.
Durability
For this next section, we want to talk about the sealing and additional durability of these types of covers. In terms of how they seal, though, this is going to differ from cover to cover. But, let's discuss some of the more popular methods so you have a clear understanding of what to look for. One of the most common sealing methods, or at least one that used to be implemented religiously, is known as snap-down. This literally entails you to snap down the tonneau cover and secure it into place. Most likely, this is probably the model your dad's truck had when you were growing up.
But, how about snap-less covers that are low-profile? You see, this type of sealing method foregoes snapping and merely requires you to push the rubber seam into the aluminum channel for a proper seal. Of course, other systems will also use Velcro straps and these are pretty self-explanatory. In terms of durability, with the materials playing a large role, you can also decide whether you want a hardcover or a soft cover. The former will hold up better in areas that experience heavier snow (even though the latter will still hold up well).
Ease of Use
Depending on the type of cover you get, the installation can vary. Now, it is important to clarify that no matter which one you select, the installation should never be that awful. But, the time could vary from 10 minutes to an hour and here is why. Take a soft tri-fold cover for example. Because there are no tools required and it typically works with a clamping system, it could take less than 10 minutes to install. On the contrary, if the cover requires that rails be installed beforehand, this can take up to an hour or two (depending on your skill level). Then again, even the latter method probably will not require any special tools.
But, the installation can be a potential issue if you have an under-the-rail bed liner. While they will not present issues most of the time, they could for some retractable covers. Some trimming of the liner may be required in this case and if it is, ensure you know exactly how to do it.
Fit
Above all else, this could just be the most critical point of emphasis for this entire guide. What good is a truck bed cover that does not fit your truck? Even though this is probably not news to anyone, not all covers will fit all truck beds. How could they? They are not one-size-fits-all and you need to be 100 percent certain that the model you pick will fit on your truck with no issues. Because, truck bed dimensions will vary from brand to brand, a short bed Chevy truck is not going to have the same dimensions as a short bed Ford truck. So, if a cover is designed to fit Chevy trucks, it will probably not fit on a Ford.
You need to look for two specifications. The first is the current truck models that the cover is equipped for (for example Ford F150's from 2015 to 2018). But, the second is the bed size it will fit. Typically, they will come in 5.5-foot, 6.5-foot, and eight-foot options (but not all will).
Top 10 Picks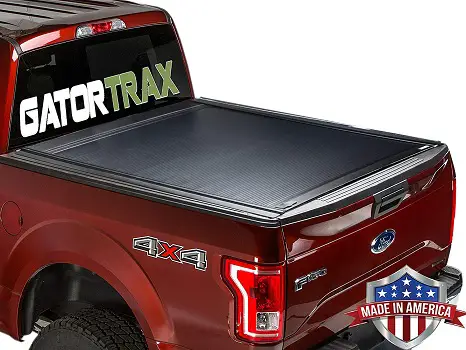 Let's just say that the top model on this list is a beast. In fact, its actual cover is made of the same material that is used in fighter jet cockpits. As you may have guessed, though, this does come at a cost.
Read more
Cover Materials
The material that was just alluded to is known as LEXAN and it is a polycarbonate. In addition to its durability, it also withstands freezing and scorching temperatures and is unharmed by UV rays.
Stability and Durability
Even though this is a very stable and durable cover, one possible concern is the lock cover. As it is made of some combination of silicone rubber, it may or may not last in the long run.
Ease of Installation
No drilling or cutting is going to be required on your part as this cover comes designed with clamp-on rails. Plus, the sealed ball bearings will never freeze and do not require maintenance.
Truck Compatibility
This is engineered for Ford F150's from 2015 to 2018. But, while this model is fit for a 5.5-foot bed, there is also an option for a 6.5-foot bed if that is what you need.
Bed Access
One of the premier features of this model is that it can be locked in any position. With most other models, they can only lock every 12 inches. This allows supreme convenience to complete any task.
Overall
When you glance at the price tag of this tonneau cover, your jaw may hit the floor. However, without a shadow of a doubt, the quality warrants the price tag so be aware of that.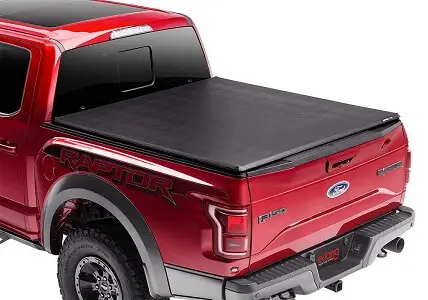 This next cover is outfitted to fit perfectly on Ford F150's between 2015 and 2018. Considering its high-quality strength and durability, it's a tonneau cover that all Ford F150 owners should consider.
Read more
Cover Materials
The leather-grained material that is used for the cover is heavy-duty on its own but it also has a low-profile appearance and is ultra smooth. Also, the integrated corner tuck system improves the tarp's tension.
Stability and Durability
Being made of lightweight aircraft-grade aluminum, the redesigned frame of this cover is incredibly strong. Of course, it corners also provide additional structural strength.
Ease of Installation
Thanks to the design of the all-new Extang engineered clamping system, it will attach easily and within seconds to your truck. From there, you simply need to square up the cover and clamp it on.
Truck Compatibility
This is another model that is designed to fit Ford F150's that fall within the year 2015 to 2018. For your convenience, also, there are three-bed options available (5.5 feet, 6.5 feet and eight feet).
Bed Access
In a matter of mere seconds, you can fold this cover in the open position. All you need to do is open your tailgate, release the clamp and fold the cover back to your cab.
Overall
It is extremely hard to argue with the results here. The icing on the cake, though, is that there are three-bed options available. As such, most Ford F150 owners will be able to securely place this on their bed.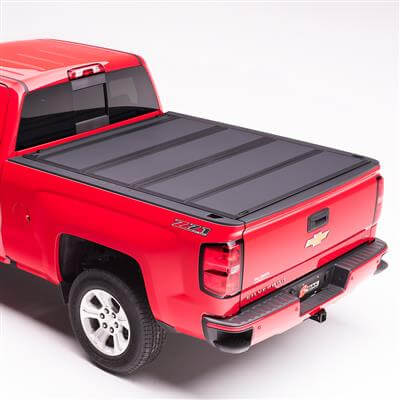 The BAKFlip MX4 is one of the more popular models on this list and seems to come up time and time again on these types of lists. Once you are exposed to its design, you will quickly realize why it ranks so high.
Read more
Cover Materials
The panels of the MX4 are crafted of aluminum. In addition to this, the matte finish adds both scuff and scratch-resistance. Oh yeah, and it is also resistant to the UV rays from the sun.
Stability and Durability
For enhanced durability, this model includes injection-molded latch housing components. But, as one buyer noted, the panels are made of thin aluminum and may not be able to handle any significant weights.
Ease of Installation
On top of being compatible with BAK's premium storage box, the MX4 features a clamp-on installation that does not require any drilling.
Truck Compatibility
For all you GM owners out there, this is designed to fit Silverado's and Sierras. Plus, there are three-bed options for you to choose from which include eight feet, 6.5 feet, and 5-foot 8 inches.
Bed Access
Really, at any time you desire you can have 100 percent bed access to your truck. Plus, you can actually open and close the cover with the tailgate either open or closed.
Overall
You can see why the MX4 is one of the more popular choices on this list. But, admittedly, you may want to be careful as you should not rest anything on top of the cover due to the rather thin aluminum.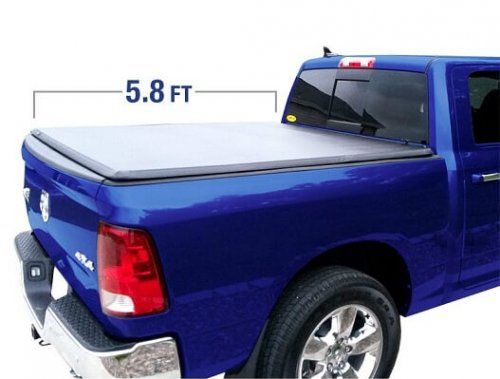 Speaking of popular, in terms of positive reviews, it may not get more popular than this tri-fold cover. Given its heavy-duty marine-grade vinyl craftsmanship, it lives up to the amazing hype.
Read more
Cover Materials
As just mentioned, Tyger Auto designed its tonneau cover with marine-grade vinyl. But, for enhanced protection, the 24-ounce vinyl has been double-coated.
Stability and Durability
Even though the aluminum frame is lightweight, it is not flimsy. In fact, it has been powder-coated for additional protection against the elements.
Ease of Installation
Thanks to the patented clamping system which does not require any drilling (unless you have an over-the-bedrail bed liner), the installation is very simple (with included hardware and instructions).
Truck Compatibility
For Dodge Ram 1500 owners without the Ram Box (from 2009 to 2018 models), this is going to fit. No matter if your bed size is eight feet, 6.5 feet, or 5 feet 8 inches, there are options for all.
Bed Access
Due to the pre-assembled horizontal crossbars, there is not only additional support added but you can also conveniently fold up the cover when you need access to your bed.
Overall
When so many people start talking about how great a product is, you tend to begin to believe yourself. That perfectly describes this bed cover as buyers around the world have raved about its brilliance.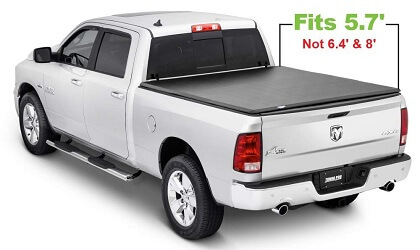 This is yet another tri-fold model and one of the benefits of it is the easy access it allows to your bed. Additionally, this one comes completely assembled and should be up and running in less than 10 minutes.
Read more
Cover Materials
There is no doubt that the Tonno is built to withstand the elements and protect your bed. After all, it is double-sided with tear-resistant marine-grade vinyl. It can even handle the snow in the winter.
Stability and Durability
To provide security for the cover, the slide-lock design and easy to use clamping provide additional tension. On top of this, the layer of powder coating adds durability.
Ease of Installation
In addition to the fact that this comes assembled fully, it will install in less than 10 minutes. In fact, all you will need to install it is a ratchet and a 17-millimeter socket.
Truck Compatibility
If you are currently driving a Dodge RAM 1500 (from 2009 to 2018) or a Dodge RAM 2500 or 3500 (from 2011 to 2018) with a bed of five feet seven inches, this will fit.
Bed Access
Tonno Pro engineered their tonneau cover with a system that locks it into place making it very easy and safe to be locked in even while open. Plus, it can be removed in seconds.
Overall
What this cover excels at is protecting all of your equipment in the bed of your truck as it offers a weather-tight seal and is designed to handle the extremeness of snow and rain.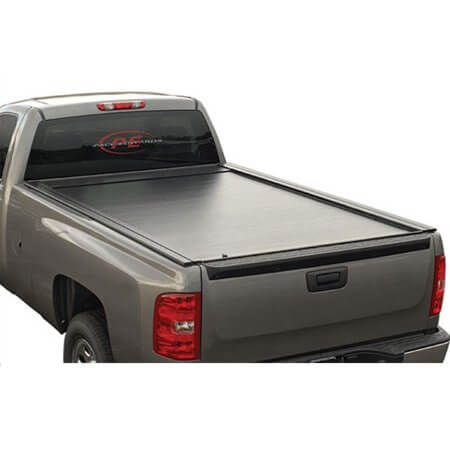 Even though some consumers will be disappointed in the fact that this can't be locked into place when partially open, it is made of patented ArmorTrek material which is a weather-resistant polymer.
Read more
Cover Materials
Again, the ArmorTrek material that is used for this cover is a weather-resistant polymer. Essentially, this layer is bonded right onto the aluminum panels and provides a soft appeal.
Stability and Durability
Yes, the ArmorTrek material is bonded right on top of the aluminum panels. These panels provide the structural stability for the tonneau cover.
Ease of Installation
Pace Edwards claims that the installation of their Switchblade is unlike any other in its class. All you need is a wrench and a screwdriver to install it with the clamps.
Truck Compatibility
This is specifically designed to fit 5.5-foot truck beds. But, it is also specially outfitted for Ford F150's all the way from 2004 to 2014.
Bed Access
Thanks to the integration of the continuous tension spring system, this can easily be rolled in or out smoothly. Plus, you can bundle it up with a storage strap when you need full bed access.
Overall
For Ford owners, this is one of the better tonneau covers in the world. While it would be nice if you could lock it partially open, it is an easy-to-install cover that is made with high-quality components.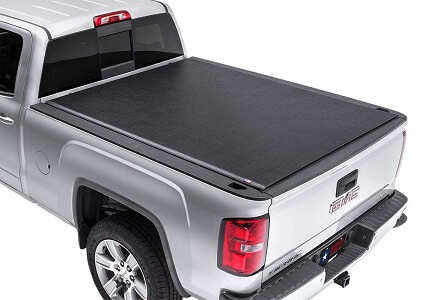 As opposed to tri-fold covers, this is actually a roll-up model. While they can admittedly be more of a pain to open and close, the quality is still excellent thanks to the aluminum frame and vinyl fabric.
Read more
Cover Materials
Vinyl fabric, which as you know by now is a pretty popular material for these truck bed covers, comprises this roll-up cover and is fairly durable stuff, all things considered.
Stability and Durability
To keep the cover secure and prevent it from flying off when you are driving, this bed cover uses industrial-strength hook and loop strips that are sewn into each side rail.
Ease of Installation
The main mechanism of this cover, the trigger latch, is very easy to use and install. This allows you to roll up the cover and roll it down whenever you see fit.
Truck Compatibility
It is important to note that there are three bed-size options for you to choose from. But, you also need to know that this is designed to fit GM's and Chevy's from 2014 to 2018.
Bed Access
As this is a roll-up design, you can roll it up at any time to gain full access to the bed of your truck. For full access, strap it down when it is at the front of the truck.
Overall
If you have never been a fan of roll-up covers, then there is no reason to believe that you will be satisfied with this model. Then again, it is one of the better roll-up models out there.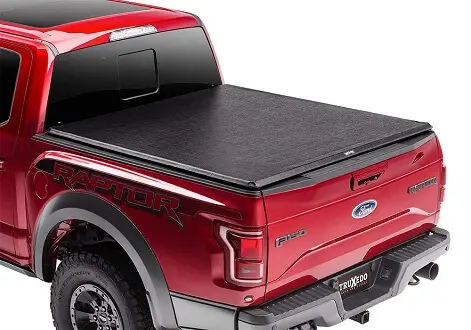 Would it surprise you to know that there are superb entry-level options out there? Well, Truxport happens to be one of those models but also sports features you will find on top-end covers.
Read more
Cover Materials
Truxedo designed their Truxport with leather-grained fabric. What this does is help protect your cargo from the elements during winter storms and summer rains.
Stability and Durability
What is nice is to reduce the amount of wear and tear this model endures, it has been designed with industrial-strength Velcro. This Velcro attaches the cover to the rails and keeps it tight.
Ease of Installation
The simple clamp-on rails and headers will not require any cutting or drilling. Also, the Velcro will attach to the cover and reduce wear and tear in the long run.
Truck Compatibility
The Truxport is actually only going to fit Ford F150's from 2015 to 2017. While this is not the broadest of compatibility, it does come with three-bed size options.
Bed Access
Even by yourself, this system is very easy to roll up thanks to the dual-latch system. Plus, the latches can easily be accessed at both sides of the truck.
Overall
While this is an entry-level budget cover, it is still one that is overflowing with brilliance. Plus, it adds a sleek appearance to your truck and will increase the fuel economy.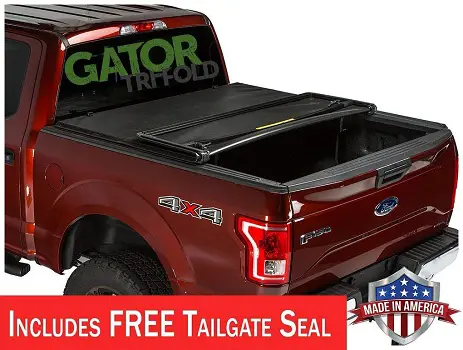 Gator definitely has a great reputation in the manufacturing business and even though some buyers have questioned the longevity of their tri-fold truck bed cover, it is still a recommendation.
Read more
Cover Materials
This tarp is made of vinyl and like the rest on this list, is built to withstand abuse. Not only is it heavy-duty in its own right, but it is also tear-resistant.
Stability and Durability
On one hand, the aluminum frame is ideal as it adds necessary strength. However, there is a potential design flaw present. As the latch exposes the screw when it is unlatched, you could tear the fabric if you fold it over itself.
Ease of Installation
Gator ensures that their quick latch system is both easy to install and use. In fact, they claim that no tools are needed and that it will take less than 10 minutes.
Truck Compatibility
The three main bed-size options are available for this cover. In terms of the models, it is designed to fit Ford F150's from 2015 to brand-new 2019 models.
Bed Access
Even if you wanted to drive with this cover partially open, you could as it can be secured.
Overall
Despite the fact that the longevity of this model has been brought into question, it is easy to install and an overall solid option.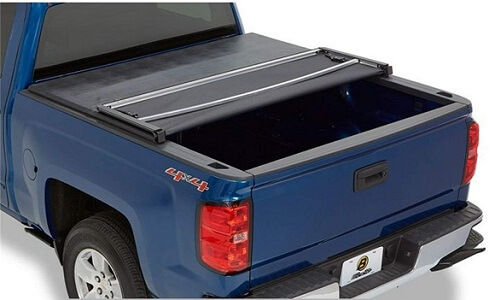 If not for poorly designed clamps, this entry could have landed even higher on this list. But, sometimes you need to look at the glass half-empty. Still, this is a solid, affordable option.
Read more
Cover Materials
Even in cold weather, this polyester and vinyl fabric combination can stay flexible. Also, it is weather tasted and should hold up well to the elements of the outdoor world.
Stability and Durability
For enhanced support, the frame of this model is made up of aluminum. In addition to this, the hinge and rail design sports reinforced corners and this adds structural stability.
Ease of Installation
In five minutes or less, the heavy-duty adjustable clamps can be installed.
Truck Compatibility
This is outfitted to be compatible with 2007 to 2013 Chevy Silverado and GMC 1500 trucks with a 5-foot 8-inch bed.
Bed Access
You can either remove the entire cover or open it partially with the integrated buckle straps.
Overall
Though the clamp design could have been improved, this is still an excellent, low-cost option.

Subscribe to our Newsletter