Best Sun Lounger
In a
Hurry? Editors choice: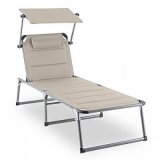 Test Winner: Blumfeldt Amalfi

Once the summer packs up and heads south for the winter, you are going to be wishing you spent more days
laying outside soaking up its rays.
There is nothing better than having an entire afternoon to sit along the water in
a comfortable beach chair
with a good book and allow yourself to get absorbed into the lazy days of summer.
Investing in a great sun lounger is an excellent way to relax after a long day. There are tons of different styles out there on the market that can be packed up and carried to different locations such as the beach or along the lake, and others are meant to stay on your patio all year so that you can take a little afternoon cat nap any time the clouds blow away.
Standout Picks
Criteria Used for Evaluation
Comfort
At the end of the day, the number one thing that you are probably concerned about when it comes to furniture to help enhance your tan and allow you to unwind after a stressful workweek is a comfort. That's why we made sure to read what previous customers had to say about the comfort of each item. When it comes to nylon or polyester fabrics, they often can be a little itchy or dig into users' skin when in use for long periods of time.
If we noticed that there was an overwhelming number of users that had specific complaints about the materials being uncomfortable, we moved on to a different design - because comfort is the most important factor when it comes to these chairs. The most portable designs do not typically come with cushions, which some users might want to purchase separately. For the polyester or nylon designs, we made sure that they were breathable and were quick drying so they would keep users cool and comfortable even when under high heat conditions at places such as the beach. A common complaint that these outdoor lounge chairs are historically known for is the center adjustable bar digging into the users' backs when fully reclined. We made sure that the best garden loungers designs that we selected had designs that wouldn't dig into backs when laying completely flat.
Materials
One of the things that users do not like to be bothered with are products that take a lot of maintenance- which can be a problem depending on the materials that are used. We tried to stick to outdoor lounge chair designs that had steel and aluminum frames because they are typically constructed from aluminum or steel because they are considered to be a little bit more lightweight and won't rust we left out in the rain. For users that want something that isn't as mobile but doesn't require basically any maintenance is products made from resin. Resin is a really hard plastic material that won't absorb water, and because it is made from plastic it won't rust. This material is great for leaving outside all year without worries about it breaking down or becoming brittle over the years. The only downside to resign is that it isn't as soft or as comfortable to lay on as polyester, and users find that they need to buy additional cushions.
Style
Deciding on a final design all depends on what and where you intend to use these sun loungers. If you are a homebody that prefers to stick to your backyard poolside or patio area, you might benefit more from buying a more permanent resin design that is perfect for setting out on the patio and not needing to put it away all winter. If you are someone that is constantly on the go and wants something that is easy to carry along with you, designs that have aluminum frames with polyester seats that can be folded up and carried on your back or over your shoulder might work better for you. Another thing to take into consideration is how much you are willing to care for your item to ensure it has a long lifespan. While garden loungers that have aluminum frames might claim they won't rust when left outside in the rain, if you plan on leaving them out for the entire summer, some users have noticed that their products did, in fact, start to rust. Plus, some users found that while polyester might repel water, it didn't work all that well at repelling odors- which means that you might have to wash it down with a little bit of soapy water every so often. No matter what type that you land on, the most important thing is that you land on a design that will offer you maximum comfort so that you can unwind at the end of a long day, and perhaps get a tan.
Value
The cost was something very important to us because we don't want you to spend more money than you need to on any type of gear. We wanted to select designs that ran about in the middle of the road in terms of price because these units were typically made from high-quality materials and had innovative designs without breaking the bank. However, we did make sure to offer some pool lounge chair selections that came in at an affordable price point. These designs might not hold up for the long haul or for everyday use, but it is something that you are only going to use for vacations and events - these more affordable options might suit your needs perfectly while saving you just a little bit of cash.
Subscribe to our Newsletter