Best Pool Chairs
In a Hurry? Editors choice: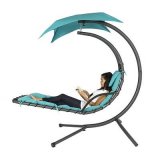 Test Winner: BEST CHOICE PRODUCTS

When you are chilling out poolside with all your family, friends, neighbors, etc., is it not better to do so in a chair that you love? Sure, you could just take any old run-of-the-mill outdoor piece of furniture and sit in it on your pool deck but is that really doing yourself justice? Why don't you spend a little extra money and invest in something that you can both be proud of and something that will completely enhance the summer experience? Well, you can get both with just one purchase. However, to get to that point, you will first need to understand the basics behind what makes pool chairs so fantastic. They are not complex products but you also can't afford to look past any major or minor details.
Standout Picks
Criteria Used for Evaluation
Durability
You always want to buy high-quality products but this significance is amplified with outdoor products for sure.
It is all about the durability and build quality, is it not? As a consumer, these are always going to be two main areas of assessment and with pool chairs that is going to be no different. As always, you need to assess the materials that are utilized. First off, most models will sport metal frames (though not all will). And, the two most common metals for the frame will be steel and aluminum. Overall, steel is the stronger and more resilient of the two metals. However, aluminum is much lighter and is impervious to rust (more on that later).
On top of the main frame, you will often see materials such as wicker, rattan, or even fabrics. Addressing wicker and rattan, these are very similar materials. But, rattan is used in wicker weaves. Overall, both are exceptionally strong and durable materials that are popular for outdoor furniture for these reasons. As for fabrics, look for higher denier counts as the higher the denier, the thicker the fabric will be. Oh, and you can always reference the specific weight capacity of any given model (with most ranging from 250 to 400 pounds).
Weather Resistance
This is pretty self-explanatory here as the chairs you buy need to resist the weather.
In all reality, this is a subsection of the last section. But, it is so vital that it deserves its own time and appreciation. Here is the deal; unless you want to store your chairs inside and bring them outside every single time you want to use them, they need to be resistant to both the weather and water, in general. After all, they will be next to the pool and from time to time, they are probably going to get wet. Now, this is where aluminum frames hold an advantage over steel. As mentioned, aluminum does not rust and even though it can corrode, there is no paint or coating that can wear off. Yet, this is not the case with steel as it will rust if exposed to moisture and air.
So, with steel frames, you will most certainly want to look for powder coated models. This is an incredibly popular and durable coating that will add a protective barrier to protect the steel (and it also withstands the elements very well). Also, you need to be wary of UV damage. The sun emits UV rays and if your chairs will be exposed to it, the fabric and main materials need to be UV-resistant. Otherwise, you will notice the fabrics fade and deteriorate over time.
Comfort
Really, who wants to sit in furniture that is uncomfortable?
Clearly, this is just as important as the previous two sections as a chair's number one design purpose is to provide an individual with a place to sit. Yet, and everyone should know this, not all chairs you sit in will be comfortable. Whether they offer no lumbar support, are not well-padded, or merely lack ideal positioning, some are just downright uncomfortable. And, quite frankly, these are the types of models that you will be looking to avoid. So, in order to do that, keep a few things in mind.
Firstly, while not all models will come with extra cushioning or padding, the main seat needs to be comfortable. For some of you, you may need included headrests and specific lumbar support and that is perfectly fine. But, do know that even models without cushions can still be quite comfortable. It also helps, though, when the chair is ergonomically designed. Specifically speaking, ensure it is designed in a manner that will contour to your body. Oh, and it never hurts to see what previous buyers have had to say about the product.
Features
For certain, there are some key features to look out for here.
Of all the features that you should look out for, most buyers would agree that there is one that stands out. To let the cat out of the bag, this is referring to the adjustable nature of any given pool chair. You see, most likely, you will not want to sit in the same position for x amount of minutes or hours. Instead, most of you will probably prefer the ability to manually select a seating position. And, the best models out there will allow you to adjust the angle to multiple different positions (not just one or two). This way, if you wanted to sit straight up, at an angle, or lie straight down, you could.
This is where another interesting feature needs to be addressed. What happens if you want to transport your pool chair or chairs to another location (say a friend's house or on a camping trip)? Well, it would be wise to look for models that can be folded down if this is your intention. This type of furniture can be used for a variety of different purposes so always keep that in mind.
Style
Is it too much to ask to buy pool chairs that you find attractive and appealing?
It can't be stated for everyone but most of you probably take pride in the way your house and backyard look. So, if you are going to add a piece of furniture to your pool deck, then is it too much to ask for that piece to be appealing? Or, better yet, for that piece of furniture to match your current décor? And, even if you do not have a current décor, you see the point. With that in mind, there are two factors that will come into play here.
Firstly, most sellers will design their models in more than one color combination. Doing so gives you, the consumer, more variety and this is a smart marketing strategy. Additionally, though, certain materials will spark more appeal. For example, several people love the allure of wicker or rattan (especially when it comes in different types of colors). But, if you despise that look then opt for fabric-based models. You will be staring at your pool chair all summer long so it might as well be a sight for sore eyes, right?
OUR TOP PICKS FOR THE BEST POOL CHAIRS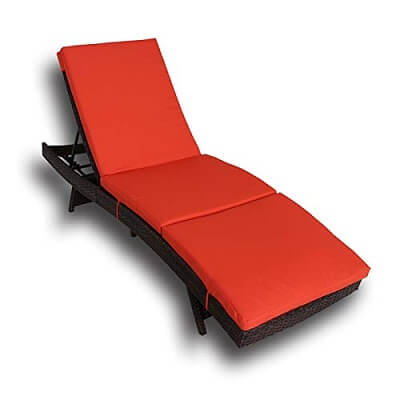 Once you are able to properly assemble this bad boy, you will never look back. Sure, the assembly process has indeed been criticized by previous buyers but boy is the end result ever worth it.
Read more
Build Quality
In addition to the durable steel frame, this features PE rattan wicker. All in all, this has a weight capacity of 400 pounds (which is really impressive).
Weather Resistance
The same steel frame is coated for protection against rust. Also, the PE rattan is weather-resistant and also UV resistant. Oh yeah, and the cushions are also waterproof.
Comfortability
Yep, this is fully-cushioned and you will appreciate it while you are reclining in this bad boy. The cushions also have zippers and are washable.
Features
All in all, you can adjust this to five different positions to fit your needs. In addition, this sports adjustable back and folding legs for easier stacking.
Visual Design
Each of the color options that are available (for the cushions) are fantastic. Every single option will add a bit of style to your poolside décor.
Overall
As mentioned earlier, the real hassle with this model is the assembly. But, as you can also see by looking at the details, the years of use you will get from this makes it beyond worth it.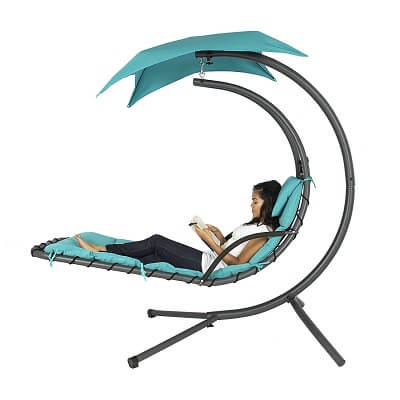 For both comfort and relaxation, it is not going to get much better than this. Due to the integrated canopy and the unbelievable comfort of the bed, you can't go wrong with this option.
Read more
Build Quality
Going with a durable and powder coated steel frame, this is able to support users up to 265 pounds in weight. Anything past this will be pushing it.
Weather Resistance
As alluded to, the frame is powder coated and this will protect it from rust and corrosion. As for the cushions, they are water-resistant and will not get ruined from splashes of water.
Comfortability
The comfort has literally been raved by countless users. It is evident why as this sports two-inch, foam-filled cushions that are ergonomically designed. The curvature of the frame also places your body in an ideal resting position.
Features
What is really nice is the 46-inch canopy that is included can be removed if you want to sit under the sun. However, as one previous buyer noted, the design of this model places all the weight to the front which can cause it to fall over if it is not weighted down.
Visual Design
No matter which color option you decide to go with (with options available for green, teal, and red-orange), the modern silhouette design will look brilliant on your pool deck.
Overall
What more could you want from a pool chair? This is remarkably comfortably, utterly beautiful and built to withstand the abusive nature of the outside world.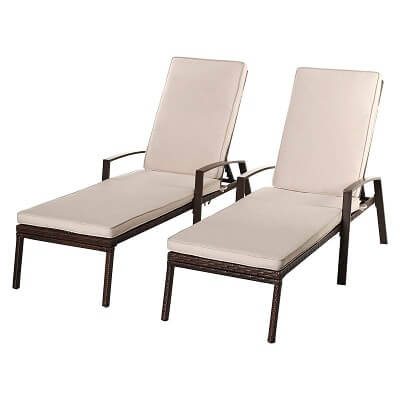 Outside of the combination of the solid steel frame and the rattan material, what is most noteworthy here is that you actually receive two chairs. Why buy one when you can get a set of two, after all?
Read more
Build Quality
Indeed, each model you receive here is made of solid steel and long-lasting rattan. All in all, each one can support up to 250 pounds.
Weather Resistance
As is noted in the product description, these chairs are fully weather-resistant. They can withstand the test of time and also high temperatures during the summer.
Comfortability
Okay, so the included two-inch cushions (that are made of fiber cloth and 24D sponge) add optimal comfort. However, several users have noted that these are quite narrow.
Features
With the ability to adjust each one of these to five different positions, you should be able to find a suitable position every single time you sit down on them.
Visual Design
Though there are no additional style options available, the lone design is quite beautiful and should be appealing to just about everyone.
Overall
If you are not a fan of narrow chairs, then you may want to pursue other options on the market. However, everything else (for the most part) is top-notch so be aware of that.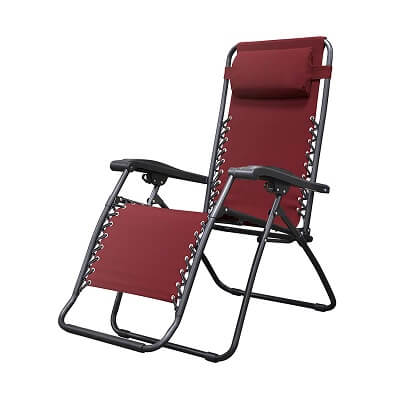 While this model may be best known for its general uses outdoors, it can work tremendously poolside, as well. This is thanks to the powder coated protection and outdoor-grade fabric.
Read more
Build Quality
The durable Textaline fabric that is featured here is suspended by a double bungee system. All in all, this can support users up to 300 pounds.
Weather Resistance
In addition to the durable fabric, which is outdoor-grade, this is supported by a steel frame. And, to protect the steel from the weather, it has been finished with a powder coating.
Comfortability
First off, this does offer mild lumbar support. However, it also includes a padded and adjustable headrest which provides additional support and comfort.
Features
Even though this is equipped with a new and improved locking system, many users have expressed their displeasure with how difficult it can be to recline in this chair. In spite of this, you can achieve multiple different seating positions.
Visual Design
There is an excellent variety of color options to choose from so that is a plus. You really should have no difficulties finding a style that matches your poolside décor.
Overall
Heck, even if you wanted to utilize this for all your outdoor adventures you could due to its versatility and portable nature. Of course, for the poolside alone, it is also fantastic.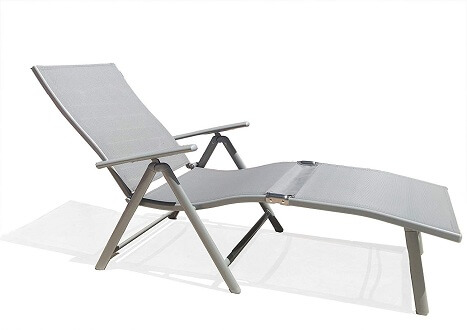 Right away, you will probably notice that this model sports an aluminum frame. And, if you know anything about this metal, you know that it is impervious to rust (though it can still corrode).
Read more
Build Quality
Outside of the aluminum frame, which is both light and sturdy, this is also designed with durable and long-lasting Textilene fabric.
Weather Resistance
The aforementioned fabric is UV-resistant and will stand up to the abuse of the sun. As for the frame, aluminum is not going to rust but it can corrode. Of course, there is a hinge that is made of steel and this can rust.
Comfortability
The combination of its ergonomic design and padded sling seat make this incredibly comfortable. Despite this, the length is on the smaller side and even users of average height may find it too short.
Features
When the time comes where you need to transport this, it can be folded down compactly. Additionally, you can adjust the back into five different positions.
Visual Design
There are a few different seller options available and some of them provide you with cushions that add their own unique styles to the chair.
Overall
Admittedly, some of you may be hesitant to pull the trigger on an option such as this due to the aluminum frame and short length. Of course, for smaller users, there really are no potential red flags.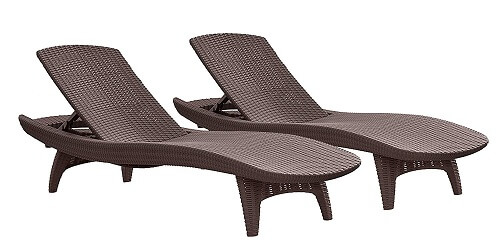 As opposed to other models out there, these pool chairs are strictly made out of open-weave rattan. Of course, the downside is once they break, they are pretty much unfixable.
Read more
Build Quality
As you can see from the photos, these do not really have frames. Instead, the open-weave rattan designs consist of durable polypropylene resin. This is great and all but once they break, as mentioned, there is no helping them.
Weather Resistance
To prevent both weather and sun damage, these are UV protected. Overall, you will not need to worry about these breaking down while they are left outdoors.
Comfortability
Though no cushioning is provided, each chair is ergonomically designed to contour to your body. And, even if you wanted additional support, you could always invest in some outdoor cushions.
Features
Even though these are not going to fold down for storage, they can easily be stacked if need be. Also, you can achieve four different lounging positions on each of them.
Visual Design
The natural appeal of rattan works tremendous for outdoor decors and when you factor in the different color options (such as charcoal, brown and oasis white), you have a potential match made in heaven.
Overall
What a great addition these would make to your outdoor pool area, right? Of course, not everyone is going to be seeking furniture made of rattan or wicker and that is fair.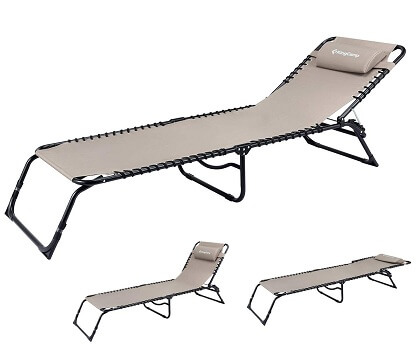 Whether you want to sit, recline, or lie down, it is irrelevant as you can perform all three with this model. Oh yeah, and it also comes with a padded removable pillow which is a nice touch.
Read more
Build Quality
The 600-denier oxford fabric rests on top of the heavy-duty steel frame. In total, this can support users up to 300 pounds. Also, there are three legs that provide an adequate amount of support.
Weather Resistance
Though there is no indication if a protective coating has been applied to the steel frame, this is advertised to be next to the pool and to be outdoors.
Comfortability
The previously mentioned padded pillow can be used for lumbar support or as a headrest (or for other purposes). Yet, it is not memory foam or anything like that. Also, this is a narrow cot.
Features
To keep this more stable, it has been equipped with a non-slip foot bar. Additionally, there are three different reclining positions that can be achieved and the entire chair can also be folded.
Visual Design
Overall, the visual design here is pretty basic and is nothing flashy. Yet, a few different color options are available for the fabric, which is nice.
Overall
Though previous buyers have questioned the comfortability of this model, it remains a great choice due to its portability, build quality, and features. And, it is not as if it is unbearably uncomfortable.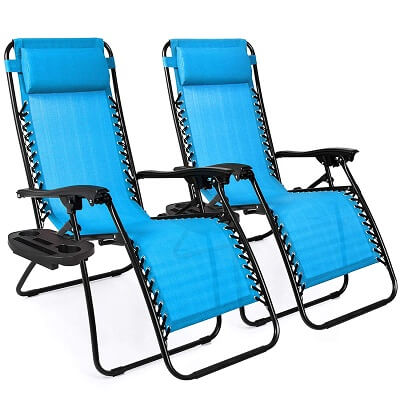 No, the "recliners" you receive are not made of heavy-duty soft fabric designed for your living room. Instead, these merely allow you to recline but remain ideal for poolside use.
Read more
Build Quality
The steel frame and mesh material are combined to hold up to 250 pounds. Also, do note that the hardware has been known to loosen on occasion.
Weather Resistance
The same mesh that was just mentioned is also resistant to UV rays from the sun. So, it is not going to deteriorate or discolor because of it.
Comfortability
In addition to the natural comfort of the fabric, there are headrests that are included. Also, if you want, you can remove them at any time.
Features
First off, these can be folded for easier transport. Also, they come with cup holder trays for convenience. But, even though they can be adjusted, the knobs that are used to do so have been criticized by previous buyers.
Visual Design
With the vast array of color options available, you should be able to find a style that suits you.
Overall
For certain, these are not perfect chairs. In fact, they have some noticeable flaws. If you simply accept these for what they are, though, you will be more than satisfied with them.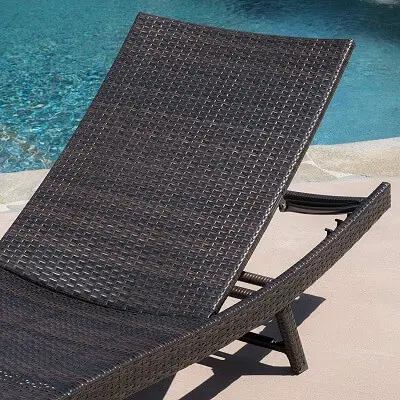 This is yet another set of two but what sets these apart is the iron frames and wicker material. Oh, and no assembly will be required so that is a bonus.
Read more
Build Quality
With the combination of the durable iron frame and the all-weather wicker, these are pretty durable models overall.
Weather Resistance
Even though this does sport an iron frame, it is ideal for pool use as it is protected. Also, the wicker is indeed all-weather and will be just fine.
Comfortability
The curved design is nice and the backrest is adjustable. However, as one buyer noted, these can get really hot after they have baked in the sun.
Features
Yes, the backrest is indeed adjustable but there should be some more adjustable positions available.
Visual Design
You really can't go wrong with the visual appeal of this design. Of course, there are no other style options available.
Overall
Admittedly, this has some issues present but you do receive two models that are built extremely well and thay are mostly comfortable.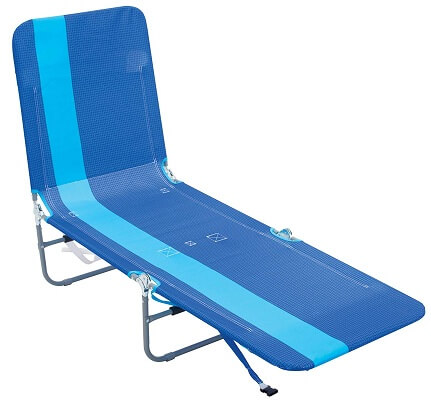 Chances are, many of you have previously owned a pool chair like this. It merely combines a sling made of polyester with a steel frame (that has been powder coated). While not flashy, it is comfortable and effective.
Read more
Build Quality
No, this is not going to hold a ton of weight (it is rated to 250 pounds) and will not withstand too much abuse. Still, it features a durable steel frame and quick-drying polyester fabric.
Weather Resistance
Again, the polyester fabric will dry quickly and is unaffected by water. As for the frame, it is powder coated for rust protection.
Comfortability
If you have ever sat in these types of chairs, you know they are more comfortable than they look. With that said, though, there is a not a ton of support.
Features
Perhaps the biggest selling point here is the unlimited reclining positions that can be achieved. Of course, doing so while you are sitting on it is more difficult than it needs to be.
Visual Design
A few different striped designs are available and while none of them are fabulous, they all have that "summer look".
Overall
Look, there is nothing wrong with a basic product and that really is what you are getting here. It gets the job done in pretty much every area and that is all you can ask for.

Subscribe to our Newsletter