Best Pool Pumps
In a Hurry? Editors choice: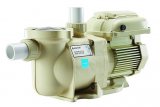 Test Winner: Pentair SuperFlo

For all the pool owners around the world, you have an important decision to make. If you do not already own a high-quality pump or have seen your current one break or become unusable, it is time for you to invest in a brand-new model. But, this is not the item you want to skimp out on. Essentially, the pump is the heart of your swimming
pool
. It is the machine that is pulling the water from your pool so it can be filtered and then returned back via the main returns. Given the importance of them, do not allow the price to be the biggest concern. After all, you get what you pay for here. If you have been having some trouble finding which
pool
pump will best fit you and your
pool
than our guide below will lend a hand.
Standout Picks
Criteria Used for Evaluation
Speed
Would it shock you to know that the best way to determine the efficiency of a pool pump is to assess how many speeds it has? It may not make a ton of sense at first but as we break down the different types of speeds, it will. Okay, so these types of machines are either going to come equipped with a single-speed, dual-speed, or variable-speed motor. The least efficient of the three is a single-speed model and it is not difficult to see why. After all, these machines will only spin at one power setting and can't be adjusted. Thus, it will use the maximum amount of power regardless; which is not an ideal way to cut down on maintenance costs. Also, they are not even legal in some states (such as California).
Next up, you have dual-speed models. As it sounds, these machines will have two speed settings (high and low). The high setting is actually what is outputted by single-speed units and the low setting allows you to cut down a bit on power consumption. But, the most efficient design is variable-speed. The reason for this is they come equipped with a permanent magnetic motor that can be digitally regulated to any speed. Plus, the motor creates less friction and enhances overall efficiency.
Size
When you are in the market for a brand-new pool pump, you need to buy them in accordance with the pool you are going to use them for. The reason this is vitally important is you need to buy a unit that is powerful enough to efficiently pump your pool. Then again, for smaller pools, you may not want an intensely powerful unit as it may not be necessary. Any way you slice it, go ahead and do some research beforehand to determine the size of your swimming pool in gallons. Once you have this number, divide it by eight (the estimated number of hours the pump should take to perform its job) to get your flow rate per hour.
You see, manufacturers will label their models in gallons per minute and this is an accurate way to estimate the size you should get. However, also take the horsepower into consideration. If you have a larger sized pool, you may want a model that features a two to three-horsepower engine.
Features
The modern world continues to adopt new and new technology and this is why it should not be a surprise to know that even pool pumps can sport digital interfaces. But, while it may seem like an unnecessary integration from the outside looking in, it is actually an important feature for you to assess. Simply put, you need to be able to operate the machine and one with an intuitive interface that is easy to see will only help matters. But, what is it that can be performed from the interface? Well, one of the most important for these machines is the time clock.
With timers integrated, the system can relay power to different auxiliary loads. For example, one could be used for the booster pump and another to control the main filter. These timers become important as they can cut your energy bill down as running the pump more than is needed is unnecessary. But, you may also want to look into interfaces that can be rotated or mounted with a separate wall-mount kit. Both of which can add to the convenience of operation.
Ease of Use
Let's just be brutally honest for a second; if you know nothing about installing a pool pump, you should either hire someone to do it or learn from someone who has prior knowledge. You really need to know the layout of your pool plumbing and other installed devices around the area. Now, with that being said, before you decide on a model you need to figure out these important considerations. First off, do you have an above-ground or in-ground pool? When buying a pump, the difference is crucial.
As this will determine where the pool filter is located, not all models will be equipped to work with your existing pool. Also, you can either choose to go with a hard-wired unit or a plug-in unit. No matter which one you choose, you need to also make sure it can work with the standard voltage of your home and if it can't, adjust accordingly. In terms of maintenance, this part is not too tricky but you may want to look for a large filter basket to catch larger debris.
Top Ten Pool Pumps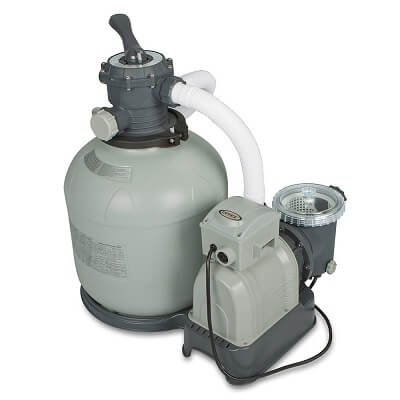 Well, would you look at that? Someone besides Hayward and Pentair can make a high-quality pool pump. Even though this is not a variable speed unit, Intex's Krystal is still very efficient.
Read more
Efficiency
Intex claims that their Krystal will run at 75 percent efficiency. Again, though, this is not a variable-speed unit so it will not be quite as efficient as some of the top-end models.
Power
Per hour, this machine can generate a pump flow rate of 3,000 gallons. All in all, it's the 0.75-horsepower motor, while not a beast in power, will get the job done.
Operation and Interface
Built-into this unit is a 24-hour timer. Even though the operation could already be considered hassle-free without this integration, it only adds to it.
Installation and Servicing
Two, 1.5-inch connector hoses are included for installation. In regard to the maintenance, virtually none is going to be required. However, you should replace the sand every five years.
Noise Factor
When the system is performing as it should, the noise has not been brought up as a plausible issue. Then again, some users have alluded to poor lifespan and unusual noises.
Overall
For those looking for the best of the best, you should probably stick with either Hayward or Pentair. But, for a suitable one-speed option, Intex does deliver the goods.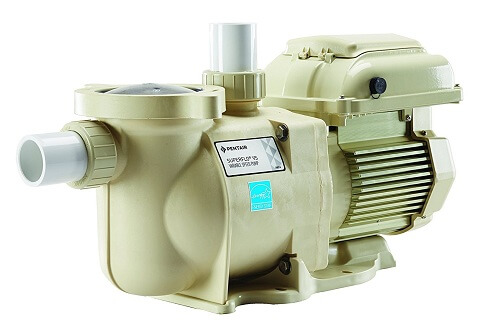 This is yet another variable-speed model and it is becoming apparent that this is the most efficient way to go. But, the SuperFlo VS actually does not require any rewiring.
Read more
Efficiency
As the SuperFlo VS is yet another variable-speed unit, it is going to be more efficient in the long run than a single-speed pump. This is just the natural energy-saving method that variable speeds provide.
Power
This is actually half the horsepower of the previous model but it can still either run off of 110 volts or 230 volts of power.
Operation and Interface
Overall, there are three operating speeds to utilize. Also, it comes equipped with a real-time clock with a 24-hour memory. All this is wrapped up in the intuitive user interface.
Installation and Servicing
As this does run on either 110 or 230 volts of power, it is not necessary to add wiring. Plus, thanks to the logically designed wiring compartment, connections are fast and simple.
Noise Factor
While you will notice the noise as you start this machine up, when it is running, the quiet motor will hardly be noticeable when you are at a distance.
Overall
Outside of the rather ludicrous warranty, that has received harsh criticism, the SuperFlo stands at the top of the heap as one of the best pool pumps in the entire world. But, do not install it yourself or the warranty will be voided.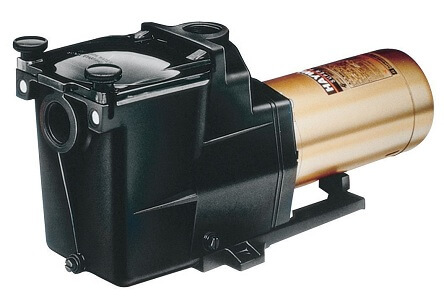 The Super Pump is another Hayward model but it is actually the first model on this list not to be a variable-speed model. But, it does come equipped with two speeds and also a wide range of horsepower options.
Read more
Efficiency
Again, this is not a variable-speed model. However, the choice is yours as to whether you want a single or two-speed model. Know this, though, one-speed models are severely limited.
Power
Depending on the size of your pool, you can choose between a wide range of horsepower options. For example, you can go as low as 0.5 and as high as 2.5 (with options in-between).
Operation and Interface
One of the premier features of this model is that it self-primes. Also, there is suction lift up to 10 feet above water level.
Installation and Servicing
All the internal components are easily accessible and this makes the Super Pump very easy to maintain. Also, thanks to the quick four-bolt access the installation is even easier.
Noise Factor
Though this motor is heavy-duty and performs admirably, it does so without being too excessively loud.
Overall
The Super Pump is proof that pool pumps do not need to have variable speeds. Now, that is more indicative of the brilliance of Hayward as opposed to the efficiency of non-variable-speed models.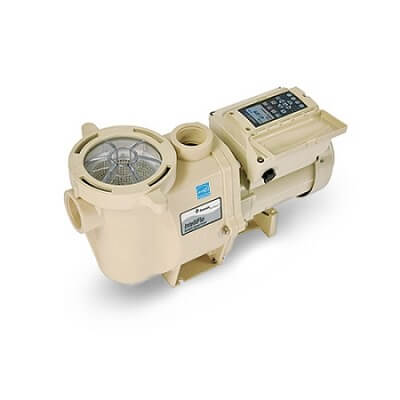 The second of the aforementioned manufacturers is Pentair and while they do not have as many amazing models as Hayward, their IntelliFlo is about as impressive as any that Hayward has ever mass produced.
Read more
Efficiency
As opposed to traditional pumps, the IntelliFlo can end up saving you up to 90 percent on your energy bill. Per year, that puts you at approximately $1500 saved.
Power
At a total of three-horsepower, this is one of the most powerful units in the world. Plus, its totally enclosed fan cooled motor is designed for long-lasting life.
Operation and Interface
There are eight programmable settings in whole and also a built-in timer. Plus, in addition to this, there is an integrated keypad and an LCD screen for smooth and intuitive operation.
Installation and Servicing
This system is fully compatible with EasyTouch, SunTouch and IntelliTouch Pool Control Systems. These types of systems can be used to manage the pump itself.
Noise Factor
Given the fact that this operates at decibel levels as low as 45, it is considerably quieter than other models in the world.
Overall
Probably the only hiccup of the IntelliFlo is the fact that programming it can be a difficult process. But, once you wrap your head around it, the rest will be smooth sailing.

5

. Hayward PowerFlo Matrix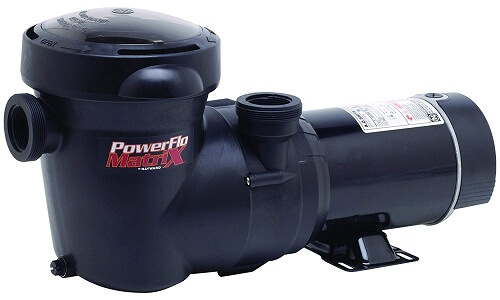 Are you starting to get the memo yet? Trust us, the entire world is biased when it comes to Hayward and it is not without a logical reason. Their PowerFlo Matrix is just another jewel in their crown.
Read more
Efficiency
Even though there are some consumers on Amazon who claim otherwise, this is advertised as a dual-speed model. Now, this is not a variable-speed model but at least there is more than one speed.
Power
While the motor itself runs with 1.5 horsepower, the true praise needs to be given to the integrated automatic thermal overload protector.
Operation and Interface
With the simple press of a button, this unit can convert from a vertical discharge to a horizontal discharge. Everything else is pretty straightforward.
Installation and Servicing
Equipped with this model is a quick disconnect intake and also a discharge pipe connection. Also, the industrial-sized strainer basket collects large debris and requires little maintenance.
Noise Factor
One buyer pointed out that this unit was significantly louder than the last one. They were a little confused as to why it was outputting so much noise, so be wary of that.
Overall
Though the PowerFlo Matrix is a bit limited, due to the fact that the low speed is pretty much useless, it will still perform its duties as a pool pump. All in all, this is a great semi-budget option.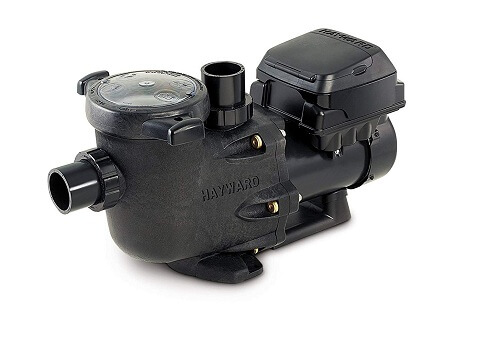 Surprise, surprise Hayward provides yet another model on this list. Their TriStar VS model is yet another one equipped with variable speeds and it will deliver up to 90 percent energy savings.
Read more
Efficiency
Ah, it did not take too long to get back to a model with variable speeds. As such, the TriStar VS can save you up to 90 percent on your savings as opposed to single-speed models.
Power
This is designed for medium to large pools and runs via a 1.85-horsepower engine. It can even replace models that max out at two horsepower, quite honestly.
Operation and Interface
Hayward built a fully programmable, digital control interface into their TriStar VS. Also, the interface can rotate into four different positions and sports a 24-hour clock.
Installation and Servicing
Whether you want to install this as a standalone model or with competitive control systems, you can do so either way. What is also nice, though, is the two-inch by 2.5-inch union connections make installation and servicing simple.
Noise Factor
When this bad boy gets kicking at high speeds, it can churn out the noise a little bit. But, at lower speeds, it is quite quiet and peaceful.
Overall
Even though it can take some time for you to get accustomed to the interface, when you do, you will then further appreciate the power, efficiency, and functionality of the TriStar VS.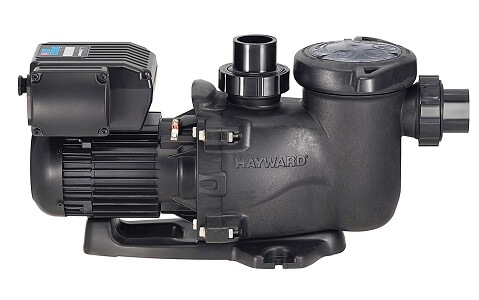 As you will find out very quickly, there are two main manufacturers that own this technology. The first is Hayward and their Max-Flo VS is an energy-efficient, variable-speed pool pump.
Read more
Efficiency
To save you energy in the long run, the Max-Flo VS has been designed with variable speeds. This is one of the primary reasons why this model is Energy Star certified.
Power
One point worth mentioning is due to the power of this machine, it will actually require 230 volts of power. So, your standard 120-volt receptacle will not be enough.
Operation and Interface
In addition to the fact that the user interface can be rotated one of two ways, it also sports a built-in time clock which makes programming the unit much easier than other models.
Installation and Servicing
Thanks to the new wiring compartment, it is much easier to install this unit. All in all, it is ideal for applications with 1.5-inch or two-inch plumbing.
Noise Factor
Hayward designed their Max-Flo VS with power, efficiency and noise reduction in mind. Because of this, the operation is relatively quiet (although still noticeable).
Overall
Everything comes together to create a modern masterpiece. While, admittedly, the included instructions could have been more in-depth, the result is simply superb.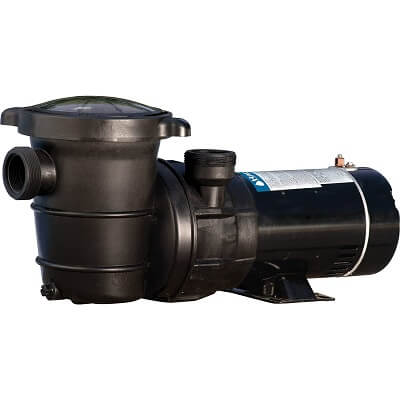 While the ProForce is not going to offer the power and efficiency as most Hayward models, it is still designed to last with a corrosion-resistant construction.
Read more
Efficiency
Harris designed their ProForce with advanced engineering and even though it only comes equipped with one speed, it is a highly efficient machine.
Power
Again, this is not quite as powerful as the best units from Hayward. But, its stainless steel, 1.5-horsepower motor shaft (with the body being reinforced thermoplastic) is still durable.
Operation and Interface
The operation of this model is severely limited, let's just get that out in the opening. First off, it only has one speed and secondly, there is no integrated on/off switch.
Installation and Servicing
On this unit, you will find 1.5-inch connection sizes for both the suction and discharge ports, 1.5-inch internal threading, a drain plug, a three-prong connector, and 2.5-inch external threading.
Noise Factor
As some buyers have alluded to, this motor probably makes more noise than it should. As it is supposed to minimize the noise as much as possible, this is a bit disappointing.
Overall
Look, a lot of credit needs to be thrown at Harris's direction. They were clearly not trying to compete with Hayward and, instead, intended to design a suitable and adequate pool pump for the right people.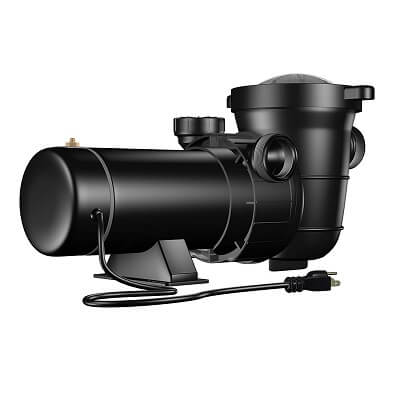 There are some features that make this next model amazing and then there are those "what ifs" that could have made it even better. Still, all things considered, it is a solid option.
Read more
Efficiency
All in all, there are a few big disadvantages to this model. For one, it only has one speed. Secondly, it is not automatic in operation as it does not have a thermal protection switch.
Power
The main body of this unit is comprised of a durable polymer that will not rust or corrode. Inside, the 1.5-horsepower, 110-volt engine powers it.
Operation and Interface
So you can easily see what is inside, the lid has been configured to be extra-large and clear. In addition, this is a self-priming system which eases the complexity of the operation.
Installation and Servicing
Thanks to the dual-port design of this unit, it can be mounted in either a horizontal or vertical connection in no time.
Noise Factor
Even though this is lacking in some areas, there is not too much to concern yourself with in regard to the noise. For the most part, it is a quiet machine when running.
Overall
For what it is, the durable polymer construction and lightweight nature make this model worth considering. If you can live with the limitations, you can enjoy a pretty good system.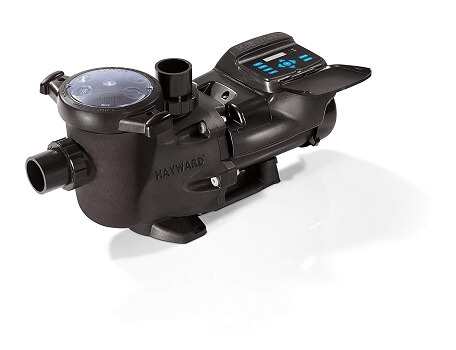 In spite of everything that is great about the Ecostar, it is a bit concerning how many one-star reviews it has compiled. For a Hayward pump, this is a bit abnormal. So, this could be considered a slight risk.
Read more
Efficiency
This is actually one of Hayward's more expensive models so you can bet your bottom dollar that it is Energy Star certified and designed with variable speeds.
Power
The combination of the totally enclosed fan cooled and two-horsepower motor makes this one of the most reliable, efficient, and powerful units on the market.
Operation and Interface
Included with your purchase is a digital control interface wall-mount kit which provides you with more convenient access to the interface. Also, its 24-hour time clock is fully programmable and self-contained.
Installation and Servicing
Thanks to the extra-large basket, leaf and debris removal are made easier. Also, this unit can be used with competitive control systems or as a standalone unit.
Noise Factor
One of the complaints of this model has been the motor. As one buyer alluded to, right out of the box, there was a loose bearing which caused a ton of unpleasant noise.
Overall
For all intents and purposes, this is not the 10th best model in the world. But, it is hard to go any higher with so many one-star reviews. If you happen to be one of the lucky ones, though, you should be good to go.

Subscribe to our Newsletter