Best Altimeter Watches
In a Hurry? Editors choice: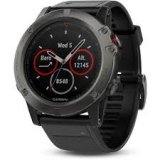 Test Winner: GARMIN FENIX 5X

If you have ever been climbing or
hiking in high altitudes
than you know that you must take a lot of precautions to make sure you are safe and can complete the climb without issue. Many climbers need some sort of tool to measure their altitude and these tools can be bulky and weigh you down but are necessary. This is why many climbers have started to invest in altimeter watches as they are sleek and not only will let you know what altitude you are currently at but also come with a variety of other features jam-packed into a convenient tool. If you have just started getting into climbing or are a veteran and are looking for
one of these sleek watches
than the below guide is for you!
Standout Picks
Criteria Used for Evaluation
Top Ten Altimeter Watches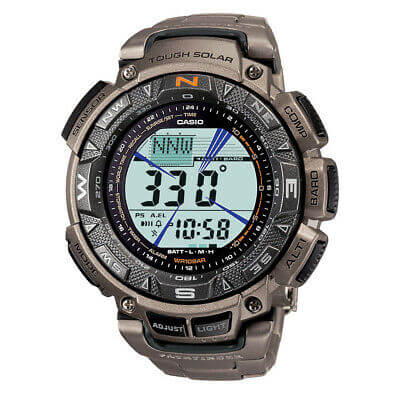 This is a great watch from Casio as all of their watches are. It is jam-packed with features and has a rugged outdoor vibe. It is great if you are into climbing or hiking in high altitudes and will allow you to check your attitude to ensure you are safe at all times.
Read more
Accuracy
This watch is not only highly-rated but produces quite accurate ratings, which is exactly what you want if you are climbing or hiking in high altitudes. You do not want a watch that is off even a little bit, as you need precious information and stats while climbing so you can adjust your body appropriately. Not only does this watch accurately emit the correct altitude, but it also has an accurate compass, thermometer, and barometer.
Wearing Comfort
This watch has a rugged design but does not let that fool you into thinking it is not comfortable. Casio constructs their watches to be as comfortable as possible and that is exactly what this watch will provide with its, resin band.
Durability
Casio is known for its durable and rugged watches. Just looking at this watch you can tell it will hold up to just about anything. This watch is also water-resistant up to 100 ft.
Band
This band is durable and made from resin and has a buckle enclosure. It is also water-resistant.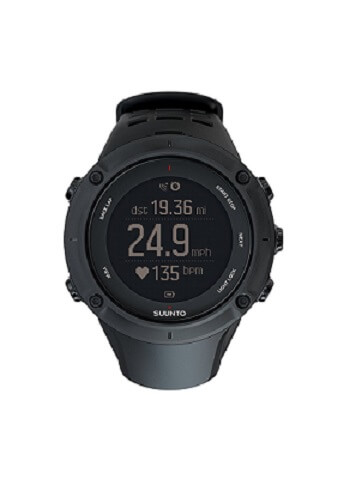 The Suunto Ambit3 Peak HR Running GPS Unit can do a bit of it all. It's a watch designed for sports in mind, so it includes ultimate altimeter capabilities as well as GPS abilities. Find out more about this do-it-all watch below.
Read more
Accuracy
For starters, this Suunto offers accurate, stable weather and altitude information. Along with this, it delivers full navigation with robust casting to ensure accuracy. How does it do all this?
Well, it has a built-in altimeter, barometer, compass, and GPS. And did we mention that this watch also has a 100-meter water resistance? Not to bad for such a sleek looking watch.
Wearing Comfort
This watch is very comfortable and you will have no issues wearing for long journeys.
Durability
As far as battery life goes, this watch offers 200 hours with 1-minute accuracy, which is quite a competitive number as far as the market of altimeter watches goes.
Band
The band is sleek and melds in with the watch face nicely. If you are looking for a durable and sleek looking watch that will keep you comfortable while providing you with the information you need. This may just be the watch for you.



This latest addition to the Fenix collection is a fine choice for an Altimeter Watch. The display is not without its flaws, but everything else is about as good as you might ask for.
Read more
Accuracy
As expected, accuracy is where this altimeter watch truly shines. It features Swiss quartz movement, it manages to measure elevations in both feet and meters with nearly pinpoint accuracy. Add to that a superb compass, calendar, barometer, and thermometer, you'll be hard-pressed to get lost or out of sorts with this watch nearby.
Wearing Comfort
While not as comfortable in an outdoor setting as some watches on this list, the Fenix 5X altimeter watch does serve very well in most everyday places. With a metal band or silicone option.
Durability
Thankfully this watch is a great example of that tradition. Featuring a titanium case, stainless steel bezel, and a scratch-resistant sapphire crystal, this watch also features a fold-over clasp and also has adequate battery life. It is also water-resistant up to 100 feet, so there are no worries about taking it into the nearby pool for a swim or two.
Band
The one downside is readability. As I've noted before, the screen does not perform well in bright light which can be a real drawback with little cloud cover.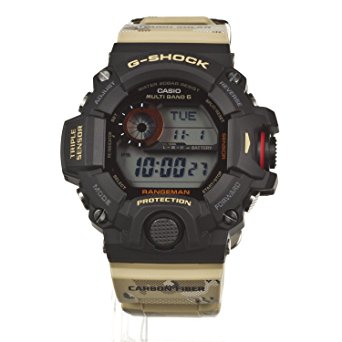 Well known for its rugged dependability, this watch features quite a few things that any hunter, camper, or hiker would use on a regular basis. Add to that the fact that it is solar-powered, this altimeter watch can easily become your go-to timepiece.
Read more
Accuracy
While some customers have reported so inaccuracy in the barometer and altimeter features, for most people the watch provides fairly good precision when it comes to time-keeping and the built-in thermometer.
Wearing Comfort
While the watch itself is somewhat on the larger size, the carbon fiber watchband is one of the most comfortable on the market today. While some with smaller wrists or larger wrists may find the one size fits all a bit uncomfortable, the average person won't be bothered much at all.
Durability
When it comes to durability, this watch is one of the best on the market today. Designed for extreme outdoor use in nearly any environment that a person can encounter.
Band
This watch has a standard LCD display that is fairly easy to read, although it does become slightly unreadable in direct sunlight.



This is another great watch from Sunnto. It is sleek and has a clean design that will not only look stylish but also provide you with all the necessary information you need to stay safe on your next climb or hike into high altitudes.
Read more
Accuracy
Sunnto watches are known for their accuracy and this watch provides the best quality and accuracy when it comes to the stats and readings. The altimeter is spot on and this watch is perfect for mountaineers, climbers, explorers, and any adventure you have on your mind currently. It also has a barometer, compass, sunrise and sunset times, and temperature reading.
Wearing Comfort
This watch was not only built with accuracy in mind but also comfort. The watch itself will mold to your wrist and fit comfortably as when you are climbing or hiking in high altitudes the last thing you want is an uncomfortable watch digging into your wrist.
Durability
This watch has a lot going on in the inside as it is quite intelligent and on the outside, it is quite durable. It is designed to travel with you through any terrain.
Band
The band is comfortable and has a sleek design.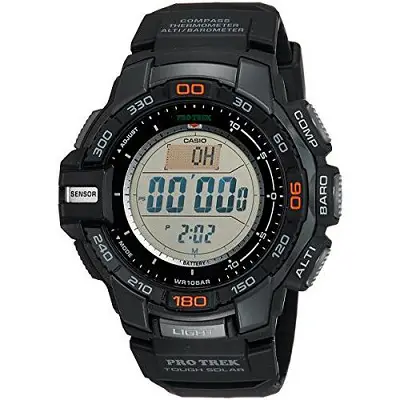 The Casio brand makes another appearance on our list with this utilitarian styled altimeter watch. Filled with some great features for the price, this is a wonderful choice for those who are thinking about buying their first.
Read more
Accuracy
Boasting a smaller overall size than most, this watch still delivers on accuracy, claiming to be able to measure elevation to within three feet, and provide compass readings for a continuous 60 seconds versus some that only measure for twenty. Temperature readings of your body temperature or the ambient temperature are accurate to within a few degrees.
Wearing Comfort
This watch is clearly designed for a male wrist, and many females might find it a little too bulky to wear comfortably. It is also designed for outdoor use, and the larger buttons clean lines, and tough as nails exterior makes this watch a great choice when you're roughing it in the outdoors.
Durability
The case, band, and technology of the Casio Pro Trek watches are specifically designed to be used in the great outdoors. It features water resistance to around 330 feet, a fairly comfortable, but strong as nails black resin band keeps everything together as you and your watch go out to search or the next adventure.
Band
While there is a lot of great things going on with this watch, one of the areas that it falters a bit in the readability of the watch face. The digital readout isn't always nice and crisp in direct sunlight, and there have been reports of the backlight being too bright for the user.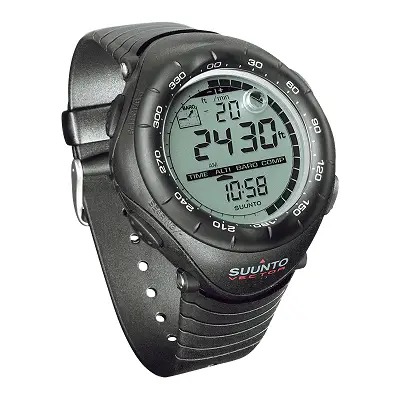 When it comes to outdoor gear, the Suunto brand has an enviable reputation for keeping people safe, oriented correctly and helping to have a great time. The Suunto Vector watch continues this tradition with flying colors.
Read more
Accuracy
Designed with the serious adventurer in mind, this altimeter watch boasts an impressive three feet resolution on elevations up to 29,500 feet, and a powerful memory function stores readings on the hour, every hour if desired so that you can truly track your progress.
Wearing comfort
Unlike some of the other watches on this list, the Suunto Vector watch case is made of lightweight plastic material, making it virtually weightless against the wrist. While the case diameter is a bit hefty at 5.1 centimeters, it matches easily with the thickness of 16 millimeters to make a surprisingly comfortable watch.
Durability
While the plastic watch case may seem a little less dependable to some, the watch is actually quite durable with a strong buckle clasp and a mineral dial window that can easily stand up to the outdoor activity.
Band
Another great feature of this watch is the display. Not only it is larger than most, but the backlight and convenient control buttons are both easy to understand and use.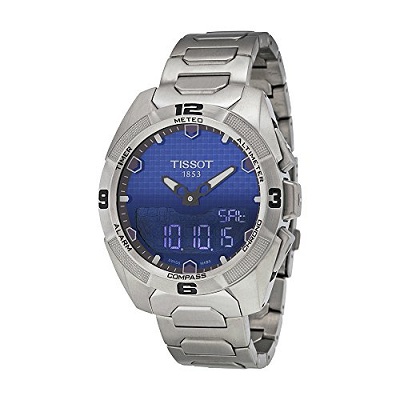 The Tissot brand has long been known for its craftsmanship, style, and precision, and this altimeter watch is no exception. While the price might be a bit high for some budgets, this watch is a true work of art.
Read more
Accuracy
Quartz movement and precision Swiss engineering make this one of the most accurate watches on the market today. Whether you are watching the elevation change as you hike up the mountain or keeping track of the number of laps in the pool, this watch is known for keeping things precise.
Wearing Comfort
Designed to fit comfortably on the wrist, the Tissot Unisex Touch Collection Analog watch features a 45-millimeter case size, which is only 13 millimeters thick. In addition, the easy to open and close butterfly clasp makes it easy to put on in the morning and set off for your day. It can easily fit most adult wrists and is only slightly large for a more slender wrist. Either way, it's comfortable enough to forget about until you need it.
Durability
This watch features a PVD coated titanium case and bracelet, which makes it one of the most durable in the industry. Add to that the fact that it is water-resistant up to 330 feet and a scratch-resistant sapphire crystal face, you'll be hard-pressed to find a way to damage this beautiful watch.
Band
While this particular watch may look fashionable and elegant, make no mistake – you won't be having any trouble reading the clock or the information from one of its many functions. Whether your making use of the compass, altimeter, barometer, or simply trying to see if you'll make your lunchtime appointment, the easy to see marks for time and the luminescent hands make it an easy read.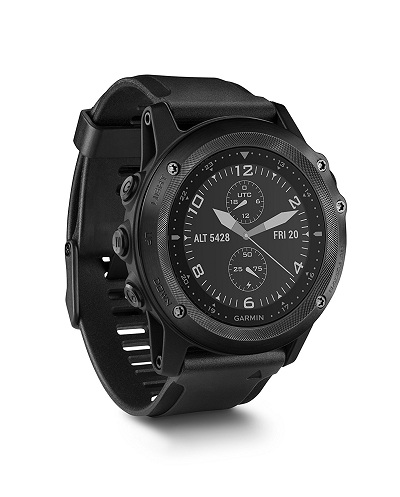 If you're looking for a GPS enabled altimeter watch, why not go with one of the most well-known GPS friendly companies out there? Garmin has been long known for its prowess in the navigation world, and this watch will definitely help keep you orientated no matter what the adventure may throw at you.
Read more
Accuracy
Not only can you tell time with precision, but this watch also features a high sensitivity GPS/GLONASS positioning system with automatic calibration for the altimeter, barometer, and a three-axis compass. As long as the watch isn't damaged or misused, it will be able to tell you exactly where you are down to a few feet, and the time as well.
Wearing Comfort
Designed specifically to be used in the outdoor environment, this watch certainly takes the idea of rugged comfort to a whole new level. While it may be a little bulky for some tastes, the comfortable silicone band, and easy to use and read watch face make it very simple to use and wear.
Durability
If an altimeter watch is designed to be used in the great outdoors, it better stand up to a bit of abuse. Thankfully, this isn't a problem for the Garmin Tactix Bravo watch. Featuring a black, non-reflective surface that was inspired by the tactical gear used by personnel who rough it in the great outdoors for a living, a diamond-like carbon coating to help prevent abrasions, and PVD coated stainless steel buttons, this watch nearly defines the words rugged and dependable.
Band
With all the different features and display options for this watch, one might think that its readability would suffer. Thankfully, Garmin has done quite a bit to help alleviate that problem. For starters, the watch has a two-inch high resolution that is designed to be readable in direct sunlight. It also features a domed lens that can easily switch between a day-friendly use of a night one that won't interfere with night vision goggles.

10

. CASIO G-SHOCK GULFMASTER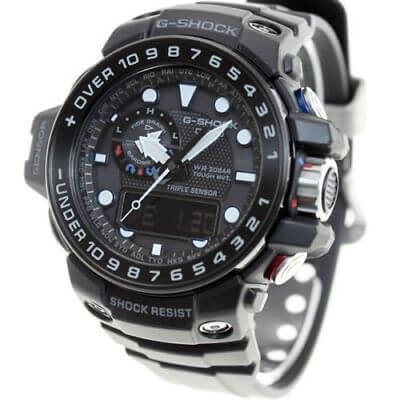 No surprise, Casio enters the list again. This time, we bring you the Casio G-Shock Gulfmaster; a watch that definitely meets expectations as an altimeter watch. However, it delivers the goods with a little fun with it's aesthetically pleasing black and blue design.
Read more
Accuracy
Know not only the hour but also the weather with this watch that has been equipped with triple sensors that measure the atmospheric pressure and altitude, as well as temperatures and even, directions.
On this particular watch, the hands indicate the compass bearing and pressure.
Wearing Comfort
This watch has a rugged design like all Casio watched tend to, but this watch molds perfectly to your wrist and provides you with a comfortable feel.
Durability
Along with this, this watch is also water-resistant, which is always a bonus, and it comes with a bevy of other features you are sure to find useful.
Band
Not only are you going to be looking super hip in this Casio, but the watch delivers on quality, too.

Subscribe to our Newsletter