Best Power Tools
In a
Hurry? Editors choice: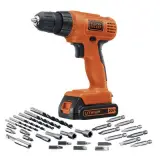 Test Winner: BLACK+DECKER Lithium Drill/Driver Power Tool

A good collection of power tools at your disposal makes a huge difference in finally getting around to fixing all of those minor (or major) do-it-yourself projects in your home. Now that we are embarking on a new year, there is no better time than right now to start some projects around the
house
, and our guide will help you pick the right power tool. When selecting the right item for the job, taking the brand into consideration is going to be very important to ensure that you select something that is going to last. In this guide, you will find a
selection of some of the best power tools on the market
that will ensure you will have everything you need for your next big project.
Standout Picks
Criteria Used for Evaluation
Brand
Considering the company that manufactures each of these power tools was one of the very first things that we looked at.
For the best power tools, the brand isn't that big of an issue. However, when you are shopping around for a new television, you are probably going to consider the set that comes from Sony rather than a set made by some unknown company. The same principles apply to these products. From what we gathered, many of the big hitters like Black + Decker, DEWALT, and BOSCH have been in the business of making these power tools for over 100 years, so you know that you are getting something of superior quality. What's more, the big name companies also take more time crafting excellent design and safety features so that their products are considered to be safe and easy to use. They might come at a little bit of a higher price tag, but we feel that a higher price is worth it when it comes to your safety. The bigger names also have a reputation of crafting products that are made to hold up for a longer period of time, even when they are used on a daily basis, which is something that is also very important to us.
Ease of Use
We want everyone to be included and to be able to use these power tools, not just mountain men who built their own house.
Finding products that were accessible to everyone was something that we felt was very important. To achieve this, we looked at how each product was made and how it operated. One of the very first things that we searched for was safety features. While the easy startup is nice, having multiple switches that need to be pressed in order to turn it on reduces the risk of accidentally bumping it and turning it on. We also made sure to include battery options as well as wired options. There is no definite answer to which unit is best because each option has its distinct advantages and disadvantages. Wired options are great because it means that you are never going to run out of juice in the middle of a job, but it also means that you are going to have something tethering you to an electrical outlet. Battery options are better for those that are engaging in casual jobs because you are untethered to an outlet, but it means that you run the risk of running out of juice.
Features
Everyone likes a lot of features when it comes to these types of devices because it means it's going to make your job that much easier!
We wanted to select power tools that had a lot of additional features that would make working just a little bit easier. For instance, the Bosch drill has a light that is built right into the base of the unit that makes working in low lighting easier. When it came to power tools like drills, selecting products that came will all of the drill bits that you would need to get started, as well as a handy carrying case was something that we felt was pretty important. Basically, for any type of multi-purpose device, we wanted to ensure that all of the little components that you would need to get started were included with purchase. For products such as saws, features that would help the users create a straight line were beneficial. Design features such as lasers that would draw on the cutting surface, or measuring instruments mounted directly on the unit were things that would send a product right over the top to help you achieve perfect cuts for the task at hand.
Size
The size was an important feature to ensure that everyone would be able to use these products.
We wanted to make sure that the devices we selected were small enough so that any size hand and human would be able to operate it. We did keep in mind, however, that sometimes smaller size also meant less strength. While we considered the size and weight of each item, we also wanted to make sure that it didn't skimp on the strength. One way we confirmed this was by considering the amp or wattage of each device. However, the proof is always in the pudding. Before we landed on one of the smaller options, we checked to see what past users had to say about the product. If there was an overwhelming number of users that felt that the unit was too weak or wasn't able to cut through even the thinnest of surfaces, we moved on to the next option.
Value
We always want to make sure that we select brands that offer users the best value.
That doesn't doesn't necessarily mean that we select the lowest priced products. For the instance for these devices, we took into consideration the brand that made it, as well as all of the additional features that were included with purchase. Many of these products come with a pretty hefty price tag, but you also most consider the jobs that they will be able to accomplish. We felt that even higher priced products that came with a lot of accessories and that were able to complete a myriad of tasks were a far better value than products that were able to achieve significantly less. In our option, when it comes to these types of products, spending a little bit more money on a higher end brand will save you more money in the long run than opting for something less expensive that will not last you half as long.
Subscribe to our Newsletter