Best White Noise Machine
In a Hurry? Editors choice: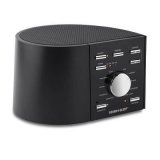 Test Winner: Adaptive Sound Technologies

To avoid going too in-depth as it is irrelevant, all things considered, white
noise
is simply a special type of a sound that is intended to drown out background sounds. What you can deduce from this is that when this noise is integrated into a machine, that machine becomes useful as a
sleeping
tool or even a stress reliever. You hit the nail on the
head
if that was your assumption as that is precisely what these devices are designed for. But, there are several key considerations that you need to make when looking to buy one. Thankfully, in this guide, those features will be documented in-depth and when you leave here today, you should be provided with the
tools
you need.
Standout Picks
Criteria Used for Evaluation
Power Source
As you most likely noticed throughout this guide, these machines are not all powered via the same source. While all of them typically are powered one of three ways (or multiple ways), this can differ from model to model; so, be wary of that. The most common power source is via an AC outlet in your home. Clearly, the greatest benefit of this power method is you never have to worry about the batteries dying. As it uses electricity straight from your home, the only real concern is when a power outage occurs.
Another common method is via USB and this method is similar. But, if you did not have an AC adapter, the benefit here is you could power it through another device's USB port. Then again, you may not want to draw that extra power out of your external device. Lastly, some models will gather their power from batteries. Whether this is AA batteries or a rechargeable battery, this becomes optimal in times of a power outage or when you are on the go. Again, though, some versions will integrate multiple power sources for versatility.
Portability
Take a deep breath as this section is simple and painless. Each and every one of the models that made an appearance on this list is portable in some way or another. And guess what? A majority of the other models in the world are just like this. But, if you ever did want to dive a little deeper to conclude which version was the absolute king in portability you should assess both the size and the weight. It is not a rarity for these machines to be less than one pound in total weight. They are truly that small and in addition to this, are typically less than half-a-foot in every direction. But, some models are naturally smaller than others and if that is a top priority, look for the smaller machines.
Features
These types of devices are not overflowing with a plethora of design features. It is not as if they come equipped with several playlists of music that you can customize. However, there are two very important design features that can really make or break a model. For starters, let's discuss volume control. Ideally, you want a model that gives you full control of the volume (typically via a knob or button). This way, you can tailor the loudness to your desired liking. In addition, this can also be ideal if you plan to use this machine in a baby's nursery. Certainly, you do not want a unit that is too loud for your newborn.
The other critical design feature is an auto-off timer. Much like with a television set that you can set to sleep mode, this allows you to program a set time at which you want the device to run. Why is this useful? It is simple; if you did not want the machine to run all night you could set it to run for an hour. After the hour past, the machine would then shut off.
Versatility
At their core, all of these machines are capable of playing some sort of white noise. Yet, some models offer so much more than that which is nice when you are looking to spice things up with a little variety. With some models, there can be upward of 30 different types of sounds to be played. This can range from everything to the sound of ocean waves to the sound of rainfall outside. But, there is a potential issue that arises with these types of songs and that is they typically will only be recorded to last 10 to 20 seconds or so. Some of them will be fairly obvious with their looping and actually make it more difficult to fall asleep.
Then again, simply having the option to choose between these types of sounds is a benefit. Even if you wanted to enjoy the calming sound of say pink noise and brown noise (in addition to white), some models offer that. Of course, some machines can only output white noise and if that is okay with you, then you are good.
Top 10 Picks
1

. Adaptive Sound Technologies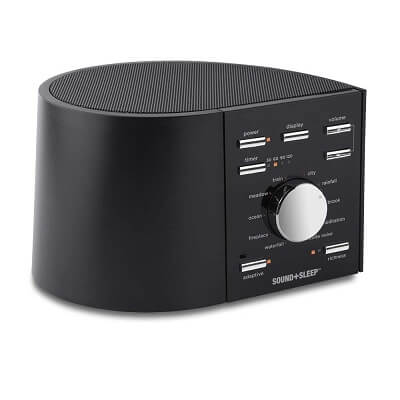 In a world filled with average and subpar machines, this bad boy stands head and shoulders above the rest. Its comprehensive 30 sound environments headline a vastly impressive device.
Read more
Sound Variety
Again, all in all, there is a massive 30 different sound environments that you can listen to. Not only that but the sounds are non-repeating for an even better experience.
Design Features
While the integrated timer is worth mentioning (with options for 30, 60, 90 and 120 minutes), what is even more so is the adaptive sound technology. With this, the volume will be adjusted according to your current environment.
Power Source
The power cord that comes with this unit, which delivers the power to the system, measures five feet long and that gives you a decent amount of leeway.
Portability
This astounding device only weighs two pounds and measures 7.5 inches by 5.5 inches by 4.5 inches.
Style
Black devices and appliances always seem to be more appealing than white models and this is no different. Additionally, the front panel lighting will automatically dim at night.
Overall
Not too many models out there are as intelligently designed as this one. In this modern world of technology, it is always nice to add a piece that places an emphasis on its intelligence.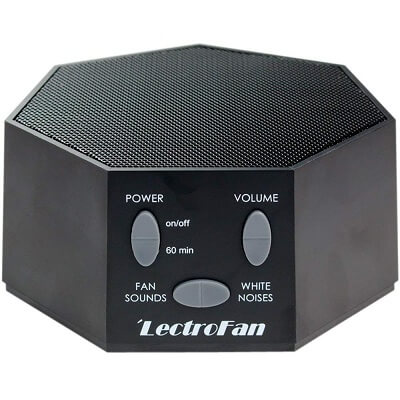 One glance at this product on Amazon will give you a strong idea of how beloved it is. For obvious reasons, as you will soon find out, the LectroFan model is one the best in the world.
Read more
Sound Variety
In total, there are 20 different sounds that can be played from this. They are split in half with ten of them being general fan sounds and the other ten being ambient noises.
Design Features
While it would have been nice to have some sort of indicator for what sound is currently playing, what is convenient is the precise volume control that is provided to you.
Power Source
The included 12-inch power cord can be used in any standard AC outlet to power this unit. Of course, it also comes equipped with the ability to be powered via USB.
Portability
At just under one pound in total weight and at only 4.4 inches by 4.4 inches by 2.2 inches in total size, this is one of the most portable models on the market today.
Style
If you did happen to prefer the appeal of white over black, it does come in both versions. Overall, it sports the appearance of a heptagonal polygon.
Overall
It is truly astounding that such a compact device could pack so many excellent features. Of course, at its core, it will provide you with superior nights of sleep.

3

. Avantek Noise Eliminator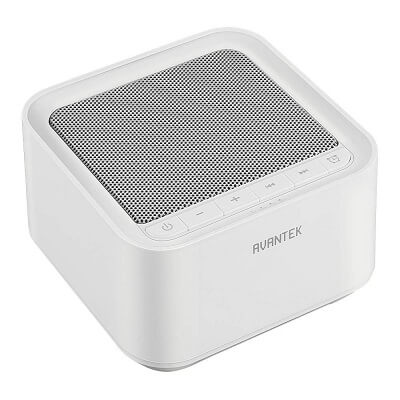 This sports many of the top-end features you look for in these machines at an affordable price. At the end of the day, as a consumer, it really is unfathomable to ask for much more than that.
Read more
Sound Variety
Among the 20 soothing sounds that are available within this model, six of them are fan sounds, six of them are different types of white noises, and the other eight are various nature sounds.
Design Features
With the incorporated auto-off timer, you can program this to play for a set number of hours (from one to seven). In addition, your previous settings will be restored in case of a power outage.
Power Source
The essential components for powering this device are included (being both the USB cable and the power adapter). Conveniently, you can use either one you prefer.
Portability
No matter what type of travel bag you are carrying, this device will easily fit inside of it. The key emphasis here is the word easily as this bad boy will fit into the palm of your hand.
Style
With the black model, the bezel is bright blue and quite stylish. However, there is also a white model for those who are interested.
Overall
Not everyone is going to enjoy the same types of sound effects so having the ability to choose between 20 of them is a huge incentive. It also helps that this is an ideal travel companion.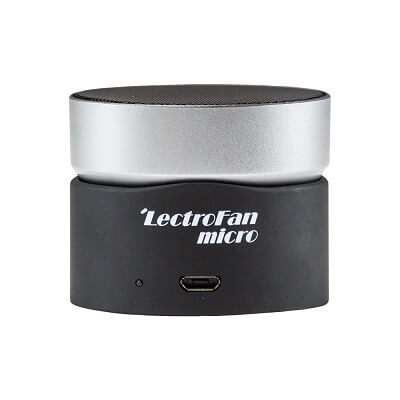 If you wanted to leave one unit and home and possess another one for transportation, this would be the unit for the latter. Thanks to its portable design and integrated Bluetooth technology, it was made for travel.
Read more
Sound Variety
Packed into this compact device are ten unique sounds that range from fan noises, white noises, and even a calm ocean breeze.
Design Features
Unlike the other white noise machines on this list, this is designed with Bluetooth technology. As such, it can function as an external speaker and can play tunes from your smart devices.
Power Source
Another reason this is streamlined for travel is that it is powered via its built-in rechargeable battery. On a full charge, it can deliver 16 hours of ambient sounds.
Portability
Everything has been leading to this point and indeed, this is as compact and portable as it gets. What is also unique is the speaker is designed on a swivel and can be rotated accordingly.
Style
Truth be told, this is one of the best-looking models out there. It comes in one of two variations; either in black and silver or white and silver (with both being modern and sleek).
Overall
It is difficult to not be in awe of this device. How can something be so small that a dog could accidentally consume it, yet be overflowing with function?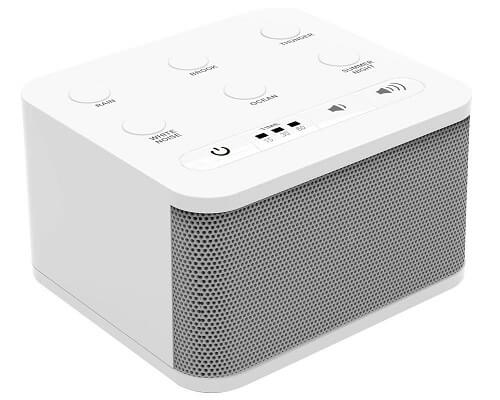 As opposed to some other models that are outfitted with 10 or more different sounds, this unit only sports the essentials. In addition, you can also use the optional timer to only play sounds for a set time.
Read more
Sound Variety
In spite of the fact that some buyers have reported the sound outputted from this machine is not crisp enough, it does allow you to shuffle from six different natural sounds.
Design Features
For a baby's nursery, this may not be ideal as even the lowest volume level can still be quite loud. Past this, though, you can program the optional timer to play for 15, 30, or 60 minutes.
Power Source
Included with your investment is an AC adapter. In case of a power outage or no access to an AC power source, you can also power this with three AA batteries.
Portability
Even though this is a bit bigger than other models, it is still quite compact at four inches by roughly 4.5 inches by roughly 2.5 inches in size.
Style
Fans of Apple devices will most likely find the appeal of this design to be satisfying. That is because it sports a classic white and light gray color scheme.
Overall
While probably not suitable in a child's nursery, this specific model can still be ideal for the right people. But, it is fair to conclude that the available sounds are a bit limited.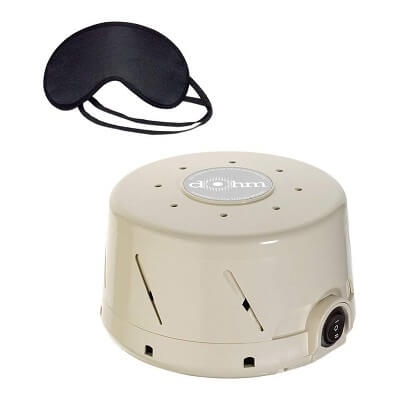 The Dohm-DS model probably gets the award for the most innovative model as to adjust the volume, you merely turn the outer casing to control the opening of the holes.
Read more
Sound Variety
For those who prefer variety in their sound effects while they are sleeping, this could be seen as a mild disappointment. This is because it will simply create the sound of rushing air.
Design Features
While there are only two-speed settings to choose from, as just mentioned, you can adjust the volume a bit by turning the outer casing.
Power Source
No batteries are required for this model and instead, it uses the power of your home's electricity. As such, without an external power source, it will not function.
Portability
Even though this is larger than other compact models on the market, it is still more than suitable for travel. After all, it only weighs around one pound.
Style
Let's just say that the style of this unit is not the primary reason why someone would want to invest in it. It is not appalling, per se, but far from stunning.
Overall
Look, this is a limited white noise machine. No one is going to argue against that fact but the reality is, perhaps that is exactly what you are seeking.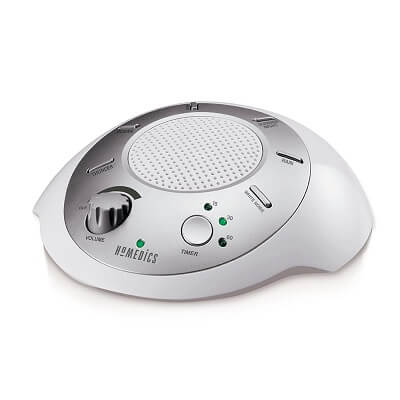 What makes the SoundSpa one of the best units in the world is its ultra-portable design and dual power options. Of course, the sound quality does slightly bring the total value down.
Read more
Sound Variety
When cycling through the playlist of songs on this machine, you will come across thunder, ocean, rain, summer night, brook, and white noise.
Design Features
On top of the adjustable volume control knob, the SoundSpa also sports an auto-off timer. With this, you can program this to run for 15, 30, or 60 minutes.
Power Source
If you supply four AA batteries, then you can actually power this bad boy on the go. Then again, with the included power cord, you can simply opt to connect it to a wall outlet.
Portability
To be honest, if you can't fit the SoundSpa into your travel bag then you either carry too many essentials or have the world's smallest travel bag.
Style
More often than not, this is a design that will fit into a home's current décor. With its classic white border and metallic gray bezel, it is a sight to behold.
Overall
Granted you are not anal about sound quality, the SoundSpa could become a great companion to you. However, as hinted at, the sound quality is better in other models.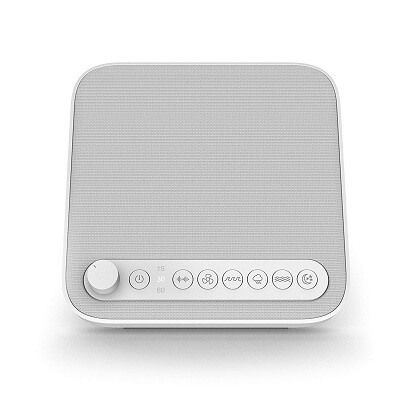 For sure, Wave's Therapy Sound Machine most certainly sports a modern appeal and design. In addition to its main design purpose, it also sports a built-in USB port that can charge your compatible devices.
Read more
Sound Variety
All of your favorite sound effects, such as the sound of the ocean, rain, summer nights, streams, fans, can be selected from this therapy machine.
Design Features
The two main design features present here are both adjustable volume control and the auto-off timer. Both of these integrations provide you with a new level of customization.
Power Source
Despite the fact that the unit itself is powered via the included power cable, there is an integrated USB port on the stand that allows you to charge an external USB-enabled device.
Portability
Even if you wanted to transport this with the cables intact, the removable stand is smartly designed and allows them to be organized. Also, the machine itself is compact.
Style
With a simple glance, you can immediately conclude that this is a modern device. Unlike other versions out there, this integrates a stand and is not quite as thick.
Overall
Everything is pretty much terrific in this model so what is up with the low placement? Well, this is primarily due to the short looping of the tracks, which is noticeable.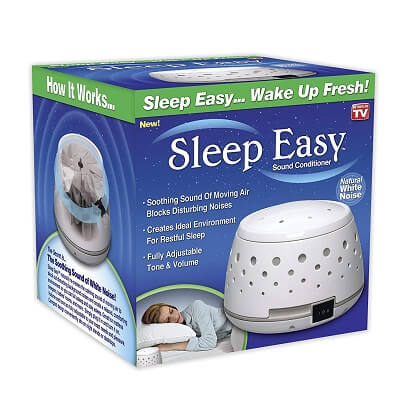 If simplicity is at the forefront of your mind and all you want is a machine that generates white noise, the Sound Conditioner may be your dance partner. But, its limited nature could also be seen as a detriment.
Read more
Sound Variety
Indeed, this is limited to simply playing white noise. While there is certainly nothing wrong with that, it is not capable of playing natural sounds of any kind.
Design Features
Some users have claimed the maximum volume is still not very loud but alas, you can control both the tone and volume. But, there is no timer integrated into this model.
Power Source
Sleep Easy designed their Sound Conditioner with an electric motor and due to this, the power of a standard AC outlet will be required.
Portability
Though far from large, this is a bit bulkier than other models. However, this certainly does not add enhanced weight as it only weighs roughly 1.2 pounds.
Style
One could probably mistake this for a kitchen container, to be brutally honest. That said, the style could be right up the alley of certain folks.
Overall
Do not worry; the flaws of the Sound Conditioner are not enough to discourage a purchase. After all, it accomplishes its main goal of delivering adequate white noise.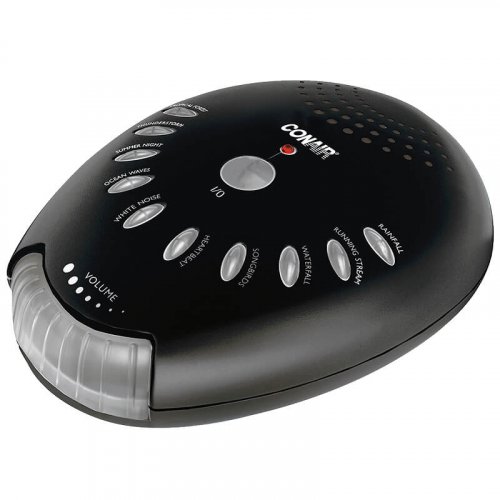 While not too many people will go out of their way to overly-defend this last model, it delivers a wide range of sounds and also comes equipped with a convenient 60-minute timer.
Read more
Sound Variety
Due to the looping, the songs can get a bit repetitive. Yet, with 10 soothing sounds in total, at least you are provided with a solid variety.
Design Features
As one buyer alluded to, the volume knob can be extremely sensitive. Past this minor inconvenience, there is a 60-minute timer that can be enabled.
Power Source
On the plus side, this comes equipped with dual-power options. Yet, it is a bit counter-intuitive as the batteries will only function when the power cord is unplugged. Which means, the system will still shut off during a power outage if plugged in.
Portability
Much like with other units, the portability is high as the total weight clocks in at just over one pound.
Style
No one would blame you initially thought this was a smoke alarm as it certainly resembles the design of one. Overall, there are not too many bad things to say about the style.
Overall
Looking back, this probably could have been a top-five unit. The only reason it is not is that of the repetitive looping but the variety is still present.

Subscribe to our Newsletter