Best Noise-Canceling Headphones
In a
Hurry? Editors choice: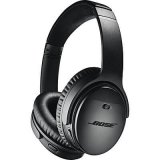 Test Winner: BOSE QUIETCOMFORT 35 II

There are many reasons why you would want to buy a high-quality pair of noise-canceling headphones. Not the least of which is to drown out background noise that is surrounding you. Really, that right there is the main premise behind this technology. However, finding the right pair and model for you is not even close to as simple. There is no need to sugarcoat this, certain features and specific technologies can literally make all the difference in the world. And, for the record, no, noise-canceling is not all the same as a cheap pair of headphones could have the technology but could pale in comparison to higher-end models. But, step-by-step, you can learn exactly what you need to look out for and subsequently be able to have confidence as you search the open market. So, let's get this show on the road.
Standout Picks
Criteria Used for Evaluation
Sound Quality
In addition to the noise cancellation, there are additional factors that will enhance the sound quality.
Yep, this is all about the noise cancellation. It was alluded to earlier and it really is important to clarify that not all headphones will sound the same simply because they have the technology. As with anything else, certain engineers have a better handle on it than others. Of course, the price is also going to matter. But, anyway, noise cancellation is a technology that uses built-in circuitry to counteract exterior sounds. In essence, without going into too much detail, it cancels out ambient noises and sounds. Yet, some brands (such as Sony) will have advanced noise cancellation that will actually adapt and tailor itself to your current surroundings. As you can expect, this will result in more efficient results. And, others will implement active noise cancellation which implements minuscule microphones that will learn the outside sounds and then emit the opposite sounds to counteract them.
Of course, assessing sound quality requires more than just this. You can also look at the frequency response, though this is not too critical as most humans can only hear a certain frequency range anyway. Additionally, some models will have larger drivers and while this does not always equate to better sound, it can be more powerful. Oh, and also look for models that do not emit flat sounds as you ideally want balance and also bass.
Comfort
Do you really want to wear headphones that are punishing or painful?
This one is pretty easy, is it not? Depending on your usage, you may want to wear your headphones for several hours at a time and even if you do not, the pair you get should be comfortable to wear. It is such a simple concept but oh is it ever so important. So, let's take a look at what you should keep in mind starting with the actual fit. While most models will be adjustable, you can only adjust them so far and some will be too small to fit your head. And, this leads into the second point that the pair you buy should not have too much clamping pressure.
Oh, and you have to talk about the padding and ear cups. No one wants a metal or plastic headband digging into their skull so look for designs with enough padding to prevent this. Along the same line, look for ear cups that are properly cushioned. Also, do not forget that it is always a good idea to glance through user feedback to see what previous buyers have had to say.
Style
This really comes down to whether or not you want wired or wireless.
What this ultimately comes down to is if you want a wired or wireless model. But, did you notice that many of the options on this list are wireless? This is not because wired models are inferior, per se, and is more indicative of how wireless technology has improved and adapted over time. Clearly, the most obvious convenience to these models is the lack of any wires. For most, this will be worth it alone but let's look at wireless headphones a little more closely. First off, as opposed to 10 years ago, they sound much, much better. Sound quality continues to improve and so does Bluetooth (which is the primary wireless protocol that most models will utilize).
Of course, this also means you have to deal with a battery and will need to charge it when the time comes. And, remember, that certain variables can affect this so you can always prolong the battery a little longer if you needed to (like turning the volume down or turning off the noise cancellation). Lastly, you can't forget that wireless models will require a wireless signal which is more unstable than a wired connection. Also, you may encounter inferences from time to time.
Features
There are actually quite a few extra features that you can look out for.
This is where things take a little turn. One could make the argument that design features on noise-canceling headphones are more for luxury and are not mandatory. That is fair but some of the features can really make or break your purchase but it does depend on your preferences. For example, more advanced models may equip compatibility with artificial intelligence software (such as Amazon Alexa and Google Assistant). This can allow for convenient voice control and can actually come in handy if your hands are not free at certain moments. Along the same line, most designs will incorporate button controls on the side that can control various settings such as the volume, current track, etc.
Oh, and what about a pair of headphones that could pause the audio when you take them off your head? Yep, there are those types on the market, as well. Also, if you want to make phone calls, look for designs with integrated microphones. And, lastly, if you plan to travel with your pair a lot, some models will sport collapsible ear cups so it may be in your best interest to look out for them.
Durability
Much like with the comfort, you really do not want to buy a model that is made of cheap materials.
You can spend as little as $50 or as much as $300 on a pair of noise-canceling headphones. And, while the price is not always indicative of the quality, it is often here. Alongside everything else that has been discussed, higher-end models should be built as such. After all, if you are going to spend $300 on a pair then they better survive moderate drops and such. While each individual component needs to be assessed (such as the headband, ear cups, etc.), you really just want to look for high-quality materials and craftsmanship.
Most of your big time brands such as Sony, Bose, Sennheiser and Bowers & Wilkins will not skimp on their materials. And, whether they are made out of metal, leather, memory foam, plastic, or any other materials, look for them to be high in quality.
OUR TOP PICKS FOR THE BEST NOISE-CANCELING HEADPHONES
Subscribe to our Newsletter