Best Bone Conduction Headphones
In a Hurry? Editors choice: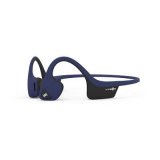 Test Winner: AFTERSHOKZ TREKZ AIR

Understand something important right away, bone conduction headphones are different. Some of you may have never even heard of them and due to the nature of their design, you can't really compare them to traditional models. It all comes down to the technology behind bone conduction as this is the conduction of sound through the bones of the skull. When implemented into headphones, what you get are devices that are lightweight, convenient, and ideal for people with normal or impaired hearing to use. But, if you are looking for sound quality that rivals the best Bose headphones out there, you will simply be disappointed. Of course, with that being said, some models will naturally sound better than others (though that is just one of the factors in the buying process). And, this "buying process" is exactly why you are here today.
Standout Picks
Criteria Used for Evaluation
Sound Quality
At the end of the day, these are headphones which means their sound quality is a top priority.
It was mentioned earlier and it really does need to be reiterated, bone conduction headphones simply can't compete with standard models when it comes to sound quality. For the record, standard models will use air conduction to transfer audio and while this is not necessarily superior to bone conduction, it comes down to the manner in which they are designed. You see, standard designs will typically either be over-ear or on-ear. However, that is not the case with this type of technology as you will see open-ear headphones and this is the main reason why the sound quality is not as great. These simply are not designed to go in your ear and due to this, you are not receiving a truly direct transmission of sound.
However, that does not mean that certain models out there will not sport superior sound quality. And, when you look at AfterShokz, that becomes apparent very quickly. You see, what separates a brand like this is the fact that they implement specific technologies that allow their models to stand out. Two that immediately come to mind are Premium Pitch and LeakSlayer. The latter is really the more noteworthy of the two as a common problem with this type of technology is sound leakage. Well, LeakSlayer technology solves this issue, to an extent.
Comfort
Quick question, do you really want to wear a pair of headhpones that are uncomfortable?
Now, as opposed to the last section that showed how inferior this type of technology is to other headphones, this section shows why it holds an advantage. Generally speaking, bone conduction headphones will offer superior comfort and it comes down to the manner in which they are designed. As they are open-ear designs, they do not technically fit in or on your ear and are more comfortable, as a result. Of course, their lightweight nature also helps with this. It is not uncommon for you to forget that you even have them on and even though it sounds outlandish, many previous reviewers have shared their experiences of such.
However, much like with the sound quality, this does not mean that each and every model on the market will offer the same amount of comfort. Instead, while all models will have the same properties as listed above, certain options may have unique features such as adjustable bands and additional cushioning materials. Either way, you slice it, you need to ensure the model you get fits you properly and is comfortable to wear.
Materials
Outside of the main materials, you also need to pay attention to any coatings that are present.
So, what are these headphones made out of anyway? Speaking for the band (which is the section that connects the two earbuds together), you will oftentimes see them made out of titanium. You are probably aware that titanium is a metal but do you know why it is such a popular material? For starters, as opposed to its steel counterpart, it is much, much lighter (40 percent lighter, as a matter of fact). At the same time, though, this metal does not sacrifice in other areas such as its strength and corrosion resistance. Speaking for the latter, this is one of the most highly touted properties of the entire metal.
Of course, outside of the main material, you will also want to look out for coatings. In specific, what is known as a nanocoating as this is basically going to provide a surface that is going to repel various particles (such as dirt and water). Oh, and speaking of which, this is a good time to discuss the IP rating. Better known as the International Protection Rating, this is used to classify how well a certain object resists both solids and liquids. The first number represents solids and the second liquids. And, the higher the number the more resistant the object is. For the record, the highest number the system goes to (for liquids) is eight.
Features
The main thing here is that most models on the market will sport button controls for easier adjustments.
To be honest, when compared to other headphones that are oftentimes loaded with design features, it is safe to say that bone conduction models are pretty simple designs. In spite of this, however, one of the most important features that they often integrate is the use of controls. As you know, you can control almost everything with your connected device. However, sometimes, it is more convenient to simply press a corresponding button on the headphones themselves. Indeed, this is what you want to look for here.
Yet, it is not as simple as it sounds. First off, the buttons need to be placed practically. And, secondly, some models will only include one button and it will then be up to you to memorize the different functions that the button can perform. After all, most of the time, with the use of these buttons, you will be able to adjust the volume, switch between music tracks, and answer or hang up on phone calls. Oh, and speaking of which, if you do want to make calls, the model you pick needs to have a high-quality microphone built-in.
Style
Since most options on the market will be wireless, you need to pay close attention to the battery life and wireless protocol.
As you noticed from this list, many top-end models out there are wireless. What this means is two huge factors come to mind. The first of which is the battery life and while this is pretty self-explanatory, there are a few things to point out. For the most part, the battery lives of these types of audio devices will range anywhere from 4 to 11 hours. However, this is when used continuously. Sellers will also typically inform you of how long their model can run on standby (and this merely kicks in after the device has been idle for too long, much like a computer). Do not get the two mixed up.
The second factor is the wireless protocol. Nine times out of 10 (and probably 10 times out of 10), this will be Bluetooth. And, even though Bluetooth is backwards compatible and included on nearly all smart devices, you may want to look for the latest version (it does get updated quite frequently) as this can deliver performance enhancements.
OUR TOP PICKS FOR THE BEST BONE CONDUCTION HEADPHONES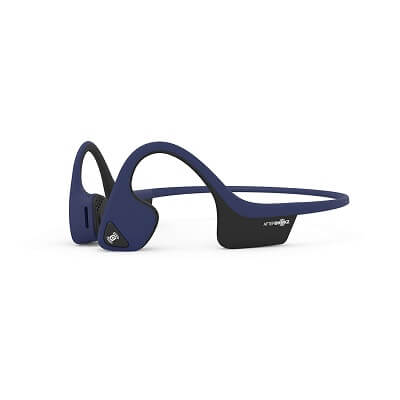 If you had a theoretical draft and all the bone conduction headphones on the market were eligible, the Trekz Air would be the consensus number one selection. They simply are the standard bearer for this technology.
Read more
Sound Quality
Look, for this technology, these are about as good as it is going to get for sound quality. This is thanks to the Premium Pitch technology that provides a premium audio experience.
Comfortability
Okay, the good news is that these are 20 percent lighter than its counterpart and you will barely feel them when you have them on. The bad news is the band is not adjustable, for some odd reason.
Materials
Without a doubt, the Trekz Air was designed with athletes in mind. After all, they are fully sweatproof so even during long and grueling runs, they will stay securely on your head.
Design Features
Though these are equipped with buttons on the side that can change various audio settings, there was one user who felt that they were awkwardly placed.
Style
Thanks to the wireless and Bluetooth design (these sport version 4.2, for the record), you can enjoy these without the hassle of a cord. Also, the integrated battery will charge in two hours and last for six (if you are listening to music non-stop).
Overall
For sure, this technology has a long way to go before it ever achieves the same level of sound quality as over-ear headphones but without question, these right here are the current measuring stick.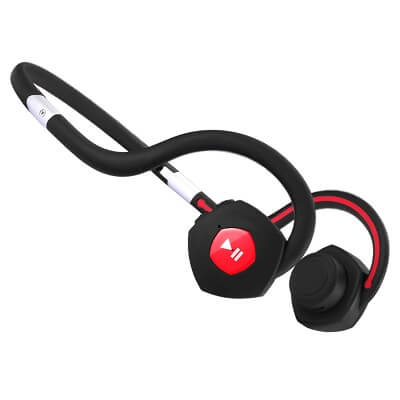 Even though these do not quite reach the sound quality of the models designed by AfterShokz, you can argue that they are superiorly built. For certain, that is the main selling point here.
Read more
Sound Quality
It is noted by the seller that they believe their model is one of the best at preventing sound leakage. As for previous users, most feel the overall sound quality is merely okay.
Comfortability
These have been both ergonomically designed and also streamlined for comfort and balance. The result is a more pleasurable experience that is for sure.
Materials
Even though some previous buyers have had longevity issues, these are brilliantly designed with nano-material and superior sealing. So, you will never need to worry about sweat damaging the interior circuitry.
Design Features
Right on the outside of the earbuds, there is a multi-function button that allows you to conveniently adjust specific settings.
Style
A very impressive battery is integrated here (a 220mAh lithium battery) and it allows for 1000 hours of standby time and up to 11 hours of continuous playing time.
Overall
What you need to appreciate about this design are the physical characteristics. Sure, the sound quality could use improved but that is not necessarily something new.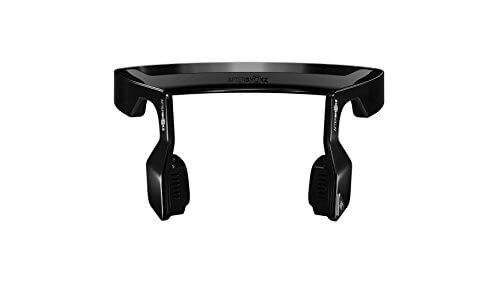 If it was not evident before then it should be now that AfterShokz is the leader of this technology. Their Bluez 2S model sports their patented technology that minimizes sound leakage and enhances the audio overall.
Read more
Sound Quality
Once again, AfterShokz sets the standard for sound quality. While still not amazing, the Bluez 2s sports PremiumPitch technology and also LeakSlayer technology. The latter actually reduces the amount of natural sound leakage.
Comfortability
It seems to be the general consensus that the Bluez 2S headphones are small. Previous buyers have claimed they have been unable to achieve a comfortable fit because of it, unfortunately.
Materials
Due to the nanotechnology treatment that has been integrated, these are going to repel sweat when you exercise. Of course, in regard to the longevity of this model, some previous buyers have had issues.
Design Features
As with most of the top-end models on the market, there are specific buttons integrated here that allow you to make changes on the go quickly and easily.
Style
These sport the somewhat standard Bluetooth range of 33 feet. Additionally, the battery can charge in two short hours and last for 10 days on standby and six hours during continuous play.
Overall
In a way, you could consider this model a nice alternative option to the gold standard of this technology. After all, it is nearly just as good at a significantly lower price (and comes from the same designers).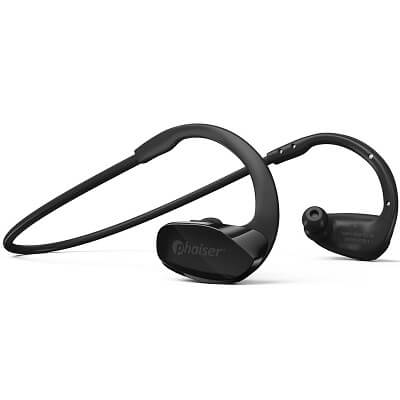 Even though this type of sound technology is not as expensive as others, the BHS-530 is an astounding revelation of affordability and quality. Literally, thousands of users have raved about them and will back up that claim.
Read more
Sound Quality
When you look at the track record of this technology, it is actually surprising when you look at the sound quality of this model. Loud audio and decent bass can be achieved, which can be a rarity.
Comfortability
Not only does the flexible Memory-Wire adapt to the size of your head but the memory foam ear tips also enhance the comfort overall. Not a bad combination at all.
Materials
To better withstand sweat and rain, a nanocoating finish has been applied to these. In spite of this integration, longevity issues have been documented by previous buyers.
Design Features
Though these are not overflowing with features, you can quickly and conveniently switch between music and phone calls with the simple push of a button.
Style
Bluetooth 4.1 is the wireless protocol that is utilized here and as for the integrated battery, it can last for up to 11 hours of play time.
Overall
You will simply be hard-pressed to find a better affordable option on the market. In fact, you might as well stop looking because or the price, these are unbeatable.

5

. AFTERSHOKZ TREKZ TITANIUM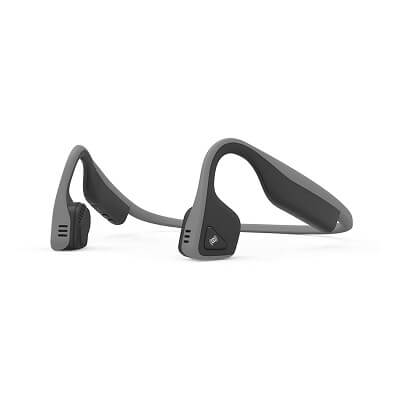 Back once again, this here is yet another option from AfterShokz. And, even though this model does not top the list, it can be argued that this right here is the most popular option from the juggernaut.
Read more
Sound Quality
All the classic technologies that AfterShokz implements in their bone conduction headphones are present here so what more is there to say?
Comfortability
Even though these are lightweight and flexible, there was a user who had strong negative feelings about the design of the battery and control compartments (claiming they dug into their ears).
Materials
In addition to the fact that these sports titanium, they are also water-resistant to IP55 standards. This means that they can handle sweat, dust, and moisture very well.
Design Features
Now, there is an included manual that will walk you through the features of this model. Yet, this manual has been criticized for being too short and confusing.
Style
The implemented Bluetooth 4.1 technology allows these to be connected to virtually all your smart devices and the battery can last for up to six hours of continuous use (with music playing).
Overall
These right here end the so-called "party" for AfterShokz models. Again, you can see why they are so popular as the quality truly speaks for itself.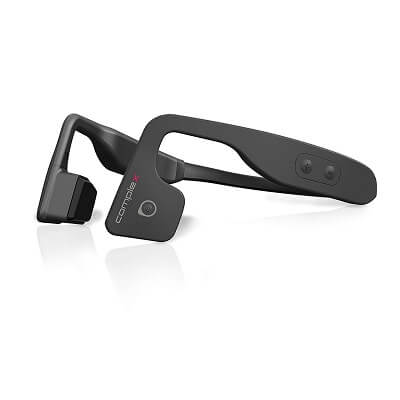 Admittedly, in terms of popularity, the drop off here is noticeable as many people have probably never even heard of these. What a shame that is because as you will see, they can compete with the very best on the market.
Read more
Sound Quality
Though the microphone quality on these is admirable, the bass and maximum volume simply are not. Do not get your hopes up very high for those, let's just say that.
Comfortability
This is where these truly shine. In addition to the rubber coating and lightweight nature of these, an adjustable strap is also included (though you do not need to use it).
Materials
Being water-resistant to IPX6 standards, these can handle most of the sweat that drips down your forehead and also light rainfall.
Design Features
Thanks to the buttons on the side panel of the band, you can adjust both the volume of these and also the current audio track that you are listening to.
Style
Admittedly, the battery is pretty weak here. While it is not all that much of a downgrade from other models, you can expect around two to three hours of continuous use (with the volume maxed).
Overall
Overall, it is safe to say that you should give these a chance. They really are a low-risk high reward option and as long as you do not expect too much from the sound quality, you should enjoy them.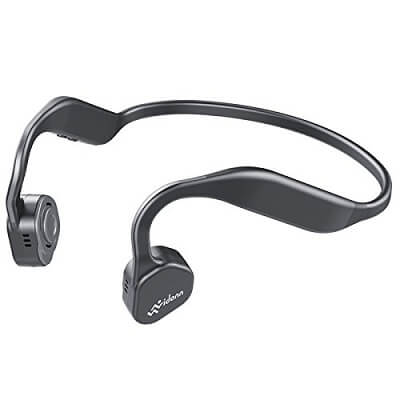 As with most of the other models on the market, the F1 Headphones are made of titanium and are lightweight and flexible as a result. Oh yeah, and they are also water-resistant to IP55 standards.
Read more
Sound Quality
Though the audio is not the loudest here, what is really nice is the built-in microphone will pick up your voice very well so the person on the other end can hear you clearly.
Comfortability
The ergonomic design and lightweight nature of these help the comfort. The real problem, though, lies in the fact that they are very small.
Materials
In addition to the titanium build of these headphones, they are also rated with an IP55 waterproof grade which makes them resistant to rain and sweat.
Design Features
Vidonn designed their model in the same nature as so many others as they included buttons on the side panel. With these, again, you can quickly make modifications on the fly.
Style
Thanks to the power of the 180mAh lithium battery, you can enjoy up to six hours of continuous music or up to 240 hours on standby mode.
Overall
Granted you do not sport a large cranium, these should be an optimal choice for you. The built-in microphone and fancy design features make this a compelling choice for sure.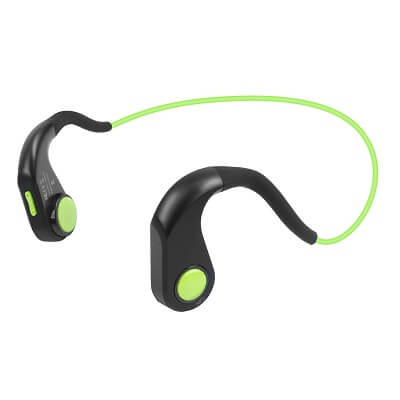 Yep, this right here is another option that utilizes Bluetooth technology for its wireless protocol and this will not be problematic for most of you. The titanium alloy band, among other features, is also worth mentioning, though.
Read more
Sound Quality
Though not too many users have raved about the sound quality of these, a few have complimented the quality of the built-in microphone.
Comfortability
On the one hand, it will not even feel like these are on they are so light in weight. On the flipside, they do tend to move around if you are partaking in rigorous exercises.
Materials
Do not think that just because these are light in weight that they are cheaply built. The titanium band can withstand at least 15000 times bending which is very impressive, to say the least.
Design Features
With the use of just one simple button and two volume keys, you are able to quickly hang up on incoming calls, adjust the volume and switch between songs (among other things).
Style
When you compare the battery of this model to others, it does well. In fact, with a two-hour charge time and six-hour runtime, it is about what you expect for this technology.
Overall
What more could really be said here? If you summarize these headphones, you would have to say that they perfectly epitomize the greatness and also the limitations of this technology.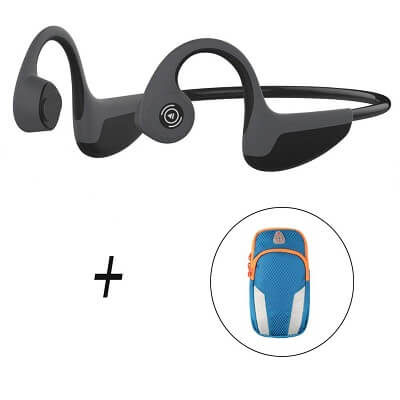 Probably one of the hottest topics of this next model is that it supports Bluetooth 5.0 technology. While this may sound trivial to some of you, this is actually one of the latest versions of the wireless protocol. Of course, this excels in other areas, as well.
Read more
Sound Quality
Let's just say these do not sound like AfterShokz models. The sound quality is limited and not that great and that is simply the reality of the situation.
Comfortability
If you have a smaller head, you may struggle to keep these stable. They seem better optimized for users with larger craniums.
Materials
No, these are not going to break very easily and this is thanks to the titanium-nickel memory alloy material that was utilized. Also, these are sweatproof.
Design Features
Now, there is only one button integrated but it does serve multiple purposes. While it is not exactly complex to learn and operate, you may experience user error from time to time.
Style
As mentioned, these are outfitted with Bluetooth 5.0 technology. In the world of Bluetooth, this is about as good as it gets.
Overall
For some of you, the allure of Bluetooth 5.0 is not going to be enough and that is fair. But, these really are a solid pair of bone conduction headphones overall.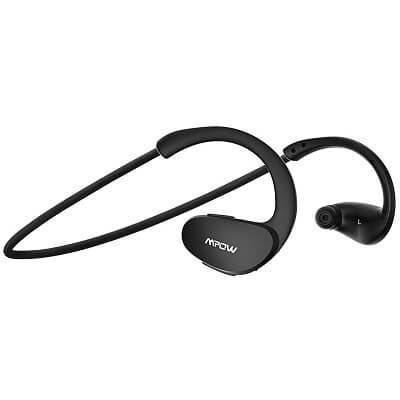 Without question, this is one of the most popular options on the entire market. Some of you may say it is simply due to the price and while that does play a role, the quality is also solid.
Read more
Sound Quality
Implemented into these is aptX technology and this enhances the audio. In spite of this, however, the sound quality is what you would expect from headphones at this price range.
Comfortability
All in all, the comfort has not exactly been raved by previous users. Some of which have even gone out of their way to criticize the provided comfort.
Materials
The strong adhesion and shape memory of these bodes well when you need to store them away as they can roll up in a fixed shape, which is really nice.
Design Features
Much like the last model, these do sport buttons for easier adjusting. However, they also take some time to get accustomed to as they perform multiple actions.
Style
In addition to the eight hours of talk and play time, the Bluetooth reception of these has been celebrated by various reviewers.
Overall
Look, when you are in the market for any type of headphones, the price will play a role. While there are clearly superior options out there, for this price, few will complain.

Subscribe to our Newsletter