Best Bone Conduction Headphones
last updated:
Feb 07, 2020
Understand something important right away, bone conduction headphones are different. Some of you may have never even heard of them and due to the nature of their design, you can't really compare them to traditional models. It all comes down to the technology behind bone conduction as this is the conduction of sound through the bones of the skull. When implemented into headphones, what you get are devices that are lightweight, convenient, and ideal for people with normal or impaired hearing to use. But, if you are looking for sound quality that rivals the best Bose headphones out there, you will simply be disappointed. Of course, with that being said, some models will naturally sound better than others (though that is just one of the factors in the buying process). And, this "buying process" is exactly why you are here today.
In a Hurry? The test winner after 2.75 hrs of research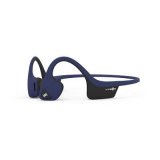 AFTERSHOKZ TREKZ AIR
Why is it better?
The design is 20 percent lighter than its counterpart
They have been designed with athletes in mind
One of the better sounding models on the market
In a
Hurry? Editors choice: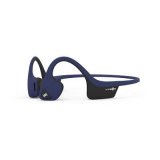 Test Winner: AFTERSHOKZ TREKZ AIR

5
Researched Sources
23
Reviews Considered
2.75
Hours Researching
17
Products Evaluated
Sound Quality
Comfort
Materials
Features
Style
By Default
OUR TOP PICKS FOR THE BEST BONE CONDUCTION HEADPHONES
Criteria Used for Evaluation


Sound Quality
At the end of the day, these are headphones which means their sound quality is a top priority.
It was mentioned earlier and it really does need to be reiterated, bone conduction headphones simply can't compete with standard models when it comes to sound quality. For the record, standard models will use air conduction to transfer audio and while this is not necessarily superior to bone conduction, it comes down to the manner in which they are designed. You see, standard designs will typically either be over-ear or on-ear. However, that is not the case with this type of technology as you will see open-ear headphones and this is the main reason why the sound quality is not as great. These simply are not designed to go in your ear and due to this, you are not receiving a truly direct transmission of sound.
However, that does not mean that certain models out there will not sport superior sound quality. And, when you look at AfterShokz, that becomes apparent very quickly. You see, what separates a brand like this is the fact that they implement specific technologies that allow their models to stand out. Two that immediately come to mind are Premium Pitch and LeakSlayer. The latter is really the more noteworthy of the two as a common problem with this type of technology is sound leakage. Well, LeakSlayer technology solves this issue, to an extent.


Comfort
Quick question, do you really want to wear a pair of headhpones that are uncomfortable?
Now, as opposed to the last section that showed how inferior this type of technology is to other headphones, this section shows why it holds an advantage. Generally speaking, bone conduction headphones will offer superior comfort and it comes down to the manner in which they are designed. As they are open-ear designs, they do not technically fit in or on your ear and are more comfortable, as a result. Of course, their lightweight nature also helps with this. It is not uncommon for you to forget that you even have them on and even though it sounds outlandish, many previous reviewers have shared their experiences of such.
However, much like with the sound quality, this does not mean that each and every model on the market will offer the same amount of comfort. Instead, while all models will have the same properties as listed above, certain options may have unique features such as adjustable bands and additional cushioning materials. Either way, you slice it, you need to ensure the model you get fits you properly and is comfortable to wear.


Materials
Outside of the main materials, you also need to pay attention to any coatings that are present.
So, what are these headphones made out of anyway? Speaking for the band (which is the section that connects the two earbuds together), you will oftentimes see them made out of titanium. You are probably aware that titanium is a metal but do you know why it is such a popular material? For starters, as opposed to its steel counterpart, it is much, much lighter (40 percent lighter, as a matter of fact). At the same time, though, this metal does not sacrifice in other areas such as its strength and corrosion resistance. Speaking for the latter, this is one of the most highly touted properties of the entire metal.
Of course, outside of the main material, you will also want to look out for coatings. In specific, what is known as a nanocoating as this is basically going to provide a surface that is going to repel various particles (such as dirt and water). Oh, and speaking of which, this is a good time to discuss the IP rating. Better known as the International Protection Rating, this is used to classify how well a certain object resists both solids and liquids. The first number represents solids and the second liquids. And, the higher the number the more resistant the object is. For the record, the highest number the system goes to (for liquids) is eight.


Features
The main thing here is that most models on the market will sport button controls for easier adjustments.
To be honest, when compared to other headphones that are oftentimes loaded with design features, it is safe to say that bone conduction models are pretty simple designs. In spite of this, however, one of the most important features that they often integrate is the use of controls. As you know, you can control almost everything with your connected device. However, sometimes, it is more convenient to simply press a corresponding button on the headphones themselves. Indeed, this is what you want to look for here.
Yet, it is not as simple as it sounds. First off, the buttons need to be placed practically. And, secondly, some models will only include one button and it will then be up to you to memorize the different functions that the button can perform. After all, most of the time, with the use of these buttons, you will be able to adjust the volume, switch between music tracks, and answer or hang up on phone calls. Oh, and speaking of which, if you do want to make calls, the model you pick needs to have a high-quality microphone built-in.


Style
Since most options on the market will be wireless, you need to pay close attention to the battery life and wireless protocol.
As you noticed from this list, many top-end models out there are wireless. What this means is two huge factors come to mind. The first of which is the battery life and while this is pretty self-explanatory, there are a few things to point out. For the most part, the battery lives of these types of audio devices will range anywhere from 4 to 11 hours. However, this is when used continuously. Sellers will also typically inform you of how long their model can run on standby (and this merely kicks in after the device has been idle for too long, much like a computer). Do not get the two mixed up.
The second factor is the wireless protocol. Nine times out of 10 (and probably 10 times out of 10), this will be Bluetooth. And, even though Bluetooth is backwards compatible and included on nearly all smart devices, you may want to look for the latest version (it does get updated quite frequently) as this can deliver performance enhancements.
Expert Interviews & Opinions
Most Important Criteria
(According to our experts opinion)
Experts Opinion
Editors Opinion
Users Opinion
By Default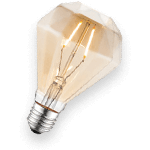 Sound Quality
Are you starting to get the point that these types of sound devices can't hang with others when it comes to their sound quality? Instead of beating the dead horse some more, let's point out that even though this is true, there are still options out there that will offer superior sound clarity and crispness. Even still, though, you really should just set your expectations low here and work from there.
Comfort
First and foremost, the most notable aspect of any pair of bone conduction headphones is how light they are. Just about every single model on the market will be this way but that does not mean that they all will be comfortable. Although this is a major factor in the overall comfort, it is far from the only one. After all, proper fitting and stability will also play vital roles.
Materials
As these types of devices are not your prototypical designs, it also means that they will not be made from the same cliché materials. In fact, one you see quite common is titanium (instead of steel or aluminum). Past this, as these are also generally optimized for athletes, you will also commonly see engineers apply special coatings to their headphones to make them sweatproof and also highly resistant to water.
Frequently Asked Questions
q:

How exactly does this technology work?

a:

When you really break down how these devices work, it is incredibly fascinating. You see, bone conduction itself is a natural part of the hearing process as sound travels through the bones and eardrums at the same time. When this technology is implemented into headphones, what happens is sound will be produced with mini vibrations and it will travel through your cheekbones. All in the meanwhile, these vibrations completely bypass your eardrums.
q:

Can these be worn with hearing aids?

a:

This was something that was briefly alluded to at the beginning of this guide but it is a question that gets brought up quite a lot on the internet so buyers must be pondering it. Here is what is fantastic because not only can people with hearing aids use this type of audio device but this is actually one of the major reasons why one would. Of course, it also depends on what type of hearing aid you currently use because it may conflict with the band when you go to put it on.
q:

What about with helmets on?

a:

Again, as these headphones are great for physical activity, this may be a question that you have. As with hearing aids, it is going to be a piece of cake to wear any pair of these with a helmet on. It comes back to the manner in which they are designed as they will merely be resting around your neck and not on the top of your head. Due to this, there should be no conflictions or restrictions if you want to use them with hats, helmets, or any other type of headwear.
q:

In general, what is the correct way to wear them?

a:

For over-ear or on-ear models, it will basically be common sense when it comes to putting them on. On the flipside, these are a little different. As they will be designed to go in front of your ears, you actually will not place the earbuds in your ears. Instead, the looped sections will go above your ears comfortably. From there, the band needs to be behind your head. Now, if the band is adjustable then you can mess around with where you need it to ensure you achieve the most optimal fit possible.
q:

Is it legal to drive with them on?

a:

Wow, is this ever a loaded question? First off, understand that all states and countries have different laws and regulations so you should always check with your jurisdiction beforehand. In the United States, the laws vary when it comes to driving with headphones. Now, in theory, these types of sound devices do not inhibit your awareness very much as you will still be able to hear background noise. With that said, it is not a guarantee that a police officer will not pull you over with a pair of these on.
q:

Can people with hearing loss enjoy them?

a:

If you recall back to how bone conduction works, in the first place, then it should not surprise you to know that the answer to this question is yes. Remember, the sound is going to bypass the eardrums and, thus, users with hearing loss will still be able to enjoy the emitted sound. And, truth be told, hearing aids will not even be required for some users.
Subscribe to our Newsletter